Within Sebi, the chairman should hold an umbrella for both young and old employees, says Somasekhar Sundaresan.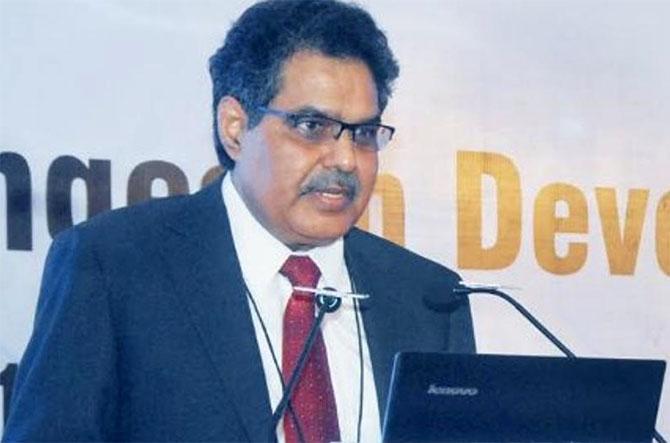 On Wednesday (March 1), Ajay Tyagi took charge at the Securities and Exchange Board of India (Sebi) as the new chairman. The task requires calm reflection on the problems on hand, and a mind open to fresh ideas and innovative thinking.
The capital markets regulator is at a crossroads. Never in the regulator's history has this role been more complex than it is now. Here is a brief heads-up with pointers to what needs immediate attention.
First, Sebi is in crying need of a peacetime general. The very assumption of this office can make some incumbents believe that they are now at war with the big bad world of securities markets.
As an institution, there is excessive focus on regulation of market conduct and lesser emphasis on prudential regulation. (The Reserve Bank of India is diametrically opposite in approach. Both need adjustment).
Never have Sebi's statutory enforcement powers been more extreme. Contrary to popular belief, Sebi is armed with far greater power to inflict serious economic injury than counterparts in the US and the UK.
Sebi needs to convince no judge before imposing serious restraints on economic activity.
Routinely, this is done based on suspicion, leaving it to those affected to shoulder the burden of disproving the suspicion -- somewhat like preventive detention.
The check and balance is appellate review after Sebi has drawn blood. The onus is then on the person challenging Sebi's conduct to show that it was wrong in taking action.
Sebi's legislative powers, too, are near absolute. The Sebi Act grants wide discretion to Sebi to make subordinate legislation.
Prior consultation with the market, a reasonable articulation of the link between the proposed solution and a problem statement, and a system of review of regulations to see if they have met the articulated purpose are substantially missing.
There is indeed some form of selective public consultation but neither a statement of what problems are being sought to be solved nor a timely review of whether the solutions have indeed worked is mandated either by law or by a policy approach.
As a result, the fear of the regulator is widespread. With serious powers at hand, it takes maturity to structure the role into one of maintaining peace rather than of being ever ready to declare war.
This is an attitudinal change that is necessary. Hundreds of inputs about the market being full of crooks necessitating a crackdown and severe intervention would be received.
It would be easy to get carried away. Headlines screaming about the absence of powers or being toothless despite having powers would further an urge to lash out without thought.
Eschewing a carpet-bombing approach and sifting the grain from the chaff are what the job at the top entails.
Second, the primary market regulation needs deep review and research as to what can be done better. The size of funds that get raised can never be a barometer of success for how this segment of the market regulation is performing.
Securities offering documents are extraordinarily bulky, barely tell a story in clear terms and have substantially been reduced to bulky formal compliance rather than resulting in substantive disclosures of high quality.
Cleaning up the policy space in this area of the market is a critical immediate objective to which the new chairman must apply himself.
Third, a review is overdue in the M&A space. It has been nearly six years since the "new" takeover regulations came into effect.
Today, India is a unique jurisdiction where one body of law (takeover regulations) forces an acquirer to potentially cross the maximum limit of substantial shareholding permitted in a listed company while another body of law (listing conditions) forces the shareholding back down to compliance and a third body of law (delisting regulations) would need to be complied with if the intent was always to maximise shareholding and delist the company.
Transaction costs mount, transaction timelines prolong unreasonably, defeating the very objective of mandating an exit opportunity by making an open offer for public shareholders to tender their shares.
Finally, Tyagi must give special attention to human resources and matters within the organisation. Too many junior officers have been tempted to be indecisive or to take wrong but safe decisions thanks to vigilance probes and hounding of honest bona fide decisions.
Sebi is now well over 25 years old, and a full cadre of loyal employees is available at hand, despite the organisation having been the poaching ground for the private sector.
Enthusing smart bright talent inside Sebi and leading them from the front to shield them from unfair targeting in criminal anti-corruption probes have to become a priority.
Alignment and fitment of senior employees upon merger of the Forward Markets Commission into Sebi remains an open area of work.
To begin with, Tyagi must ignore his own HR problem -- his tenure was shrunk from five years to three even before he could take charge.
As a seasoned bureaucrat, he would know that this the way of the government systems; there is nothing personal in it. But many in the organisation may not be seasoned in the ways of the government but would be highly talented in handling their regulatory work.
Holding an umbrella for them and bringing in respect for punctuality and professionalism and rewarding them for it would help him create a legacy during his tenure.
Photograph: Courtesy, PIB
Somasekhar Sundaresan is an independent legal counsel. He tweets at @SomasekharS