Announcing MSP at an elevated level will not be enough.
Growers must be able to procure inputs, such as quality seeds, plant nutrients and irrigation water at reasonable prices, says Kunal Bose.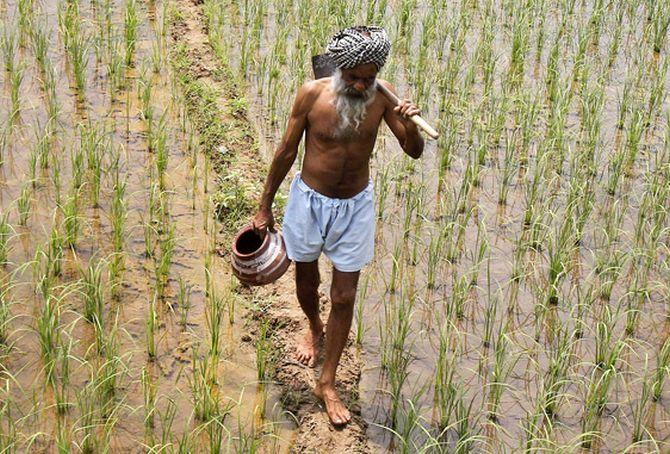 Indian politicians cutting across their ideological predilections are prone to making promises which are not easily redeemable.
They make commitments without the backing of expert studies.
An example of this is Prime Minister Narendra Modi's bold announcement, repeated time and again by his ministerial and party colleagues, that the income of Indian farmers will be doubled between 2015-16 and 2022-23.
The taxonomy of risks in agriculture is long.
Farmers are exposed to risks from the point they start working on a new crop to the unpredictability of weather -- about 55 per cent of agriculture in the country is still dependent on rains -- to their predominant exposure to informal sources of credit to unexpected changes in demand and supply denying them remunerative prices.
This is a big election year when as many as eight states will go to the polls, including three Bharatiya Janata Party (BJP)-ruled Chattisgarh, Madhya Pradesh and Rajasthan. And, the parliamentary election is due in 2019.
With this and also because of the BJP faring poorly in rural Gujarat, particularly in agriculture-dominated Saurashtra, it was a given that Finance Minister Arun Jaitley's focus for the 2018-19 Budget would be agriculture and the rural economy.
Whatever the political compulsions, Jaitley, making a break with the past, has invested the discourse with some well-considered plans that hopefully should lead to improvement in farmers' income at a decent pace.
Farm-related proposals elaborated in some detail for the first time in the Budget will remain a watershed.
The government is moving away from decade-long "production centric" policies and programmes to ones that will generate "higher incomes for farmers".
The strategy is basically two-pronged: Enable farmers to get more per unit of land at less cost and at the same time create a condition that will help in realising good value for the produce.
From paddy to wheat and from cotton to oilseeds, India has long leeway to make up to achieve the world productivity average, not to talk of the best.
There is no shying away from the fact that farmers' income here has through decades compared poorly with non-farm workers.
It is good Jaitley wants to take forward the promise made in his party manifesto that growers should get at least one and a half times more than the production cost of crops.
While the minimum support price (MSP) for most crops grown in the current rabi season provide for 50 per cent more than production cost, this MSP determining principle favouring the farmers will be used for all the crops during the next kharif season.
Announcing MSP at an elevated level will not be enough.
Growers must be able to procure inputs, such as quality seeds, plant nutrients and irrigation water at reasonable prices.
Government agencies are actively engaged in procurement of rice and wheat, linked to the public distribution system (PDS).
As recently as last year, prices of cotton and soybeans dropped below the MSP.
There will be occasions when one or the other crop will trade below MSP, making it obligatory for the government to come to the rescue of growers, by either buying the produce itself or protecting their interest "through some other mechanism."
Jaitley says NITI Aayog, in consultation with central and state governments, will recommend a "foolproof mechanism" that will protect farmers' income in all situations.
Photograph: Ajay Verma/Reuters