The estimated size of the Durga Puja economy could be about Rs 2.75 trillion in 2021 had there been no pandemic, points out Atanu Biswas.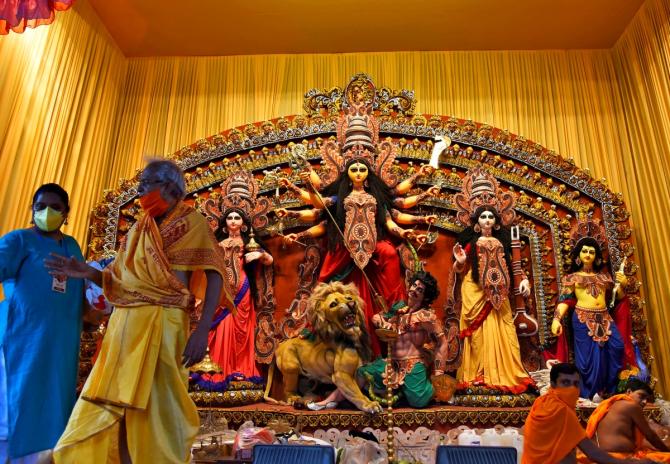 In 2020, the Rio Carnival -- one of the world's biggest attractions, narrowly escaped being eclipsed by the pandemic.
Rio de Janeiro, however, hasn't hosted its Carnival this year.
Consequently, nearly 25,000 jobs were not created, and the financial impact of the cancelled Rio Carnival may exceed $1.5 billion, as estimated by the National Confederation of Trade in Goods, Services and Tourism of Brazil.
Certainly, the pandemic of our lifetimes has severely affected the festivities and economic contributions of various social and religious festivals.
When Munich's Oktoberfest -- normally attended by around six million people -- was cancelled once again, it meant €1.2 billion in lost revenue for Munich and its beleaguered hospitality industry.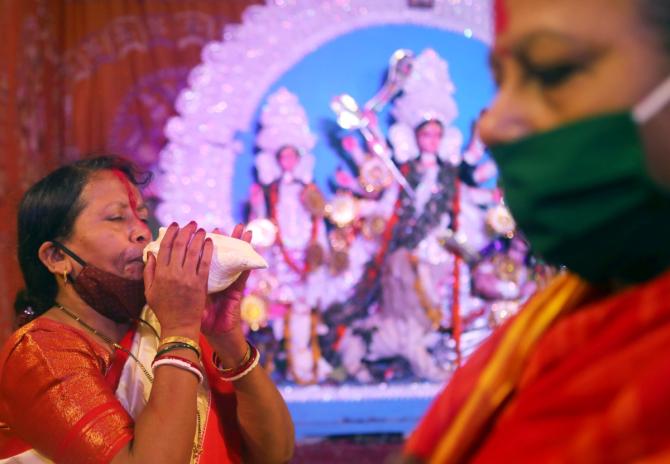 What about Durga Puja then?
Amid the dewdrops and soft essence of nyctanthes in autumn, the annual extravaganza called Durga Puja is the cultural mainstay in Bengal and, for many, a source of livelihood.
Thousands of temporarily built colourful and thematic pandals in different street corners and parks, floods of lighting in the streets, smells of street foods, millions of people out for pandal hopping -- all make it the biggest street festival in the world.
Not many reasonable estimates of the gigantic Puja economy are available though.
The much-cited 2013 Assocham report estimated the size of Bengal's Puja economy as Rs 25,000 crore (Rs 250 billion), growing at an astonishing 35 per cent compound annual growth rate (CAGR)!
While such a CAGR may not consistently persist for long, at this rate, the estimated size of the Durga Puja economy could be about Rs 2.75 trillion in 2021 had there been no pandemic.
In any case, although the exact size is difficult to estimate, the Puja economy constitutes a much higher percentage of West Bengal's GDP than most other important international festivals' contributions to the concerned economies, which are usually around 2 per cent or less.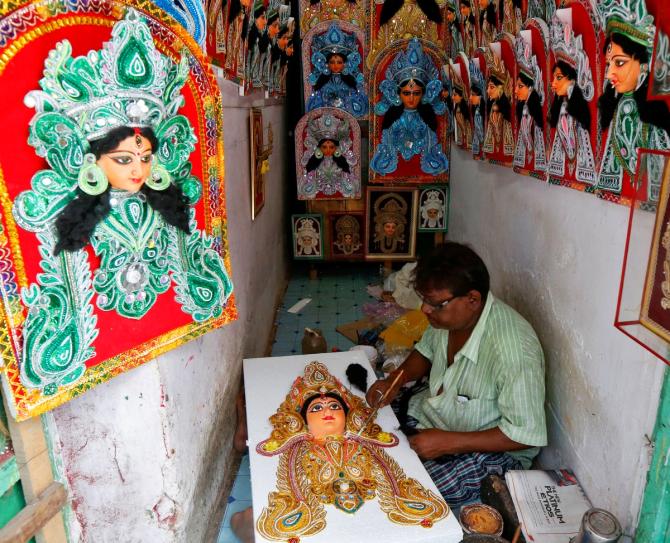 Just before the pandemic, a study conducted by the British Council, led by Queen Mary University of London, and supported by IIT-Kharagpur revealed that a whopping Rs 32,377 crore (Rs 323'.77 billion) creative economy' got generated during Puja 2019 in West Bengal, which accounted for 2.58 per cent of the state GDP.
The study focused on 10 creative industries that drive Durga Puja.
In this study, the incremental retail sales attributable to Puja were estimated by subtracting the average monthly sales from the sales in the festive month of September.
Puja economy, however, may be much beyond these.
Puja purchases are practically carried out throughout the year, with a huge surge in online purchases in recent years.
Also, massive inbound and outbound travel related-expenses occur during the Puja month.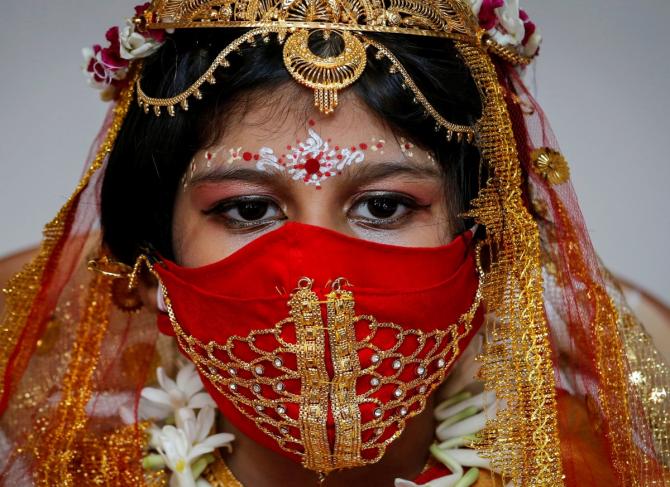 There's little doubt that the glitter of Bengal's Puja faded during the Covid-era.
Pandals are bound to be less decorative, idols are way smaller in many cases, the urgent need for social distancing reduced the number of people on the streets.
Many Puja-related job losses were also inevitable.
The artisans of Kumartuli in North Kolkata -- a famous colony of local idol-makers -- had a frustrating 2020.
Most of the illumination of Puja pandals of Kolkata and other places are traditionally done by people engaged in the lighting industry of the Chandannagar town -- about 50 km from Kolkata, and most of them had almost no work last year.
Unfortunately, this year may not be much different.
Like other folk artists, the livelihood of the dhakis -- drummers from rural Bengal who are rented for their performances at community Pujas -- have also been devastated by Covid-19.
With businesses being seriously hit by the pandemic, corporate funding is bound to be much less -- corporate funding and outdoor advertisements being more than 90 per cent of the total money for community Pujas.
Less pandal hopping of people hurt the livelihood of numerous hawkers near the Puja pandals.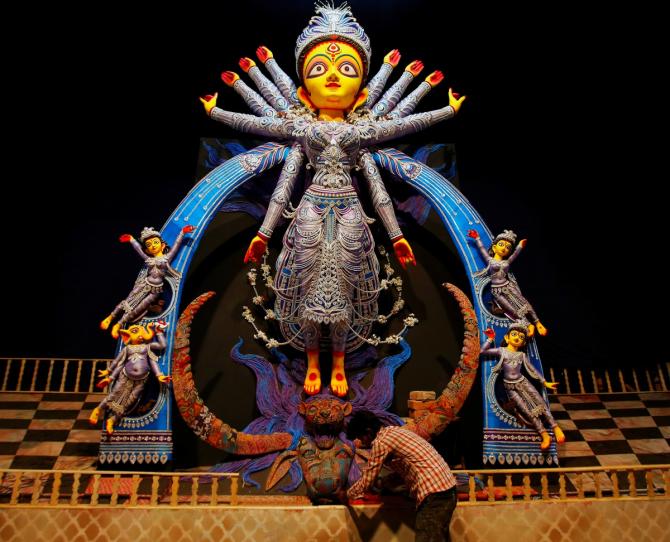 Still, unlike many other major festivals which primarily depend on tourists, the Puja economy in Bengal is largely self-sustained.
I prefer to divide the Puja economy roughly into four major categories -- community worships, pandal hopping, tourism, and Puja marketing, with approximately 15 per cent, 10 per cent, 25 per cent, and 50 per cent shares of the economy, respectively.
With a year-and-a-half through to the pandemic, my guesstimate is that spending on these categories this year will be about 40 per cent, 50 per cent, 20 per cent, and 70 per cent of the corresponding 2019 spendings, respectively.
Thus, this year's overall Puja economy should be around half of the 2019 level.
This might be an inexact picture of the reality, but there's little doubt that like many other aspects, the Puja economy has been devastated by the pandemic.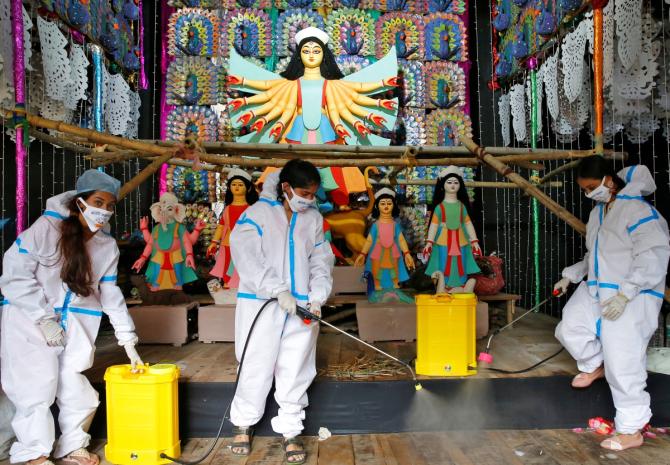 Still, it's a new world in the making, and Puja was bound to be elevated to the world of virtual reality as well.
Hundreds of Pujas were streamed online last year.
The number, quality, and coverage are going to be increased this year, for sure.
It will certainly create an alternative form of celebration and economy in due course.
Atanu Biswas is professor of Statistics, Indian Statistical Institute, Kolkata
Feature Presentation: Rajesh Alva/Rediff.com