Lack of literacy is compromising the ability of farmers in India and China, two of the world's most populous countries with the smallest farm size, to raise productivity without losing soil fertility, says Kunal Bose.
Illustration: Uttam Ghosh/Rediff.com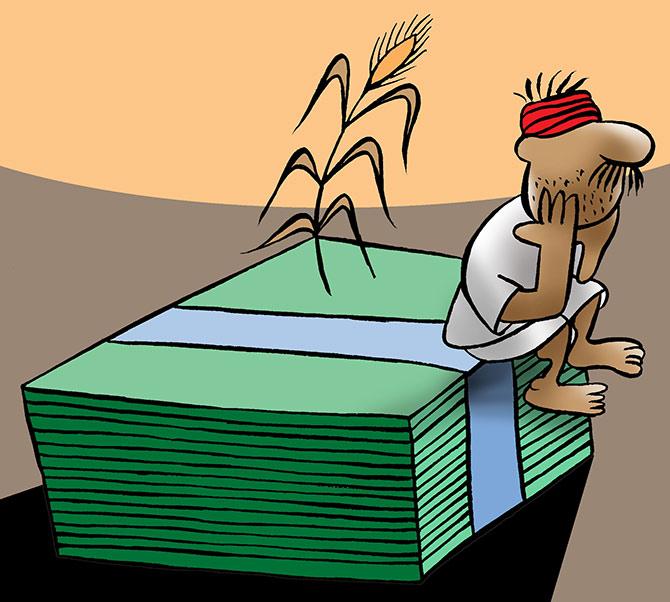 The world's two most populous countries China and India have the onerous challenge of ensuring food security for 2.75 billion through seasons of good rains and drought, with their ownership of farmland and water resource disproportionately small compared to the global total.
India, with 18 per cent of world population, has 9.6 per cent, that is, 179.8 million hectares (mh) of global net cropland area.
More worryingly, it has a meagre share of 4 per cent of global water resource.
China, which hosts about one-fifth of the world population, has ownership of 7 per cent of the earth's farmland.
The country's share of global fresh water resource at 7 per cent is, however, higher than India's.
Another common handicap is that the average farm size in the two countries is among the smallest in the world.
That poses a challenge to any worthwhile mechanisation.
According to the 10th agriculture census, not only did the average Indian farmland size shrink in excess of 6 per cent to 1.08 h from 1.15 h between 2010-11 and 2015-16, but the share of small and marginal holdings ranging up to 2 h rose to 86.2 per cent from 84.97 per cent of total holdings.
During the survey period, the number of small holding was up 7.34 per cent to 125.86 million (m) from 117.25 m.
What about China?
According to the country's ministry of natural resources, the combination of land diversion to construction, natural disasters and environmental degradation led to a fall in total arable land for a fourth year in a row in 2017 to 134.86 mh, down by 60,900 h from the previous year.
Not only that, of this about 15 mh is marked as polluted or set aside for time-consuming rehabilitation.
Much akin to the Indian situation, well over 90 per cent of about 200 m farms in China are less than 1 h in size.
No wonder, then, a National Geographic correspondent has found the Chinese agricultural landscape "less like a blanket green" found in the West than a "patchwork quilt."
The Indian farm landscape outside Nagaland, Punjab and Haryana - where the average farm size is a lot higher than the national average - looks no different than in China.
How then will the vast majority of farms in China and India compare in terms of productivity with the ones in Western countries, particularly the US where the average farm size in 2018 was 180 hectares?
The World Bank data show that all countries across the board had raised cereal productivity between 1961 and 2017 – some such as Austria, Canada, France, China and the US significantly, while others such as India and Bangladesh moderately and still others in Africa at a snail's pace.
During this period, the per hectare cereal productivity in China was up from 1,1193 kg to 6,029 kg, the US from 2,522 kg to 8,281 kg and India from 947 kg to 3,161 kg.
Spectacular progress in farm productivity in Western countries and in China has got much to do with their intense focus on agricultural research and ensuring early transfer of research results from laboratory to farms.
Interestingly, our neighbour Bangladesh, which found its rural economy in tatters at the time of independence in 1971, managed to put things in order earlier than the rest of the world expected to lift per hectare cereal productivity to 4,411 kg in 2017 from 1,681 kg in 1961, when it was part of Pakistan.
Whether it is China, India, or Bangladesh, there is predominance of marginal and small farmers and a good percentage of them in the latter two countries is illiterate.
India's 2017-18 Economic Survey says lack of literacy stands in the way of "absorbing technologies and adopting risk-mitigating measures."
What certainly is not good for Indian farming is that 30 per cent of marginal and small farmers are still illiterate.
That compromises their capacity to manage farm inputs in appropriate combinations for specific crops, which is a sure way to raise productivity without losing soil fertility, the survey observes.
From all indicators, China has scored over India in spreading literacy among farmers and at the same time sustaining highly effective extension services.
Over the years, the country has assiduously promoted literacy among rural masses through programmes like nine-year compulsory education and adult education.
Hasn't professor Amartya Sen said investment in universal education and health provides the fuel for growth in developing economies?
Whether it is India's democratic system or one-party rule in China, for the government to secure political legitimacy it must ensure food security.
Towards this end, both the countries have the challenge of preserving the quality and volume of arable land in the face of urbanisation and also consolidating farmland without causing social tensions.
In the face of growing claims of land for other uses, Beijing has drawn a "red line" that says the country must have a minimum of about 125 mh at all times.
Many Indian states have also become highly selective in permitting farmland to be used for other purposes.
Growing urbanisation in India and China calls for radical structural changes in agriculture where livestock and dairy must have an increasingly greater weight in gross value added in the sector.
The World Bank says that half the Indian population will be living in urban centres by 2050.
China is already 60 per cent urban and by 2030, 1 billion of its people will be living in cities.
Urban residents with higher per capita income than their counterparts in rural centres will have meat, fish and dairy products in their diet.
As migration to urban centres will reduce the numbers of agricultural workers, the two countries will be left with no alternative to mechanisation of farming suitable for small holdings.