Last-mile verification with Aadhaar-Based Biometric Authentication have the worst record among other options available to check PDS pilferage.
So the Centre's insistence on that option is bewildering, says Reetika Khera.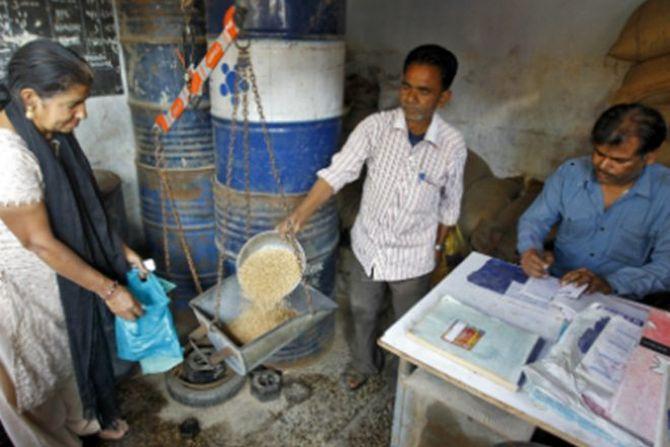 When the National Food Security Act 2013 was passed, it expanded the coverage of the public distribution system from about half to two-thirds of the population.
As corruption has been a long standing problem in the PDS, the NFSA mandated some PDS reforms based on Tamil Nadu and Chhattisgarh experiences.
These were among a handful of states that had successfully reduced leakages.
One such reform was end-to-end digitisation.
Though computerisation of the PDS database had already begun when the NFSA was passed, only a handful of states had reliable "last-mile authentication" of sales in place.
In most states, sales records were maintained by PDS dealers in registers, which were rarely verified by the public or officials.
This enabled corrupt dealers to make fake entries of grain sales, while diverting PDS grain to the open market.
Among other possible measures to counter this, it was suggested that instead of registers, sales should be digitally recorded and made publicly available (for example, on the internet) for anyone to verify.
Last-mile authentication can be achieved in different ways.
A key intervention is any machine (for instance, computers or point of sale machines that makes it possible to maintain electronic records of all transactions).
Aadhaar-Based Biometric Authentication, or ABBA, is one such option.
Here, entitled persons are required to authenticate their fingerprint at the time of purchase.
In June 2017, a survey of 900 randomly-selected households was conducted in Jharkhand to study ABBA in the PDS.
The survey threw up two interesting results: one, in the villages that had ABBA, the incidence of transaction failures was estimated to be about five times as high as in the villages where ABBA had not been introduced.
This is because the backend infrastructure for ABBA is very demanding -- for a successful transaction, it requires electricity, connectivity, functional servers and fingerprint authentication to work, all at the same time.
In rural Jharkhand, this is a tall task.
Two, diversion of PDS grain (quantity fraud) was almost exactly the same in both groups of villages (ABBA and non-ABBA) -- around 7 per cent, that is, households got 7 per cent less than their entitlement on average.
In a nutshell, the Jharkhand survey suggests that ABBA in the PDS causes pain (exclusion and hardship) without gain (corruption levels remain unchanged).
In the months since the survey, things took a turn for the worse.
There have been five hunger-related deaths in Jharkhand that can be directly traced to disruption caused by ABBA in the PDS.
Another option for achieving last-mile authentication was Chhattisgarh's CORE PDS experiment that began in 2012.
They used smart cards with an embedded memory chip.
Each transaction was recorded on the chip and made available online through the POS machine.
The pilot was discontinued (possibly due to a central government diktat regarding ABBA) before any serious evaluation could be done, though small studies were largely positive.
As one official in Raipur put it, this initiative was 'killed' in favour of ABBA.
Anticipating the problems with ABBA, the Chhattisgarh government tried to pass off photographs as 'biometric' authentication.
To that end, in 2016, they distributed tablets to ration shops to take photographs of each person at the time of purchase.
Under pressure from the centre, this too is likely to be phased out to make way for ABBA.
Tamil Nadu has always run a universal PDS, but the NFSA only guaranteed subsidised grain supplies for 63 and 38 per cent of the rural and urban population respectively.
As the cost implications for the state, were it to continue with a universal PDS, are far from trivial, implementation of NFSA began only in 2016.
I had the opportunity to observe Tamil Nadu's version of last-mile authentication on a recent visit to Trichy and Thanjavur: QR-coded smart cards.
The advantage of this smart card system is that it allows the state to keep the baby and throw out the bath water.
Smart card readers (a variant of the POS machine) maintain a digital trail of all transactions (important from the point of view of bringing transparency to ensure accountability).
The smart readers, however, dispense with the requirement of reliable internet connectivity (they can work in offline mode, with transaction records being uploaded as and when connectivity is available).
Since no biometric authentication is involved, it also does away with another vulnerability of Jharkhand's ABBA system.
In the areas I visited, people seem to have their new QR-coded smart cards, and the transactions I observed took less than a minute.
None of those who had gathered at the PDS outlets or in the villages came forward with any complaints.
They said they were satisfied with the working of the new system.
There is one catch: To apply for smart cards, people were required to submit copies of their Aadhaar card/number.
Most submitted Aadhaar numbers for all family members (remember, entitlements were per capita even before NFSA in Tamil Nadu).
Member without Aadhaar are being included "temporarily" (according to one PDS manager) at the moment.
The state PDS website confirms that there are more entitled persons in the state than Aadhaar-linked people in the system.
However, the requirement of Aadhaar at this stage is definitely causing some exclusion (reported on Twitter, for instance).
This brief tour of three states brings out that last-mile authentication can be achieved in different ways -- ABBA is one (currently in use in Jharkhand, Rajasthan and Andhra Pradesh), QR-coded smart cards (as in Tamil Nadu) another, and Chhattisgarh's CORE-PDS smart cards is a third.
Smart cards, whether QR-coded or with memory chips, are as much of a last-mile safeguard as biometric authentication.
In fact, smart cards are better because immobile persons (for instance, the elderly) can rely on others to fetch their grain.
On available evidence, of the three last-mile options ABBA seems to have the worst record, and yet, ABBA is what the central government is forcing states to adopt.
The Centre's insistence on a disruptive option is bewildering to say the least.
Reetika Khera is associate professor (Economics) at the Indian Institute of Technology, Delhi.
Photograph: Amit Dave/Reuters.