'It seems a wiser decision to pull out at the right moment than regret after joining the pact,' explains Dr Rahul Mishra.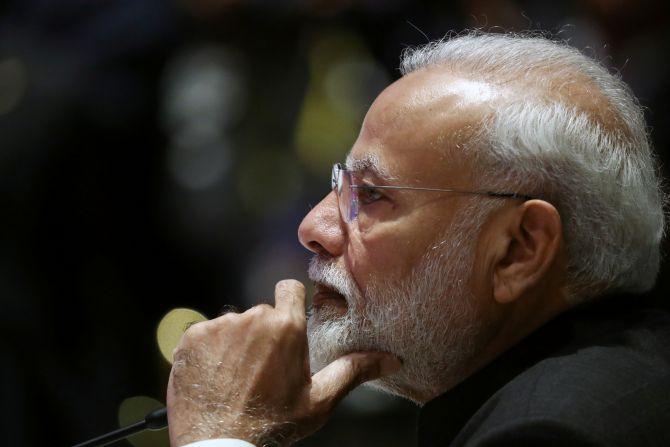 In November 2014, in Naypyidaw, Myanmar, Prime Minister Narendra Damodardas Modi used the v platform to announce the transition from the Look East to Act East policy and pledged India's stronger commitment for its eastward engagement.
After five years, in November 2019, Modi visited Bangkok, Thailand, to attend the Association of Southeast Asian Nations (ASEAN)-India summit and the East Asia Summit and announced India's decision to withdraw from the Regional Comprehensive Economic Partnership (RCEP) negotiations.
Modi explained that the proposed agreement would be detrimental to India's interests as it still, after several rounds of negotiations, failed to address India's concerns. He stated, 'Neither the talisman of Gandhiji nor my own conscience permits me to join RCEP.'
While the decision is in the larger interest of India's poor farmers and cottage industries, it exposes the lack of comprehensive economic reforms in India that would have enabled it to compete with the regional economies.
On the brighter side, with the US-China trade war looming large, India's decision to pursue trade deals with the US and European Union seems a strategic move and might turn out to be a 'blessing in disguise' if India shows its resolve to ink trade pacts with the US and European Union.
Potentially the largest trade pact in the world, RCEP, comprising the 10-member ASEAN and its six dialogue partners -- Australia, China, India, Japan, New Zealand and South Korea, has been perceived as the cornerstone of regional economic integration in Asia involving ASEAN and its dialogue partners from East Asia, Southeast Asia, and Oceania. India was the only participant from the Indian subcontinent.
The sheer presence of India and China in the RCEP would have made the pact the biggest free trade pact in terms of overall population and combined Gross Domestic Product of the constituent members. That, however, seems a remote possibility at least for the next few years. The agreement is likely to be finalised in Vietnam in 2020 without India.
Participating in RCEP negotiations has been seen as a key element of India's Act East policy in the past few years. While India has been showing its commitment to a fair and just rule-based regional trade arrangement, it voiced concerns about some contentious provisions in the RCEP.
Some issues that came up during negotiations from the Indian side were dispute settlement mechanisms, e-commerce, equitable market access, rules of origin and sensitivities of domestic industries.
There are several implicit factors for India's withdrawal from the RCEP.
The first is, of course, the China challenge. The RCEP is often perceived as just another tool for China to dump its cheap quality goods in Indian markets and elsewhere.
India already has a massive balance of trade with China which amounted to more than $50 billion in 2018. If trade with all the RCEP countries are put together, India's trade deficit would stand at more than $100 billion for the current fiscal year.
Almost all the high-level meetings between the Indian and Chinese leaders, including the second informal summit in Mamallapuram, have trade imbalance as an important outstanding issue for discussion.
The only way India can get leverage in the trade scenario is through increasing its pharma and services access including IT exports to China. China has not allowed access to India in these sectors and has done little to allay New Delhi's concerns.
Second, mired in a trade war with the United States and a consequent slump in the economy, China is keen to get the deal through as it would give Beijing an access to new markets such as Japan and India, with which it does not have any bilateral free trade agreement.
While import restrictions applied in some sectors have so far protected India's vulnerable sectors vis-à-vis China, the same may not hold true post-RCEP.
If India is able to clinch anything even closer to a trade pact with the US or EU, it would not only bring India closer to them but also send a clear signal to China with regard to India's firm position on reciprocal market access, not to mention growing salience of the US in India's strategic-economic calculus.
Third, India does not have a good track record with the free trade pacts and does not really rely on the Free Trade Agreements (FTAs) for advancing trade with countries.
In comparison to China's 14 active FTAs, 11 under negotiation and seven under consideration, India has a total of 42 signed, under negotiation and under consideration trade agreements. Most of the agreements are not active.
Not to forget the overstretched ASEAN-India FTA (AIFTA) negotiations and the almost dead South Asia Free Trade Agreement (SAFTA).
Despite the AIFTA, India has not been able to gain much out of the pact and has a negative trade balance with most ASEAN countries.
Signing the pact would have meant even smoother flow of goods and commodities from the 15 partner countries. Taking these aspects into account, it seems a wiser decision to pull out at the right moment than regret after joining the pact.
Fourth, not overlooking the vulnerabilities of its farmers and MSME (Micro, Small, and Medium Scale Enterprises) sectors, and concerns of the domestic industries also played a role in determining India's stand on the RCEP.
A subsistence-based and poorly equipped agricultural sector cannot compete with RCEP countries, several of which are advanced in the agriculture sector.
Similarly, India would have faced strong competition from Vietnam in the textiles sector as well. Dairy and related products, food processing and packaging, largely run by cooperative societies such as Amul and cottage industries respectively, also face severe challenges with a RCEP-like pact.
While concerns pertaining to agriculture, dairy and MSMEs cannot be overlooked, the question that begs an answer is: Despite almost three decades of economic reforms, why has India not been able to reform the sectors on which a majority of its population depends on?
There is no easy answer to this question. The shortfall in India's economic reforms become even more glaring when it is compared with China, which opened up its economy and begun comprehensive reforms in the 1980s -- just a decade before India.
Withdrawal from the RCEP is lauded by some as a right move while some are critical of the government's decision. However, this seems to be the right decision at the moment, as it also throws open an opportunity for India to look for trade pact possibilities with the US and EU.
It's time Indian policymakers introspect and begin a new era of economic reforms with the aim to make economy more outward looking and competitive.
Only time will tell whether India is ready for such a leap forward.
Dr Rahul Mishra is a Senior Lecturer at the Asia-Europe Institute, University of Malaya, Kuala Lumpur. He has co-authored (with Professor S D Muni) India's Eastward Engagement from Antiquity to Act East Policy (SAGE, 2019).