Amid slowing growth and low interest rates, investors will need to focus on stock-picking, suggests John Remmert, senior vice president and senior portfolio manager, Franklin Equity Group.
Illustration: Dominic Xavier/Rediff.com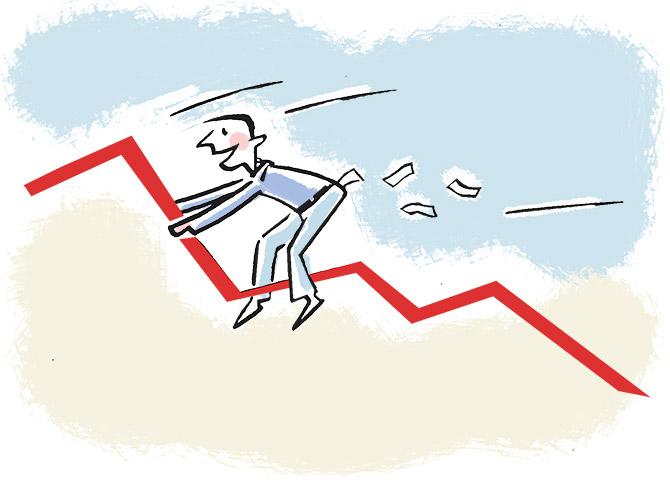 We believe global equity markets face several uncertainties in 2020, particularly around the economy and geopolitics.
But with the dividend yield on global stock markets still more attractive than government bond yields, in our analysis, equities may remain a favoured asset class for many investors.
Will markets take a breather?
Whether consumer spending can continue to buoy economic growth is an open question in 2020.
The global economy continues to grow, albeit sluggishly, with the International Monetary Fund expecting growth of 1.7 per cent in both 2019 and 2020 for advanced economies.
It has also forecast growth in emerging markets to accelerate next year from 3.9 per cent to 4.6 per cent.
The consumer has helped offset a declining global manufacturing sector that has been the main drag on economic activity in the developed world in recent quarters.
It is unclear at this point whether the weakness in manufacturing will begin to spill over into the consumer sector and, if so, how great the impact will be.
When looking at global bonds, the recent drop-off in yields in the United States and many other developed markets suggests to us that the bond market is signaling a more cautious outlook for the world economy in the coming months.
It is also worth noting that about a third of the investment community is taking a more negative view of the economy and is predicting a shallow global recession in 2020, according to the Bank of America Merrill Lynch Fund Manager Survey for September 2019.
That said, equities are still one of the more attractive asset classes, in our view.
With yields extremely low or negative on a sizable amount of government debt, the roughly 2.4 per cent dividend yield on global equities, as represented by the MSCI World Index, should be appealing to many investors when compared to fixed income securities.
The US equity market also looks likely to be among the world's most resilient in 2020, as both economic and corporate fundamentals are more robust than they are in either Europe or Japan.
We may see more significant sector moves, depending on the perceived state of the global economy, and investors' preferences for either riskier or more defensive stocks may change over the course of the year.
Equity market valuations may limit how much higher markets can run, however.
In late 2019, valuations on a price-to-earnings basis were about back to where they were before the sell-off during 2018, which we believe can make it difficult for markets to produce a sustained advance in 2020, unless we see a sharp pickup in earnings growth.
Lower interest rates from the US Federal Reserve and other central banks have been one factor supporting higher equity valuations in 2019.
However, a further move lower in US rates, for one, looks less likely, as Fed Chair Jerome Powell signaled in late October that rates would stay put for the foreseeable future.
A year full of wild cards
The year ahead could also be one of surprises.
Some of the major political issues that have hung over markets in recent years may finally see greater clarity in 2020, be it US-China trade or Brexit.
Meanwhile, US politics ahead of the presidential election and continued populism in Europe could inject some new uncertainties into an already jittery market environment.
And were US economic growth to unexpectedly deteriorate on faltering consumer spending, US policymakers might eventually embrace negative interest rates like their European counterparts, raising a host of questions for global financial markets.
We are also closely watching oil prices and the broader energy markets.
The move toward clean energy, oil oversupply and weaker demand have kept oil prices contained.
Sustained weakness could have some geopolitical consequences for the major West Asian oil producers and may heighten tensions in parts of a region already on edge.
But weaker oil prices may continue to be good for global consumers and the broader economy.
Growth stocks retain appeal
Amid slowing growth and low interest rates, we believe investors will need to focus on stock-picking.
Innovative companies that have strong competitive market positions and can take advantage of durable growth trends -- like cloud computing or autonomous driving, for example -- should have the potential to perform well over the longer term, in our view.
The global equity markets overall may prove directionless in 2020, but individual stocks still look capable of powering ahead.