Home > India > Business > Pix


Discuss |
Email |
Print | Get latest news on your desktop

Bajaj to launch Kawasaki Ninja soon

January 21, 2009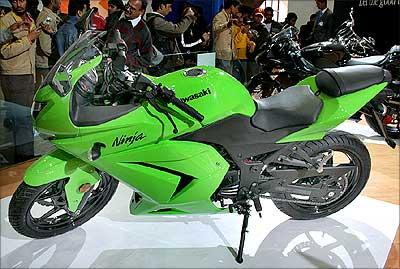 Pune-based Bajaj Auto [Get Quote] will launch sports bike Ninja 250, from technology partner Kawasaki in the next four to five months, while it gears up to introduce motorcycle jointly developed with Austrian firm KTM by next year.
"The Kawasaki Ninja 250 will be launched soon by May or June," Bajaj Auto managing director Rajiv Bajaj told reporters in New Delhi while launching the company's executive segment bike XCD 135 DTS-Si, which has been priced at Rs 45,000.
He said the Kawasaki Ninja 250 is expected to be priced above Rs 200,000.
On the company's plans to introduce motorcycles from Austrian bike maker KTM, in which BAL has over 25 per cent stake, he said the first of the jointly developed products will be launched by next year.
"The bigger bikes from KTM, like the Duke and RR will be assembled in our facility. Their introduction has been delayed a bit. But we have been developing two bikes with engine capacity above 125 cc with KTM. The first of the jointly developed bikes will be launched next year," Bajaj said.
The branding will be KTM, he said, adding it will be manufactured at BAL's Chakan facility.
BAL, which has witnessed a drastic drop in sales over the past few months, is now banking on new products to regain its lost market share with plans to launch as many as six new two-wheelers in the next nine months.
"The industry is expected to witness a growth of two per cent this fiscal. Our company's performance will also be at par with the industry but we are positive of good growth in 2009," BAL CEO (two-wheeler) S Sridhar said. Sridhar said BAL expects to sell about 20,000 units of XCD 135 DTS-Si a month on an average but declined to set an overall sales target for the company for the year.
The company is also ramping up production at its Pantnagar facility, where it enjoys a 10-year tax holiday, and expects to achieve full capacity utilisation in the next five-six months.
"Currently about 30,000 units of motorcycles are produced but in the next five-six months it will produce full capacity of 60,000 with the shifting of the new XDC 135 there from Waluj plant at present," he added.
BAL has three plants with a total installed production capacity of 2,20,000 units a month, while on an average it produces 1,60,000 units.(PTI)
Image: Kawasaki Ninja