Image:
aw students at the Jindal Law School, Sonipat, discuss course material and cases in the corridors, after class
Photographs:
Rohit Gautam/Careers360
Anand Prakash Mishra, Courtesy Careers360
You can pursue law in two different modes. Those who missed applying after Class 12, still have a chance to study after graduation. Read on...
The journey of Indian law schools from "institutionalised mediocrity" (a term used by our Prime Minister at a major conference on legal education some years back) to becoming centres of excellence in professional higher education has been fast.
In just a decade or so, law has emerged as a sought after career.
Universities, law school network
We have law schools, which are universities in themselves; like the 16 premier National Law Universities or State Law Universities set up by Governments of Tamil Nadu and Karnataka, each set up under a separate Act of State Legislature.
We also have Departments or Faculties or Schools of Law in the Central, State, Deemed or Private Universities. Further, there are hundreds of aided and  unaided, government and private law colleges affiliated to these universities.
Increase in test-takers
Law entrance exams are becoming increasingly popular and competitive with the passing of each year.
The number of applicants for Common Law Admission Test (CLAT) rose from 10,773 in 2008 to 25,769 in 2012.
The number of applicants for the three-year LLB course by Delhi University's (DU) Faculty of Law doubled from 6127 in 2008 to 11,384 students.
Two types of courses
Static since independence, the Indian legal education saw landmark developments after the establishment of National Law School of India University (NLSIU) Bangalore in 1986 and the introduction of five-year integrated LLB course after Class 12.
The LLB course is now available in two formats for two different audiences - 5-year integrated LLB course for Class 12 pass-outs and a 3-year LLB course for graduates of any stream.
The advantage is that those who miss the bus after Class 12 due to various reasons still have an opportunity to study law after graduation.
The author Anand Prakash Mishra holds an LLB and LLM from the Faculty of Law, University of Delhi and works at Jindal Global Law School. He has been a founding member and academic head of Universal Institute of Legal Studies, New Delhi. He can be reached at anandpmishra@gmail.com.
Please click NEXT to continue reading...
The 3-year LLB vs 5-year LLB: Which is better?

Image:
Students attend a class at the Jindal Law School, Sonipat, which offers both the five-year and three-year LLB programmes for Class 12 pass-outs and graduates
Photographs:
Rohit Gautam/Careers360
How good is a three-year LLB versus a 5-year integrated law programme?
Every law faculty is asked this question by a large number of students.
The answer is very simple. Both courses are equally good and they should not be compared in the first place simply because they serve to two different audiences.
If a candidate is a Class 12 student or has already passed out, he should go for five-year law without giving any thought to the three-year course in future.
There's no doubt that both the three-year and five-year courses should co-exist in an equitable manner; this is in the best interest of legal education and profession.
Law school offerings
Some top law schools or faculties like Faculty of Law, DU and Faculty of Law, Banaras Hindu University (BHU) continue to only offer the three-year LLB course.
However, some top law schools like the Government Law College (GLC), Mumbai and ILS Law College, Pune have also started offering the five-year LLB course.
New crop of law schools
Most new generation law schools, that is, those set up in the 10-15 years including the National Law Universities (NLUs) have excluded the three-year LLB from their offerings, and have marched ahead only with 5-year LLB course.
However, Jindal Global Law School, among new generation law schools, is an exception and offers both 5-year BA LLB and three-year LLB.

List of major law entrances across the country
Photographs:
Rohit Gautam/Careers360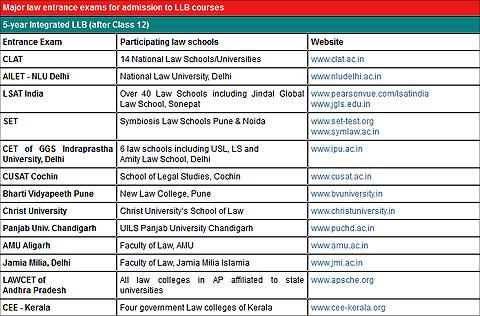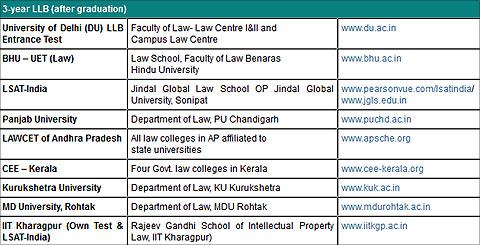 Eligibility for admissions, courses and scope of career

Image:
Dispensing justice is the prime concern of law but is an ideal yet to be realised fully
Photographs:
Courtesy Careers360.com
Eligibility criteria
1. Five-year LLB entrance exams: A candidate should be below 20 years of age as on July 1 to be eligible for CLAT. At some top law schools like NLU Delhi; GGSIP University, Delhi (including Amity Law School) and Faculty of Law, Jamia Milia Islamia, Delhi, the upper age limit is 21 years whereas at AMU Law Faculty it is 22 years.
Candidates from reserved category are given a relaxation of two years. Further any student who has passed Class 12 with 50per cent marks (less 5 per cent for reserved categories) or has appeared for the Class 12 is eligible to write CLAT and other law entrance exams.
2. Three-year LLB entrance exams: There is no upper age-limit for admission. However a candidate must be at least 17 years of age on the date of application.
A graduation degree with 45per cent marks (40per cent for reserved category) is the basic qualification required. Universities like DU and BHU require minimum 50per cent marks while universities like Kurukshetra, Rohtak, Meerut require  only 45per cent marks in graduation.
As per the recent directive by Bar Council of India, applicants who have passed 10+2 or has a graduation degree through distance learning or correspondence mode, will also be considered eligible for admission for the integrated five-year or three year LLB course.
However, applicants who have obtained 10+2 or graduation or post-graduation through open universities system directly without having any basic qualifications for pursuing such studies are not eligible for admission in law courses.
Admissions system
The admission process to law programmes is not uniform.
We have law schools admitting students through All India entrance exams like CLAT for National Law Schools/Universities, LLB Entrance Tests for Delhi University, and law colleges admitting students on merit, that is, secured in qualifying examinations.
However, a vast majority of the top law schools admit students through entrance exams only. CLAT for NLUs and LLB Entrance Test for DU could be considered to be the most important law entrance exams of the country for five-year and three-year LLB courses respectively (view table for listing of major law entrance exams in India).
Employment trends
The five-year LLB, particularly at the NLUs have placed their graduates in national and international law firms, corporate legal departments and consulting companies, in much better way.
However, the judges, academicians and law officers in the government mostly come from three-year LLB courses offered at university law departments and faculties.
Important in this context for a law aspirant is to aim for and secure admission to a top law school/faculty to get a wholesome legal education and learning experience.