Image:
IIM-Rohtak batch of 2012
Photographs:
Pagalguy.com
Astha A
HSBC and Tata group were among the top companies who hired the first batch of IIM-Rohtak graduates.
The Indian Institute of Management (IIM), Rohtak which became operational in 2010, concluded its final placement process for its first ever graduating batch last week.
In the rolling process, a total of 58 offers (including six lateral and five pre-placement offers) were made by 27 companies to a batch of 47 students.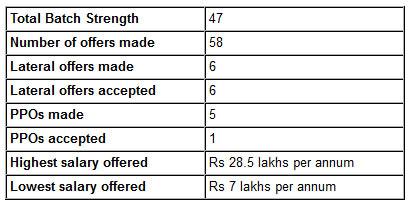 Must read: She bagged a Rs 65 lakh job offer from Facebook
Click
NEXT
to continue reading
28 percent students took jobs in the finance sector
Image:
Table 1: Distribution of roles across sectors, Table 2: Role distribution in Finance sector
Photographs:
Pagalguy.com
The institute provided a function wise drilldown for its 2012 batch.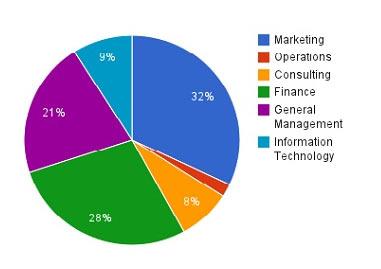 Finance
28 per cent of the total batch are taking up jobs in the finance function.
The major companies who came to campus include HSBC, HDFC, Yes Bank, Max New York Life Insurance, RBI and Tata Power among others.
While HSBC offered Investment Banking and Equity Research profiles, Yes bank offered a corporate banking profile.
In addition, the Reserve Bank of India offered roles in Central Banking with Max New York Life Insurance offering Investment Analyst roles.

32 percent chose Marketing profiles
Image:
Distribution of placement for Marketing roles
Photographs:
Pagalguy.com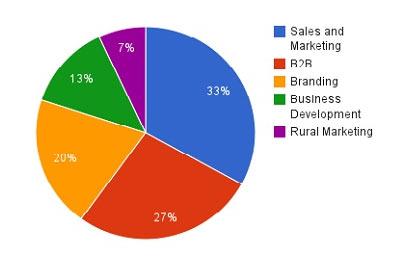 Marketing profiles were taken up by 32 percent of the participants.
Business development profiles were offered by Pfizer and Tata Motors while Titan and Berger Paints offered retail marketing roles.
In addition, Tata Steel offered B2B sales roles to students.
Other companies that came on campus included Mother Dairy.

23 percent opted for operations and general management roles
Image:
Table: Average salary by function
Photographs:
Pagalguy.com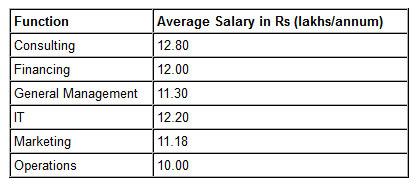 Consulting and IT
17 per cent students received offers in IT and consulting functions.
Cognizant as well as Ernst & Young were among the top recruiters in this functions.
Cognizant recruited students as Business Analysts while Ernst & Young offered Business advisory Profiles.
Operations and General Management
The final 23 per cent of the batch opted to take up roles in the operations and general management functions.
Operations Manager, Regional Head in Strategy Department as well as Senior Manager in the international division were some of the profiles offered in these functions.
Sector-wise break-up of IIM-Rohtak placement 2012
Image:
Sector-wise breakup of IIM-Rohtak placement 2012
Photographs:
Pagalguy.com
The institute further provided a sector wise break down of 2012 batch jobs