And Satish S is willing to spend more, discovers Nikita Puri.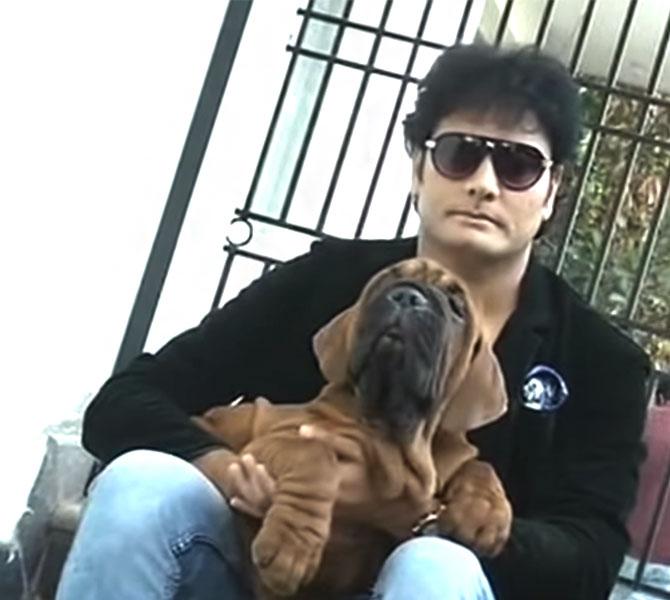 There's easy money waiting to be made by those who know Bengaluru's Satish S.
"I'll give Rs 10,000 to the person who names my new puppies," says Satish, president of the Indian Dog Breeders Association. Not even three months old, the puppies Satish is referring to cost him Rs 1 crore (Rs 10 million) each.
These puppies belong to the family of Korean Dosa Mastiffs, are known to be large and have heavily wrinkled skins.
"They are a rare breed. I've been looking for them for 20 years and it was only by chance that we found a dealer in Beijing," says Satish, as he elaborates on his love for big dogs. The more the wrinkles, the more the breed appeals to him. 'I would have loved to name them myself, but I'm just focussing on their recovery now."
Satish is often spotted at dog shows across the country and abroad with a handpicked selection of the 300 champion dogs registered by him and talks about how comical he looks when walking with a small dog. A little over six feet, he towers over most people sitting around us.
All Satish could dream of as a child was owning a dog. Having seen his love for the 15 strays that lived around his house, Satish's father, a veterinarian, finally took him to a poultry farm that was home to a few dogs.
Content after he was promised a puppy that would be a mix of a Pomeranian and dachshund, Satish recalls seeing a big shadow pass by. "I thought it was a cow; I turned around to see the biggest dog I had ever seen," says Satish. It was a Great Dane, a breed that easily grows to 80 cm.
"I was told I couldn't keep a Great Dane because big dogs need more maintenance and a middle-income family couldn't afford it, but I knew I couldn't let go," says Satish. A few months later, he cycled to the poultry farm with friends and came back with a Great Dane puppy.
Four years later, when his Great Dane had her first litter, a neighbour insisted on paying Satish for one of the puppies. "He gave me Rs 1,200. I was shocked, I didn't understand why someone would pay for a puppy," says Satish, who was still in school when he made his first sale.
When another puppy fetched Satish Rs 675, he realised the business had the potential to take off and started charging Rs 2,000 to Rs 4,000 per puppy. "My father told me he'd rather see me sweeping roads than breeding dogs, but I couldn't give it up," says Satish.
He would go around on his cycle to meet veterinarians and dog lovers to figure out what kind of dogs they wanted and what kind of maintenance these dogs needed, remembers Satish's long-time friend Vivek Ramakrishna. It was Ramakrishna's father who had given Rs 1,200 to Satish years ago.
Since breeders have a reputation of exploiting dogs in kennels, Satish built a network of those who wanted pedigree dogs and got them puppies, thus ensuring that the dogs were well-cared for with families, says Ramakrishna about Satish's 'innovative business mode.'
While a Great Dane pup can cost up to Rs 25,000, Satish's dogs, registered under Cadaboms Kennels, can get him Rs 1 lakh (Rs 100,000) owing to their pedigree. Every time there is a litter, the family gets to keep one pup; the rest go to Satish, who has also acted in Kannada films.
For all the Neapolitan and Tibetan Mastiffs who have brought Satish great fame, ironically, he still doesn't have a dog at home because "it's not allowed." So he spends his days checking up on dogs who stay with friends, says Satish. He is expecting another pair of Korean Mastiffs in a few months.
While the Korean Dosa puppies are still adjusting and more are to come, Satish has already received requests for their progeny. "I can't charge them what I incurred for importing the puppies, but people are ready to pay Rs 1 lakh just for booking," says Satish.