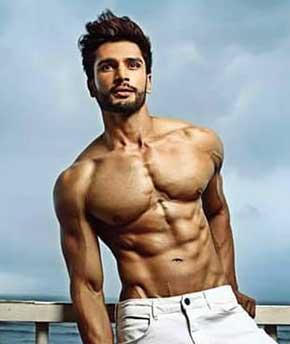 'If you ask me what is God, I'd say, God is Mr World'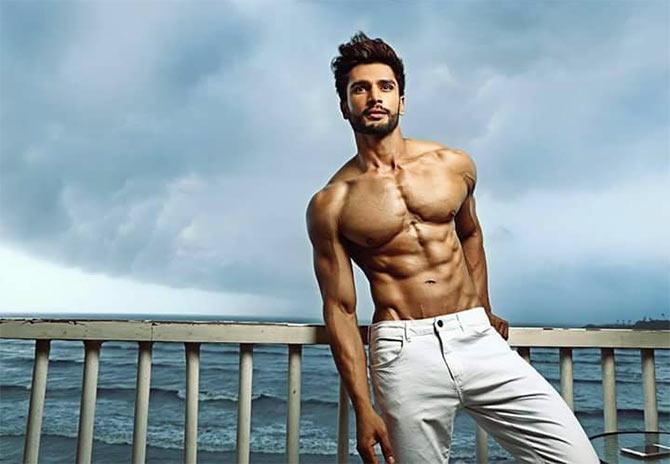 IMAGE: Wow! Those washboard abs are irresistible. #FitnessFreak All photographs: Kind courtesy Rohit Khandelwal/Instagram
Rohit Khandelwal moved from Hyderabad to the 'city of dreams' in 2013 to make it big in Bollywood. But destiny had other plans for him.
He hasn't yet made it to Bollywood, but he has certainly made India proud.
Winning the Mr World 2016 trophy -- an international pageant that was hosted in Southport, England -- and becoming the first Indian, Asian to clinch the title, this hot, sexy hunk is the man of the moment.
"Although acting was my priority, I was good with modelling too. To survive in Mumbai, I had to take up modelling projects. But I am glad I did modelling, or else Mr World wouldn't have happened," the 27 year old from Hyderabad tells Rediff.com's Tista Sengupta.
Tell us about your journey at the Mr World contest
The journey was amazing. I was selected for Mr World after I won Mr India in 2015.
It started with a two-day visit to Manchester where all the 46 contestants met. We were divided into four teams -- named red, blue, green and yellow.
There were lot of team activities that we had to take part in to see how well we perform as a team In my team, there were contestants from Austria, Wales, Argentina, Russia, Bulgaria and El Salvador.
We indulged in extreme sports that tested our physical strength. For example, we had to run up and down on the sand for 5 km. We took a golf challenge, performed exercises like sit-ups to check our endurance.
There was a talent round where I performed to the song Malhari from the movie Bajirao Mastani. I wore a beautiful outfit designed by Nivedita Saboo and added different elements like jhanj (a musical instrument), dhala (shield) and sword.
I not only danced like a warrior, but even showed how a victorious a warrior looks like. On my head, I had a pagdi (headgear). It was very different from all the other performances.
A Bollywood number at Mr World! Why?
Look, I am a Bollywood freak. I wanted to do what I am good at. Moreover, Malhari is one song everyone likes.
I always do things that my heart tells me to do. Initially when I worked with three different companies, I never realised that it wasn't something that my heart wanted.
The experiences I had while working as a professional in the corporate field made me strong and mature. It helped me handle the struggles I faced in Mumbai.
What do you think gave you an edge over the other contestants?
Luck is definitely very important. I believe that at the right time, right things should happen.
I have been myself throughout the journey; maybe that helped too.
I kept myself prepared. I knew what exactly I'd wear on each day. A big thanks to designer Nivedita Saboo and stylist Surbhi Sharma who helped me with the planning.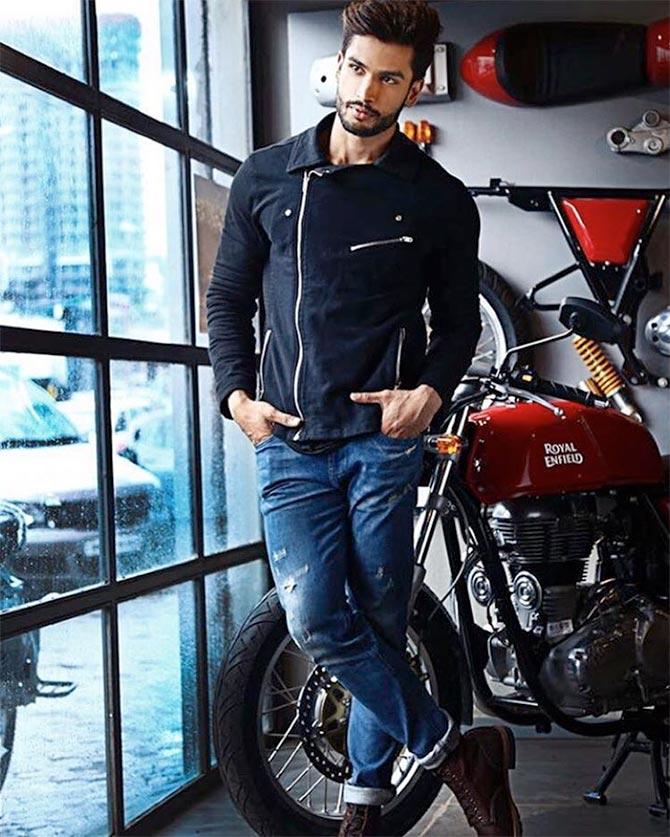 IMAGE: Seems like Rohit is fond of bikes!
What are the qualities Mr World should have?
He should be very hard working, a selfless, humble and approachable person to everyone, be it a kid or a 90-year old man.
He should be a learner and a listener.
He needs to have affection for people. He should contribute to society and that should be his priority.
He should be able to create an impact in society.
He should be fit because people will look up to him.
If you ask me what is God, I'd say, God is Mr World.
How did you prepare yourself mentally for the pageant?
I have always thought a lot about the pageant. I knew what will happen at Mr World so I went prepared.
I wasn't nervous and left it onto destiny with the thought that only the best man will win.
More than the feeling of competing, I wanted to enjoy the process.
I wasn't there to just overtake somebody and put my fellow contestants down. I was there to just be myself and to give my best shot.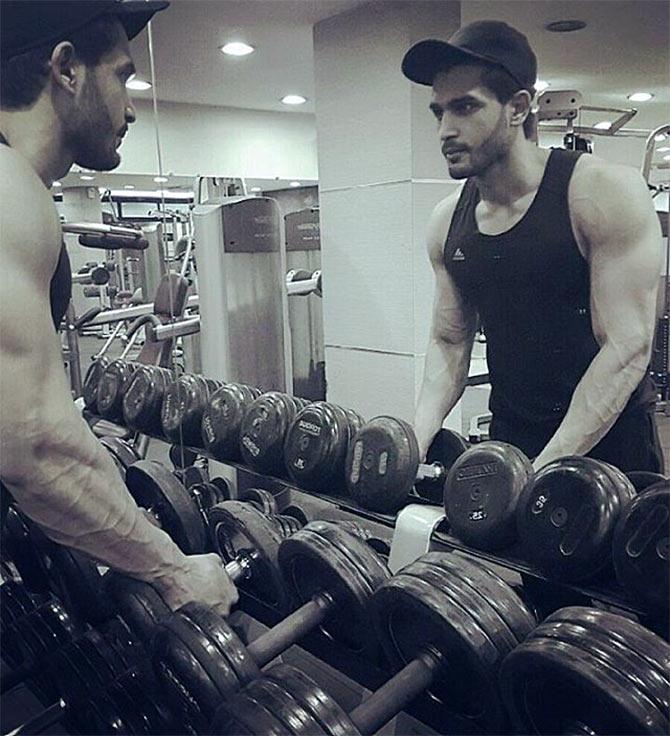 IMAGE: The secret behind Rohit's sculpted body is working out at the gym every day.
Tell us about your childhood.
I was a very stubborn kid. I remember going to a store to buy one shirt, but made a point to try at least 50 of them, before deciding on the one that I wanted. I always liked to be in front of the mirror and the camera.
I was obsessed with Bollywood too. I was very fond of Salman (Khan) and Shah Rukh Khan. I always wanted to look like Salman and act like Shah Rukh. After all, Shah Rukh is so charming, and Salman is handsome. Both of them are just so great.
When I was young, people used to call me 'hero'. The name somehow got into my mind, that I think it helped me today to make myself fit to win the title.
Were you academically bright?
When I was a student, (Rohit did his schooling at the St George's Boys Grammar School, Hyderabad) I was pretty average. I think I was a better student at college (he graduated in commerce from the Aurora Degree College, Hyderabad).
I always took part in dance, anchoring, acting and fashion shows. I was never into sports. Extra-curriculars always interested me. There were times I have bunked classes for practice.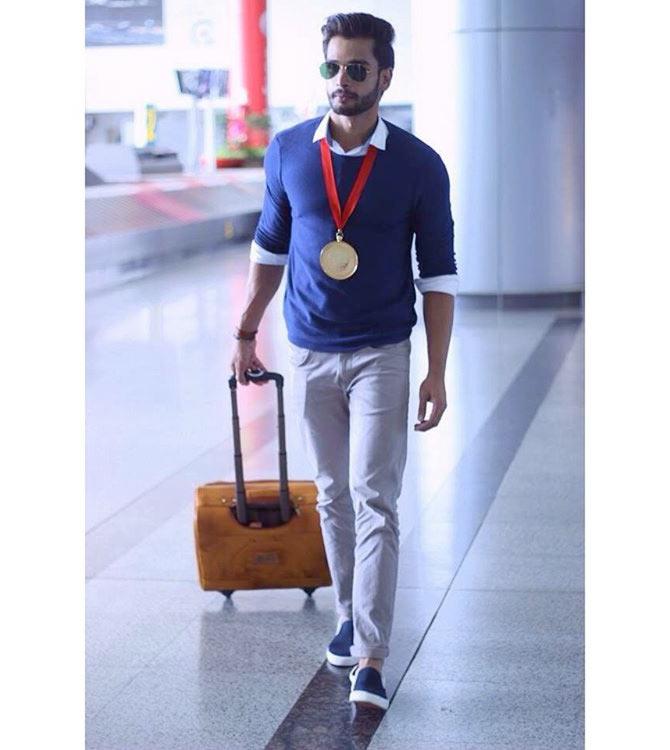 IMAGE: Rohit in Hyderabad after winning the Mr India title in 2015.
You worked for three companies before you entered the world of glamour...
After college I worked as ground staff for Spice Jet at the domestic airport in Hyderabad. I took up this job in 2010. I was very fond of the way the airline industry works.
In six months, I felt this wasn't the kind of job I would like to do in the future. I joined Dell Computers as a technical support assistant and worked here from 2011 to 2012.
As a child, I could change hard disk drives even if they worked properly. I observed the technicians who did this job well. I have tried my hand at changing hard drives in my father's computers when he would go off to sleep.
In 2012, I started working at the HSBC Bank, Hyderabad, as a customer care executive. I worked here for a year.
From a corporate worker to a model, how did the transition happen?
While I was working at HSBC, I realised I wanted to become an actor. I knew I had to be in Mumbai because the Hyderabad market is really small. The growth as an actor only happens in Mumbai. So I packed my bags and moved to Mumbai in 2013.
Initially getting work was difficult. Although acting was my priority, I was good with modelling.
To survive in Mumbai, I had to take up modelling projects. I am glad I became a model, or else Mr World wouldn't have happened.
How did your parents react when you told them about modelling?
I am the youngest in the family and my parents weren't sure about my choice of career.
The environment in my house was such that my father used to watch news channels. Supplements like Bombay Times never came to our house so he never believed in this profession.
It was less difficult for me to convince (my parents) thanks to my brother Rahul. He is a strong pillar of support. He told me, 'Go ahead and let's see if things work out or not. You always have home to come back to.'
When my father saw me progressing gradually in this career, he began to have faith in me. I used to talk to him over the phone and made sure to let him know that my expenses were going in the right direction.
As I moved from one job to another, my parents thought I would leave this profession too. When my father saw my dedication, he supported me.
IMAGE: Rohit poses for the cover of TMM magazine.
Your first modelling assignment was...
... at the age of 23. It was for a traditional brand named Chintan. I got it through a friend, and was paid Rs 1,500 for the shoot.
I was very happy to get that money, because initially it was very difficult to get shoots.
When I started off, I was rejected a lot of times. A few told me I wasn't fit for a particular shoot, others thought I should work out more or do something about my hair, etc.
Every time someone rejected me, I worked hard on myself. I took their words positively. I feel you should always welcome your critics no matter who they are.
How did you manage in a city like Mumbai alone?
I didn't have any contacts and wasn't financially secure when I moved to Mumbai. I struggled initially and had days when I was in tears. But somehow I always managed. I saw a lot of people struggling along with me.
There are moments when I have laughed, and have been sad... but I never let hope leave me.
Every single day I have put in efforts to brush up my skills -- from the way I walk to the style of talking, etc.
Once I started getting compliments and more work, that's when I realised that I was progressing in the right direction.
I used to get homesick at times. After all, Mumbai is a place where you are alone most of the times. People are busy with their lives. These are the times when tears rolled down my eyes.
I had an unpleasant time once. A guy -- who had become a close friend -- conned me big time. One day, he took away my flatmate's laptop and around Rs 30,000 from me.
He took the money the same day I received it. He was a struggling actor.
And...
I tried contacting him, but it was of no use. I had to pay for my flatmate's laptop, which was very expensive and it was a new one.
To sort out my expenses -- that took me some time --- I did fashion shoots for local t-shirt brands.
This incident made me understand that it's very important to analyse people and not trust them easily.
Your Hindi wasn't very good. How did you work on it?
I did have Hindi as a subject in school, but when I spoke the language, the diction was Hyderabadi.
Within five to six months of moving to Mumbai, I hired a teacher for Hindi speaking classes.
I started reading a lot of Hindi books. I consciously spoke with people in Hindi.
It was difficult in the beginning, as I couldn't read properly, but later it got better. I learnt to speak properly in Hindi in four months.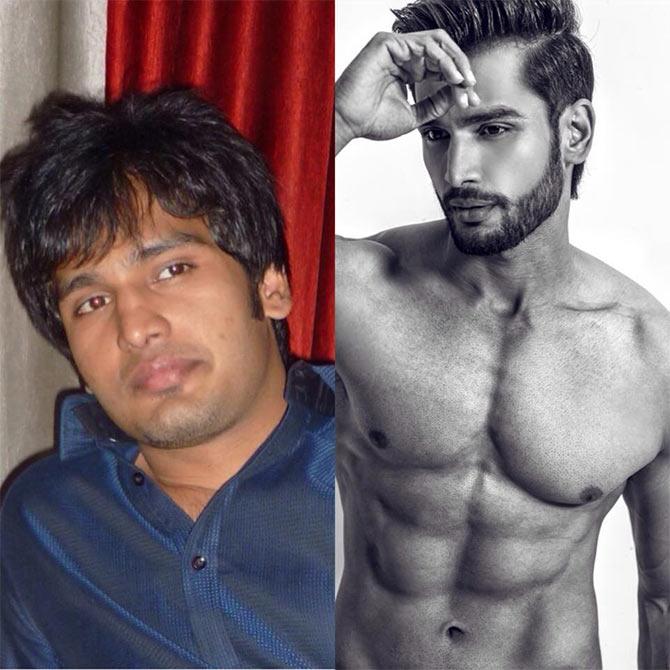 IMAGE: That's Mr World 2016 before he became a model, left. What a transformation!
Did you ever face the casting couch?
I was very headstrong about not getting into something like this. I think it's just a waste of time. This is what small coordinators do.
People have a wrong perception that modelling only works this way.
I have been earning a lot of money through the shoots I did. The casting couch is just bullshit to me. I have never met such people, and I believe only talent gets you work, and nothing else.
It doesn't matter if you're a girl or a boy. It's about your determination, how well you are connected with people, focus and hard work.
You should know where your forte lies.
How did life change for you through the pageant?
During the Mr India contest in 2015 -- which happened all of a sudden -- I wasn't much into working out.
When I read about the contest in The Times of India, I thought of giving it a chance. And it was all because the contest had included a new sub-contest 'Mr Best Actor' that year. I thought this is where I could connect.
I was jobless, and never thought of participating in a beauty pageant. There were only 15 days left for me to fit into swimwear.
I never had a good body. I needed to have a body that looked really good. So I exercised twice a day.
Cardio and functional training helped me a lot. I had dinner by 7.30 pm and stopped eating post that, as it's not good for the body.
You were in ads, brand photo shoots, magazine covers and even serials.
I have done cover shoots for TMM and You & I magazines. For brand shoots, I worked with Big Bazaar, Kruff Jeans and Peter England.
I have also done Web site shoots with Myntra and Provogue and television commercials like Malabar Jewellers with Kareena Kapoor, Hyundai i10, Pulsar 220 and Cinthol, to name a few.
My first break in television was with the serial Yeh Hai Aashiqui. I even played a role in Channel [V]'s show Million Dollar Girl.
IMAGE: Rohit with the Mr World 2016 trophy.
Who is your inspiration and why?
Shah Rukh Khan :)
He's very hard-working. I have read so many of his interviews and appreciate one thing that I got to know about him.
Even today when SRK goes for a shoot, he feels nervous about work and thinks whether people will accept him or not. He takes work very seriously.
Who is your style icon/s? What do you like about them the most?
It's an Italian model, Mariano Di Vaio. I like his dressing sense and hairstyle.
He is self made. He was on the streets of New York City, and after a lot of struggle, today he is so successful.
Your personal style...
I love to wear clothes that are well-fitted and sharp.
I mostly prefer black or white. I don't like colours much and I experiment rarely.
You will always find five black and white shirts each, and three black and white tees in round neck, V-neck, etc. in my wardrobe. They are basic, but can be worn everywhere. They look classy too.
Best compliment you have received so far
That I am one of the most grounded and humble person they have come across..
Are you planning to enter Bollywood now?
Bollywood is the main stop for me. Only if something good comes my way, I shall go for it.
I want to do movies like Jodha Akbar, Pursuit of Happiness, Lootera and Swades. I like the roles actors played in these movies. They were very aspirational.
If it's romance, it has to be Dilwale Dulhania Le Jayenge.
For now, I will go abroad to promote Mr World.
IMAGE: Did you know Rohit is an animal lover? #CutenessOverload
How is Rohit Khandelwal in a relationship?
When I was in a relationship one-and-a-half years ago, I was a protective person.
I wanted to know what my partner is doing. I made sure that I spent time with her.
What qualities do you want in your girl?
I have been single for a pretty long time. As I keep busy with work, I don't think I can do justice to a relationship.
But if I love someone I'd want her to be grounded and humble. She should respect others and know that life is all about being happy.
She needs to be realistic and ambitious. She should have something in life that drives her to work hard.
What's your success mantra?
Never ever give up. Believe in yourself.
Believe that every second magic can happen in life. Believe that where there is a will, there is always a way.
Obstacles are a part of your life, but every single day you need to evolve.
You should listen to your heart and do what you are good at. That's how you will be successful.