We'd asked you, dear readers, to tell us about the woman who inspired you in your life and career.
Ankit Rajput salutes a colleague who inspired him in his career journey.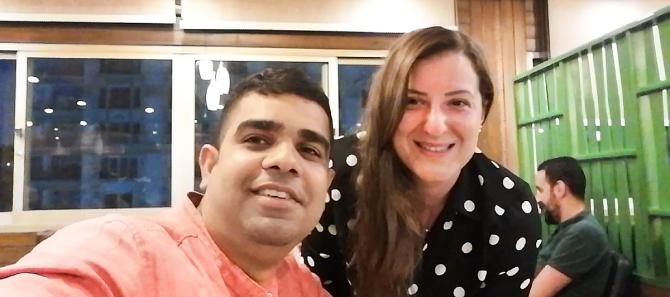 I believe that certain things are destined to happen.
I work with a retail group in India.
The first time I received an offer to visit Egypt was in 2008. After that, I received multiple offers to visit the country which I ignored.
Looking back, I feel the offers kept coming to me because I was supposed to meet a friend, colleague and a happy soul there.
Although we worked in different departments, I spoke to Mona over the phone for the first time in 2017 for a marketing related promotion activity.
After that, I was in touch with her mostly for work.
Two years later, in 2019, I met Mona in Egypt.
I worked there for a month and often interacted with her. She told me, "There is a bigger world outside waiting for you."
During that time I had worked in the organisation for 14 years. People had started taking me for granted, making me feel that loyalty is a liability.
Even during the pandemic amid financial insecurity, it was Mona's words that gave me the courage to trust myself and move forward in a new direction.
I was employed, but serving a notice period. So I thought of taking a break and re-calibrate my life.
One sunny afternoon, I was at beach with my friends, thanking all the people in my life who had made difference.
I messaged my former boss while I was still serving my notice period.
To the effect of Paulo Coelho's The Alchemist, I got an offer from my former boss within a few days.
And I remembered what Mona told me: "There is a bigger world outside waiting for you."
It's been 6 months now and I am relived from all the unwanted pressure, wandering happily and thanking her all these days.
---
Ahead of International Women's Day, celebrated March 8, we are asking you, dear readers, to tell us about the woman/women who has inspired you.
Tell us how this person influenced your life and career goals and encouraged you to be successful.
What were the some of the best learnings and advice you received from her and how did it help you?
Write in to us along with your NAME, LOCATION and a PHOTOGRAPH of the woman who inspired you (Subject: The woman who inspired me) and send it to getahead@rediff.co.in. We'll publish the best responses on Rediff.com.