'If the future of the nation is lying on the streets, the future of India looks bleak.'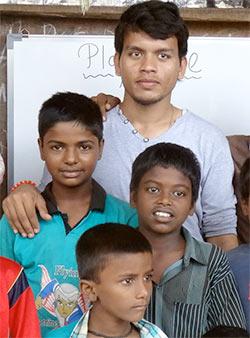 IMAGE: Prince Tiwari, founder, Teresa the Ocean of Humanity Foundation, completes his run at the Radio Mirchi half Marathon in May.
All photographs: Kind courtesy Prince Tiwari
In 2011 when Prince Tiwari, a qualified chartered accountant decided to educate street children living under the Western Express highway in Kandivali east, northwest Mumbai, he was applauded for his efforts.
This year, Prince, 23, who sponsors the education of 86 students, has been facing a financial crisis.
To ensure that the future of the kids is secure, he has planned a walkathon campaign 'Prince Run For A Cause'.
He will walk 24,000 km to raise enough funds for underprivileged children.
In the wee hours of Children's Day, November 14, Prince will start his journey on foot.
Rediff.com's Tista Sengupta caught up with Prince over a cup of coffee to find out how this idea brewed in his mind.
In how many days will you complete 24,000 km?
It would take me approximately 120 days to complete this walkathon.
I am hoping to cover a distance of 200 km every day.
I will walk to almost every state capital in this country.
In the beginning of the journey, a few of my donors -- Mattson Poruthur, Mohsin Merchant and Dr Sachin Irkal -- who have donated for my NGO (non-government organisation) Teresa The Ocean of Humanity Foundation will accompany me.
Eventually I shall complete the walkathon all by myself.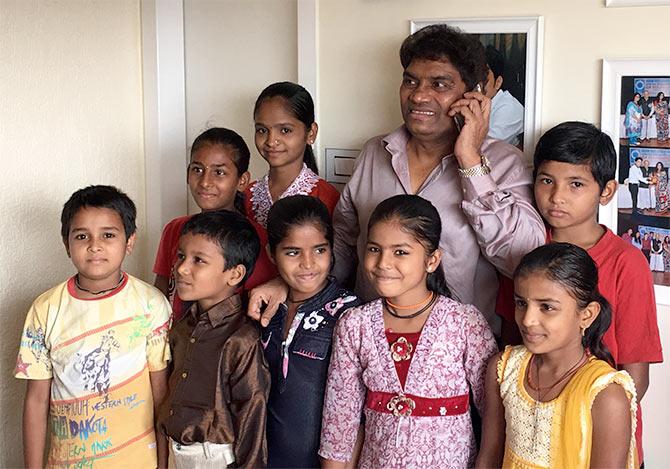 IMAGE: See how happy the children look when they met Bollywood comic Johnny Lever.
What is the purpose of this walkathon?
It's yet another attempt to give a better future to the kids.
This walkathon will help me raise funds to build a school of my own.
The school would provide free education and accommodation to the children living below the Kandivali bridge.
Are your parents aware of this?
I haven't told them yet. I shall tell them on the day I am going to leave, November 14.
Had they known about it, they wouldn't have allowed me to go.
After all, I will be away from home for a very long time and they would be worried.
I hope when I complete the walkathon successfully, they will be very happy.
How did the idea come to you?
This May, for the first time, I participated in a half marathon hosted by Radio Mirchi.
I registered for it through You Too Can Run (an events company) online platform.
They have organised a lot of marathons in India. While registering, I read about how they raise funds for social causes through running events.
I connected with them. They told me there would be certain expenses that I would have to bear.
I had heard of a lady from Pune who completed the Indian Golden Quadrilateral on foot and covered approximately 6,000 km.
She paid Rs 60 lakh (Rs 6 million) to the events company for organising it, as mentioned by P Venkatraman, founder, You Too Can Run.
With this amount, they not only managed her media coverage and public relations, but also provided her with a nutritionist and dietician to make sure that she had a smooth journey.
She only got Rs 10 lakh (Rs 1 million) that was raised online.
For me, paying a big amount isn't possible. I would pump in the money for my children, instead of spending it on a campaign.
Moreover, if I had so much money, I wouldn't have to think about raising funds this way.
And....
In June, my students and I were invited to the Rishi Gurukulam Katarkhdak Hills, a school in Mulshi taluka, Pune, during the summer vacation.
The school follows the Gurukul system of learning and is affiliated to the CBSE board.
I took 11 of my students and stayed there for 11 days. I was impressed to see how children study in open classrooms, under the trees.
Being a residential school, the children lived there and learnt subjects like carpentry, cooking, dance, music, etc.
I too wanted to start something similar by the next academic year and take my kids there.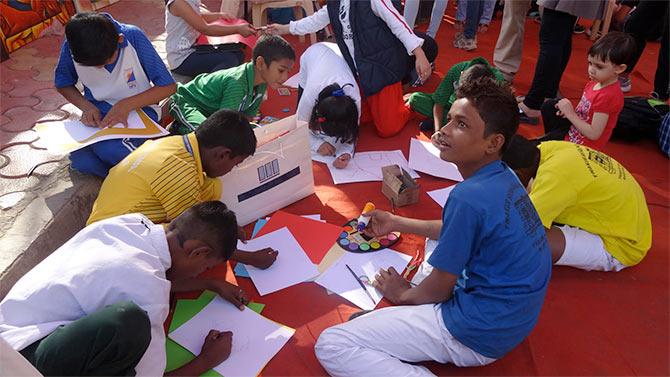 IMAGE: The kids had fun participating in the drawing competition at the Thakur Village Festival, Kandivali.
Your students are studying in the Thakur College in Kandivali. Why would you want to move them from this school?
The school has recently shut the semi-English section. So I had to move the students in this section to the English division.
The fees for children who were into semi-English education increased from Rs 15,000 to Rs 30,000. Along with this, I had to get new books for the kids.
Even though the school teachers and the principal understood my situation, the management couldn't help much.
When I met them, they said, "We are doing business, and we can't do anything."
If all goes well and I raise enough funds, I should be able to shift them at the beginning of the next academic year.
The construction (of the school) wouldn't take more than two months as the houses will be built with bamboo.
We shall use solar energy for electricity.
The parents of the kids will indulge in organic farming, cow shelter, etc.
How do you plan to raise funds?
Sometime around May or June I had tried my hand at crowd-funding for the first time.
But I only raised Rs 18,000.
This time, with the help of BitGiving (a crowdfunding platform) I shall be participating in 'Prince Run For a Cause'.
The campaign head Prarthana Gupta is putting all her efforts on making it a success.
We shall be using social media effectively to promote the campaign.
People who come to the page to contribute or read about the project will also get information on the walkathon.
Interested people can start donating from November 14.
How much do you aim to raise from this campaign?
I intend to raise Rs 3 crore (Rs 30 million) from this campaign.
I know it's a huge amount, but the land I want to buy to build the residential school (in Kanchad, near the Nashik highway) will cost me around Rs 2.5 crore (Rs 25 million).
I have also spoken with Kunal Bari, the CSR head of Tata Steel. who has promised to provide me solar panels for the school.
He said the company can help with 70 to 80 per cent on cost price.
One donor, Vinayak Nabar -- a retired civil architect -- will help in constructing the school.
I just hope we get the 80G certification for the NGO by the time I am back in February or March.
With donors getting a tax exemption, more individuals might come forward to help.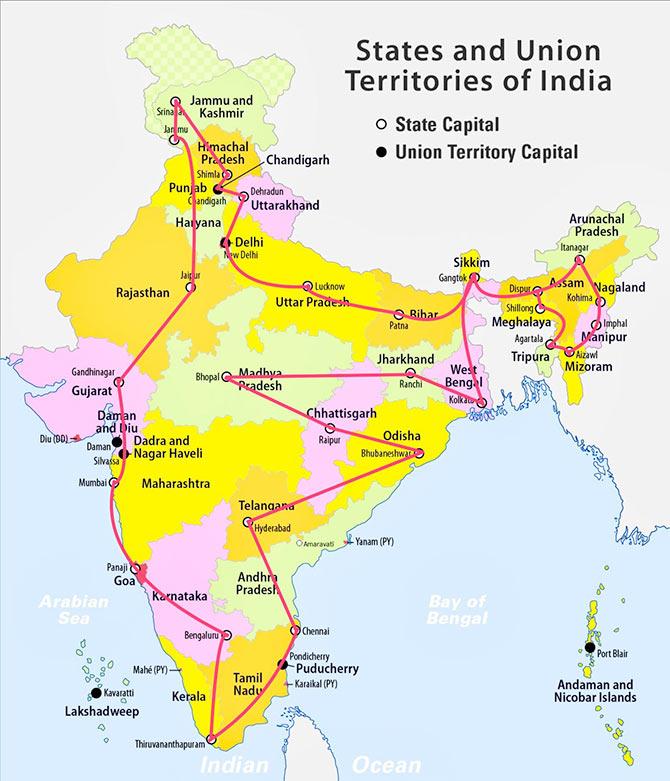 IMAGE: The route map for the walkathon that starts on November 14 from Mumbai.
For those interested to join you in the walkathon, what should they do?
If anyone wants to help me and the children, they can donate on the Web site from November 14 till the time I am back in Mumbai.
Along with this, I shall document the journey on Facebook and Instagram. I will share pictures and videos regularly to let people know where I am, the people I have met, etc.
How are you preparing?
For the last two months I have been going on long walks in the morning.
Around 15 km away from my house in Boisar, Tarapur, is Chinchani beach where I walk for 30 km every day. It takes me almost four to five hours to complete.
It was difficult initially, but I always kept myself determined as I knew I had to turn the walkathon into a big success.
What are the essentials that you will be carrying?
I would be carrying my phone and its charger, a camera and a water bottle. I will be managing my stay and food on my way.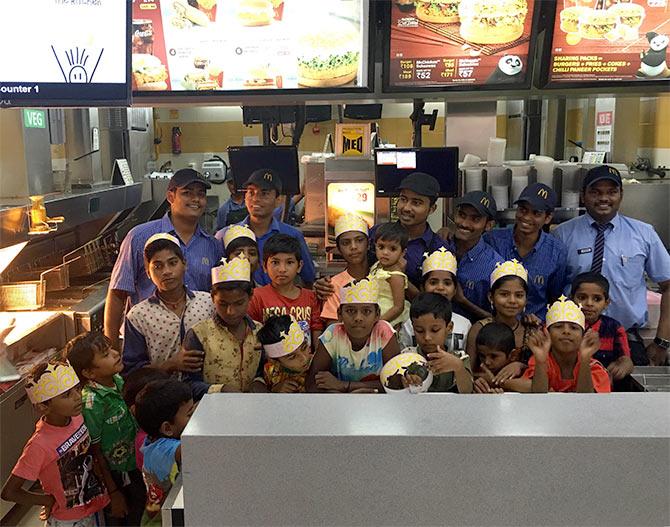 IMAGE: A day out for the children at the McDonald's at the Oberoi Mall, Goregaon East, northwest Mumbai.
Is it true that some organisation has been attempting to clear the area under the flyover?
Mahindra & Mahindra -- that has its office in Kandivali -- has taken the flyover under the pretext of the Swachh Bharat Abhiyan for maintenance and beautification of the city. A part of the area under the flyover already has a garden.
Now they have given us time till June to vacate the place.
If that happens, where will my children and their family go?
I know living under the flyover is illegal, but for me, the future of the children is at stake.
This is also one of the reasons why I am looking for funds to start my residential school.
In case I am unable to raise a good amount, I have requested Yes Bank to help me with a loan of at least Rs 1.5 crore (Rs 15 million), provided I am able to raise Rs 50 lakhs (Rs 5 million) to Rs 1 crore (Rs 10 million) through the campaign.
Have you approached the government for help?
I have written an e-mail to the prime minister and tweeted on his Twitter page. I have shared all the published stories too, but I haven't heard from him yet.
I have tweeted Sushma Swaraj, Suresh Prabhu, but haven't got any reply from them.
Media organisations have only praised me for my efforts. They have the reach, financial capability and power, but they haven't been able to help me in a big way.
If the future of the nation is lying on the streets, the future of India looks bleak.
Providing free education through municipal schools isn't helping the kids in any form. After all, the quality of the education is pathetic.
If you wish to provide financial aid, please find the NGO's bank account details below:
Teresa The Ocean Of Humanity Foundation
Yes Bank A/c No: 021288700000037
IFSC Code: YESB0000212
MICR: 400532023
Branch Code: 000212
Phone number: +91 9022557873