This is a first-of-its kind offering by Classic Coffees, a 150-year-old specialty coffee firm. The basic premise is that if you don't feel the same throughout the day, then why should your cuppa taste the same. Avantika Bhuyan checks out the concept.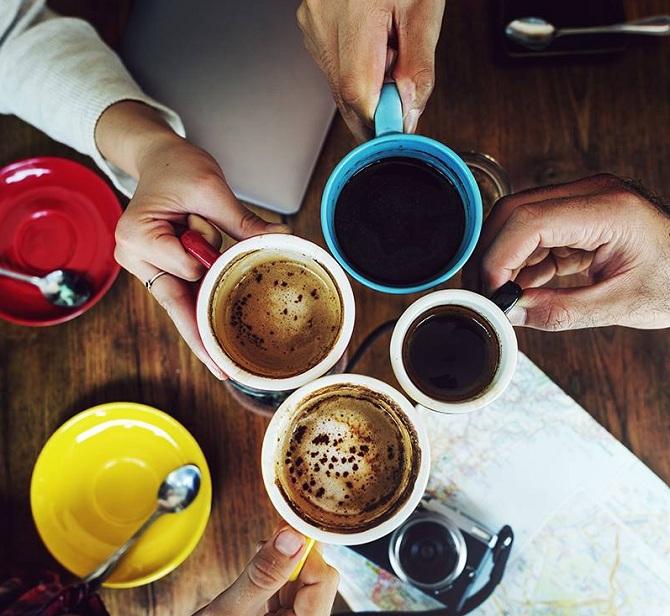 Photograph: Courtesy Classic Coffees/Facebook
A robust, rich-bodied brew for the morning, a smooth mix of sweet and spice in your cuppa for the afternoon and a brew with clean notes and hints of sweet chocolate for the post-work hours -- a new range of coffee now offers different blends for different times of the day. The basic premise is that if you don't feel the same throughout the day, then why should your cuppa taste the same.
This is a first-of-its kind offering by Classic Coffees, a 150-year-old specialty coffee company, with five generations having grown and exported green coffee over the years.
Unique offerings such as these are increasingly making their way into the market to cater to the growing numbers of coffee enthusiasts in the country. In the last five years, Indian roasters have got the youth hooked onto indigenous coffee by creating awareness about the high-quality beans grown in the plantations of Chikmagalur, Coorg and Kodaikanal. Premium single-origin and artisanal coffees, which used to be exported to markets in Europe, can now be seen on the shelves of Indian supermarkets as well.
Classic Coffees is a stark example of this. "Our coffees from the Harley and Kalledevarapura estates are exported to premium and micro roasters in several countries," says Tapaswini Purnesh, director (marketing and promotion). From 2002 to 2007, the specialty Arabicas were also supplied to Illy Cafe (a premier Italian coffee roasting company).
However, the team wanted the Indian consumer to experience the same quality of gourmet coffees as well, and hence, it launched the Classic Pride and Classic Mountain -- two premium roast and ground coffee blends -- in the Indian retail market some years ago. The new premium range has been created to take this enhanced interest in artisanal coffees further.
These single-origin, pure Arabica blends, drawn from high-quality beans of the Kalledevarapura Estate in Chikmagalur, have been created after discussions with customer representatives, coffee tasters and blending experts.
"We tasted different kinds of coffees at different times of the day to arrive at the final range," says Purnesh.
So you have 'Blaze' for the morning -- a heavy-bodied brew with a rich mouth feel and nutty, malty notes.
The 'Matinee' is ideal for the afternoon as it is light around the stomach, with hints of berry underlining the spicy notes.
For post-work hours, there is the 'Sundowner', with its slight bitter aftertaste acting as a precursor to dinner.
The fourth varietal is the 'Afterhours', which is made with Arabica Plantation AA beans and is mellow and smooth. It is proving to be quite a favourite with Classic Coffees' regular customers. "While I never have issues with sleep, with or without coffee, the introduction of Afterhours is something that nobody has ever done before," says Soham Shoney, a Bengaluru-based food photographer.
To know more about the brewing instructions and equipment needed for each, one can log on to classiccoffees.in. For instance, Blaze can be made using a south Indian coffee filter. For Matinee and the Sundowner, the aeropress is recommended for maximum extraction of flavour, but I have been making the two with a regular French Press, and the results have turned out to be close.
"We asked people why they chose tea over coffee, and they said it was because brewing the latter was more cumbersome. It is for this reason that we made easy to understand videos on our site on how to brew a cup with each offering," says Purnesh.
Moreover, with the brewing equipment now easily available online, people are willing to try different methods.
The premium range is priced at ₹300 for 250 grams and is available nationwide on e-commerce sites such as Amazon, Wind my Wings and Place of Origin, besides being retailed on the company's website.
In the physical retail space, it is available only in Bengaluru at outlets of Godrej Nature's Basket, Westside Gourmet, Namdhari, Nilgiri as well as BIAL.