Akash Jain's tweet about his sister's wedding card, which features the Swachh Bharat logo, was retweeted by the Prime Minister, catapulting Jain to instant fame.
And the excitement hasn't quite worn off yet.
"He follows less than 2,000 people, and most of them are world leaders and prominent people, and he's following a common man like me," Jain tells Nikita Puri.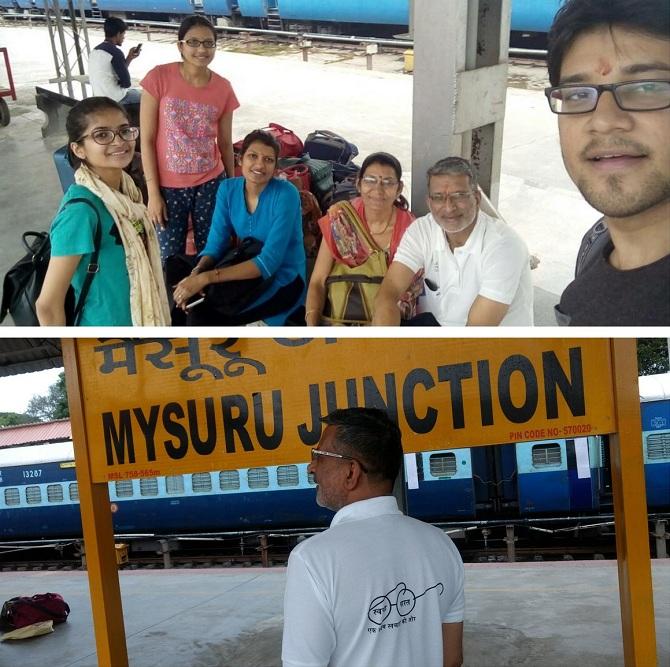 IMAGE: The Jain family set out for the Swachh Bharat themed wedding. Photograph: Courtesy @akash207/Twitter.
Selecting wedding cards can be as tough as narrowing down a guest list for the event, but for a Mysuru-based Jain family, the invite has brought in unexpected attention as soon as it was seen on social media.
Printed on the cover of the invite to Pratiksha Jain's wedding is the Swachh Bharat logo, complete with Gandhi's iconic glasses and the tagline that reads 'Ek kadam swachhata ki aur (one step towards cleanliness)'.
At the beginning of this month, Pratiksha's brother, Akash Jain, shared this invite with a few of his friends.
The 25-year-old then tweeted a picture of it to Prime Minister Narendra Modi, sharing how their father, Kantilal, had insisted that all invites should feature the Swachh Bharat logo.
Jain, a social media professional, opened Twitter the next day to see that he had been re-tweeted by Modi.
"The next notification told me that Modi ji was following me on Twitter. I initially thought it was a prank, till I saw the blue tick next to Modi ji's name," recalls Jain.
The excitement hasn't quite worn off yet.
"He follows less than 2,000 people, and most of them are world leaders and prominent people, and he's following a common man like me," gushes Jain.
The Prime Minister's official Twitter account follows 1,698 people, and has 28.7 million followers.
"The idea behind the logo on the card was very simple. The card was to go to relatives and friends, and we just wanted to spread the message of cleanliness. From the media to Modi ji, never had we expected so much attention," says Kantilal, a retailer of dry fruit and spice in Mysuru.
Interestingly, this is the second Swachh Bharat wedding invite story to emerge from Karnataka.
When M Mariswami, a resident of Hubballi, sent out invites for his wedding in May 2015, the social development consultant also attached a four-page literature on the importance of building toilets. This reading material started out with a note on the Swachh Bharat Mission.
Mariswami's dedication to the cleanliness mission is rooted in sanitation and well-being of people.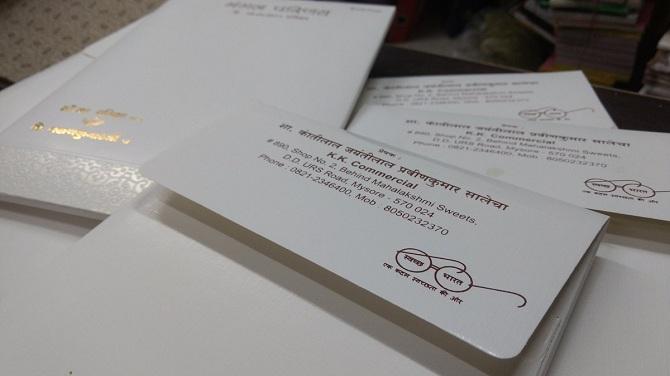 IMAGE: Akash Jain tweeted this photograph of the wedding card saying, "Dear @narendramodi, my dad specifically wanted @swachhbharat logo to be there on my sister's wedding invitation, hence got it. @PMOIndia." Photograph: Courtesy @akash207/Twitter.
For Kantilal, the motivation to promote the Swachh Bharat Mission is because of his fondness for Modi.
"I have always advocated cleanliness, but it was only after Modi ji launched the mission that I realised all of us had to do out bit. Weddings are often a time of great wastage, we want to avoid that," says Kantilal.
Because of the way he dresses and his closely-cropped grey beard, Kantilal is also known to friends as "Modi ji of Mysore."
One must also remember that Mysuru topped Swachh Bharat rankings, and most citizens want to keep the city clean, says Pratiksha. The bride-to-be has, in the past, volunteered with Let's Do it! Mysore,a citizen-led initiative to clean up public spaces.
"Every time Akash comes home from Bengaluru, his mother always asks him why he stuffs wrappers in his bag instead of throwing them out. Akash also wants to keep our cities clean," says Kantilal.
All around in his shop's neighbourhood on URS Road in Mysuru, Kantilal keeps encouraging a practice of no-littering. In the past, he's often gone to shops asking them to place a dustbin outside their premises, or to use his.
"Thankfully, no one has taken my advice badly, they just laugh at me," says the 56-year old.
As the Jain family's wedding card continues to fork in praise on Twitter, critics are also questioning how a logo would actually help, and if the family had any intentions of also ensuring a "clean" wedding (on April 29).
"We are doing our best to ensure that there's no wastage of food," says Akash.
"The venue is likely to have tips on how to ensure the place is kept clean. We'll also be avoiding plastic as much as possible," he says, adding that his social media timelines are now filled with suggestions for the wedding.
In the meanwhile, Jain has updated his Twitter profile. It now says that he's honoured to be followed by Modi, and how he admires Mahendra Singh Dhoni.