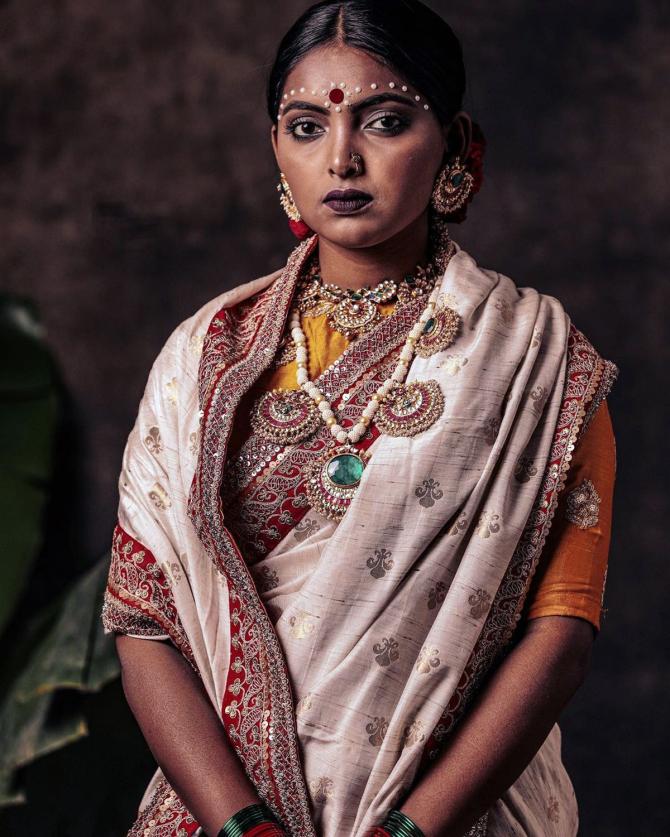 Back in 2013, Ayush Kejriwal started off with just four saris, which he made his sister wear and uploaded the pics on Instagram.
With no formal degree in designing or background in fashion, he worked from the heart and hoped people loved what they saw.
It took him a while to get his turn in the spotlight, but he has made a name for himself.
His sari collections feature Indian fabrics like Kanjeevaram, Bandhani, Jamdani, Benarasi, Patola and Kalkamkari, just to name a few.
His love for colours and Indian fabrics are evident through his collection and each of his saris has a story behind it -- it is the social stand he takes that makes him such a favourite on social media.
He has through his work questioned the lack of colours in a widow's life -- what they should and shouldn't wear.
Why dark-skinned women are asked to avoid certain colours is a topic that's discussed widely on his social media timeline.
Ayush uses models with crooked teeth, dark skin and different sizes to get people to embrace the idea of diversity.
The models on his Instagram page are real women and that's how he likes to keep things relatable.
'It breaks my heart when people choose not to wear something they want because they feel they can't due the insecurities they have about their bodies,' Ayush posted on Instagram.
'I feel one can look beautiful in anything as long as they are confident and happy.'
Ayush would like to be known as a 'storyteller, offering clothes and jewellery made with creativity and a bit of eccentricity.'
According to him, 'his brand is an organic extension of (his) self and he likes it that way.'
'My way of doing things may be slow in pace, but my approach is thoughtful, resourceful, determined, and tenacious,' he shares.
A designer, stylist, artist and storyteller, he hopes to influence hearts and minds and to contribute to positive change.
For Ayush, he is not just selling clothes. 'I am sending a story out into the universe with a sense of confidence that the laws of attraction will ensure it reaches those who will truly appreciate it and be inspired to reach out to me in return,' he writes.
'I'm not doing anyone a favour by designing clothing and nobody is doing me a favour when they decide to make a purchase.'
'The transactions which take place between me and my customers are equatable -- my customers reach out to me because they love the pieces that I have poured my heart and soul into and they want to own them.'
In an e-mail interview with Anita Aikara/Rediff.com, Ayush talks about being inspired by the beautiful city of Kolkata, his Beauty By Deception campaign and why you won't spot many celebs on his Instagram page.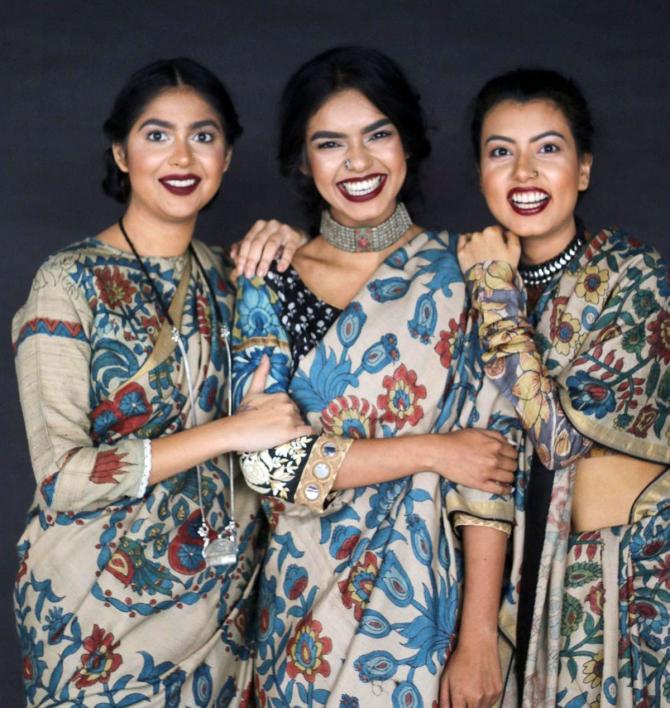 Do you feel you are a designer created by the Internet?
I don't think I am a designer created by the Internet.
I think I am the designer that used the Internet to his advantage to create a name for himself.
Is there someone from whom you have inherited your design aesthetics?
My mother is very sassy and has a unique style of her own.
It's been around 8 years since you started off. How has the journey been?
It's been challenging, exciting, unpredictable and lots of fun.
You were born in Kolkata. Does the city influence your designs and creativity is some way?
Yes, in every which way. There is a bit of Kolkata in all my aesthetics.
I was born there and it's hard to not be mesmerised by the beauty of Kolkata.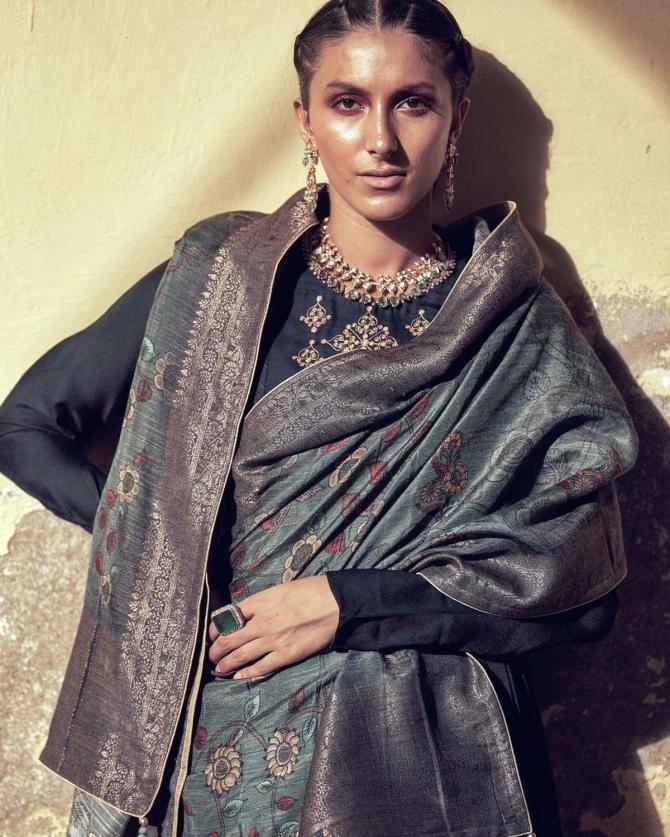 Could you throw light on your collaboration with Label Varsha? You mentioned that the collaboration was close to your heart.
The collaboration with Label Varsha gave me the opportunity to provide beautiful clothes that were affordable to the masses.
I did not have the capital or the resources to produce in bulk, more so the clothes we made together were raw and absolutely beautiful.
I wanted to make sure that all the pieces of the outfit could be worn on its own making the purchase a good value for money for the customer.
In a salwar-kameez set I think dupattas are the star and we made sure they stood apart to create a magical allure.
You have a day job as well (he is a marketing professional)? How do you juggle two professions?
Yes, I do. I work all the time. Where there is a will, there is a way.
What's the thought that crosses your mind every time you start work on a new collection?
I just go with the flow.
I never have a plan; an idea comes to me and I work on bringing it to life.
As boring as it sounds, I do not have a strict process that I follow.
Everything that I do comes to me very naturally and grows organically.
As a designer, how are you helping reduce carbon footprints?
I think brands use sustainable fashion a selling point. It should not be used as a USP.
Considering the current challenges everything we do should be done in a way to reduce the carbon footprints and help the environment.
Right from Day One I have always been very mindful of reducing waste by using recyclable packaging materials, not producing in bulk and making sure we used the best of products and pay fair prices. It was and will always be like that.
Is your love for colours an ode to your mother(his mom lost her sight to multiple sclerosis)
Since she can't enjoy all the colours, I do it on her behalf.
You are also a poet?
Oh well, I like to share my thoughts and feelings, so perhaps I am.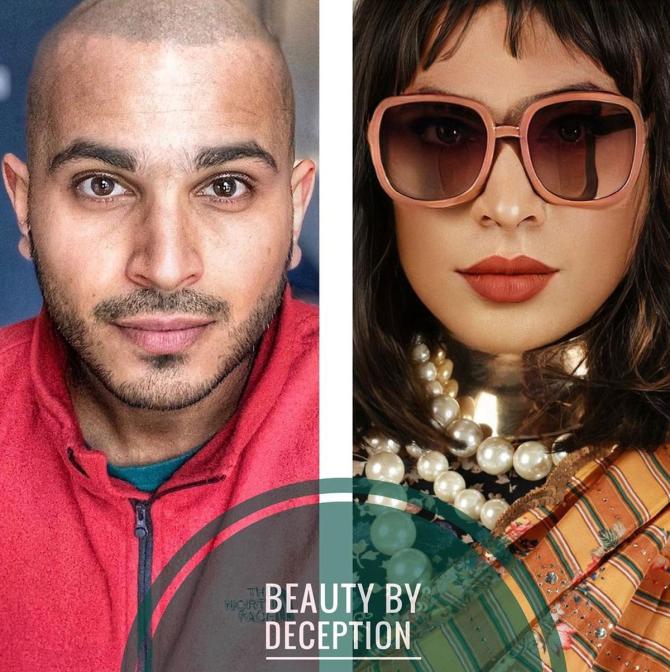 Could you throw light on your Beauty By Deception campaign?
That was something I wanted to do to show how fake this ruthless fashion industry is.
I wanted to shock people to make them understand that not everything they see is true.
I, however, don't condone brands making people feel bad about themselves for selling their products.
Is there an Indian celeb you'd like to dress up? Or do you steer clear of celebs?
I am not fussed about Bollywood.
To be honest, I'm more heedful towards my clients and people who appreciate my creativity.
It doesn't matter if that person belongs to the Bollywood industry or some other industry, I am happy as long as people appreciate my work.
Vidya Balan is my absolute favourite, I like her as a person.
She is supremely talented, kind and a wonderful human being.
I am happy for Vidya to wear my clothes because I like her as a person not because she is a celebrity.
You have been breaking stereotypes through your outfits. You seem to be unfazed by critics and trolls. A life mantra you follow?
Ignore unsolicited advice and comments and challenge bullies.
I simply don't care what people think of me or my work.
We have a limited time on this planet and I am not going to waste it thinking about what people are thinking about me.
Can creative minds survive in the fashion industry without a design degree?
I don't have any professional training in design. I suppose if I can, anyone can.
Your words of advice for aspiring designers?
Don't give up.
Stick to your aesthetics, create a style of your own and showcase your work with honesty.