Gaurang Shah has been making a strong case for the good ol' sari.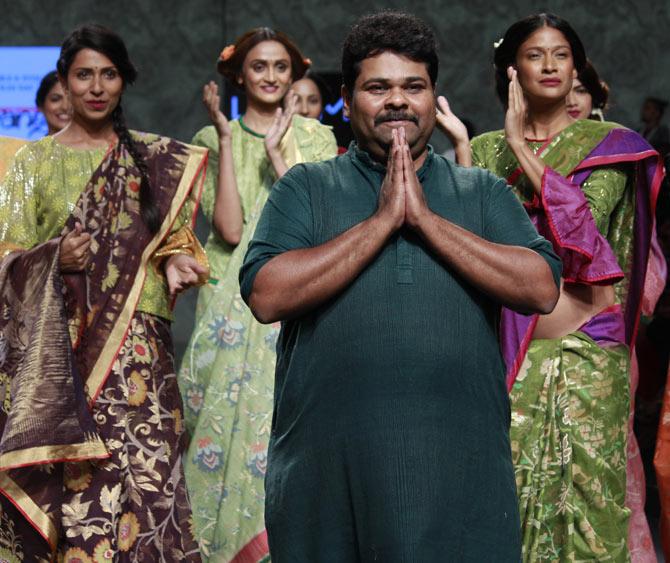 Photograph: Hitesh Harisinghani/Rediff.com
Gaurang Shah fell in love with the sari at an early age, because of his father, who ran a sari and matching blouse store.
His fascination for Indian textiles and handloom is evident through his work and it is a delight to watch his fashion shows, where models are draped in some of his gorgeous creations.
A textile designer from Hyderabad, he is trying to revive the dying handloom industry.
Gaurang Shah has been working with weavers across India to create handcrafted saris that can go up to ₹ 2,00,000.
With celebs like Vidya Balan, Tabu and Taapsee Pannu being huge fans of his collections, Gaurang has become a household name among the fashion conscious.

After having showcased his work at eight Lakme Fashion Weeks, the designer is back with a new collection this season.

He talks to Anita Aikara/Rediff.com about the collection, the trends of 2018 and the fabrics he hopes to revive in the coming seasons.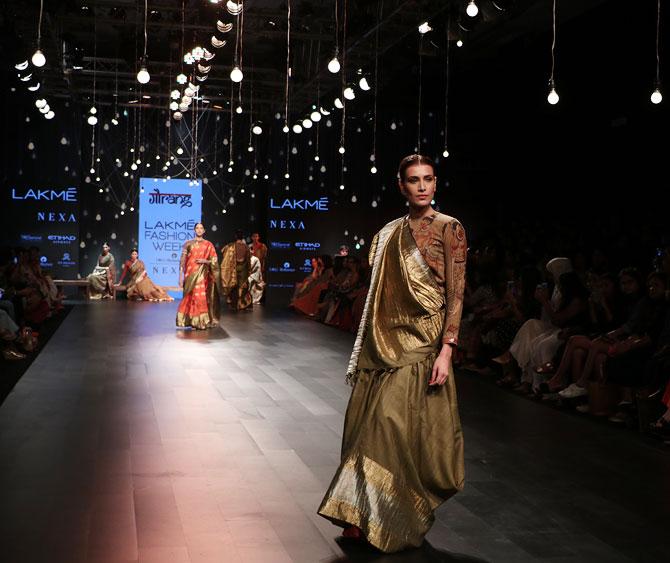 Gaurang brought a celebration to life at LFW last season. His collection drew inspiration from the erotic paintings at Ajanta.
Photograph: Courtesy Lakme Fashion Week
You have taken traditional crafts of India and created something extraordinary. How do you do it with such ease?
Ideas strike me spontaneously, especially when I'm on airplanes and am unplugged from my devices -- it ignites my creativity.
As a result of my several exhibitions and shows, I have a loyal customer base, who inspire me to keep creating uniquely to meet their requests.
The same run-of-the-mill designs and concepts won't challenge my customer, so I use my weavers to work through the year.
What is unique about your LFW collection this season?
I'm showcasing a sari woven generally in Maharashtra, but I have replicated the concept in Benaras.
I have enabled and trained weavers in Benaras to incorporate this weave -- the borders of the Paithini, the body of Benaras in organza, which is another type of texture.
Although Paithini is not generally seen in organza, I have clubbed three different sectors and got a weaver from Benaras to be trained.
I aim to continue to challenge myself, which inspires me to keep creating the best experience for my customers.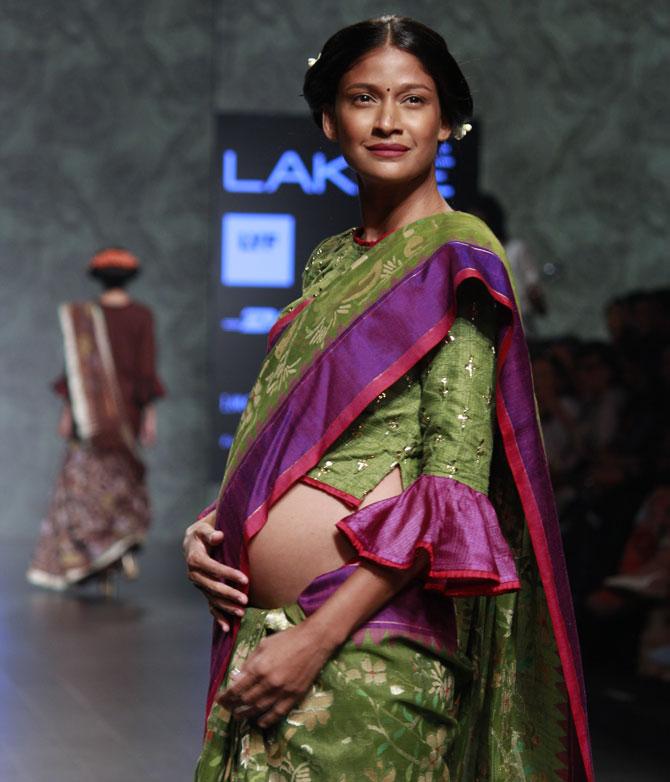 Supermodel Carol Gracias stole the spotlight, as she strode the runway for fashion designer Gaurang Shah, with a prominent baby bump, at LFW 2016.
Photograph: Hitesh Harisinghani/Rediff.com

Which fabrics would you like to revive given a chance? Which embroideries are you inspired to work with?
Chikankari is an embroidery I utilise a lot -- for which I have deployed almost 3,000 girls working for me in Lucknow.
I also work a lot with embroideries like Parsi Gara and Kashmiri.
One form I would like to revive from Karnataka is called Kasuti -- a form that is plummeting because very few girls are involved in the activity.
I have remained committed to reviving fabrics such as the 500-count muslin khadi, as well as the finest silk organza.
From silk to tussar and so on, I have experimented with fabrics widely.

Where do you see the future of khadi and Indian handloom?
Khadi and Indian handloom are evergreen and will be present always.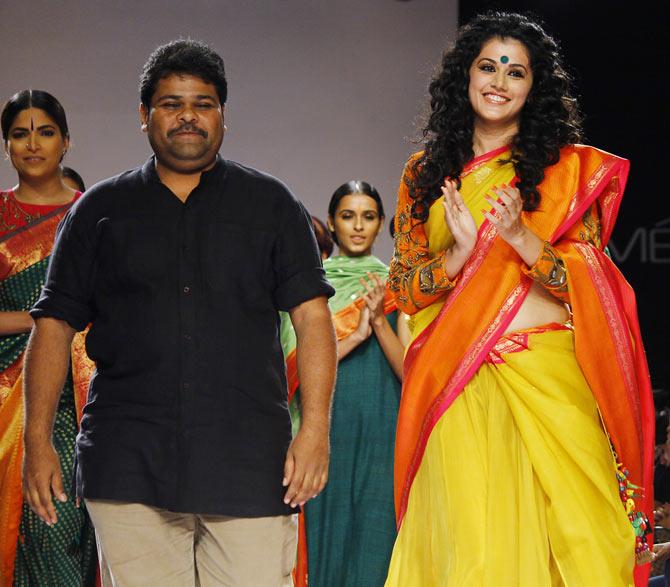 The showstopper for Gaurang's 2014 LFW show was the stunning Taapasee Pannu.
Photograph: Courtesy Lakme Fashion Week
Will there be a revival of sorts of these fabrics this year?
Why revival? It is still relevant.
Today, a khadi sari of mine retails at starting at Rs 20,000 and goes into lakhs, depending on the design.
What will the top trends of 2018?
Saris! They are at the heart of all my designs.
A designers whose work you admire
I like Sabya's (designer Sabyasachi Mukherjee) work a lot.
For me, work incorporating Indian saris and handlooms will always be admirable.