'I've been the first transgender to step out of my community.'
'Indians are far more broad-minded and receptive.'
Anjali Lama, 32, was born as a boy (Nabin Wabia) in Nuwakot, Nepal. Her childhood days were spent struggling to come to terms with her identity.
Once she moved to Kathmandu for higher studies, she decided to embrace her true self.
Anjali underwent a sex change surgery much to her family's reluctance.
Today, at 32, she has come a long way in the modelling world and her struggle has been the subject of a documentary on the lives of transsexuals, Anjali: Living Inside Someone Else's Skin.
She will be one of five new faces to walk at the coming Lakme Fashion Week Summer/Resort 2017.
In an e-mail interview with Rediff.com's Anita Aikara, Anjai talks about her struggle, growing up as a boy and facing difficulties as a transgender model.
Photograph: Kind courtesy Anjali Lama/Instagram
Height: 5'9"
Weight: 54 kg
Are you excited to be a part of the Lakme Fashion Week?
How did you prepare for the model auditions?
I'm very thrilled. This is indeed the highest recognition in my career till date.
Lakme Fashion Week is not a cakewalk. This has come to me after two strong denials.
I first heard about the model auditions from their Instagram handle.
Living in the hinterland of Nepal, I found digital and social media as the best way to connect with the outside world.
I then e-mailed them, confirming my eligibility criteria.
After receiving the confirmation, I started doing secondary research on models dynamics and gestures to participate at the auditions.
Will you be the first transgender model to walk the ramp at LFW?
I am not the first one. LFW has been working on our inclusivity since years; season after season.
I certainly believe I've been the first transgender to step out of my community and society.
Indians in general are far more broad-minded and receptive to witness this inclusivity constructively.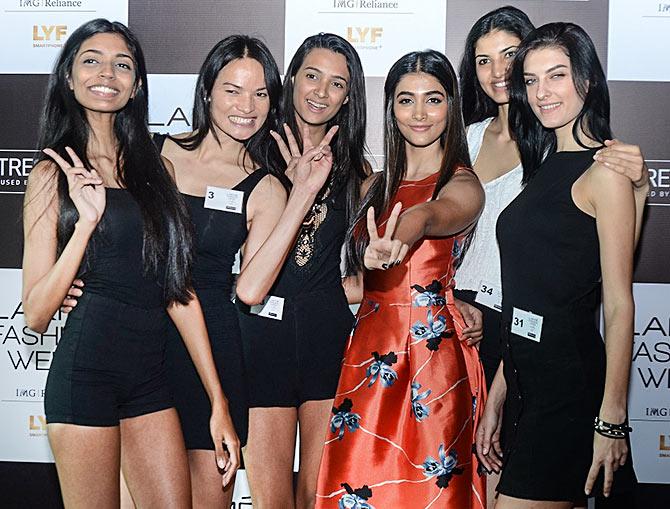 IMAGE: Anjali, second from left, with celebrity judge Pooja Hegde (in red) and the other winners of the Lakme Fashion Week Summer/Resort 2017 model auditions.
Photograph: Kind Courtesy Lakme Fashion Week
Did you always want to be a model?
Yes, like every other girl, I grew up flipping through glossy magazines dreaming of becoming a model one day.
At what age did you get your first break?
My first break was a photo shoot for a cover page of a magazine. It was in 2009 and I must have been in my early twenties.
What is the biggest criticism you had to deal with? What did you do about it?
Criticism is (faced) everywhere, irrespective of gender and community, race, religion, caste and creed.
Being a transgender got me criticism and rejection too.
But I took it as a challenge.
I never let myself get bogged down by criticism. I could either forgive or forget -- both worked for me.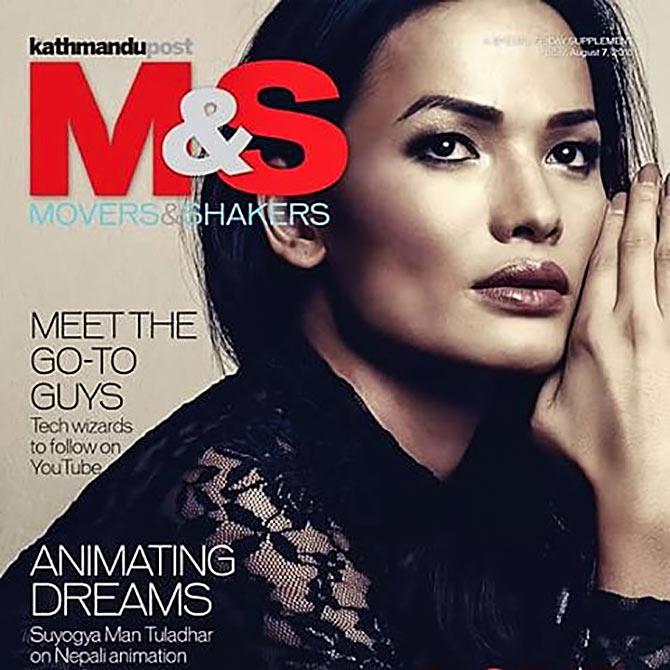 IMAGE: Anjali on the cover of Movers &Shakers - The Kathmandu Post.
Photograph: Kind courtesy Anjali Lama/Instagram
The best thing about being a model?
Models are public figures.
We mostly get appreciated.
But we also carry a sensible responsibility (on our shoulders) when we associate or endorse any brand. Our work makes us credible.
Unlike other professions, here you don't have the freedom to eat or wear anything as you can be photographed without your knowledge.
Have you ever faced difficulties modelling as a transgender model?
I faced immense difficulties as a transgender model.
Despite better performances and credible work, rejections came my way.
I am happy that platforms like Lakme Fashion Week exist in India.
What were your growing up years like?
When did you decide to change your gender? How did your parents react?
My growing years in Nuwakot had been the period of self-contemplation coupled with self-doubt and living under the immense pressure of societal sexual standards.
I was a boy, but my behaviour was always questioned under the rules of gender stereotypes.
My limitless closeness with my mother and befriending girls in the school brought me huge criticism and inner-confusion.
The most shocking part was the urban experience, which was exactly similar even with broader understanding.
It was during my college years that I decided to live the identity of my heart.
Unfortunately, my parents weren't supportive after the gender change.
Did you face any societal pressure? Were your friends supportive of your decision?
During my early years, I realised that males are still a favourable sex, by and large. Turning from a boy to a girl is blasphemous to some minds.
My family, friends and relatives were not supportive. So, I preferred to disconnect myself from them.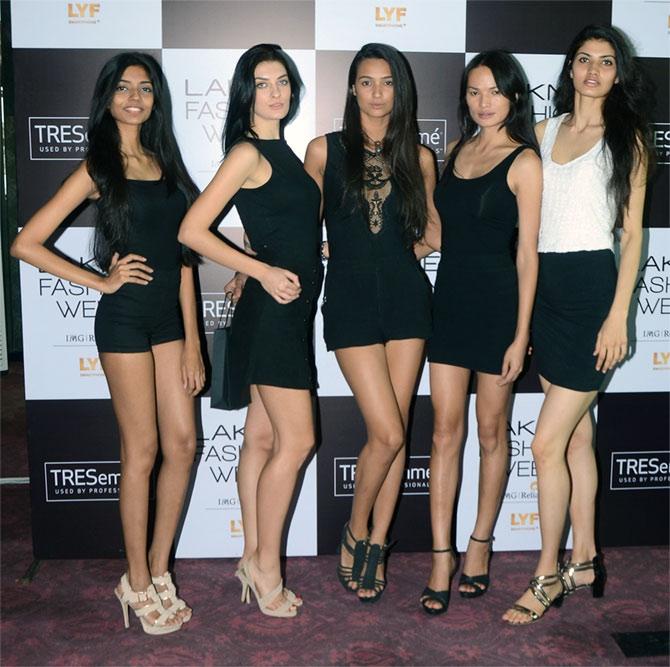 IMAGE: Anjali, second from right, with the winner of the Lakme Fashion Week Summer/Resort 2017 model auditions.
Photograph: Kind Courtesy Lakme Fashion Week
How easy/tough was the sex change process?
Keeping aside the financial part, which was undoubtedly tough to manage, there was a fair amount of pain for a month.
However, the pain was worth it as I knew the experience was going to get me closer to my true and real self.
What was the biggest fear before making the big decision?
I believed in God and hence, was not scared.
Has your fame changed people's opinions now?
I think fame and hard work go hand-in-hand.
When your hard work fetches fame for you, you must work even harder to retain and nurture it.
I certainly believe that fame changes people's perception. It brings respect and appreciation for you.
My win at the Lakme Fashion Week got me tremendous appreciation from my community as well as friends.
I'm continuously trying to change the overall self-evaluation criteria of individuals like me in my community.
I have always listened to my heart and would request everyone to do the same.
IMAGE: Anjali is extremely content with her modelling success, but there are times she misses her family too.
Photograph: Kind courtesy Anjali Lama/Instagram
Do you feel more at peace with yourself now?
It's sometimes scary to be alone, but I feel happy with the success I have got.
I always keep myself busy. It helps me be at peace with myself.
I certainly miss my family and friends.
Had they been here, the fun and excitement would have quadrupled.
Who inspires you?
My mother. She is my support system and she gives me my determination and strength.
Professionally, I am a great fan of Brazilian supermodel Adriana Lima.
What's your success mantra?
Hard work is my only mantra.
I describe myself as a person with strong self-determination, an attitude to never give up and an ability to choose people wisely, who will encourage me to prosper.
What's your advice to aspiring models? Is there any message you'd want to send out to transgender models who are struggling to break free?
Be confident and be yourself.
Prepare a lot; prepare thoroughly.
Be natural and simple.
Understand your body and work accordingly.
How do you like to unwind?
I like to travel to natural landscapes and watch movies.