Devita Saraf, the founder of Vu Televisions, tells Karan Choudhury why she issued a front page newspaper ad praising Donald Trump last week.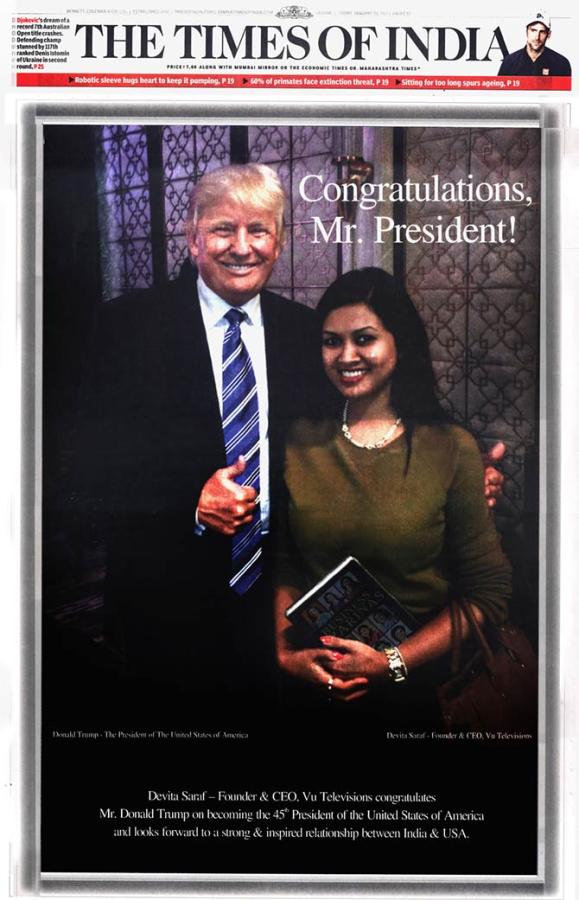 For Devita Saraf, founder and CEO of Vu Televisions, the United States is like a second home and its brand new president Donald Trump a 'father figure' whom she finds 'inspiring.'
Last Friday, January 20, morning, 35-year-old Saraf, daughter of Rajkumar Saraf, owner and chairman of Zenith Computers, was talked about by some and trolled by many on Twitter, following a full front page newspaper advertisement of her and Trump, congratulating him on being president.
Twitter users had a field day panning her for giving out such an advertisement.
The backlash was somewhat similar to the one faced by online mobile wallet Paytm and Reliance Jio when they used Prime Minister Narendra Modi's picture in their full page advertisements.
On being asked why the company put out a full-page jacket advertisement, Saraf said the advertisement is to celebrate success.
"It's a celebration of success for me, our company as well as for Donald Trump. He is my father's age and I find him inspiring. What I like about him is that he has done a lot for businessmen," she added.
On the backlash she faced on Twitter, Saraf said she faced a similar backlash when she decided to be the model and brand ambassador for her television company.
"It was the same when I decided to be the brand ambassador of my company, later on people appreciated it," she said.
Saraf studied in the US at Harvard and considers it her second home.
On Trump's foreign policies such as building a wall on the US-Mexico border, she said that what matters is his relationship with India.
"It's not like Hillary (Clinton) was going to do a better job. It is certainly not like he is putting walls around India," Saraf said.
'Congratulations @realDonaldTrump, I'm inspired by your self-belief & commitment to leadership. Thank you for calling me "India's Ivanka"' Devita Saraf tweeted on January 20, 2017.
While many on Twitter swore never to buy VU Televisions, Saraf said the advertisement has done her plenty good.
"It has had an opposite effect on my brand. My team told me that since (January 20) morning more than 100 retailers and distributers have called and said that the advertisement has put the brand on another level," she said.
Experts said that at times any publicity is good publicity and the more controversial the subject, the better.
However in the long run, the association of the brand with the advertisement tends to play a role in customers choosing or avoiding the particular product.
"One thing is that any kind of exploitation of something which is highly topical even if it is polarising tends to grab eyeballs," said Samit Sinha, managing director Alchemist Brand Consulting.
"If the objective is to get brand awareness, that certainly gets done, as you get fair amount of traction. The Holy Grail, however, lies in the emotional connect," Sinha added.
"Some people might or might not use Reliance Jio or Paytm because of the advertisement with the PM they carried. Here also the same thing will happen."
IMAGE: Devita Saraf's front page advertisement on the day of Donald Trump's inauguration.