Melania Trump's choice of footwear makes us wonder how practical stilettos are in flood zones!
Clearly not a wise choice, at least going by these pics.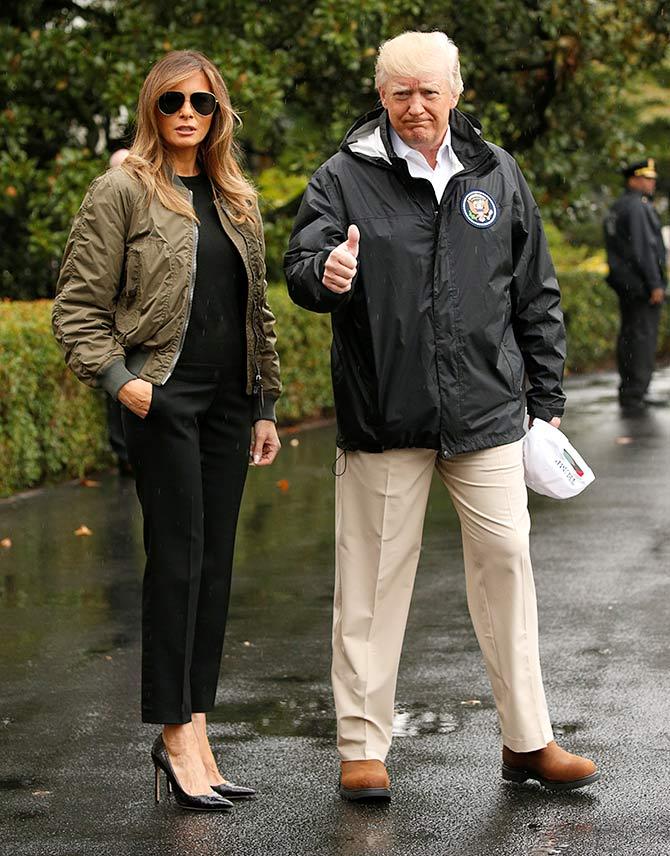 IMAGE: US President Donald J Trump and his wife Melania depart the White House on their way to texas.
The US First Lady found herself in a style storm minutes after this pic went viral and she was trolled for her 'hurricane heels'.
Photograph: Kevin Lamarque/Reuters
Melania Trump, who has been criticised severely in the past for her fashion choices, is back in the spotlight for her poor choice of footwear when touring the Hurricane Harvey disaster site.
'The First Lady was photographed departing the White House wearing a bomber jacket, tailored black pants paired with a black top and stilettos,' reported UsMagazine.com
Yes, you read that right! Mel planned to visit a disaster zone wearing five-inch stiletto heels!
IMAGE: Check out those killer heels! Photograph: Carlos Barria/Reuters
Critics felt the shoes were more apt for a cocktail party than the venue of a catastrophe.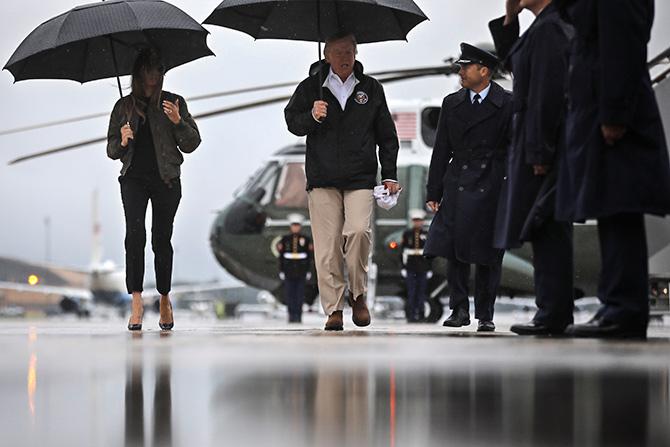 IMAGE: Looks like Mel didn't take the bad weather into account before deciding on her footwear.
Photograph: Carlos Barria/Reuters
As soon as the First Lady boarded Air Force One, a Twitter storm kicked off.
Holly O'Reilly tweeted: 'And here we have Melania Trump modeling what NOT to wear to a hurricane: 5-inch stilettos. How out of touch can you be?'
'Everybody has it wrong...these are not a fashion item...think of them as stilts...they keep you above water,' joked James Andrew.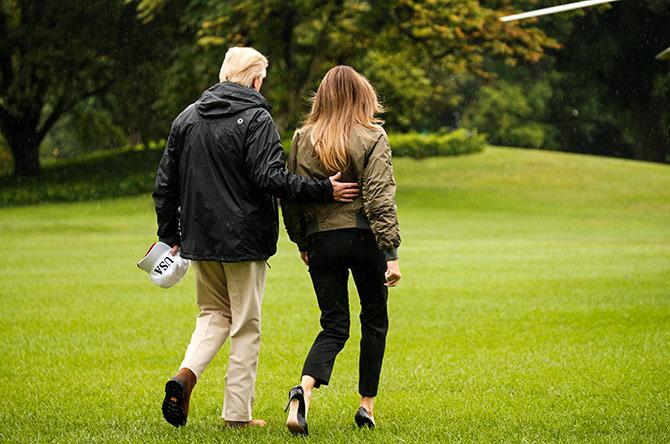 IMAGE: Mel clearly didn't look comfortable in those heels.
Photograph: Kevin Lamarque/Reuters
Her look was touted as 'Disaster Barbie' on Twitter.
'It's sad she would choose to wear these shoes. So out of touch with everyday folks,' one critic tweeted.
Actor Zach Braff added, 'Melania headed to a disaster zone in stilettos is my Halloween costume.'
'Frankly I think a 12 inch stiletto heel makes perfect sense if you're trying to stay elevated above the water line,' another tweet declared.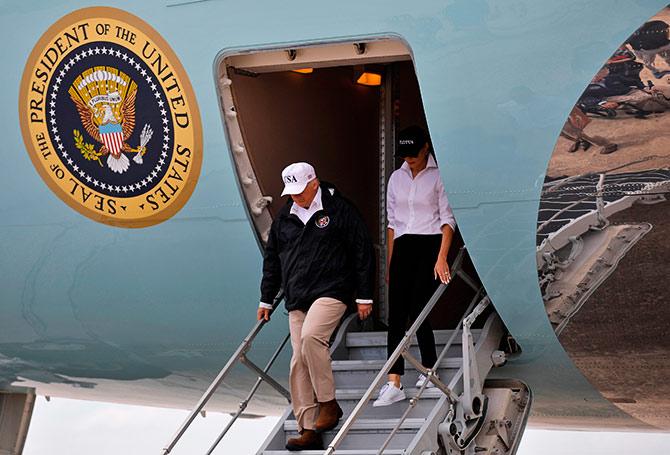 IMAGE: Change of plan post the Twitter outrage?
Mel steps out in a crisp white shirt and what seems like brand new sneakers.
Don't miss the FLOTUS (First Lady Of The United States) cap.
Photograph: Carlos Barria/Reuters
Like the sneakers she wore when she got off the plane in Corpus Christi, Texas?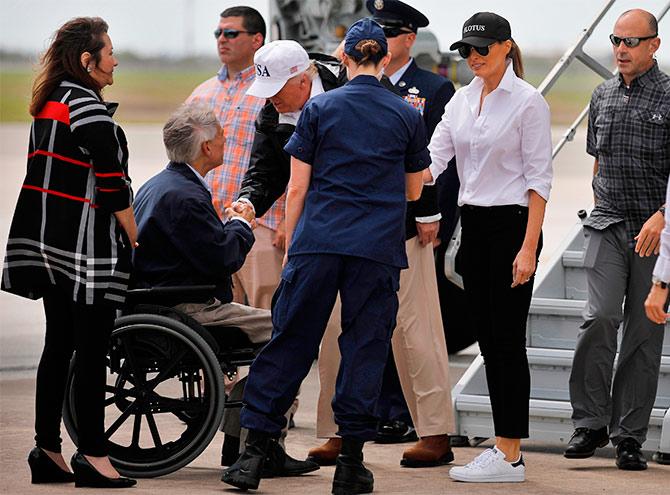 IMAGE: Texas Governor Greg Abbott in the wheelchair greets Don and Mel on their arrival.
Photograph: Carlos Barria/Reuters
While the First Lady decided to let her change of shoes do the talking, here's what her spokesperson had to say post the social media fracas:
'It's sad that we have an active and ongoing natural disaster in Texas, and people are worried about her shoes.'