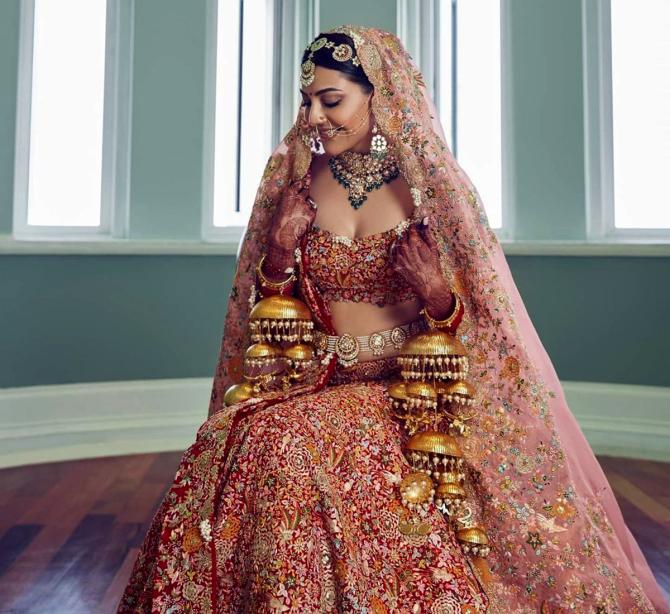 At her wedding to Mumbai businessman Gautam Kitchlu, actor Kajal Aggarwal donned a stunning red lehenga that took our breath away.
Kajal's wedding called for a lehenga that was anything but expected, and she turned to Designer Anamika Khanna to create a traditional silhouette.
Inspiring to-be brides for the wedding season, the lehenga featured an intricate zardozi embroidered floral pattern.
Kahal looked liked royalty complete in the lehenga, which was matched to perfection with a choli and dupatta.
According to Anamika, the lehenga was 'a labour of love', and took 20 people almost a month to create.
While Kajal is Punjabi, her husband Gautam is half-Punjabi and half-Kashmiri.
As a hat tip to her husband's Kashmiri roots, the lehenga featured Kashmiri resham work.
In an interview with Vogue India, Kajal revealed, 'The Kashmiri resham work was so intricate that it looked like I draped a shawl around me.'
Ami Patel, who styled the actor's wedding look, revealed the effort that went into creating the look.
Taking to Instagram, she wrote: 'When I see in this image (of Kajal in her wedding lehenga), I see the work of countless people who don't have Instagram accounts and are not credited and are responsible for creating this breathtaking image.'
'From the highly-skilled embroiders at Anamika Khanna, who have painstakingly created this exquisite piece of art, to the tailors who stitched this to the karigars who set the stones on the jewellery to the courier person who delivered the package to us to the photo assistants who helped light this beautiful image and so many selfless people who I can't even think of who have been responsible for this.'
'Styling this gorgeous girl and working with her on this, through these times was truly so so special,' Ami added.
'Thank you Kajal Aggarwal. I still can't get over this piece of art that you've created Anamika Khanna.'
Kajal too penned a heartfelt note to the designer on her Instagram page.
'My dearest @anamikakhanna. I loved every tiny detail of this gorgeous garment,' she revealed.
'Thank you for all your hard work, intricacy, attention to detail and most importantly all the love that you put into this piece of art that I wore on my most important day.'