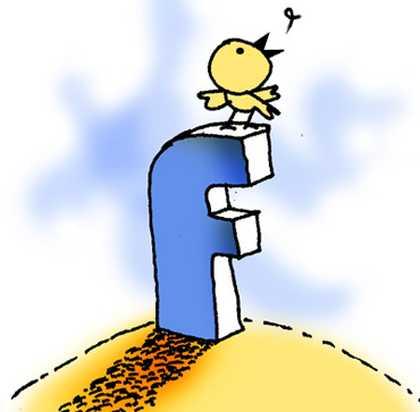 Have you decided what will happen to your social networking accounts and your digital possessions when you are no more?
Priyadarshini Maji reports.
Sumanth Paul (name changed), 22, passed away in 2013 in an accident. But his family continues to run his Facebook account. As the legacy contact, his brother has access to it.
Paul's family posted about funeral services in his account for his friends and colleagues. Family and friends still leave condolences and record memories, on his Facebook Wall.
In a memorialised account, the word 'remembering' appears alongside the person's name.
Like physical possessions, all the digital content that we create during our lifetime also has some value.
Have you decided what will happen to your social networking accounts and your digital possessions when you are no more?
Like your other worldly possessions, you should try to pass on your digital property also to someone in a planned manner.
If you don't take the necessary steps, most of these sites won't share the contents with your relatives, as doing so violates their terms of service.
"If an individual passes away without giving access to caccount details, the only way the family can obtain access is by approaching a court, and that can be a tedious process," says Pavan Duggal, an advocate who specialises in cyber laws.
Duggal has witnessed many cases where friends and family members of the deceased have had to fight to get access to their online accounts.
Most major social media services such as Google, Facebook, Microsoft, Twitter, etc, allow you to either designate a person in advance to manage your account after you, or to specify what should happen to it after your lifetime.
Facebook
You can permanently delete your account or you can memorialise it. You need to appoint a legacy contact to look after your memorialised account.
A legacy contact is a person who looks after the account if it is memorialised.
Once an account is memorialised, the legacy contact will have limited access to it.
The person can share posts, change the profile picture and respond to new friend requests. S/he can also request for removal of the account. This practice has become quite popular in India, where family, relatives and friends post a tribute or share funeral plans.
Instagram
It works on similar principles as Facebook. Family members or friends can request Instagram to memorialise or delete the account.
Twitter
In the event of a user's death, Twitter accepts a request only from a verified immediate family member to deactivate the account.
The family member needs to provide proof of identity, information about the deceased, and a copy of the deceased's death certificate. Twitter doesn't provide access to the account to anyone.
LinkedIn and Pinterest (a visual discovery network) have similar policies as Twitter. When notified of a user's death, they delete the account after receiving all the necessary documents proving the person's death.
Microsoft
Its accounts include MSN, Live, Outlook, and Hotmail. It lets its users choose in advance either to close the account or keep it active.
By providing legal proof (subpoena or court order), family members can get access to the account of the deceased user.
Google
Your Google accounts would include Gmail, Google+, and YouTube. It lets its users make arrangements in advance regarding what happens to their data and their accounts after their death.
Firstly, it asks you to fix a time frame of three to eighteen months. After this waiting period ends, the account turns inactive.
Thereafter, you can choose to have it deleted or you can share the information therein with select people.
You can choose up to 10 people who will be notified about your account turning inactive. Depending on what you choose to share, they will get access to your data. You can also choose to delete your account.
This will happen three months after it turns inactive.
In case you delete an account, publicly shared data such as YouTube videos, blogs and posts in Google+ will also get deleted.
Besides having a variety of digital accounts, we also create a lot of digital assets in our lifetimes. We generate blog posts, online publications, podcasts, online videos and audio recordings all the time.
All this digital output is an individual's intellectual property. We need to plan how to dispose of or pass on all this content to someone after us.
If a person doesn't share his social media or digital account details before s/he dies, the only option the family will have is to move court to recover the data.
Service providers demand a court's succession certificate to let a legal heir access the deceased's accounts.
Getting a succession certificate takes a lot of time and can cause hassles to the family.
Lawyers suggest that the best way to handle digital assets is to create a Will for them, just as you would for your physical assets.
You can mention your digital assets either in a physical Will, or you can create a digital Will, where you mention to whom your digital assets are to be bequeathed.
A digital Will is similar to a physical Will, except that it carries a digital signature.
This means the family doesn't have to worry about complications such as signature mismatch.
You can get a digital Will created for your digital assets by your lawyer.
Says Duggal: "We create an inventory of all the digital assets of an individual, and then depending on what the executor wants, it is bequeathed to the intended person. The digital Will is signed off with the digital signature of the executor which won't be challenged in the future, unlike physical signatures."
The digital signature has been granted legality under the IT Act.
Details mentioned in the Will are stored securely in an encrypted format or in a bank locker.
Mentioning your digital assets in a Will helps determine which of your accounts should survive and which should be erased.
"Like Google's Inactive Account Manager, we ask clients to designate in the Will the people who will get access to their digital accounts. They can also leave their passwords in a sealed envelope with a person they trust or open a digital locker and store these passwords. They can designate a trusted person to operate the locker after their demise," says Sandeep Nerlekar, founder & CEO, Terentia, a succession planning firm.
For your family to get access to your electronic devices, either share your passwords with them or keep your devices backed up regularly through an online backup account, so that your family can access the content.
Illustration: Uttam Ghosh/Rediff.com