Talk to your colleagues, have virtual lunch, dinner or coffee dates with them, suggests Chetna Gogia, CHRO, GoKwik Commerce Solutions Pvt Ltd.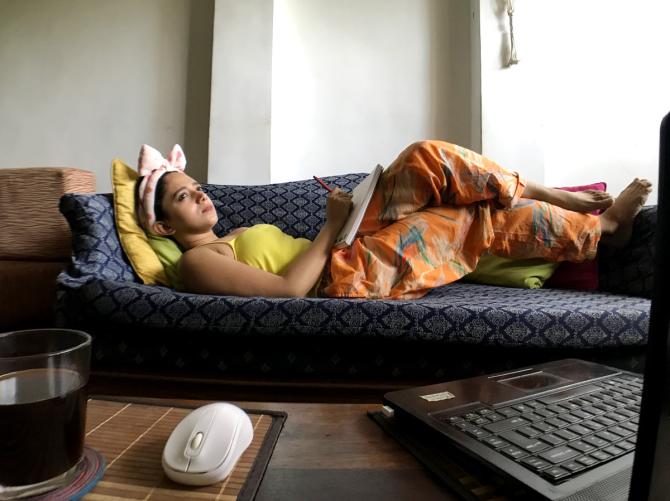 We are living in a new age world where work from home has become the new normal.
There is a general opinion that working from home is easier than working from the office.
I mean who doesn't like working in pyjamas by the window enjoying the comfort of home-cooked food and family?
However, working from home can really become taxing on us if we don't take charge of our physical and mental health.
Here are 10 things you should say NO to create a healthy work-life balance while working from home:
#1 Say No To Neglecting Your Health
When we are working from home, we often tend to neglect our health.
We often overlook the schedule we once had and probably start the day working in bed. However, that might cause you trouble later.
It is important to work out, eat healthily, take your vitamins and stay hydrated throughout the day especially when you are working from home.
Create a schedule every day. Do at least 30 minutes of exercise, create alarms for drinking water and moving around within the work hour.
Also, don't forget to stretch, ditch the pizza and go for a simple dal rice meal.
Remember, if there is one thing that the pandemic has taught us is that our health is of prime importance, everything else follows.
#2. Say No To Undercommunicating
In a work from home set-up, there can be unintentional communication gaps.
Since we are not working in a brick and mortar setup anymore, it can become overwhelming to know the progress of a task at hand and to align the team's goals.
Hence, it is important to say no to under communicating and say yes to communicating.
Even if it feels like you are overdoing it, trust me it's the best thing you will do when you work from home.
Take follow-ups, give updates and ask for updates.
Throughout the time you are working, keep in constant touch with your team and keep communicating.
It will not only help you build a healthy culture but also quieten your work anxiety of 'when will it get done.'
#3. Say No To Working Beyond Work Hours
When you go to an office, you can punch in and punch out. However, when you are working from home, you never really punch out.
Even if you think you have called it a day, you haven't.
How often has it happened you saw a slack message 3 hours post your work hours and replied to it? I am sure more often than you have thought of right?
This is why it is important to set work hours and say no to working beyond those set hours.
This doesn't mean you have to stick to the 9-5 rule and work only in those hours. Spread your time through the day as you see fit and set clear boundaries and expectations in the office.
Yes, it is important to work, but don't forget, work is just a part of your life.
A part you are intrinsically dedicated to. It's not your whole life, so don't make it one.
#4. Say No To Taking Your Mental Health For Granted
Just like your physical health is important, so is your mental health.
Did you know there was a 30% rise in anxiety disorder during the pandemic, as employees shifted to a work from home lifestyle?
We often take our mental health for granted just because the symptoms are as evident as a headache.
Especially when we are working from home, a lot of things come to us all at once.

So, it's important to nurture your mind as well. Meditate, take a moment and go out, see the sun or the rain or even the snow, and heal yourself.
#5. Say No To Impostor Syndrome
When you are working remotely, you aren't surrounded by people.
The voice in your head is the voice you hear often. And sometimes, the voice takes you to the path of the impostor syndrome.
Impostor syndrome happens when you start doubting your own skills and competence. This takes a toll on your productivity and you also start feeling burnt out and 'not enough'.
Let me tell you though, you are enough. So, say no to impostor syndrome.
#6. Say No To Working In Pyjamas
Did you know that dressing crisply is directly related to your productivity?
When we are working from home, we are often like eh! Who will take a shower and change clothes, I'll do it later.
Believe it or not, this hampers your productivity and you tend to get distracted or sleepy faster.
However, when you dress crisply, it's like wiring your brain and telling it, hey hon! It's time to go to work, in the other room.
Yup, it immensely helps your productivity. And hey, you can even turn your cameras on in meetings, there's that too. So yeah, say No to working in your pyjamas and you will see a difference.
#7. Say No To Isolating Yourself
Working from home can get really lonely. However, you have to say No to falling into the abyss of loneliness and isolation.
Talk to your colleagues, have virtual lunch, dinner or coffee dates with them. Stay connected above and beyond what your work expects you to do.
This will not only nurture your organisational relationships but will also help you with companionship outside of work.
We are all social beings and we need someone to talk to no matter how much we deny it. So, when you are working from home, say no to self-isolation.
#8. Say No To Watching TV While Working
Yeah yeah, we all think of the next episode of the show we are watching when we are working from home.
Sometimes we might even give in to the temptation and switch on the episode to watch as we work.
However, that's exactly what you should say no to. Just like we tell kids to not watch TV while studying, we shouldn't watch TV while we are working.
The reason being the same, it hampers productivity and causes distraction.
So, say No to TV and yes to ambient music which will in fact boost productivity.

#9. Say No To Not Taking Breaks
When we are working from home, a lot of things are provided to us. We are in our space of comfort so we don't think of taking breaks.
However, that's where the problem lies. It is important to take timely breaks even when you are working from home.
It will help you recharge, re-energise and refresh. This will not only help your overall mind, body and soul but also help in performing better.
Say no to not taking breaks and get up go out to the gallery and just be present at the moment for a bit.
#10. Say No To The Expectation Of Having It All Figured Out
When we are working from home, we often spiral into the never-ending thoughts that we need to have all figured out.
Trust me, it doesn't matter whether you are working from home or working in an office, no one has it all figured out.
We are all just taking one step at a time and trying to achieve the balance we desire in life.
So, say No to the expectation of having it all figured out and just do what feels right to you. That's the essence of working from anywhere.