When Meenakshi Arvind and Mookambika Rathinam took an epic car journey from Coimbatore to London, they encountered a world that was more good than bad.
In the cry for freedom in a dark corner of the globe, they discovered that The Mahatma remained India's greatest icon.
Meenakshi and Mookambika tell Rediff.com's Archana Masih about their incredible journey through 24 countries in 72 days.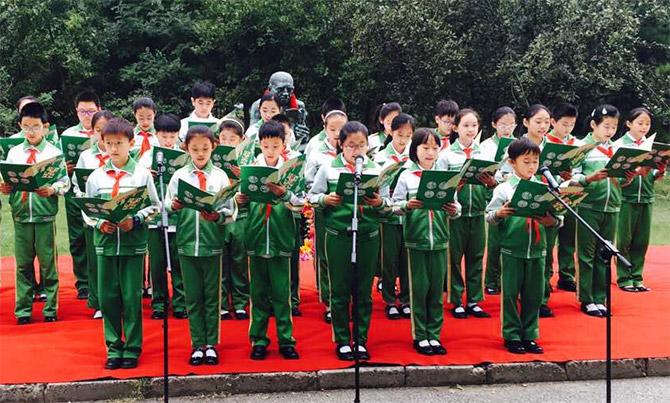 IMAGE: Chinese students commemorate Gandhi Jayanti in Shanghai. Photograph: Kind courtesy, Embassy of India in Beijing/Twitter
The last saappaadu (traditional Tamil meal) that Meenakshi Arvind and Mookambika Rathinam had was at a temple on the Manipur-Myanmar border. It had taken them 9 days to reach India's eastern exit border.
In Manipur, they also had the opportunity to meet a brave army officer who had been awarded both the Kirti Chakra and Shaurya Chakra (the second and third highest gallantry awards in peace time), the latter for conducting surgical strikes against Naga insurgents based in Myanmar.
After their car was serviced in Imphal, they crossed the Indo-Burmese friendship bridge on the way to Myanmar. It was mandatory to travel with a guide assigned by the Burmese military.
"The Burmese were very nice, we just dropped into people's homes. They gave us thankas and put sandalwood paste on our face."
They could have entered China from Myanmar but because of the Rohingya crisis two exits had been shut down.
So to enter China, they had to take a longer route -- which added two more countries -- Thailand and Laos -- and four more days.
The drive through Myanmar amidst its pagodas was beautiful, but what lay ahead at the the Thai border was a traveler's nightmare.
At Thai immigration, the officer stamped their passports and let them through -- but not the car.
You do not have the right permit, the guard said.
Thailand had applied a new rule just 12 days earlier. Meenakshi and Mookambika (Priya Rajpal had to abort the journey in Manipur and later joined them in Kazakhstan) implored that the rule was not on the Thai government Web site about visas.
When the guard told them that it would take three weeks to get the permit out of Bangkok, Meenakshi and Mookambika freaked!
With single entry, date specific, visas across countries for onward travel, the journey would have to be called off if they did not get the permit in 2 or 3 days!
"It would take another month in India to get the visas all over again if we missed exiting Thailand on time," recalls Meenakshi.
To make matters worse, it was a Friday night. Implorations that they would load the car onto a flatbed and get out of the country with devil's speed fell on deaf ears.
Dejected, they parked the car at the border and checked into a seedy hotel on the Thai side. Several phone calls later, a contact in Coimbatore got them an appointment with a senior government official on Monday.
They flew into Bangkok and met the official first thing on Monday and were able to get the permit in 24 hours.
"When we took it to the officer at the border post, he couldn't believe it! We just took the car and drove like mad. We did not stop anywhere and entered Laos the same day," says Meenakshi.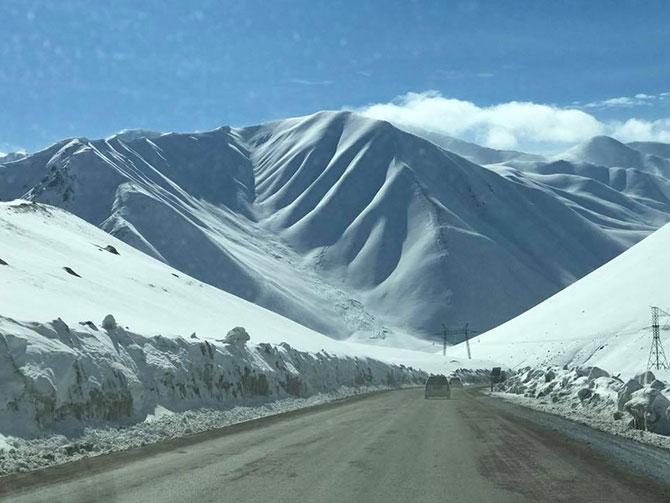 IMAGE: On the way to Toktogul in Kyrgyzstan. The country was spectacularly beautiful with rolling hills beyond the mountains of ice.
The longest drive through a single country was in China -- 19 days, across different regions and terrain, including the raw Gobi desert.
"I have never seen such fantastic roads. There were tunnels that gorged through mountains for 5 km and sometimes when you exited, the terrain had changed completely," remembers Meenakshi.
"We drove on the tallest bridge in China. On looking down, there were bridges everywhere, it was scary. The columns were 10 times bigger than here."
The women had to get a driving license in Chinese and tell you that at Rs 5.50 per kilomtere, China had the highest toll rate.
"Fuel was almost our price, but we paid Rs 3,000 to Rs 5,000 every day as toll."
"We took many by complete surprise," adds Mookambika, "People in China are so ignorant they asked me if I was from Africa because I am dark."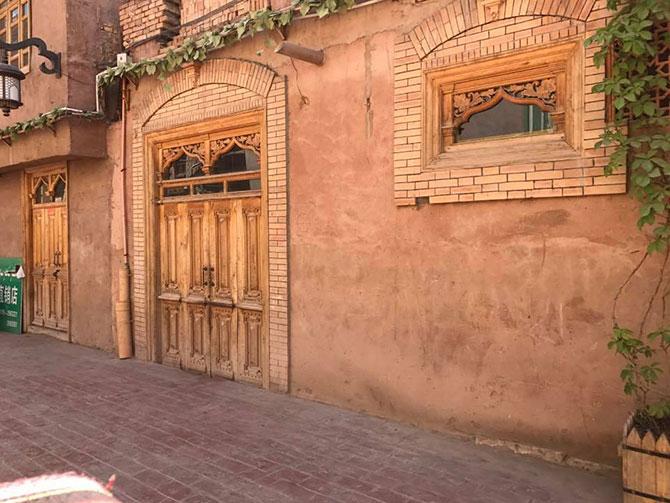 IMAGE: Walking past the beautifully carved doorways in Kashgar in China's Xinjiang autonomous region.
Travelling through China gave them the rare opportunity to see the autonomous regions of Tibet and Xinjiang.
"Kashgar is above Kashmir," says Mookambika. In a perfect world, they could have reached Kashgar on day 2 of the journey. "But we took 31 days," she points out.
Kashgar, the important city on the Silk Route and home to Uighur Muslims, was heavily guarded by Chinese soldiers.
Their guide warned them against taking photographs, cautioning them that they could be detained at the border if found with unlawful information.
Kashgar also brought home the manner in which individuals shape human history and the life we ultimately live. Meenakshi remembers an incident that became a defining moment of the trip.
A man in Kashgar who could speak English came up to them and told the women: "We don't have a Gandhi or Mandela to free us -- till the time we get one, we have to live like this."
The statement made her extremely sad. It also made her extremely proud that she belonged to Gandhi's nation.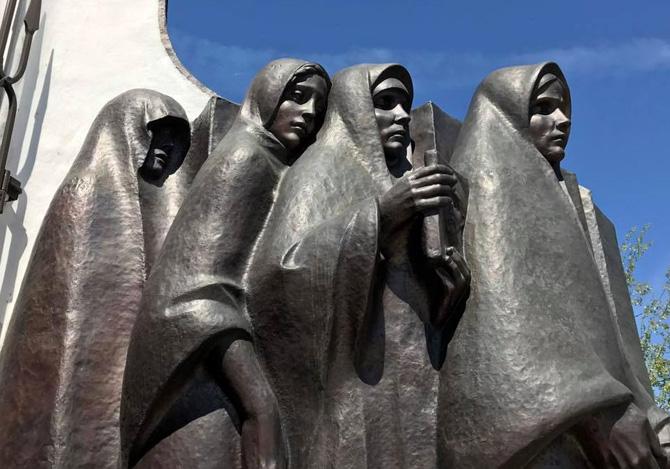 IMAGE: The Isle of Tears in Minsk. The statues remember women who were left to mourn the Belarusians who died in conflict with the then Soviet Union.
As they were getting closer to the Chinese border with Kyrgyzstan, Meenakshi started getting nervous about the photographs she had taken of Chinese tanks and soldiers on her phone. She started deleting them.
At the border all their bags were taken out and scanned; the women were asked to stand on one side.
The hostility was evident.
The official checked Meenakshi's Mac for photographs geographical area-wise. He searched their journals.
Finally, they were allowed to leave. They breathed a sigh of relief. It was short-lived.
What lay ahead was another disaster.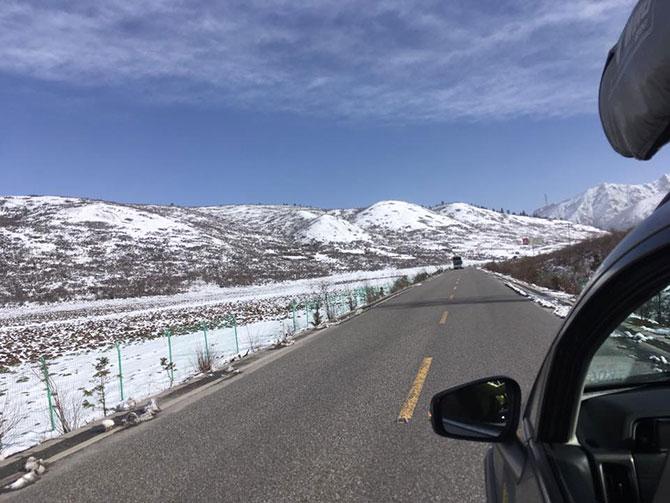 IMAGE: Driving in sub zero temperatures. In Kyrgyzstan, it was -18 in the night and the car only started after putting hot water and lighting a fire under the fuel tank.
No sooner had they exited through the mountain pass into Kyrgyzstan, they realised something was very wrong.
At the border gate, there were only them and two other trucks. A border crossing could not be so bereft of traffic or people and its immigration check post could not be so rudimentary, they thought.
And where was the guide who was supposed to be waiting for them at the gate?
It was freezing at -- 4.
Just two hours earlier, it had been 30 degrees in Kashgar.
They decided to phone the guide. In the heavy snowfall, maybe he had taken shelter somewhere. But the guide told them he was standing at the border pass as scheduled, but could not spot them.
That is when the immigration officer informed that they were at the wrong border!
"We were 1,000 km away from where we had to be and we couldn't go back because barring Europe all countries were single entry visas," says Meenakshi, remembering the panic of that moment.
"The next city was 180 km away and we were in the middle of a blizzard, with no visibility. The wipers couldn't even come up because of the snow."
The women spent the night in a concrete building with the border guards. The temperature plunged to -18. They knew the car would not start the next morning.
It didn't.
After lighting a fire under the car and putting hot water, the engine finally revived and they drove the 180 km downhill on black ice at 20 to 30 km per hour.
"It was scary," says Meenakshi, "barring beavers there was nobody on that stretch only. Only both of us breathing -- but beyond the ice mountains were rolling hills -- beautiful."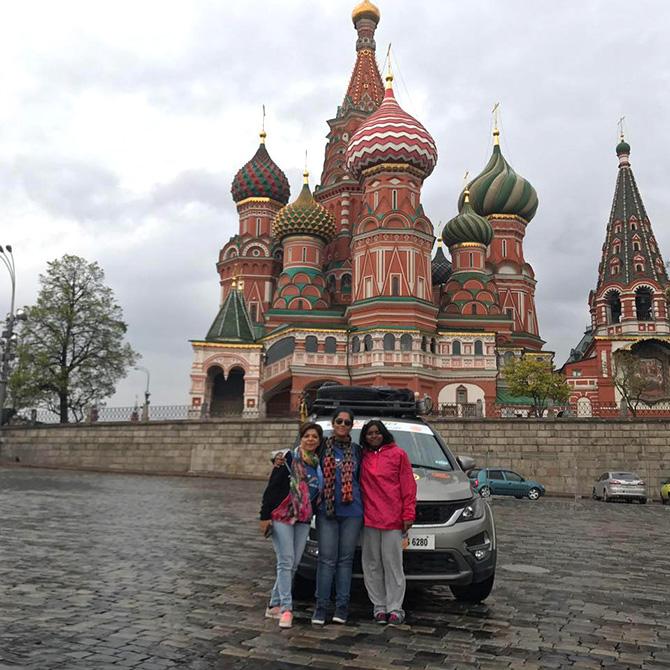 IMAGE: At St Basil's Cathedral in Moscow. In Russia, you can be fined for driving with a dirty number plate.
The travel through Central Asia threw up marvelous encounters.
People opened their homes to give the women hot water. An Uzbek family that sang Bollywood film songs invited them for a vegetarian meal. Another Uzbek told them that many craftsmen who had worked on the Taj Mahal in the 17th century were Uzbeks.
Then there were learnings picked up from sights, sounds and experiences along the way.
In Russia, Vladimir Putin dominated the skyline. Stalin was nowhere to be seen.
In Belarus, they were invited for a morning show with a Belarusian who loved India, had an Indian wedding and came to India four times a year.
In Macedonia, they made it a point to visit Mother Teresa's birthplace.
In Krakow, Poland, they went to Oskar Schindler's factory and saw the Jewish ghettos.
The horrors of hatred made them sick.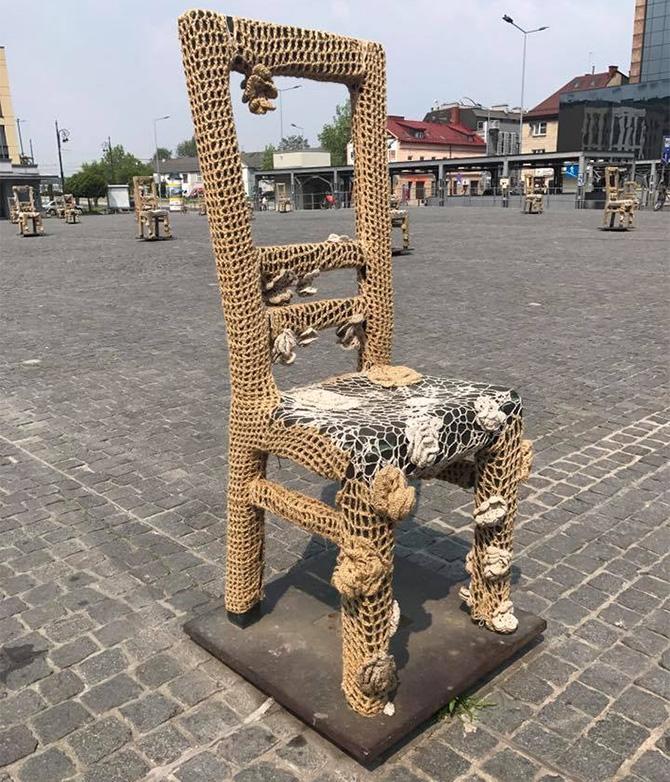 IMAGE: The Empty Chair Memorial in Krakow, Poland. Some chairs face Auschwitz -- the Nazi concentration camp where millions of Jews died -- and some face Schindler's factory.
"What we had learnt in history was playing out in front of our eyes," says Mookambika.
"Through Myanmar-China, we were on the famed Silk Route. Our route was also how Buddhism travelled from India up to China."
"In Russia, we were in a country that was a bastion of Communism. The land of Lenin and Stalin."
"Then I saw how Poland was worst affected by Hitler's anti-Semitism."
"In Serbia and Macedonia was the home Alexander the Great."
"What you learnt was so close and in front of you in 70 odd days," says Mookambika.
Since their return, the women have appeared on radio and in print and have been invited to talk about the trip by several organisations.
Mookambika plans to do a drive for cancer awareness and Meenakshi wants to drive through Australia and New Zealand this year.
The drive has changed their outlook in many ways.
"We just talk different," says Meenakshi, "think different, eat different, speak different -- that's all."
"We are ultimately all the same the world over."