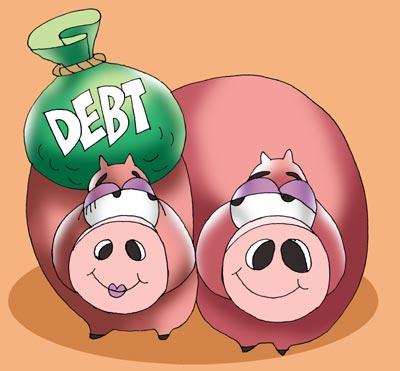 Do not game the system to run away from repaying the money you owe the credit card company.
There are serious costs, warns Harsh Roongta.
Illustration: Uttam Ghosh/Rediff.com
Borrowers with low credit scores should take secured loans and build up their credit scores faster
A common query: I recently settled my credit card account for Rs 1.2 lakh including overdue interest and penalties. The original outstanding? Rs 50,000.
And even after paying more-than-double the outstanding amount to settle credit card default, I was denied a home loan. Can I complain somewhere?
While this kind of query is common in social media or channels, digging a little more is likely to throw up a similar trend -- a person who overspent; found it difficult to repay; relied on the slow and creaking legal system to default; rushed to settle with the bank when he realised that he wasn't going to get an education or home loan.
In most cases the defaulter initially assumes that he would get a loan from some other bank, one which would be unaware of his previous credit card default.
But the credit bureau system now allows the lender to check past record before giving a fresh loan. And the defaulter got stuck there.
The story gets interesting after this.
So, when the defaulter went to the bank to repay the amount, the card issuing bank played along and even provided some small concessions and got him to pay off the long defaulted card dues with overdue interest.
The card issuer also promised to update the credit bureau record by the end of the month to enable him to get his home loan.
But then, he was rejected again.
When he approached the card-issuing bank thinking it had not updated the credit bureau reports, the issuer provided the latest credit report with updated data.
So, what happened?
A closer reading of the updated report would show that the default has been wiped off from his account, but it also captures the long period of default.
For any new lender, this can be a warning signal.
Even though the credit score has improved, it is still low. And it will keep improving over time.
Smart borrowers, who are seeking credit cards, should take secured ones such as those against bank fixed deposits or a gold loan or loan against shares or loan against endowment policy.
These are still available to such borrowers and build up their credit scores faster.
It takes around two to three years before their credit scores improve enough for them to be able to borrow fresh loans from regular lenders.
Meanwhile, they will not be able to get loans from the regular lending system though some of the newer lenders or some local lenders may still be willing to provide loans albeit at a higher rate.
If you don't settle the dues at all, you are likely to have bad credit score for a much longer period besides facing legal issues from the card issuer.
There is no magic potion to improve your credit score overnight and it has to be a slow and steady climb up.
Any concessions to borrowers who game the system for their own advantage adds up as additional cost for the vast, but unfortunately silent majority who pay all their loan dues on time.
If this sounds like an anti-borrower article from an otherwise pro-borrower columnist, it is not so.
But borrowers need to atone for their past defaults before they are made to feel welcome in the system again.