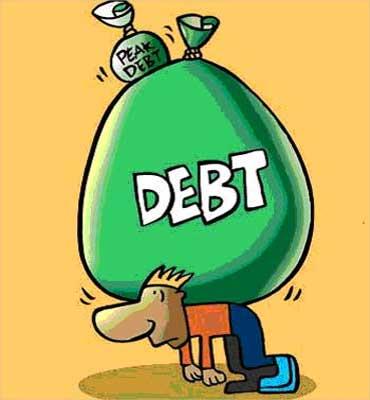 Rishi Mehra explains how one can easily avoid getting loaded with a debt mountain
Illustration: Uttam Ghosh/Rediff.com
When it comes to credit card, it is always a substitute for easy money.
For those who are living on a fixed source of income, getting a credit card in hand is something like a key to all-time money access.
But, credit card is beneficial for those who know how to use it wisely.
Yes, most of the time people get into the trap of credit card debt without even realising it. And, when it comes to crawling out of a debt trap, it is not everyone's cup of tea.
So, if you are also into the debt trap and looking for ways to get out of it, you are at the right place.
Read this article to know the tips that allow you to plan your credit card spending in the best possible manner.
1. Avoid things that you can't afford
Many times people due to peer pressure or in order to maintain their status buy expensive things which they really can't afford or don't need at all. They don't give a second thought to it, considering that they need to pay back the same later.
So, one should always avoid buying such things which are going out of your pocket or budget.
It is a smart move to purchase only what you can afford so that you can easily pay for it later without falling into credit card debt.
2. Say no to balance transfer
Yes, a balance transfer is a big no!
Try to avoid doing this until and unless you have a good reason for doing that. Do not do balance transfer just for the sake of it.
If you want to transfer the balance to another credit card, make sure that it makes sense, like it comes to you with lower interest rates than the previous one.
Otherwise, your balance will only increase due to the balance transfer fee. Yes, there are some lenders who charge a balance transfer fee from the customers. So, it's better for you to say no to balance transfer so as to avoid the credit card debt.
3. Don't miss your credit card payments
One should always pay all her/his credit card payments in a timely manner as it is surely one of the most effective ways to avoid the credit card debt.
If you find it difficult to remember the due dates to make the payments, you can set a reminder in your phone regarding the same.
When you follow this, you can stay away from making the credit card debt and will clear all your dues on time.
4. Try to pay full in each month
The best way to avoid credit card debt is to pay your balance in full each month because through this way, you will never carry a balance with you.
With the help of doing so, you don't need to worry about whether you can meet the minimum payment or not because your credit card has already been paid in full.
5. Never take cash advances
If you want to avoid debt in the real earnest, make sure you avoid withdrawing cash via credit card at the ATMs.
Withdrawing cash can shoot up your credit card bill as the interest rate on the same normally falls within 2.5 per cent-3.5 per cent of the withdrawal amount.
For example: Cash withdrawal charges from the HDFC Bank credit card comes out to be 2.5 per cent of the withdrawal amount or Rs 300, whichever is higher.
Suppose you withdraw Rs 40,000 from the credit card at the ATM, then what will be the interest charge?
Interest amount will be Rs 1,000 (40,000 @ 2.5 per cent), higher than the minimum amount of Rs 300 to be levied by the bank.
So, you can get an idea of how the destructive cash withdrawal via credit card can be to your finances.
Avoid taking cash advances to negate the possibility of mounting debt on your credit card.
6. Don't give your credit card to others
So often people give credit card to their friends or family members and end up worsening their financial life cycle.
When someone gets your credit card, chances are high that s/he may misuse it by making lavish shopping.
As a result, the bill, which will come up can take your breath away and give you sleepless nights.
Never fall into the request of others asking you to give your credit card to them. Denying them your credit card will help you avoid from getting financially drowned.
7. Be aware of terms and conditions
Read the terms and conditions related to your credit card carefully and try to understand each and every point in detail so that you could avoid the debt to rise.
Keep an eye on the application of interest on your credit card account, the stuffs that will lead to a charge.
Also, you need to understand as to when interest rate will move up.
The moment you know about it, you can take proactive steps to avoid the debt to crop up and lead a healthy financial life by doing the same.
Some of the common mistakes you should avoid are paying only the minimum due amount, making late payment of the bill, taking cash advances, doing unnecessary shopping, etc.
Avoid using multiple credit cards
Doesn't matter how fancy credit cards can be, use them judiciously to be on the safe boat. Else, you will get financially drowned with no one to take you out of that situation. Judicious use is practically impossible when you have more number of credit cards, which can inflate your bill to the maximum extent.
There are banks and NBFCs that could tempt you to buy a credit card on the back of your good credit history. Honour their request at your own peril. Never fall into the lure of multiple credit cards as you can land up nowhere.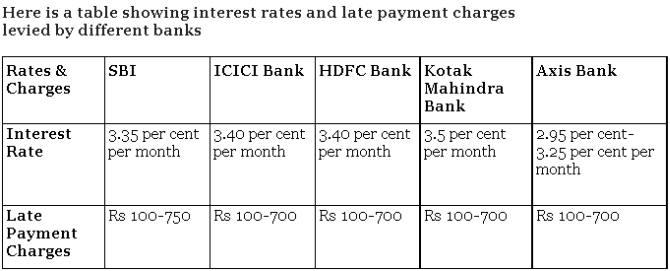 The author Rishi Mehra is founder, Deal4Loans.com