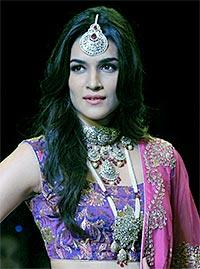 Here's how you can give your family heirloom a face lift with a dash of style and modern art, says Manavi Kapur.
Old is gold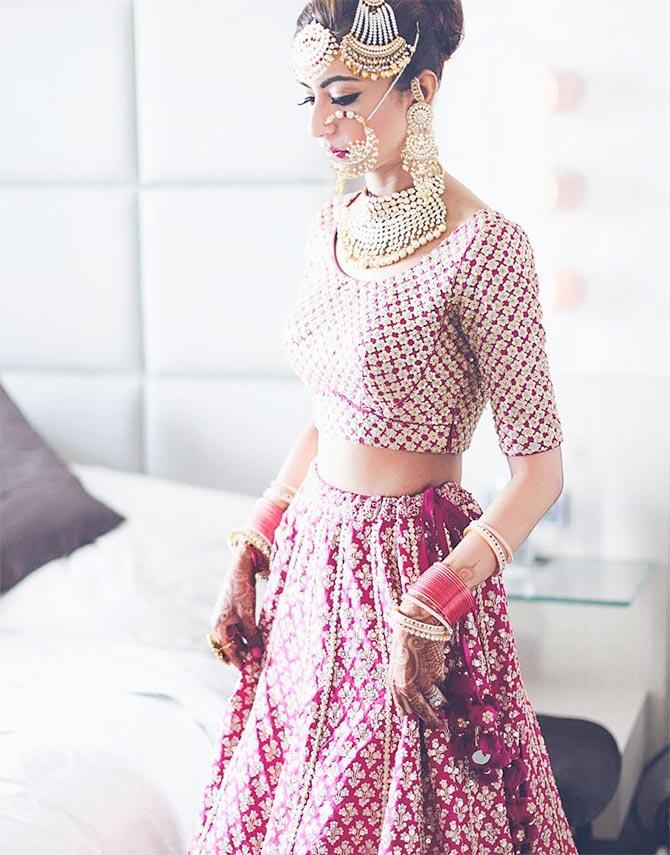 IMAGE: A bride oozes poise in a redesigned antique jewellery by Veeni Jewels. Photograph: Kind Courtesy indian_wedding-inspiration/Instagram
Wearing a piece of jewellery that has been in one's family for at least four generations can be a sublime, emotional experience.
But who today can wear hair clips in pure gold and kundan, especially when it requires so much effort just to get them fixed into one's hairstyle?
In comes Harvinder 'Veeni' Bajaj of Veeni Jewels, a wizard at envisioning old items of jewellery in a new light.
"Every single jhumka, pendant or earring comes with too many emotions. My idea is to preserve that quality and yet enhance the jewellery so that it becomes more wearable."
At her store in Greater Kailash in New Delhi, scores of women, and a few men, come with traditional polki, kundan, gold and diamond jewellery, looking for ways to renovate and reinvent it.
Over time, families go through a division of estate, leaving each family with odd pieces of jewellery -- sometimes just one heavy jhumka.
Bajaj then sits with the person who will wear the jewellery to understand the look he or she may have in mind. Over mango shake, chaat and a jolly staff always ready to lure one with chaand baalis, a design is finalised and handed over to the in-house artisans.
Besides the kundan and jadau jewellery that New Delhi is the hub of because of the families that came from Pakistan after Partition, Bajaj also sees a lot of Maharashtrian and South Indian temple jewellery.
For instance, she worked with an old nose ring in gold and converted it into a pendant with kundan, without melting the original piece.
Then there are always those mohars and asharfis, gold coins belonging to different periods, that can be modified to be worn as earrings, pendants and centrepieces of necklaces.
Bajaj works with all kinds of budgets, though she advises that customers should have an idea of what they want and how much they're willing to spend.
Where: M-53, Greater Kailash-1, New Delhi.
In with the new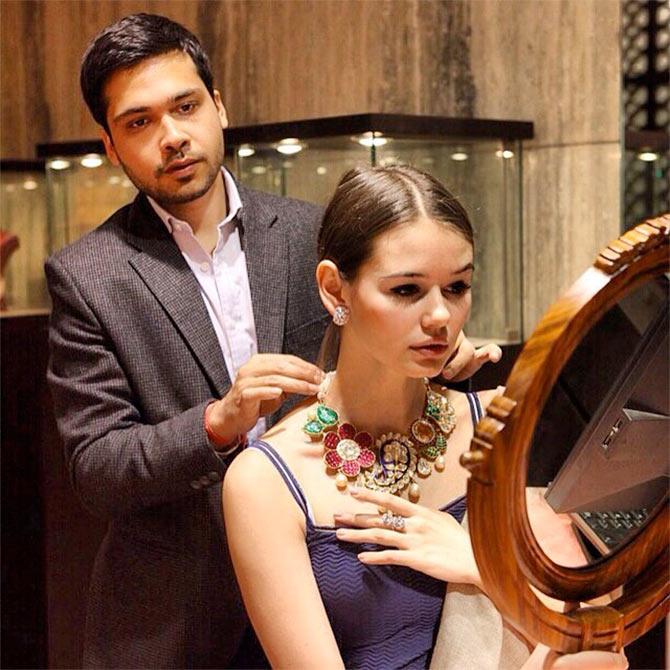 IMAGE: The Jewels by Rakesh Khanna lends a bold and contemporary take on the age old tradition of Jaipur's kundan jewellery in gold. Photograph: Kind Courtesy jewelsbyrakeshkhanna/Instagram
At the Jewels by Rakesh Khanna boutique at The Ashok in New Delhi, the suave and edginess of the interiors is reflected in the jewellery.
While traditional, antique jewellery adorns the display units, every now and then a striking statement necklace knocks that sensibility right out the window.
Keep it glittering
The key to keeping jewellery safe and damage-free is storage. The best way to store gold and silver is in air-tight plastic boxes, preferably wrapped in muslin cloth and kept flat and straight.
Each set or piece of jewellery should be stored in separate boxes.
Wear your jewellery often to air it.
Perfumes are a strict no.Ideally, jewellery should be the last thing you wear while dressing up.
Khanna -- the award-winning jewellery designer -- is glad that women are becoming less sentimental and more practical about the jewellery they inherit.
"They want to wear the jewellery and not just keep it in lockers. But at the same time, they want a modern twist, something that reflects who they are today."
The most common ways in which women prefer to contemporise necklaces and earrings is to replace pearls and kundan with gemstones and diamonds.
"We want our customers to be adventurous and daring when it comes to renovating old jewellery. They should have faith in our designs," says Khanna.
In order to retain the original carving and designs over gold, Khanna uses innovating technology and directed laser light to avoid using heat on the metal. "We have to be very careful with old gold. We just cannot use heat directly and risk melting the intricate carvings."
Where: Jewels by Rakesh Khanna, The Ashok, Chanakyapuri, New Delhi.
All that glitters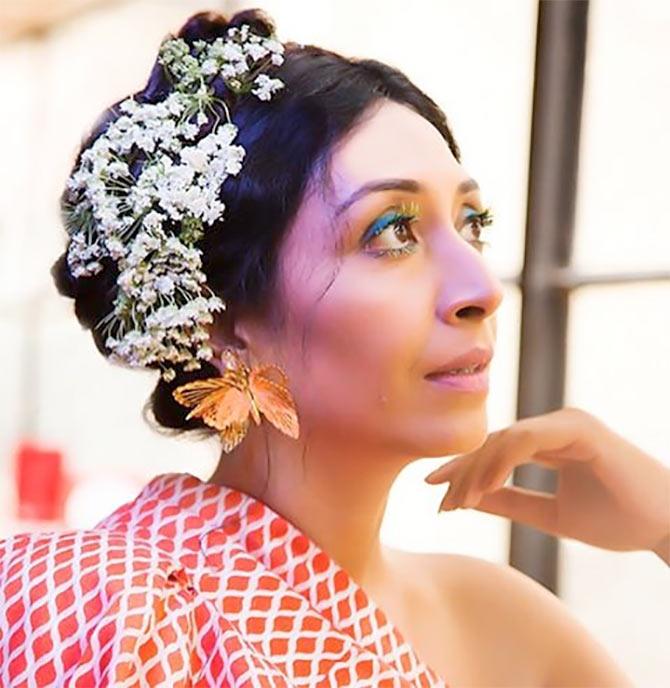 IMAGE: Now that's a stunner pair of earrings from multi-designer boutique Nimai. Photograph: Kind Courtesy shopnimai/Instagram
It isn't just gold that men and women inherit in their families. There are silver ornaments, watches, cufflinks and ever silverware that are passed on through generations.
At Nimai, a multi-designer boutique in New Delhi, Pooja Roy Yadav says that she receives several requests for customising old heirloom pieces.
"A young woman once came to me to get her father's watch modified. He had passed away and she wanted something that she could wear."
Designer Abhishek Bhasak's label, Absynthe, helped her use the parts of watch and convert it into a pendant.
"While people may be more afraid to fiddle with gold jewellery, they are more adventurous when it comes to silver. I have helped women redesign their chunky silver anklets into chokers," says Roy Yadav. She even helped convert some old silver buttons into earrings. "If you just add maybe a leather strap to an old pendant, it gets an instantly modern look, perfect for a monochrome outfit."
Where: Nimai, 416, Shahpur Jat, New Delhi.