In April, Irdai said health premiums may be collected in instalments to help policyholders who are finding it hard to pay the entire amount in one go due to the Covid outbreak.
Subrata Panda reports.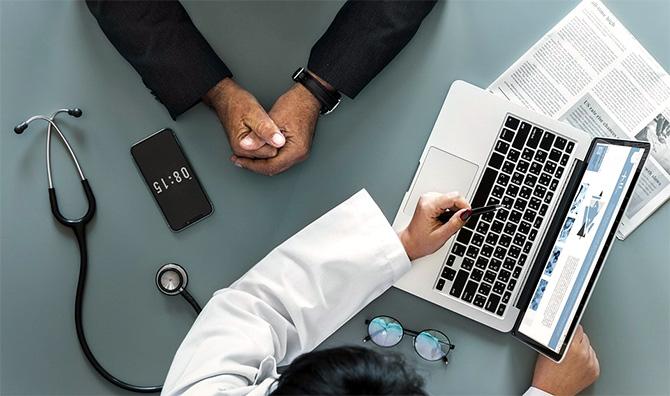 Policyholders who opt to pay health premiums in instalments will end up paying more than what they would have paid if they opted for a one-time payment annually.
This is because insurers are levying a nodal charge of 3 to 4 per cent on premium paid through instalments.
So far, insurers collected a lump sum premium on health plans annually.
Now, due to payment in instalments, insurers will take a hit in their investment income as they will lose out on sizeable amounts of money which could be deployed in the markets for investment returns.
Moreover, they will have to bear expenses to manage the monthly instalments and keep records.
While the regulator has not capped the charges as of now, industry sources say insurers are charging an additional 3 to 4 per cent on the premiums paid in instalments.
Also, not all insurance companies are levying the additional charge as of now, but experts are of the opinion that all will have to do it sooner or later.
An Insurance Regulatory and Development Authority of India official said, "We have not capped it because we are of the opinion that competition in the market will keep it in check."
"Since all companies will have to facilitate paying health premiums in instalments," he added, "firms are expected to charge a bit more because of delayed payment."
Normally, the extra charge should not be more than the interest rate beyond the given period, said the Irdai official.
"There is a nodal charge of 2 to 3 per cent on the expenses incurred to manage the EMI and cover loss of investment opportunity due to the staggered premium in instalment," said Gurdeep Singh Batra, head-retail underwriting, Bajaj Allianz General Insurance.
"Loss of investment income and the finance expenses are compensated by the nodal charge we are putting on the premiums collected in instalments," Batra added.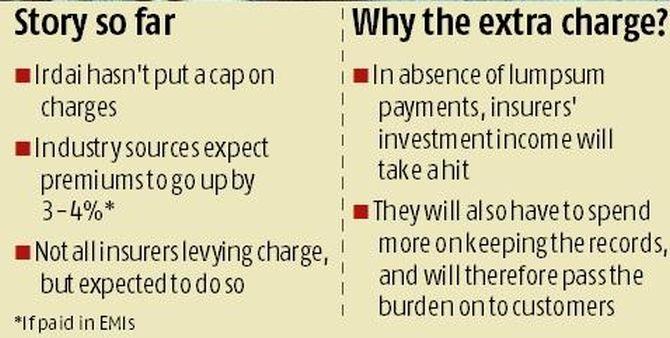 "Paying premium in instalments increases the affordability for customers, but from the insurer's side, it becomes a bit tricky to manage the cash flow," said Amit Chhabra, health business head, Policybazaar.com. "So, there is an investment income loss for the insurers because of this."
But the regulator has given the insurers a leeway to put a multiplier in case of payment in instalments to compensate for the loss in investment income and expenses.
This will result in an increase in premium for customers who opt for the instalment mode of payment, added Chhabra.
"Irdai has not specified the multiplier, but said that insurance companies can charge a multiplier on instalments," said Chhabra.
"Some companies are doing it and some are not. It's only a matter of time before all companies start charging a bit more from customers opting for the instalment mode for paying premiums," Chhabra added.
The insurance regulator in September last year allowed insurance companies offering products to accept premium payment in instalments, which are otherwise collected annually.
Again in April this year, the regulator reiterated that health premiums may be collected in instalments to help the policyholders who are finding it hard to pay the entire amount in one go due to the Covid outbreak.
Premium payments may be monthly, quarterly, or half-yearly, but without change in basic premium.