Harsh Bharwani, CEO and MD, Jetking, lists high paying career opportunities in blockchain technology.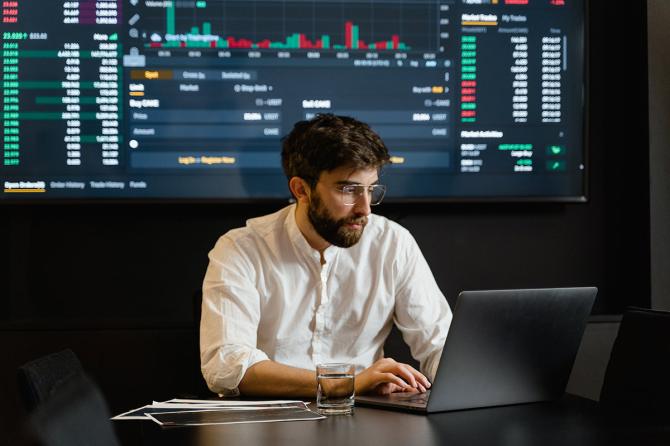 The demand for blockchain has been increasing rapidly in recent times.
Approximately 25% of the industry has adopted blockchain technology and is actively developing blockchain-based applications.
If you log in to any career website, you will notice that blockchain jobs are becoming increasingly popular, and the pay scale for specialists is equally enticing for both aspiring and trained professionals.
Top global corporations such as Microsoft, IBM, TCS and Accenture that also deal with blockchain development and operate with blockchain technology are looking for experienced candidates who can create decentralised apps, work on blockchain platforms, deploy, and offer solutions.
If you are looking for a career in this sector, here's a list of high paying blockchain jobs you can set your sights on.
1. Blockchain Developer
One of the most common career roles in blockchain technology is that of a software developer.
Many businesses hire blockchain developers to provide the finest solutions and establish new technologies by utilising their superior expertise.
You have the option of becoming a core blockchain developer or a software blockchain developer.
In-depth understanding of blockchain architecture, cryptography, data structure, web development, and expertise in programming languages such as Java, C++, Solidity, Python, and others are necessary for the blockchain developer.
Any additional talents are a plus.
Average salary in India (as per career site Glassdoor): Rs 8,232,401 per annum
2. Blockchain Architect
Blockchain Architects are in charge of overseeing, planning, and integrating the many components of the blockchain system.
They must design an appropriate architecture for the desired system.
The specialist works with R&D teams and helps implement blockchain while building and designing solutions.
Average salary (as per career site Glassdoor): Rs 8,004,164 per annum
3. Blockchain Security Engineer
Another high-paying blockchain profession is blockchain security engineer, which has grown in prominence in the IT business.
The blockchain security engineer's role is to work directly with developers to audit their code for security. They ensure the security of goods like as smart contracts, Dapps, and protocols.
Average salary (as per Glassdoor): Rs 8,169,393 per annum
4. Blockchain Product Manager
One of the most demanding jobs is that of a blockchain project manager.
S/he is in charge of overseeing the project and maintaining contact between the company and blockchain experts.
The project manager must have managerial abilities, leadership qualities, excellent communication skills, and technological competence.
Average salary (as per career site Indeed): Rs 7,203,152 per annum
5. Blockchain UX Designer
UX designers are required to create a distinctive and user-friendly interface.
Every firm that works with blockchain technology prefers a UX designer to create designs for interacting with people.
If you want to be a Blockchain UX designer, you need have both creative and technical abilities that will assist the firm.
Average salary (as per cryptocurrencyjobs.com): Rs 7,993,753 per annum
6. Blockchain Engineer
Blockchain engineers specialise in the development of decentralised applications.
They must be well-versed in modern technologies and have strong programming abilities.
Blockchain engineers are in great demand at multinational corporations like General Electric and Robert Bosch.
Average salary (as per Glassdoor): Rs 7,581,870 per annum
7. Blockchain Quality Engineer
Blockchain Quality Engineers are in charge of testing all of the apps that will be performed.
They also ensure that the quality of any blockchain-related system is thoroughly checked.
Companies are looking for candidates who can provide a bug-free final product for the firm.
You must have extensive expertise of blockchain platforms, frameworks, and manual testing approaches to be considered for this position.
Additionally, abilities such as communication, fast thinking, problem-solving, and so on will be beneficial.
Average salary (as per Glassdoor): Rs 5,917,311 per annum
8. Blockchain Consultant
Another high-paying profile is that of a blockchain consultant.
Companies such as IBM and Microsoft recruit workers with technical skills and give solutions to difficulties.
Working with such innovative technologies necessitates risk management capabilities.
Average salary (as per Glassdoor): Rs 6,133,402 per annum
9. Blockchain Legal Consultant
Blockchain Legal experts are employed to address any legal problems for blockchain-based firms.
It's the highest-paying blockchain position. Such professionals are responsible for providing advice and structure for bitcoin or other coin offers.
Also, to ensure that the smart contracts fit the regulatory standards.
Blockchain consultants must be familiar with blockchain technology and cryptocurrency trading. In addition, the legal ramifications of the specific nation are considered.
Average salary (as per Glassdoor): Rs 6,685,455 per annum
10. Blockchain Analyst
A Blockchain Analyst may be recruited as a Risk Analyst and the Business Analyst.
This specialist analyses the risk factors existing on a particular application or system. Also, they figure out the potential threats.
As a result, they offer some solutions to overcome that particular risk.
The business analyst tends to provide the best business strategies which will eventually or instantly benefit the organisation.
Also, they have the skills to provide improvements and solutions that will positively impact its growth. Blockchain Analysts must have in-depth blockchain technical skills.
Average salary (as per Glassdoor): Rs 5,184,190 per annum
Both blockchain and cryptocurrency started from scratch and made into the mainstream ecosystem.
In the last few years, millennials started adopting blockchain and invested in cryptocurrencies, making it one of the top necessities in today's decentralised and digital world.
If you are looking for a job in this sector, you will notice that sometimes, cryptocurrency and blockchain jobs go hand-in-hand with a similar description and skill requirement.
If you want to secure your future, you can train yourself in any of the above skills and advance in your career.