After his graduation, Wali Ullah drove his parents home in a cycle rickshaw.
The story behind the picture will melt your heart.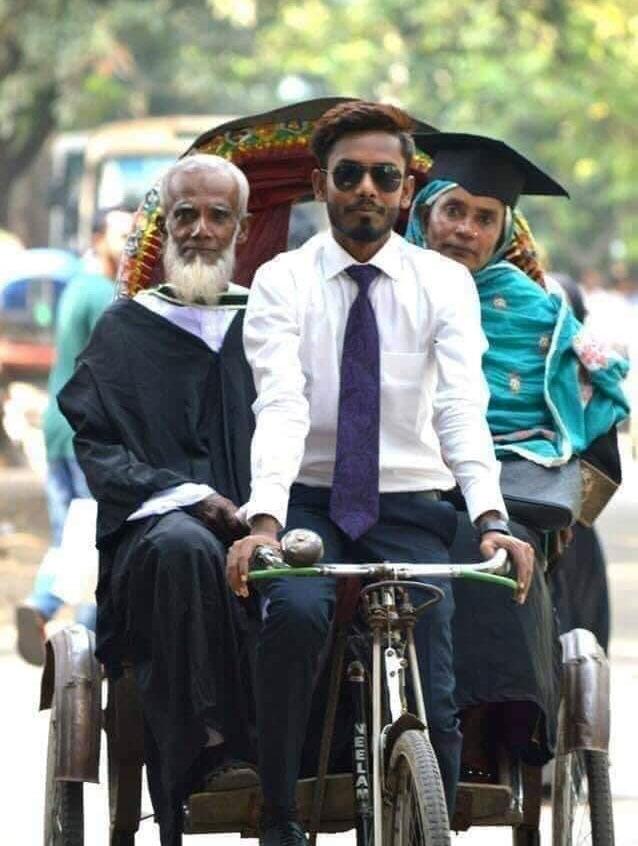 To become a graduate is a dream for many, especially for some of our parents.
While some of us are privileged to complete our education, find our dream jobs, not everyone's so lucky.
Last week, cricketer Virender Sehwag tweeted a picture of a young boy cycling his parents home in a rickshaw.
Wali Ullah, who graduated in accounting and information systems from the University of Dhaka, Bangladesh made his father wear his graduation robe and mother, his hat, as he drove them both home.
The 24-yr-old wrote a small caption in Bangla, which he translated in English for Rediff.com:
"My caption says 'My mom is the crown of my entire life, so convocation hat is for her."
"Father saved me from all external complexities, that's why convocation gown suits the lifetime sweated body of my farmer father."
"I wish to look after them likewise for the rest of life. I am missing my brother badly."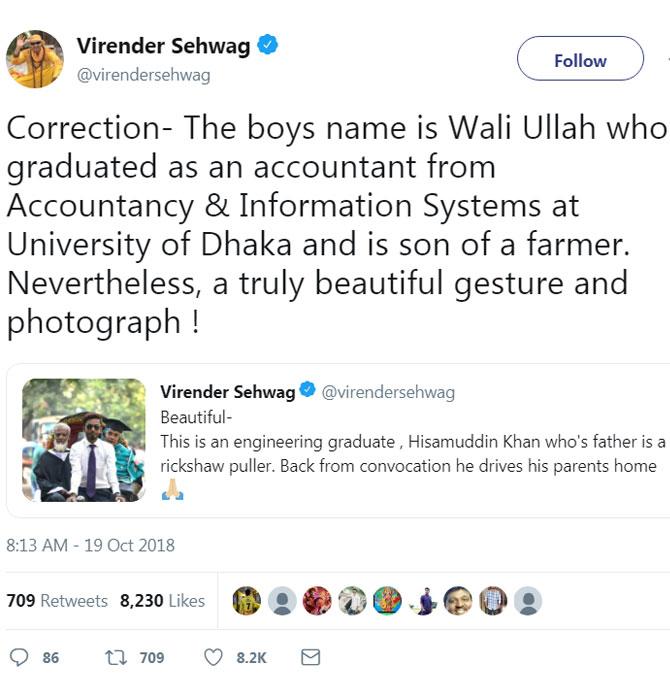 The convocation ceremony was held in the first week of October.
"One of my juniors from my village who came here in the campus with my parents, as my parents don't know the city much, clicked the picture," Wali told Rediff.com
Wali's father Md Fariduddin is a farmer and mother Sufia Begum is a housewife.
"I was missing my elder brother Monir Hossain who is doing every possible thing for me working outside the country," he said.
Wali's family belongs to a small village in Narsingdi district, about 60 km away from the capital city of Dhaka, Bangladesh.
Speaking about the hardships his parents faced while bringing them up, Wali says, "I saw tears in their eyes when I was walking with them aside on the day of the ceremony. I can guarantee they were the happiest ever parents."
"These are the most valuable moments of my life," he said.
"Keep me in your prayers," Wali appealed.
And of course, he thanked Indian cricketer Virender Sehwag for being able to see the true meaning behind the picture.
"I want to give him salaam from the core of my heart. I wish I could meet him for a hug if I had a chance because my respect towards my parents was heartfelt and he realised it. I must hug this lion-hearted legend."
"I also convey my gratitude to each and everyone in India and all over the world who took it very positively and sent me nice words and wishes."
"All your words were so inspiring and for sure, I'll go to the next level of life with your good wishes and appreciation. I am grateful to everybody," he said.