Nikita Puri meets the teen tech prodigy, who is an educationist, AI expert and lover of SpongeBob SquarePants.
Tanmay Bakshi is one of the youngest software developers in the world.
Photograph: @Tajymany/Facebook.
For some time now, Tanmay Bakshi has identified as an explorer. "More specifically, a technology explorer," he says.
Bakshi remembers being drawn by technology at the age of five: the question of how his name appeared on the computer screen stimulated him enough to learn programming languages.
Today, at 14, Bakshi is recognised as one of the youngest software developers in the world.
"As a five-year old, I had no bias. I didn't know programming was supposed to be boring. I didn't know the concept of a job either: I didn't know people were paid to programme. It was just another toy for me," says Bakshi.
Based in Brampton, Canada, Bakshi was in Bengaluru for IBM Code Day, an event curated primarily for technology developers, to talk about the impact of artificial intelligence on daily lives.
One of the first times he solved a technology-related problem was when he "fixed his classroom computer" in kindergarten.
"The computer wouldn't turn on and two teachers tried fixing it, but to no avail. I then asked if I could try," recalls Bakshi.
Seconds later, he returned overjoyed because he had done it. "It was a simple problem. The power cable was only loosely plugged in," he says, addressing an audience of hundreds.
Bakshi's humour, and unwavering self-confidence, may have earmarked him as a favourite keynote speaker for international conferences as well as made him the darling of media channels, but his work speaks for itself.
By the age of seven, Bakshi had started posting tutorials on coding and web development on YouTube.
"We didn't even know he was doing all this on YouTube," says Puneet, the teen's father.
A "small-time computer programmer", Puneet was one of the first to show Bakshi the ropes of programming. The Delhi-based family moved to Canada a year after the soon-to-be coder was born.
Back when he had to learn multiplication tables in the third grade, Bakshi realised he wasn't very good at it. "But I was good at developing Windows applications so I developed an application with visual basics to help me practise my tables," he says.
This was a game-based scenario: get the answers right and score points; lose points for every wrong answer. By nine, Bakshi had learnt how to develop iOS apps and this multiplication-helper was the first of his apps to be accepted into the Apple family.
Bakshi soon grew out of this.
"I had started to lose interest. I had begun feeling that everything I coded would start becoming obsolete as soon as I finished. It couldn't adapt to new data and circumstances," he recalls.
But, at 11, he stumbled into the world of artificial intelligence with IBM Watson, a computer system capable of answering questions posed in natural human language.
"I have been completely hooked onto machine learning and neural networks technology ever since."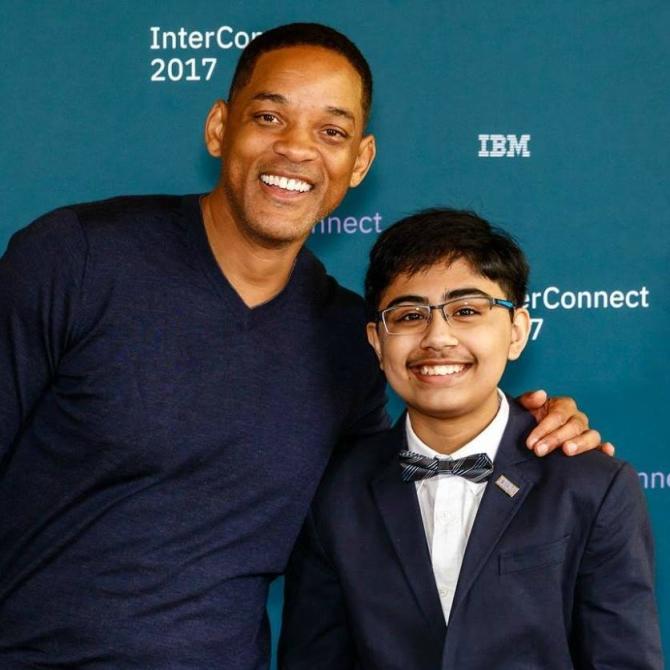 The boy wonder with actor Will Smith.
Tanmay travels the world on speaking assignments.
Photograph: @Tajymany/Facebook.
Bakshi now continues to pass on what he has learnt, and is continuing to learn through "Tanmay Teaches", a YouTube channel with over 80 tutorials.
His youngest students are in their teens, his oldest are tech enthusiasts in their 50s and 60s. He is also the author of Hello Swift, a book on iOS programming techniques for kids and young developers.
Bakshi is currently putting together his second book, on IBM Watson, with his mentor Rob High.
"Tanmay is an incredible individual. He has an innate curiosity and drive to share what he has learned," says High, an IBM Fellow, and vice president and chief technology officer, IBM Watson. "I have met only a few people in my career who are able to assimilate and then synthesise a comprehensive and succinct summary of both the nature of what he's learned, and also the practical applicability of that knowledge, with Tanmay's speed and energy."
Surf the net and one stumbles on numerous posts about Bakshi's tech expertise: his story is clearly a mine for potential urban legends. Many wonder if Bakshi can surf unscarred through puberty to adulthood, given the limelight and media scrutiny he receives.
Some others believe that Bakshi's case is "solid evidence for re-incarnation".
"If one thinks over it deeply, one can understand that Tanmay has gained all this knowledge in his previous life or birth," writes one Quora-user.
Bakshi chanced upon this post last month. "He is using me as proof of reincarnation and has posted this on multiple platforms, but I really don't know if I have been reincarnated. But it is fun to come across such things," says Bakshi.
Behind him, his parents laugh.
Besides creating neural networks for self-driving cars, one of Bakshi's significant projects is The Cognitive Story featuring Boo, a 29-year-old quadriplegic with Rett Syndrome, a rare genetic disorder.
"By developing an artificial neural network, we hope to give Boo some kind of communication ability so that her mother and caretaker have more than just informed guesses to go on," says Bakshi.
He's collaborating with IBM, and technology companies like Not Rocket Science and Darwin Ecosystem.
"Tanmay's ability to understand data and models requires a freedom of movement and cadence that operates outside the boundaries of traditional education and organisations," says Thierry Hubert, chief executive officer of Darwin Ecosystem.
Bakshi's parents realised early on that their son's interests and abilities could not be adequately serviced by a traditional school curriculum.
"Still, it still took us three years to act on the idea of homeschooling Tanmay," shares Sumita.
Even as Bakshi tackles the flood of tech-based questions people from across the globe send him, his parents receive a fair amount of queries regarding homeschooling. "Tanmay has taken up the responsibility of changing the world and its future. He can't do what he wants to do if he is bogged down by constraints," says Sumita.
Bakshi's first keynote address was to an audience of 25,000 people sometime ago in Las Vegas. "We were so worried if he'd be okay to go up and speak. It was the first such conference we ever attended and he had the flu. He looked so tiny on stage, and he sounded a little like Mickey Mouse," his parents recall. "As parents we continue to fret even after so many events. But he always says, 'Don't worry. I know what I am talking about.'"
Bakshi is also working on ways to use artificial intelligence to provide e-therapy for the diagnosis and treatment of depression.
Analysing existing data on social media platforms itself helps detect patterns in depressed teens, believes Bakshi, adding how artificial intelligence can also step in where manpower isn't available. In Australia for instance, reportedly 40 per cent of calls to helplines go unanswered because of resource constraints.
Every time Bakshi hops around the globe, from one speaking engagement to another, his parents are by his side. When he has the luxury of time, Bakshi plays table tennis, or fans his fledgling interest in cricket.
The only time the well-mannered boy displays his 14-year-old side is when he talks about the mindless fun of watching SpongeBob SquarePants, an animated series revolving around the misadventures of a sea sponge in an underwater city.
"That's a completely nonsensical show," chips in Sumita.
His mother's annoyance induces giggles from the teen. He laughs louder, spinning around on his swivel chair, when his mother insists that Bakshi is the bully among her two children.
"Teasing her is a lot of fun," says Bakshi about his 23-year-old sister, Tanvi. The urge to annoy a sibling is one even a prodigy must succumb to.