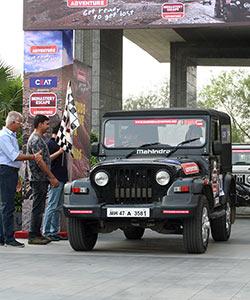 The Mahindra Monastery Escape 2016 is a one-of-its-kind road trip.
Participants, young and old, from across India, sign up to drive through some of the toughest and picturesque terrain in northern India over a period of 12 days.
Rediff.com's Divya Nair reports on the ride of a lifetime.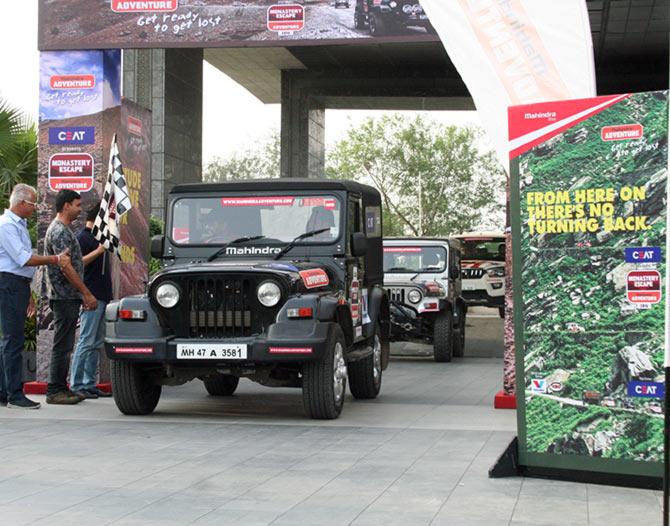 IMAGE: The journey begins! Delhi, June 24, 2016. Photograph: Divya Nair/Rediff.com
"Bunch up guys! Broken copy! Media, overtake! Lead, we are taking a bio break!"
It's been less than a week since I have returned from the Mahindra Monastery Escape 2016 and these short, impactful messages are relaying clearly, and on loop, even in my dreamless sleep.
And why wouldn't they?
I have been practically driven about for over hundreds of hours across non tarmac, rocky terrain, bridging between towering, dangerous looking mountains with steep and slippery inroads, covering close to 2,000 kilometres (including 1,800 km of pure driving) between Delhi and Srinagar in less than 12 days.
From driving (rather being driven) 16 hours a day to sleeping less than four hours and living out of a makeshift tent with practically no electricity or heater, I have experienced the bumps and the jumps and enjoyed it all.
If you think I was crazy to sign up, let me tell you I was joined by 45 oddly enthusiastic people from across different states of the country.
If you think these must be 20-somethings with no fear of life, there were doctors, engineers and business couples who were parents of teenaged kids and 20-somethings on the trip.
The eldest member of the trip was Pranab Datta, 67; the youngest was Aiman Kalia, 15, a Class 10 student from Delhi.
Over the next few days, I will take you through the expedition as it happened. Stay logged in!
Why I signed up for the trip
I had always wondered what it would be like to take a trip to the Himalayas.
Each time someone mentioned Leh or Ladakh, my heart would race. The mere thought of facing the majestic mountain ranges and experiencing the rivers that change colours would give me travel goals.
Between my husband and I, we'd always talk of saving up for it.
So when the e-mail invite for the Mahindra Monastery Escape 2016 landed in my inbox, my jaw dropped.
I realised it was for people who could DRIVE.
I looked at myself.
My husband and brother had just gifted me a TVS scooter and I was struggling to balance myself, forget taking it on the road and dealing with both accomplished and pesky drivers in traffic.
My senior colleague Seema Pant asked if I wanted to take the trip. I expressed my concerns to which Seema pointed out that the trip also invited NON-DRIVERS to participate.
My heart raced again, this time, seeing a distant ray of hope.
I checked with colleagues who had taken Mahindra trips in the past and I was told that driving was an essential criteria of participation.
My heart sank again, until it was suggested I quickly sign up for driving classes.
And that's how I took my first baby step towards preparing for the Mahindra Monastery Escape 2016.
At the end of 15 days of training -- which included 30 minutes of driving lessons on weekdays between 6.30 am and 7 am, after which I would come to work -- all I could manage was pass the learner's test, follow the ABC (accelerate, brake, clutch) and shift gears in a Hyundai i10.
I did not realise that there would be 20 plus accomplished drivers (unlike me) who would be required to drive a Mahindra Scorpio or an XUV with utmost discipline and in some of India's toughest terrain.
The days before flag-off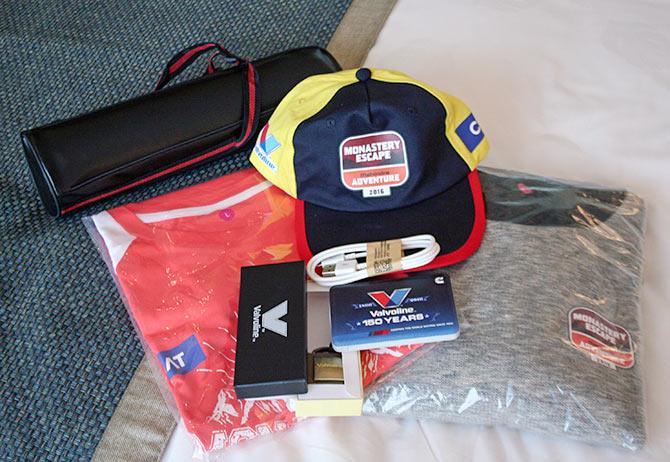 IMAGE: The welcome kit comprised a thermo flask, a t-shirt, sweater, cap and power bank. Photograph: Divya Nair/Rediff.com
My husband Prasanna did all the research for me, constantly giving me updates about previous Mahindra expeditions while I work on articles that would be posted during the time I'd be away.
Prasanna helped me pack and unpack, while I maintained a list of things to carry for the trip. The temperature forecasts defied my mental image of the places I would be travelling to.
Srinagar showed 24 degrees during the day while Leh was 21 degrees. I juggled with the idea of carrying enough warm clothes versus carrying clothes that wouldn't eat much luggage space.
I changed three bags -- from a backpack to a trolley case to a bigger trolley that could bulge up to hold more stuff, in case I did some shopping. I had to keep the luggage under 27 kilos (20 kilos of check in and 7 kilos of carry on).
I tend to overpack because I dislike the idea of having to borrow from people who I have just met.
After buying a raincoat and essential snacks at 10 pm the previous night, I thought I had it all sorted, but realised I wasn't half as prepared as the others I would meet the following day.
I couldn't sleep the entire night. I felt like a child excited about a school picnic.
The people I would meet... the places I would see... the challenges I would face living with strangers...
Would they be old, young, friendly or arrogant? Would they judge me for being a non-driver? Would I complete the trip?
Day 1: The journey begins
I reached the airport well in time -- Prasanna, my father-in-law and uncle came to see me off :)))
After the security check, I logged onto Facebook and announced my excitement about the trip.
I could really do with some encouragement right now, I thought. Friends promptly congratulated me, sharing travel tips.
Minutes later, Soumi Rao -- the contact person for the expedition -- walked in. A young girl in her 30s, Soumi looked like someone I could warm up to.
I was half relieved that she wouldn't be driving too. She assured me that there were a couple of spare drivers who would join the trip in case someone did not want to/could not drive the distance.
Outside Delhi airport, we realised that the idea of pre-paid taxis in Delhi is flawed.
You pay a certain fee by identifying your intended destination. After that, you have to negotiate to find a driver who will take you to your destination.
Soumi and I found a driver who was ready, but had no idea where The Leela Ambience Convention Hotel was. So, we helped him with the nearest landmark which he said he'd ask around when we got closer.
Enroute, we stopped at a petrol pump run by women and felt extremely proud. There was a sudden rush of feminine power in our blood.
After 40 minutes, when our driver finally admitted he'd lost his way, we switched on Google Maps, and finally arrived at the hotel later than we were supposed to.
The Flag Off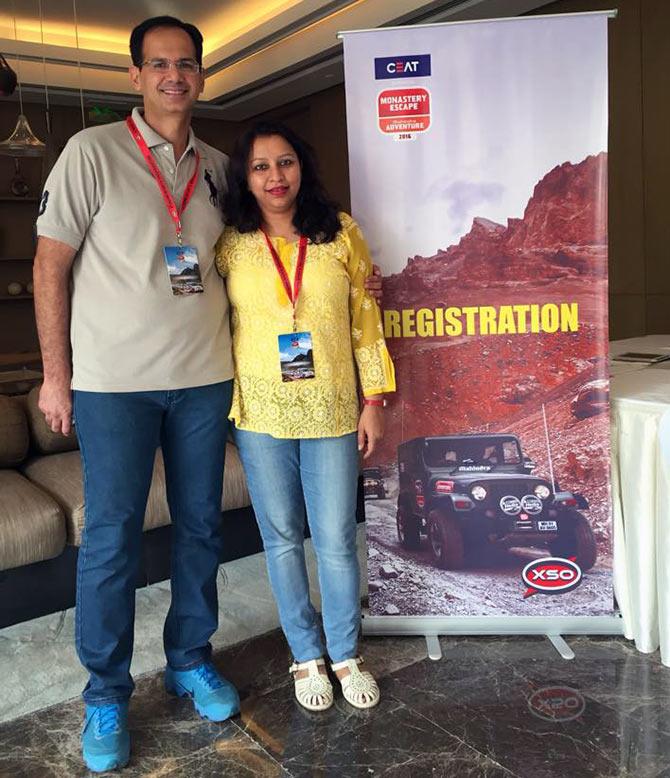 IMAGE: Participants Dr Vishal and Sangeeta Siwach gear up near the registration desk in Delhi. Photograph: Kind courtesy Sangeeta Siwach/Facebook
At 6 pm, we gathered outside the hotel where the convoy members took a ride around in their assigned cars and parked them in order, as if to declare the expedition open.
The vehicles were numbered, and branded for easy identification.
After the flag off, the convoy members were introduced to each other, along with a list of instructions on what to do, what to avoid, how to drive, how to stay on course... so on and so forth.
For someone who was recently introduced to the world of steering on roads, information like 'Your vehicle will lose up to 40 per cent of power as you go higher' or 'Do not overuse your clutches, we won't be able to do anything if you damage it,' hurt my morale.
The expedition then looked anything but adventurous; it felt more like going back to school with a strict principal at the helm.
In this case, it was Raj Kapoor, the founder of Xtreme Sports Organisation whose presentation answered every possible question we could have possibly asked without having to actually ask.
I scribbled the names of convoy members against their adventure numbers and realised there were enough doctors, software engineers and businessmen on the trip.
There would be a radio in every vehicle and we'd be relaying only emergency, relevant and crisp information. No songs, no jokes or small talk, or so, it appeared. I already started feeling uneasy, wondering what my role would be since I wasn't going to drive. Obviously, this wasn't going to be a sightseeing trip.
The expedition, we were told, would start at 4 am the following morning. I looked at my watch -- it was already past 9 pm. Then came the announcement: The bar is open guys, have fun.
On a normal day, this would be the conversation starter. But not today.
Barring a few, the rest of us headed to the banquet area, gobbled up our dinner over small talk, consciously reminding each other that we all had a big drive day ahead of us.
After we were done packing and chatting, Soumi and I hit the cosy bed in our plush hotel rooms by 11 pm.
I felt snug and warm for the first and as you will discover, for the last time in the next 12 days.
Before I wind up today, let me introduce you to the adventure teams:
Advance car: Parth Gambhir from XSO team
Lead car: Vikrum Kapur from XSO team
Adventure 1: Vinod Nookala from Mahindra
Adventure 2: Dr Sujal Modi, Dr Vitan Joshi and Neel Joshi from Ahmedabad
Adventure 3: Lata Chirayil and Sudhir Babu from Kochi
Adventure 4: Dr Vishal Siwach and Dr Sangeeta Siwach from Rohtak
Adventure 5: Swati and Prakash Deshkar from Thane
Adventure 6: Badri and Viraj Oswal from Mumbai
Adventure 7: Nitin Garge from Kalyan
Adventure 8: Kiran Kashikar and Manjunath, Bangalore
Adventure 9: Arun Surana and Usha Surana, Bangalore
Adventure 10: Pranab Datta and Shomak Sen from Mumbai
Adventure 11: Parul Chaudhary and Pratyush Kumar from Delhi
Adventure 12: Krishna Chaitanya, Ravi Teja from Hyderabad
Adventure 14: Roma Dhamija and Diptiman Chakraborty from Mumbai
Adventure 15: Rohan Sachar and Arpita Shah from Mumbai
Adventure 16: Sai Pandu and Prabhakar Raju from Vijayawada
Adventure 18: Sandeep, Shallu and Aiman Kalia from Delhi
Roving car: Photographer Jatin Verma from Rajasthan
Media car: Jijo Malayil, Gitumoni Talukdar, Soumi Rao, Divya Nair
Float car: Kanishk Malick and Dr Pawantosh Sharma, XSO team
Sweep car: Ruban Grewal, XSO team
Service car: Led by Gulshan and XSO team members
The itinerary
Day 1: June 24: New Delhi: Registration and Flag Off
Day 2: June 25: New Delhi to Manali: 556 kilometres
Day 3: June 26: Manali to Jispa: 138 kilometres
Day 4: June 27: Jispa: Free Day
Day 5: June 28: Jispa to Tso Moriri: 313 kilometres
Day 6: June 29: Tso Moriri
Day 7: June 30: Tso Moriri to Pangong Tso: 210 km
Day 8: July 1: Pangong Tso: Free Day
Day 9: July 2: Pangong Tso to Leh: 160 km
Day 10: July 3: Leh: Free Day
Day 11: July 4: Leh: Free Day
Day 12: July 5: Leh to Srinagar
Day 13: July 6: Srinagar: Free Day
Day 14: July 7: Fly out of Srinagar