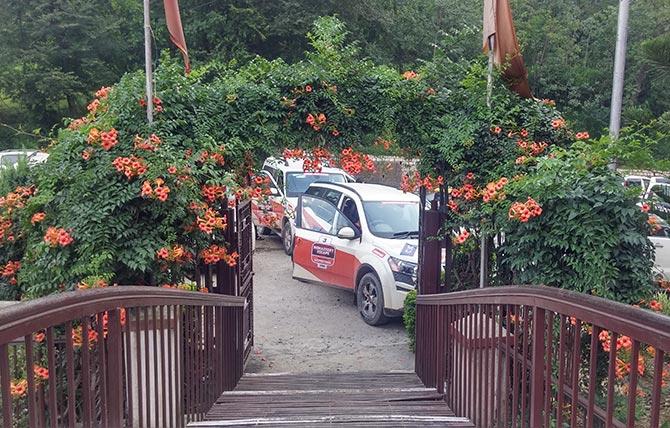 'As the convoy crawled towards Manali, the night got darker with no street lights to guide us. The road ahead too got narrower and rocky.'
Today: Rediff.com's Divya Nair takes a 17-hour drive from Delhi to Manali.
Day 2: Delhi to Manali: 556 kilometres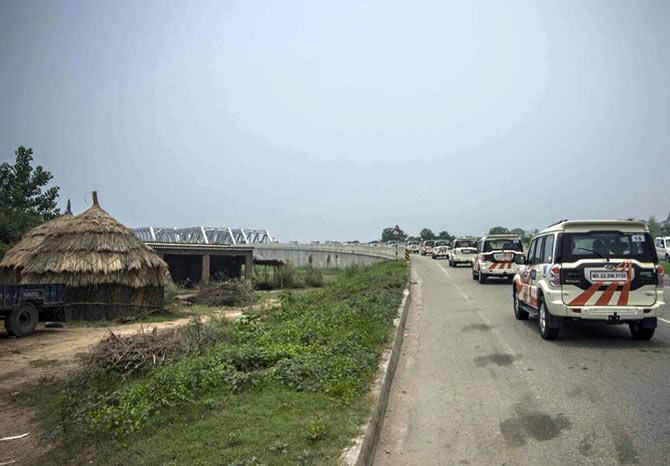 IMAGE: The convoy drove through the Grand Trunk Road, one of Asia's oldest and longest roads. Photograph: Kind courtesy Mahindra Adventure
When I set forth on this trip, some friends envied me, thinking I was going on a paid holiday. Well, this feature will put all those envious thoughts to rest.
The telephone rang 10 minutes before my alarm did. I checked the time: 3 am. On any night, this would be my peak hour of sleep. Even a bulldozer or a stubborn mosquito couldn't have woken me up.
Between Soumi and me, we had 60 minutes for our morning rituals, dress up, gather our stuff, and dump it in the car. Two girls to get ready from scratch -- you do the math.
By 4 am, both of us were out and done stuffing our bags in our assigned cars. And by 4.10 am, everyone else was waiting for instructions.
The media team was assigned a new generation Mahindra Scorpio.
Besides me, the team included Jijo Malayil, an auto enthusiast from Zigwheels.com, Gitumoni Talukdar, art director at Maxim magazine. Soumi opted to join us in the media car and I couldn't have felt more relieved for the known company.
At 4.15 am, the team gathered for attendance followed by two minutes of prayer time.
Vikrum Kapur from the XSO team, who would lead the convoy, reminded us that we were 15 minutes late.
Small delays like these, he said, could affect the course of the journey. We all made a mental promise to arrive on time thereon.
When we hit the road at 4.20 am, I felt a child-like excitement build inside me. I had never shared a room with a stranger EVER in my life, and here, I was, travelling to unknown lands, with a complete bunch of strangers I had met only a few hours ago.
We got into the car and introduced ourselves.
On the radio, the roll call had started.
Latha Chirayil from Adventure 3, we realised had the sweetest voice as she announced "Adventure 3 rolling."
"Media rolling," Gitu announced over the radio, right after Adventure 19 and within seconds, we were out of sight of the hotel.
The roads were still dark and the only lights that shone were the headlights that beamed bright and red like a convoy of ants that swiggled through turns and bridges in perfect coordination.
Driving or racing?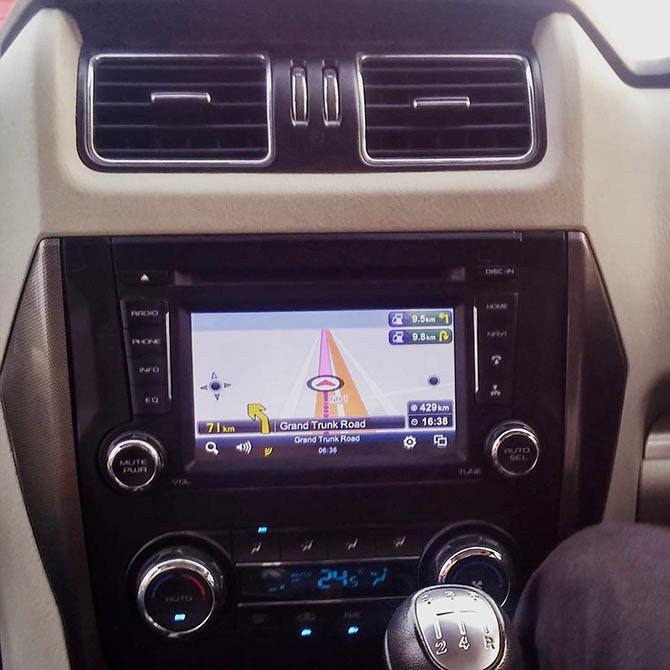 IMAGE: The GPS Navigator in the Mahindra Scorpio estimated the journey to end by the evening. Thanks to traffic, we reached our destination five hours late. Photograph: Divya Nair/Rediff.com
Just as we hit 50 on the speedometer, Jijo felt uneasy. He complained that the steering wheel vibrated when driving at high speed.
The service guys said they would to look at the issue once we reached our breakfast spot, which was a hundred or more kilometres away. (Spoiler alert: We drive up to Srinagar with this trouble vehicle.)
Once on the highway, we were introduced to tankers and trucks that guarded the roads and blocked the convoy at regular intervals. We were driving at a speed of 90, but that did not seem to help.
All we could hear was "Media, catch up with the convoy."
Where the hell was the convoy? There was none in sight.
The sweep car led by Ruben was behind us, prodding us to pick up speed. It did not matter that we hit 100 km per hour; we were still far behind from the rest of the convoy.
At 7.45 am, we reached Karnal, our breakfast point. That's where discovered that the rest were driving at a speed of 140 or so.
Welcome to the expedition, we reminded ourselves as we dug into chana-bhatura and aloo-gobhi paratha at our first breakfast and bio break point.
This point would be remembered for its better public washrooms. As we proceed further, we'd be seeing the washrooms go from bad to worse and non-existent at some points.
We drove through the Grand Trunk Road, one of South Asia's oldest and longest roads, crossing the historical towns of Panipat and Kurukshetra.
Funny road signs and a risky tunnel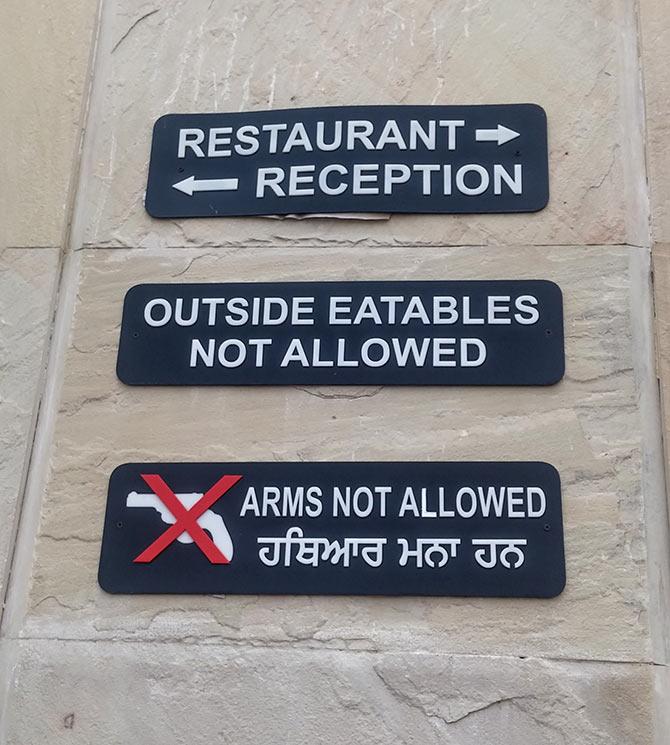 IMAGE: The sign outside the Heritage Haveli restaurant where we stopped for lunch. Photograph: Divya Nair/Rediff.com
I find entertainment in misspelt hotel signs, the interesting messages and slogans on the back of trucks.
Sample: 'Child beer' (chilled beer); Bad eyes, mouth black' (poor translation of the Hindi saying: buri nazar wale, tera muh kaala); Sharmili Pahadan; Badnaam Fahrishte... I kept writing them down.
At noon, we had lunch at the Heritage Haveli in Rupnagar, where we savoured chaas (salted buttermilk) in a thick and heavy copper glass. I don't remember the rest of the lunch as I was happy and full after downing two glasses of the summer drink.
Within 40 minutes, we were back in the car.
We crossed the Pandoh dam and the Beas river in Mandi, Himachal Pradesh.
Further ahead, we crossed the infamous AUT tunnel.
As we crossed the 2.76 kilometre long tunnel, Roma Dhamija gave us some quick updates over the radio. "The AUT is considered one of the riskiest tunnels because of lack of ventilation facilities," she said.
It was dark inside as there were just a few bulbs. We noticed that there were no CCTVs or fire fighting facilities.
Thank god for the police patrols at the entry and exit points, I thought.
Crawling traffic, tired convoy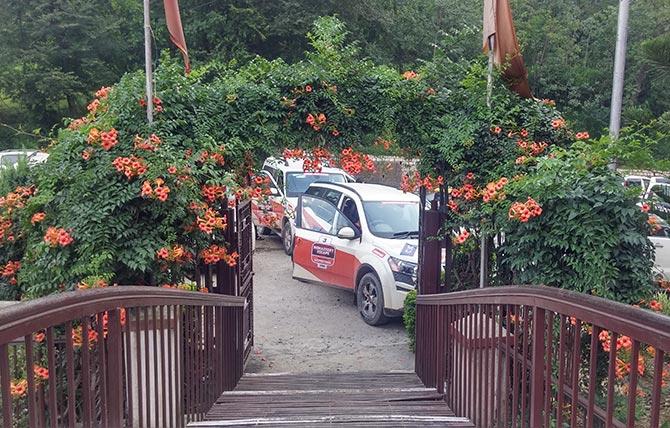 IMAGE: The convoy stopped at Kullu for tea and snacks. Photograph: Divya Nair/Rediff.com
At 4.45 pm, we reached Kullu and stopped at a small restaurant for snacks and a bio break. There was onion and potato pakora with tea.
I am not a tea fan, but I treated myself to a few sips to wash down the oily snack.
Around 6 pm, we were caught in a traffic snarl which lasted more than an hour.
We were advised against leaving our vehicles so we end up talking and teasing each other to kill time.
At 7 pm, Gitu spotted a roadside vendor selling an appetising snack. The round shaped bread stuffed with chana and a spicy-tangy curry mix ensured our tummies stayed quiet for the next hour or so.
As the convoy crawled towards Manali, the night got darker with no streetlights to guide us. The road ahead too got narrower and rocky.
We had to keep our lights up and beaming to avoid missing a sharp turn or bend.
All of us, including Jijo who had been driving for over 17 hours, had begun to feel sleepy and tired, but the road just did not seem to end.
IMAGE: After driving for more than 16 hours, the tired convoy waits to fuel up at Manali. Photograph: Kind courtesy Diptiman Chakraborty
At 9.30 pm, we were instructed to fuel up.
It was 10 pm when we parked our vehicles at the Citrus Resorts in Manali.
Being tired was no excuse; we had to wait for our turn to park parallel as was the norm.
As soon as we entered our rooms, my stomach felt uneasy from the roadside snack.
The bathroom was leaking, the water boiler was rusted and unclean and we had an annoying fly for company.
I decided to skip dinner, popped in a Zantac and tried to get some sleep when the uninvited insect landed right on my nose.
After several strategic attempts to send it out of the room, frustrated, I gave up and sunk deeper in the bedsheet.
I wanted to cry out loud, but a dreamless sleep overpowered all those emotions.