A humble foot accessory has become a fashion statement and how!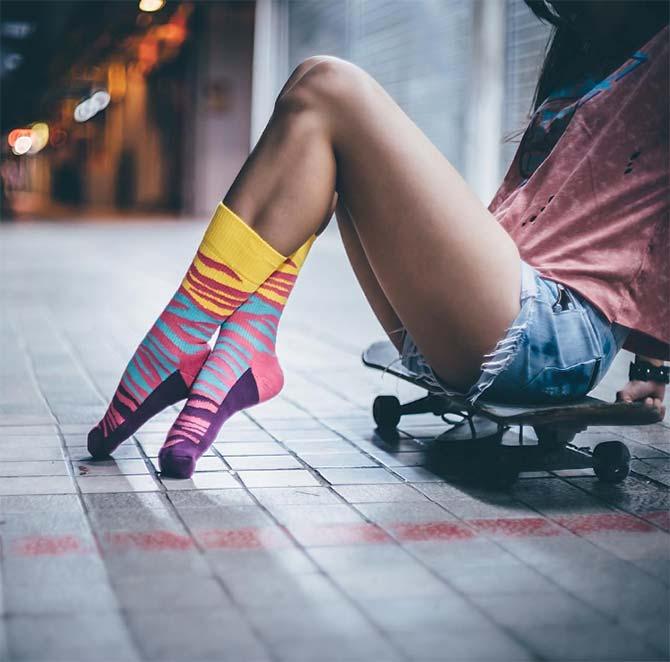 Photograph: Kind Courtesy Happy Socks Official/Instagram
For some, the secret to breaking the ice lies in a warm item of clothing.
Often when dialogue dries out, a bright burst of colour separating his trousers from his boots comes to Bodhisatwa Dasgupta's rescue. "As a conversation starter, socks are definitely better than the weather," says the ad-man, who has a penchant for pairing his outfits with eclectic socks and bow ties.
As more Indian men pay attention to how they put together their clothes, socks have gone from being a mostly-functional foot accessory to a fashion statement. Frequent travellers to other countries spotted the trend much earlier.
Riaan George, luxury journalist and men's fashion blogger, had shopped for colourful socks in the United States and parts of Europe a decade ago. When he started sporting them here, he was the first among his circle of friends to do so.
What works in the favour of socks is that they are a good starting point for men who decide they want to be more stylish.
A relatively cheaper way to spruce up the wardrobe, they are widely recommended by style bloggers. Pinterest and Instagram are full of pictures of young fashionistas staring haughtily into the camera or wistfully into the distance, while knee-high striped socks or patterned crew socks grow out of their sandals and boots.
Socks -- traditionally picked as impersonal Christmas gifts -- are now a $6 billion (approximately Rs 400 billion) industry in the United States. The accessory has been embraced even by high-fashion brands such as Prada and clothing retailers like M&S.
In India, several clothing brands have started adding lines of socks to their offerings, notes blogger George. Take, for example, Bata or Max, or any major online shopping portal. With the success of Sweden's HappySocks, start-ups too have set foot in the space.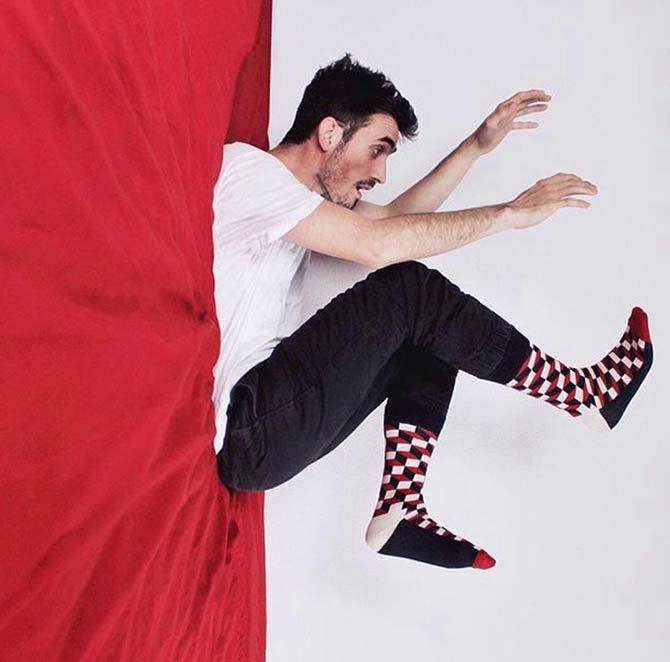 Photograph: Kind Courtesy Happy Socks Official/Instagram
Bangalore-based fashion blogger Chandni Doulatramani -- who feels socks are still among the most under-rated fashion accessories -- wears them even through summer. "They're not only comfortable, but they can immediately add a lot of character to you outfit. For example, you could wear a dress with some pretty shoes, but if you choose to pair them with socks and sneakers, that changes everything about your appearance."
As for men, who had for long relied on belts and ties to mix up their formal attire, socks allow a welcome foot in the door of style. The Moja Club -- a subscription-based start-up that delivers socks to users each month -- finds that a majority of its clients are male.
Among the female customers, a sizeable number buy them for gifting, says founder Joey Saha. The young business graduate had subscribed to similar services in the UK and felt the service was ripe for replication here.
Saha connects with international illustrators to design the socks in interesting motifs such as Tetris or sliced avocados. For his next collection, local illustrators will create patterns for the quintessential Indian hipster.
Saha's website, which promises a 'new and improved sox life,' offers subscriptions that set you back by roughly Rs 1,200 for three months or Rs 4,400 for a year.
Seema Seth, co-founder of Footsy, a four-year-old e-commerce firm, refers to enthusiasts as sockaholics. She has learnt that men want to make bolder choices, sometimes demanding socks in hot pink or vibrant polka dots.
Keeping in mind the Indian weather, both start-ups make socks out of cotton, and small amounts of polyamide and elastane. While socks are available for as cheap as Rs 20 in street markets like New Delhi's Sarojini Nagar or Mumbai's Hill Road, premium ones like those at Footsy are available for Rs 250 to Rs 600 a pair.
Still, socks fans yearn for more experimentation.
Khushbu Joshi-Gajakas has acquired 50 pairs of socks over the last few years during travels to various countries, but she is sceptical about trying out trends in India that she has seen elsewhere. "Mismatched socks are a big thing globally. Here, people would think I had worn them by mistake."
There is a case for paying greater attention to socks, reckons ad-man Dasgupta. "The first thing people notice when you walk into a room are you shoes. If you believe that, then the second thing people notice would be socks."