In part II of her Switzerland diary, Geetanjali Krishna takes us into the picturesque city that is a fascinating mix of Swiss quaintness and modern flourishes.
Part 1: The fully filmi Indians of the Swiss Alps
Part 3: Others go to the Alps, we explore the gateway to them
The Luzern-Carnival can be traced back over more than 600 years and is best known for its individually hand-crafted masks and costumes paraded in the town's streets and squares by thousands of revellers during a three-day festival.


Photograph: Michael Buholzer.
A vague feeling of disbelief overcomes me as I walk across the old Chapel Bridge in Lucerne.
Beyond lie the lovely Swiss Alps, and beneath, the River Reuss glows in all hues of jade. With wooden gables painted with ancient frescos, extravagant masses of petunias flanking its sides and a riverfront lined with traditional buildings, the wooden bridge seems to draw me into the pages of a fairytale.
How can a place be this picturesque?
The disbelief lingers as we cross over to have a late lunch at the old Rathaus brewery, hungry after a morning of lazy hiking in the Alps.
Lunch takes some time to arrive, but the beer service is prompt. A pitcher of their excellent unfiltered brew affords a chance to glance around at the old town. Baroque buildings with frescoed facades stand alongside a row of restaurants, cafes and gelaterias.
Just then, I notice some people carrying gigantic speakers across the bridge. By the time we finish that pitcher of beer, classic Swiss scenery transforms into an insane streetside mega party. The cobblestone streets fill up with young partygoers, stages come up at what used to be the peaceful Weinmarkt Square and snakelike wires connecting giant speakers spread their webs, like the roots of a parasitic plant.
"What just happened here?" I ask as the old Chapel Bridge reels under the weight of thousands of revellers oblivious to its beauty. "It's the Lucerne summer street party," says a tattooed chap selling obscene-looking sausages by the road. "Best time to be here, innit?"
A band plays the Beatles standard Hey Jude in a decidedly German accent as we beat a hasty retreat to explore quieter sections of the old city while there's still light.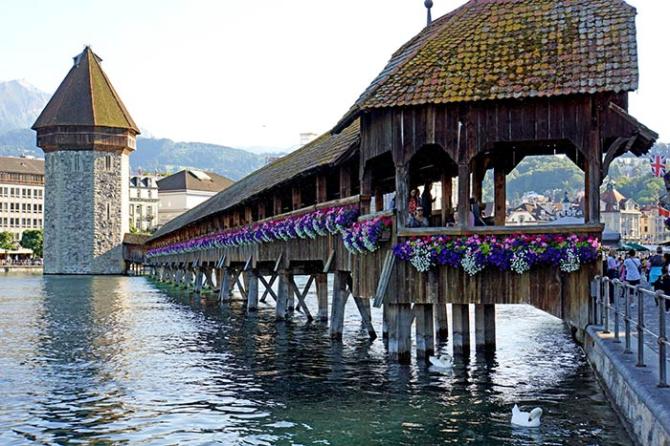 The picturesque Chapel Bridge.


Photograph: Dennis Jarvis/Flickr.
Beyond Weikmarkt Square, we find ourselves on the river bank again.
People here look more relaxed, as they sit on the steps, their feet dangling in the icy waters of the Reuss.
Amblers will discover that Lucerne is a city of town squares and churches, where much of its communal life takes place. Bells toll all day in its numerous churches, heralding weddings and funerals alike.
Of course, the best among them is Hofkirche, the 17th century Jesuit church whose Baroque twin towers form an integral part of Lucerne's townscape.
We walk to Lucerne's second wooden bridge, the Spreuerbrücke.
This one too has paintings on its rafters, even more interesting than the ones inside Chapel Bridge. These 45 works represent the macabre Dance of Death, the Totentanz -- a memento mori that reminds the viewer of the inevitable mortality of all men. We examine each scene of everyday community life in which the skeletal figure of death stands amidst common people going about their everyday lives, and a chill runs through my spine.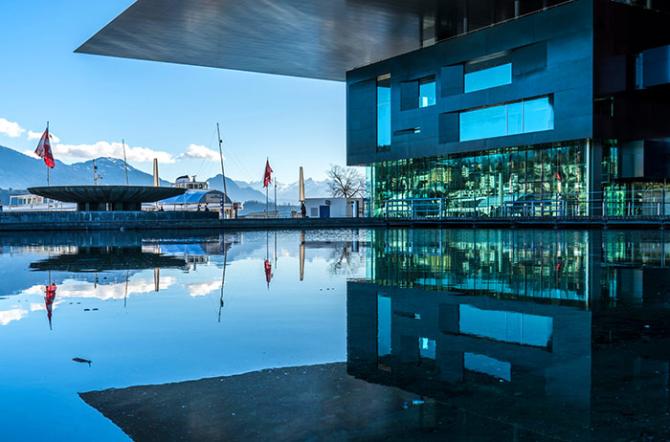 On one hand Lucerne offers quaint yodeling competitions and on the other a modern performance venue such as this.
Photograph: Adrain Hu/Flickr.
In the next few days, we discover that while Lucerne at first glance seems like a traditional Swiss town, it has decidedly modern sensibilities.
So, while one can ride up to dizzying heights on lovely old funiculars, attend yodeling competitions (yes, they still happen there, especially in the summer), watch sinful masses of chocolate being made or eat cheese fondue, one can also visit the Transport Museum or catch a concert at KKL Lucerne, a superbly modern glass and steel performance venue.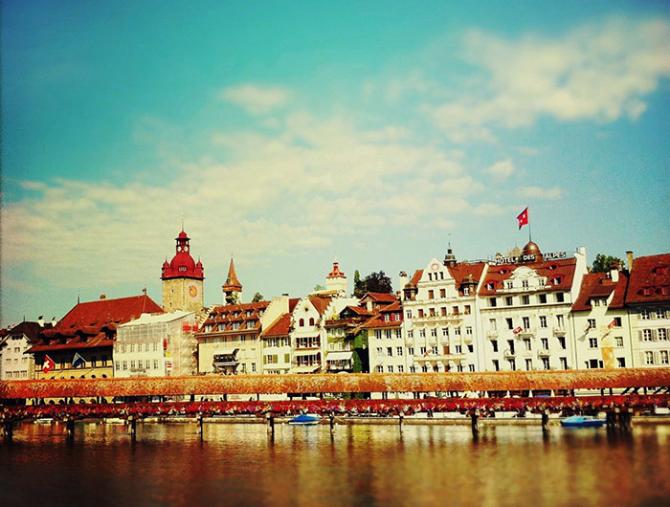 A final picture postcard view of Lucerne.
Photograph: David Gutierrez/Flickr.com.
One afternoon, we chance upon a centuries-old Lucerne custom: the carnival.
Before our astonished eyes, dozens of masked performers banging drums and blowing horns, pass by. We follow them, trying to get a closer look at their weird, sometimes scary wooden masks. Some say the masks are made deliberately frightening, and the music slightly off beat, to spook the winter winds away.
The parade finishes at the riverfront, where crowds of revellers are making their way to the street party.
I recall the group of girls I saw that morning, returning from the all-night party with heels in hand and mascara smudged over sleepy eyes.
Chords of discordant EDM rise over the river and it strikes me that these street parties could be the modern version of this carnival, masks, costumes and all. So, I walk across the Spreuerbrücke under its macabre paintings once again, wondering how strange it is that the more things change, the more they tend to remain the same.