Ritika Bhatia lists some of the best camping spots and adventure trails for a perfect mix of offbeat vacation and precious solitude this summer.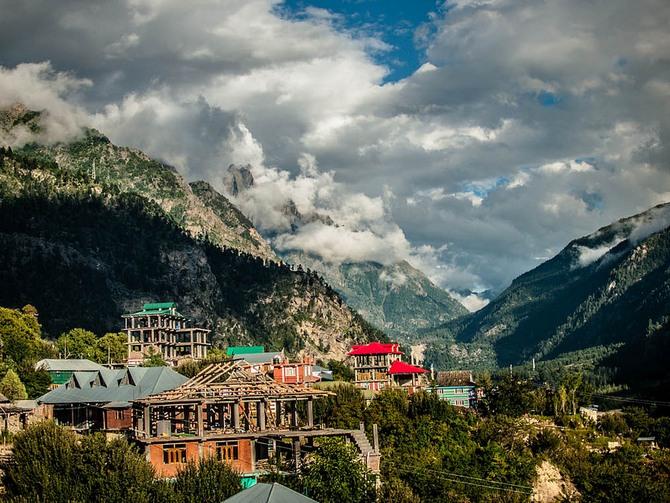 A trek through the Nilgiris
The Nilgiris Green Lake trek, organised by Indiahikes in Ooty, will be on through the entire month of May.
The route to the two-day trek starts at the Bandipur National Park.
On a drive through the park in the wee hours of the morning, one can spot elephants (including tuskers), spotted deer, sambar deer, peacocks and bisons.
Once the trek starts, the trail weaves through dense forests, with majestic pine trees and fragrant eucalyptus trees, going around a vast green lake.
Tunnel-like thickets and meadows crop up every few kilometers.
On the second day, dark deciduous forests and bamboo forests unfold on either side of the trail. Located only an overnight journey away from Bengaluru and right on the outskirts of Ooty, this is a wonderful trail for hiking with your family, with relatively easy gradients with an average altitude of 7,000 feet.
The weather here is pleasant all the year round.
How to reach: By car or bus from Bengaluru

Cost: Rs 2,850 per person, including guides, travel, camping, food on the trek and trek fee.
Visit Indiahikes.in or write to sandhya@indiahikes.in for more details

Become a junior ranger
If you're looking for an exciting and unusual activity to indulge in, Forsyth Lodge offers a fun and interactive course with its young naturalists.
A small wildlife lodge set in 44 acres of reclaimed jungle at the edge of the Satpura Tiger Reserve in Madhya Pradesh, Forsyth has 12 independent cottages built in an arc around the lodge.
The course, spread over three days, is designed for children (and adults) who are interested in acquiring the basic tools of jungle craft in order to derive greater enjoyment and understanding of a forest habitat.
To become a junior forest ranger, you will learn how to use equipment, the basics of ecology, how to identify different species, use field guides and make field notes and sketches, identify tracks and the basics of nature photography.
At the end of seven sessions, you will qualify for a certificate.
Apart from this, there are canoe safaris, jungle safaris and hiking activities on offer.
You can also drive up to Pachmarhi, the charming hill-station with pretty colonial bungalows and explore a variety of wildlife, including birds, animals such as sloth bears and leopards, colourful butterflies and rare dragonflies.
How to reach: Forsyth Lodge is located 180 km from Bhopal
Cost: For details, visit Forsythlodge.com or write to info@forsythlodge.com

Make snowmen at Glacier Point
The gorgeous Sangla valley is located six hours away from Shimla, the last green frontier before you drive into the barren mountains of Lahaul and Spiti.
The camping on these lesser-known Himalayan slopes, with lush forests of pine and cedar for company, is definitely worth a good long break.
At a height of 2,700 metres, the Banjara Camp and Retreat is surrounded by towering mountains on all sides and is set on the banks of the Baspa River that flows through the valley.
Walks to discover the diverse fauna and flora of the valley, treks to view snow-covered Himalayan peaks, angling for trout, experiencing some of the local culture and traditions, rock climbing, Burma bridge (rope walking), rappelling, trekking, hiking, cycling are only some of the activities they have on offer.
Surrounded by apple orchards, the campsite is also a perfect place to put up your hammock and enjoy a long read next to the bonfire in the evening.
The valley is ablaze with flowers towards the end of April and you can hike up to the glacier point and make snowmen till mid-May.
Mastrang Forest is a lovely little stretch of woods where you can choose to camp overnight.
How to reach: Sangla is 600 km from Delhi, and only accessible by road Shimla onwards

Cost: For details, visit Banjaracamps.com or write to info@banjaracamps.com
Rafting down the Ganga
If rafting on the Ganga hasn't been crossed off your bucket list yet, The Ganga Camp run by Himalayan River Runners is a great place for your first experience.
Located on a silver sand beach in Uttarakhand, 17 km north of Rishikesh, your tent will provide a great view of the emerald-green river.
The rapids on this stretch of the river vary from grades two to four, perfect for beginners and intermediates.
Children under 12 can go rafting too, though in milder pools of water dubbed 'kiddy' rafting stretches.
Other activities include rappelling, volleyball, kayaking, baseball or just hiking in the surrounding forests.
A day in the camp is rounded off with a bonfire and a leisurely evening with your fellow rafters.
The camp also has a trampoline, beach games and sand castle-building competitions for the younger broods.
How to reach: The Ganga Camp is 260 km from Delhi and 90 minutes from Haridwar by road

Cost: For details, visit Hrrindia.com or write to info@himalayanriverrunners.com
Listen to the sounds of silence
If what you are really itching to do is step away from civilisation altogether then there is no better haven than Jilling Estate in Uttarakhand.
There are four spacious cottages spread across 100 acres of a rhododendron forest, a spectacular view of the Nanda Devi peak, walks to a scenic ridge through the woods with camping spots aplenty, bonfire nights, home cooked meals, a gorgeously eclectic library and a truly heartwarming homestay experience.
The estate has a rich and varied wildlife to be explored, with jungle cats, mountain deer, wild boars, a great variety of Himalayan birds and, occasionally, bears and leopards.
April is the time for rhododendrons to be seen in full bloom, and you can pick fruits right off the plum, apricot and chestnut trees in the forest!
Jilling is a 2-km walk up from the main road so that needs to be kept in mind while travelling with toddlers, but its sheer solitude is ideal for some quality family time.
Completely cut off from the mainland, the estate entertains only four families at a time, so you can avoid the gregarious holiday crowd altogether.
There are no telephones, no TVs, no WiFi, no vehicles -- only the silence of the hills.
How to reach: Jilling Estate is 300 km from Delhi

Cost: Rs 5,000 a couple per cottage, Rs 2,500 per person, rates for children above 5 years range from Rs 500-1,000.
For details, visit Jilling.net or call 09758755704
Image: Sangla Valley
Photograph: Jitaditya Narzary/Creative Commons