Neeta Lal steps into Ubud, a town where the cosmic and the commercial meet.
Must see: 10 breathtaking pics of Bali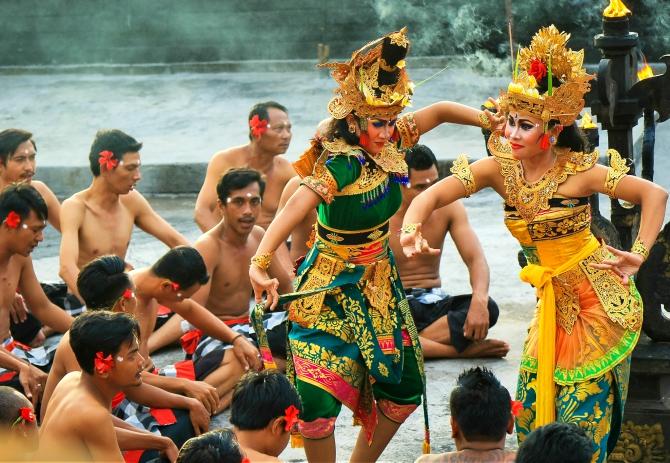 The kecak dance -- in which a chorus of men lie in a circle, loudly chanting 'chak-a-chak-a-chak' as elaborately costumed soloists act out a tale from The Ramayana -- is the region's most significant cultural performance.
Photograph: Jeff Pioquinto, SJ/Flickr.
Ever since I watched Julia Roberts cycle through Ubud's lush landscapes in Eat, Pray, Love, I've been dying to do the same -- bike through the region's green rice terraces, drink in a beautiful ancient culture and breathe in its fresh mountain air without fretting over AQI and SPM.
No place in the world could be greener than Ubud.
A picturesque town, it nestles amid rivers, valleys and rice paddies in the cool uplands of Bali, one of Indonesia's 17,000 islands. Neatly rowed rice fields, shiny foliage and moss-sheathed brick walls pepper its landscape like confetti. The rainforests are speckled with exquisite Hindu shrines such as the Goa Gajah (Elephant Cave) and the rock-chiselled Gunung Kawi.
It is a place of unspoiled beauty and an overarching sense of spirituality.
Given this enchanting geography, it's easy for one to lapse into a tranquil languor in Ubud.
But I've work to do. I'm booked for a two-hour tour of the Tegalalang rice fields, one of the region's three most splendid terraced landscapes, the other two being Pejeng and Campuhan.
Marked with subak (the traditional Balinese cooperative irrigation system), the fields cascade all the way down the valley's vertiginous slopes. The story goes that Tegalalang was passed down by Indonesian saint Rsi Markandeya in the 18th century as reward to the region's hardworking farmers.
I put on rain boots and prepare to trudge through the ancient valley with my driver-guide, Kiki, a fourth-generation farmer.
As we weave our way through marked paths along the escarpment, Kiki explains how rice is harvested and how it is more than just a grain for the Balinese community.
'We have rice festivals, pray to the rice gods and make offerings to keep them happy. Our lives depend on a good harvest,' he says.
We next amble across to the villages of Campuhan, Peliatan and Batuan, strongholds of the region's woodcarving community.
Ubud, also known as Bali's cultural core, has several such villages that keep tourism vibrant.
For instance, Nagi is known for its elephant carvings, Pasar Seni is a treasure trove of local handicraft, Celuk hosts Bali's top gold and silver smiths, Batuan is the centre of classic art paintings, while Mas produces beautiful wood carvings.
At Pakudui village, shops crammed with ornamental woodwork and carvings greet me.
'The sculptors here have been practising the craft handed down through generations,' Kiki explains as I rifle through mythical lions, garudas, horses, human figures, dragons, vases, frogs, kangaroos, cats, ornate totems and more.
Mas, the central market, showcases another of Ubud's woodcarving traditions -- mask-making. Masks have been intrinsic to Balinese rituals for centuries. In his 1937 book, Island of Bali, Mexican painter and frequent Bali visitor Miguel Covarrubias writes that masks have great power in themselves and ' are put away in a basket, wrapped in magic cloth that insulates their evil vibrations, and are uncovered only when actually in use, when the performer-medium is in a trance and under the control of a priest.'
It is fascinating how Ubud seamlessly combines the commercial with the spiritual.
The locals see no conflict in pursuing both with equal zeal. Temples take up almost as much real estate as shops, each one with a steady stream of worshippers bearing gifts.
Performing arts power the local economy. The kecak dance -- in which a chorus of men lie in a circle, loudly chanting 'chak-a-chak-a-chak' as elaborately costumed soloists act out a tale from The Ramayana -- is the region's most significant cultural performance.
I watch the dance drama at the 1,000-year-old Uluwatu Temple along with busloads of tourists who descend on the southern tip of the island in time for sunset, when the show begins. The show adapts the famous Ramayana Hindu epic, and plays out against a gorgeous Balinese sunset.
'Ulu means head, and Watu means rock,' explains Kiki.
The temple at 'the head of the rock' stands atop a sheer cliff rising 200 feet above the Indian Ocean.
Kecak is derived from an old Balinese ritual called the sanghyang -- a trance dance driven by its participants' repetitive chanting.
It begins with 30-odd bare-chested Indonesian men (swaying in a trance) swooping down the stage and then squatting on the ground in a circle continuing with their incantation.
The narrative follows the story of a queen abducted by a demon king while her husband overcomes one challenge after another to rescue her.
The 90-minute play reaches a crescendo against the backdrop of a sky that changes hues faster than models on a runway -- from ochre and red to orange and sorrel in a trice.
The monkey king sets the castle afire, the demon king is shot and the queen rescued. The audience claps uproariously as flames engulf the demon's castle and he meets a cruel death.
The cosmic and the commercial have coalesced yet again to create magic for me in Ubud.