Pack your bags and get away to one of these scenic locales...
The monsoons are here and it is time to experience the beauty of the rains.
If you are thinking about putting off your travel plans, these 20 places will make you think again.
1. Cherrapunji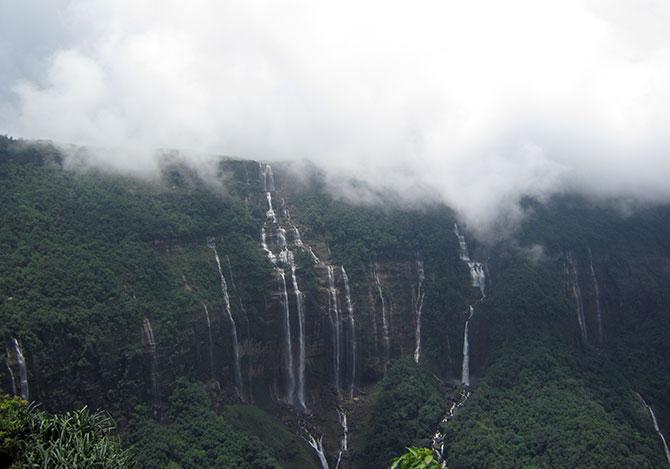 Photograph: Anu/ Creative Commons
While the debate as to whether Cherrapunji or Mawsynram is the wettest place in India continues, you should visit Meghalaya to experience the rains and the gorgeous Nohkalikai Falls.
With heavy rains, you might get ensconced with just mist and mist all around, but then, it is not an every-day experience, you see.
Another reason to go there -- the drive from Shillong, winding through valleys, green mountains and tiny hillside towns, to Cherrapunji is beyond beautiful.
Gorging on a plate of momos in this weather from a road side stall further adds to the experience.
2. Ranikhet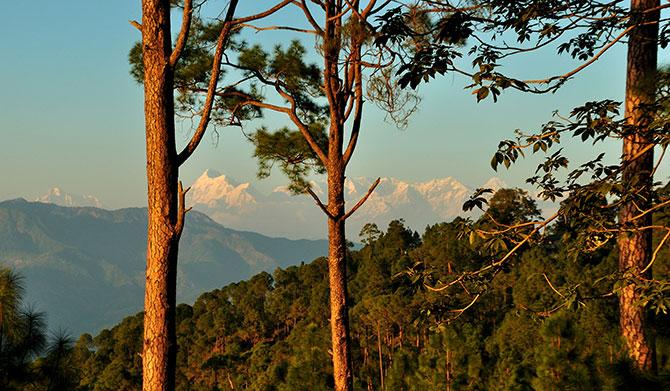 Photograph: draskd/ Creative Commons
Visit this hill station in Uttarakhand when the monsoon sets in.
This Kumaon region offers mesmerising views of valleys, mountains, and high-altitude lakes.
3. Agumbe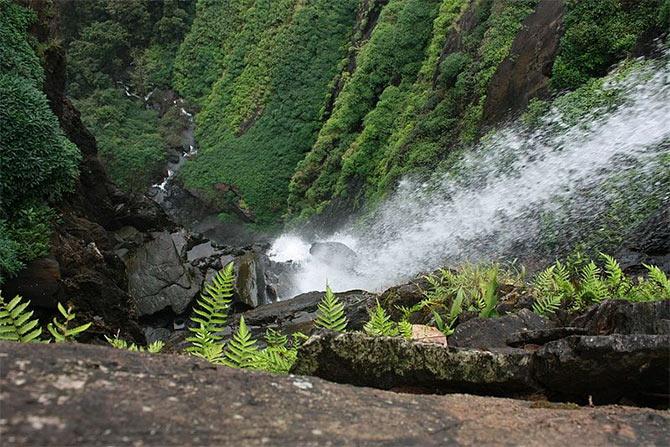 Photograph: Mylittlefinger/Wikimedia Commons
Not many outside Karnataka know of this place.
Located in Shimoga district, Agumbe receives copious amount of rains and is dotted with little-known beautiful waterfalls and trekking options making it a nature-lover's delight.
4. Mount Abu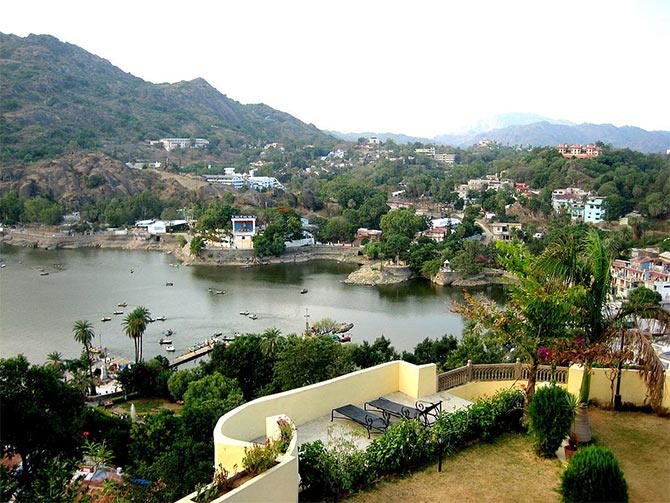 Photograph: Andreas Kleemann/Creative Commons
Mount Abu is the only hill station in Rajasthan.
The majestic mountains, coupled with the rich architecture, get more beautiful when it drizzles!
A visit to this quaint hill station during the monsoons is an experience you will cherish!
5. Lonavala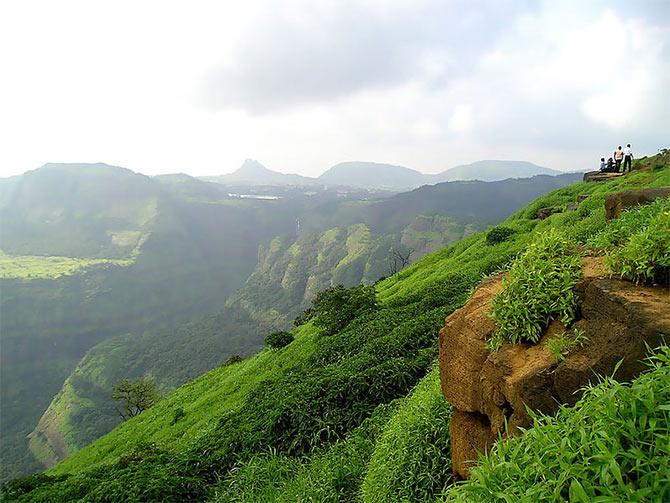 Photograph: Arjun Singh Kulkarni/Wikimedia Commons
Agreed, this one place in Maharashtra can be visited round the year, but the monsoon is extra special.
Being in Lonavala feels like a scene straight out of a romantic Bollywood movie.
Awesome climate and your loved ones beside you, can you ask for more?
6. Coorg
Photograph: Cyndy Sims Parr/ Creative Commons
One of the favourite travel hotspots in Karnataka, Coorg offers beautiful views of lush green hills, waterfalls and coffee plantations.
You could trek into the wilderness or enjoy some river rafting.
The place will also awaken the foodie in you -- treat yourself to the delicious Coorgi cuisine and some home-made wines from fruits like jackfruit and pineapple!
7. Shoja
Photograph: Abhineet Khorana/Creative Commons
Situated in Himachal Pradesh, about 70 km from Kullu, Shoja is a fairly unexplored hamlet.
You will be treated to views of unending slopes of emerald forests and snow-clad peaks of the Himalayas.
Enjoy a walk, just after a fresh drizzle!
8. Dudhsagar waterfalls
Photograph: Kumaresh Rajarajan/Creative Commons
If you are a trekking enthusiast, you probably have visited this place already. If not, you should.
Trekking through the railway tunnels from Castle Rock to Dudhsagar in Goa is thrilling beyond compare.
And, if you would just like to see the waterfalls minus the trek, board a train from Margao to Londa and view the waterfalls in its full glory.
9. Meghamalai
Photograph: Sivaraj.mathi/Wikimedia Commons
At 6,000 ft above sea level in the southern Western Ghats, Meghamalai welcomes you into a world whose beauty is hard to describe.
Situated in Theni district of Tamil Nadu, Meghamalai borders the Periyar Tiger Reserve in Kerala.
10. Orchha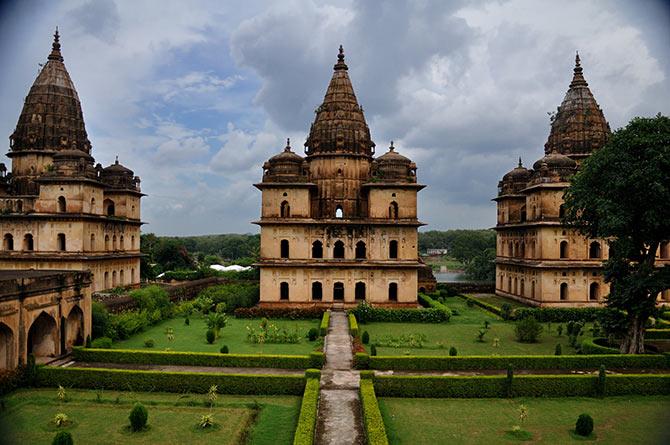 Photograph: Amit Rawat/Creative Commons
With the Betwa river brimming with water, the monsoon is the near-perfect time to explore the town of Orchha and its wildlife sanctuary known for its varieties of birds.
Dotted with historical palaces and temples, Orchha should be on your itinerary if you are travelling to Madhya Pradesh.
11. Munnar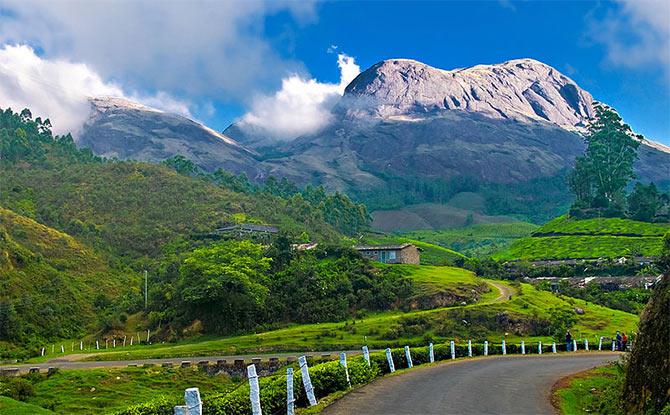 Photograph: Bimal K C/Wikimedia Commons
One of Kerala's most popular destinations for all seasons, Munnar gets even more beautiful during the rains.
Sipping a cup of locally brewed chai surrounded by tea plantations, green rolling hills and mist, all you would want is to own a small cosy home there.
12. Kaas Plateau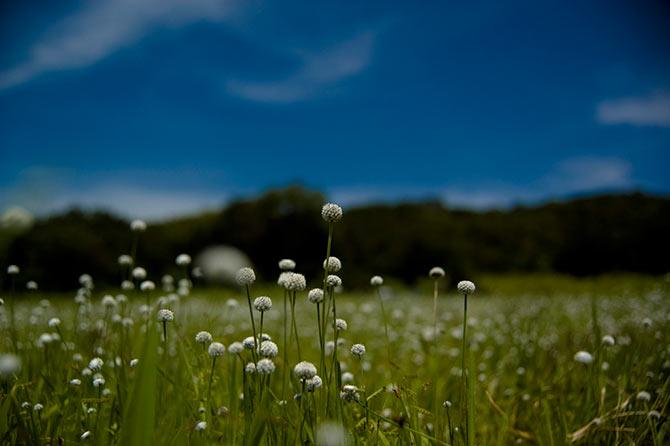 Photograph: Sebastian Joseph/Creative Commons
A few km away from Satara city, Kaas Pathar as the locals call it, is known for wild flowers which bloom during August-September.
Declared a UNESCO World Heritage Site, this place in Maharashtra boasts of more than 850 different species of flora, which include carnivorous plants!
13. Chikmagalur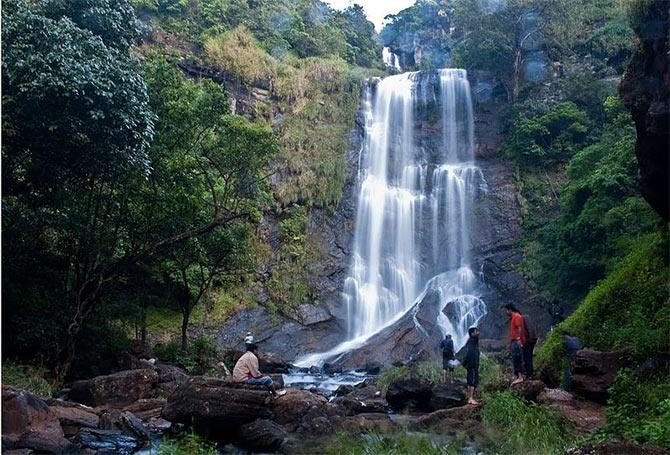 Photograph: Srinivasa83/Wikimedia Commons
Over here, there is nothing but greenery as far as your eyes can see.
When in Chikmagalur, trek to Mullayanagiri or Kemmanagundi.
Frolick in the numerous waterfalls hidden within the plantations. Or just relax in a home stay.
Chikmagalur in Karnataka is a traveller's paradise.
14. Coonoor
Photograph: Thangaraj Kumaravel/Creative Commons
The toy train ride from Coonoor to Ooty will be the highlight of your trip, reminding you of a beautiful bygone era!
From a spectacular view of the plains to a panoramic view of the Nilgiris, you will be smitten by this hill station.
15. Jog Falls
Photograph: Kiran Sagara/Wikimedia Commons
Thundering and roaring, the majestic Jog waterfall is a sight to behold.
Nestled in the Sharavathi valley in Karnataka, the view casts a spell.
Take a local guide's help to reach the other side of the waterfall where it plunges into the valley from a height of 829 ft in four magnificent cascades.
16. Malshej Ghat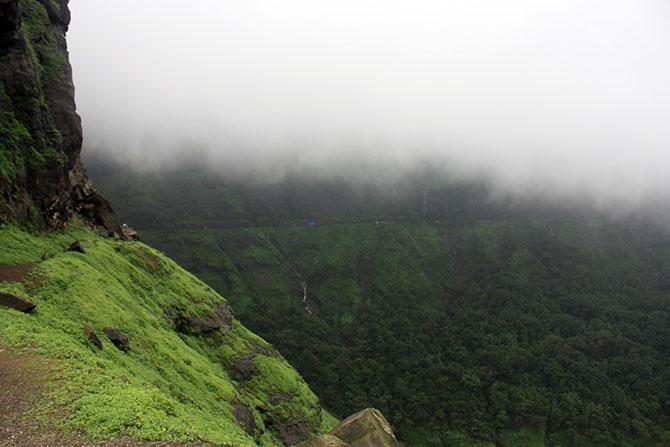 Photograph: Kiran SRK/ Creative Commons
A mountain pass in the Western Ghats, Malshej Ghat is of special interest to adventure lovers.
This charming hill station is a perfect travel destination in Maharashtra to soak in the rains.
17. Athirapally Falls
Photograph: Isabell Schulz/ Creative Commons
Begin your journey at Chalakudy, drive through winding roads, small villages and lush green trees -- all the way to the beautiful Athirapally Falls in Kerala.
Take the paved path to reach the top of the waterfalls or the bottom, to see the waterfalls in full force -- a sight to behold!
Also, visit the Vazhachal falls, which is just 5 km away.
18. Araku Valley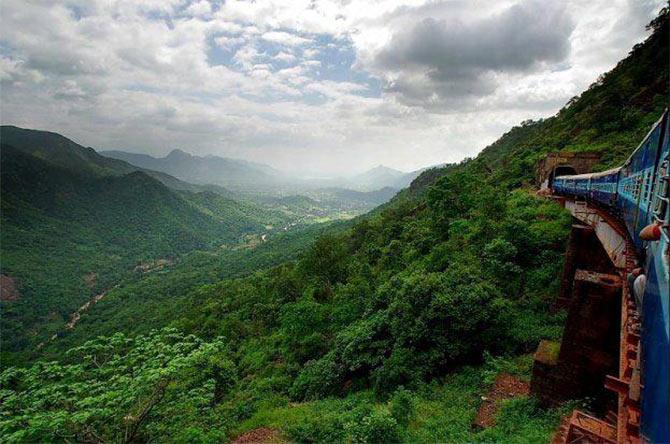 Photograph: Sunny8143536003/Wikimedia Commons
You can either drive or opt for a train journey from Vizag -- both of which are equally beautiful -- and reach the Araku Valley nestled in the Eastern Ghats in Andhra Pradesh.
Home to tribal communities, the area is known for its lovely green countryside, specially during the monsoon.
You could also consider visiting the nearby Borra caves.
19. Saputara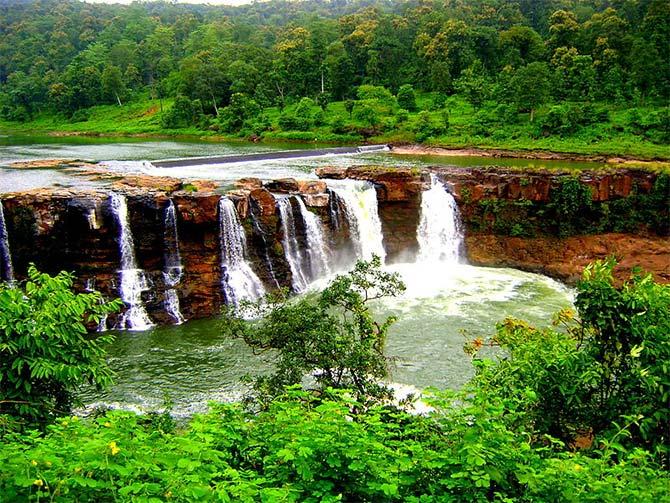 Photograph: JB Kalola (patel)/Wikimedia Commons
Saputara in Gujarat dotted with lakes, streams, woodlands and hills, gets covered by a blanket of clouds during the rains.
The spectacular views, especially at sunrise and sunset, and mist laden hills in the monsoons makes it an ideal escapade.
20. Kalimpong
Photograph: hceebee/ Creative Commons
Situated on a ridge overlooking the Teesta River, Kalimpong in West Bengal is known for the many varieties of rhododendrons and orchids that grows here.
Rejuvenate your soul, sitting in the balcony of a home stay, sipping tea and watching the clouds go by.
Click here for more travel features!
ALSO SEE
White-water adventure anyone? Kerala beckons you to Thusharagiri
You can share your travel photographs too. Post them here and we will carry select images on Rediff.com!