We'd asked you, dear readers, to share stories and photographs of the national animal.
Amith Bhavikatti, 35, who visited Nagarhole National Park in Kabini, explains why tigers are crucial to the ecosystem.
The forest department has worked hard on the conservation of forest and tigers in India.
This has been a boon to the rise in the number of tigers at Nagarhole National Park.
Now tourists can easily see a tiger but the human-animal conflict in the nearby villages is a concern.
A few incidents of tiger entering the village farms have raised alarm levels.
Do we have enough land to protect these big cats? We have to think about it.
Why tigers matter
The tiger plays a pivotal role in the health and diversity of an ecosystem.
It is a top predator which is at the apex of the food chain and keeps the population of wild ungulates in check, thereby maintaining the balance between prey herbivores and the vegetation upon which they feed.
Therefore, the presence of tigers in the forest is an indicator of the well-being of the ecosystem.
The extinction of this top predator is an indication that its ecosystem is not sufficiently protected, and neither would it exist for long thereafter.
Therefore, it's not just about saving a beautiful animal. It is about making sure that we live a little longer as the forests are known to provide ecological services like clean air, water, pollination, temperature regulation etc.
If tigers go extinct, the entire system would collapse.
Let us all do our bit to raise awareness and save tigers
Some photographs from Amit's visit to Nagarhole National Park in Kabini: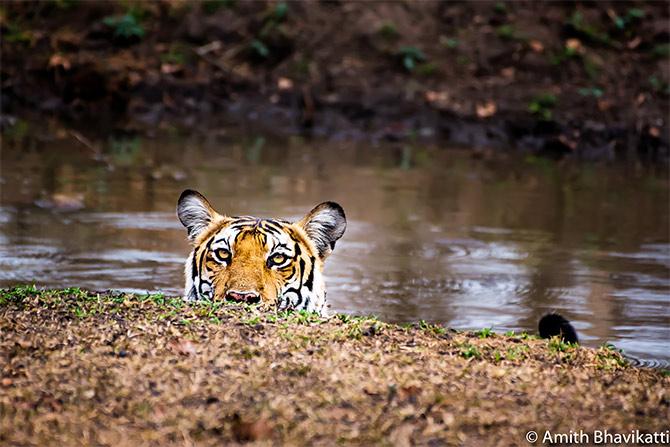 The Tiger Tank female tiger got her name as she frequently visits this water body and has established a territory around it.
She is one of the beautiful tigresses in Kabini (Nagarahole National Park).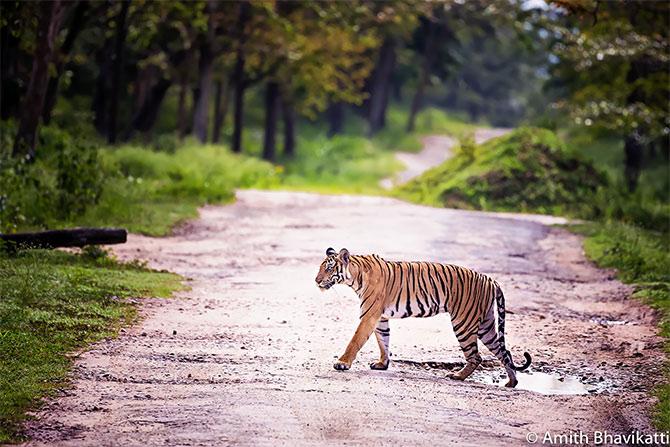 She is very bold and brought up her 3 cubs to adulthood.
It would have been very tough to bring up her cubs as she has to keep her watch on another Tiger family who shares the same pond and needs to cross paths.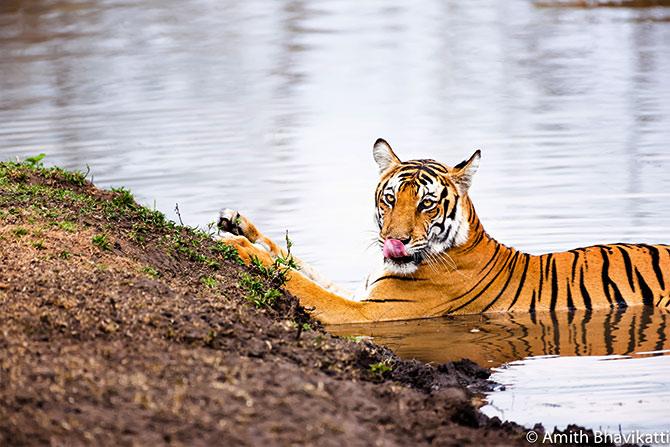 She is very intelligent and knows the tricks of the forest.
She was seen crossing the broken roads and also drinking water out of small puddles nearby.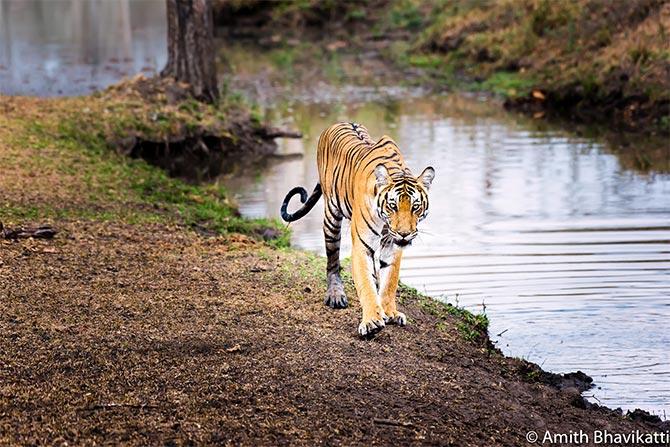 Her cubs were also playful.
---
Share your best tiger pics on getahead@rediff.co.in (subject: I spotted a tiger) along with your NAME, AGE, LOCATION and photograph, if possible. We'll feature the best ones right here on Rediff.com

Disclaimer: The photographs featured in this series are, to the best of our knowledge, original entries submitted by readers. Rediff.com does not assume any responsibility for their originality.