Are the lions of Gir forest really wild and free? Prasanna D Zore/Rediff.com doesn't believe so.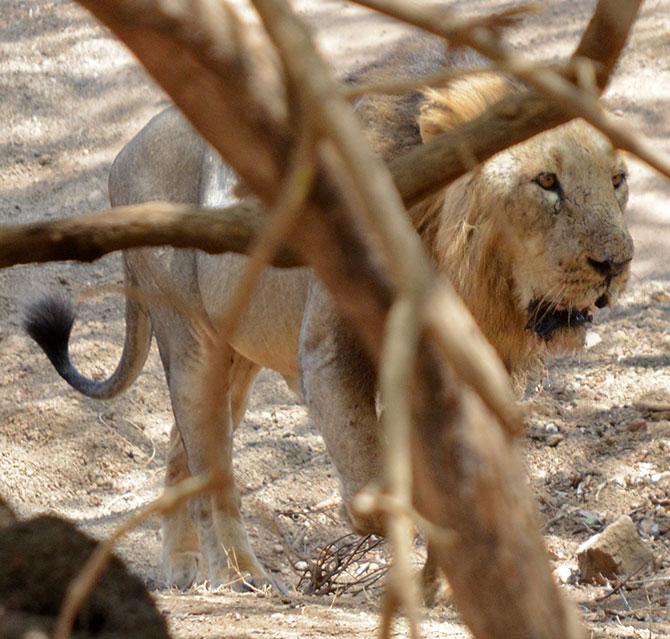 The lions, lionesses and their cubs are not really free inside Gir forest. A symbiotic relationship between trackers, guides and tourists -- money being the glue -- has deprived these wild animals of their freedom.
It was a fixed match, recently. Between two lions, a lioness and umpteen tourists and guides aboard open jeeps inside Gir forest in Gujarat.
We were the spectators.
It made me ponder: Are these animals really wild and free?
It all began with an evening 'safari' -- between 3 pm to 6 pm -- in a Maruti Gypsy mid-May .
"It is easy to sight lions in the evenings as they come out of the woods to satiate their thirst near water sources," said people who had been there and done that. I believed them totally.
Others, mostly locals, said, "You won't see anything unless you show the guides the face of 'Gandhiji' (currency notes)". We believed them too.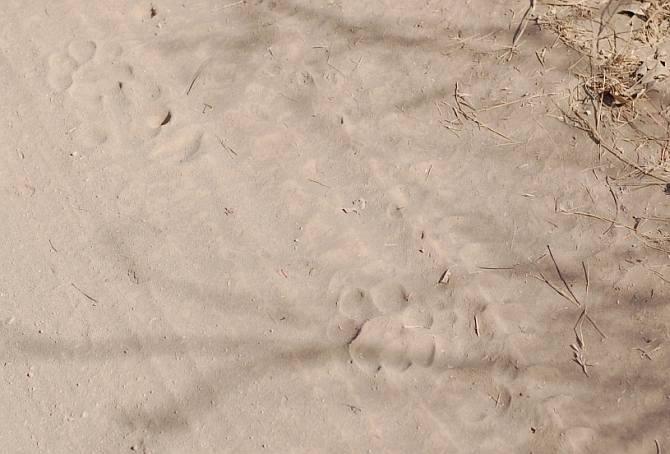 Lion footprints dot the jungle tracks in Gir. Depending on the depth, shape and size of these footprints the guides tell you whether these belong to adult lions, lionesses or cubs
Just 10 minutes into our three-hour 3 pm safari our guide, Ketan Mashru (name not changed), also an avid, 'award-winning' (his words) photographer, tantalizingly showed us some 'lion's footprints'. But no lions.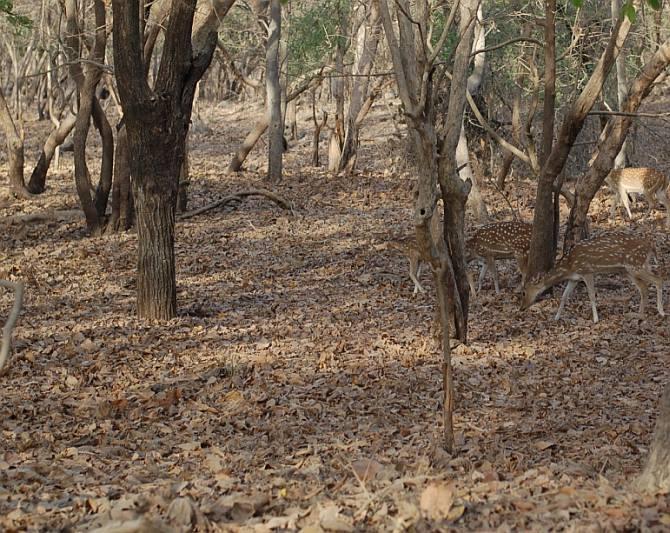 Gir has a rich range of wildlife. The spotted deer is mostly easily sighted. Forest guides estimate that about 200,000 inhabit the 1,412 sq km forest.
By around 4.30 pm we were restless. Our adventure had been limited to spying spotted deer, neelgais, peacocks, wild boars, buffalo skulls neatly lined along the edge of the road and birds like Brahmin mainah, owlets, wild parrots. And a king vulture -- "A very rare sighting," Ketanbhai said to us as he asked the Gypsy driver to park in the middle of the jungle track and zoomed his 70-300 Nikon lens in on his quest, to click another 'award winning' image.
Buffalo skulls can be found along the jungle tracks at many places. "Safai kamgars of Gir are responsible for this," said our guide Ketanbhai, describing how hyenas don't leave an ounce of flesh or skin on a carcass.
The sight of a regal Asiatic lion still eluded us, making us wonder if there were any inside the forest.
"There are 523 lions and more than 600 leopards that roam the wilds of 1,412 sq km of Gir forest," assured Ketanbhai.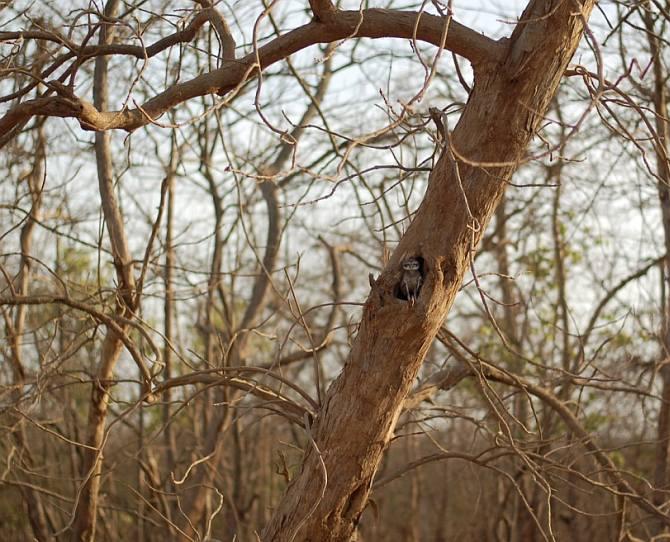 Owlets peep out of tree holes whenever guides whistle at them or make unusual noises. Many owlets, guide Rahim told us, are permanent dwellers in their respective holes and know a lot of guides.
Ketanbhai was more restless than we were. His restlessness started much earlier too.
After showing us more 'lion's footprints' on a couple of occasions, he again began softening us up for money. We told him that we had full faith in the Almighty. And were sure He would not create any obstacles between us and the adventure thrills we sought. The lions would reveal themselves in the wilderness during the remaining 90 minutes, we hoped.
Alas, God wished otherwise! Or did Ketanbhai purposely take us along routes not often frequented by a lion's pride? We weren't sure. Of course, we enjoyed roaming in an open jeep for three hours inside a real jungle, sighting all varieties of wildlife.
Anticipating a no show on the first trip, we had booked another safari for the following morning -- 9 am to noon -- to improve our chances of a lion sighting.
Rahim Shaikh (name not changed), a lanky, dark, handsome man in his mid-20s, was our guide on this trip. We knew he too would try some stunt to make us pay to see lions in their natural habitat.
With the same rigour and vigour as Ketanbhai, Rahim showed us 'lion's footprints', the skull of a buffalo, again placed neatly by the side of the road, albeit along another route. He told us how difficult it was to spot lions once the sun beats down on the jungle.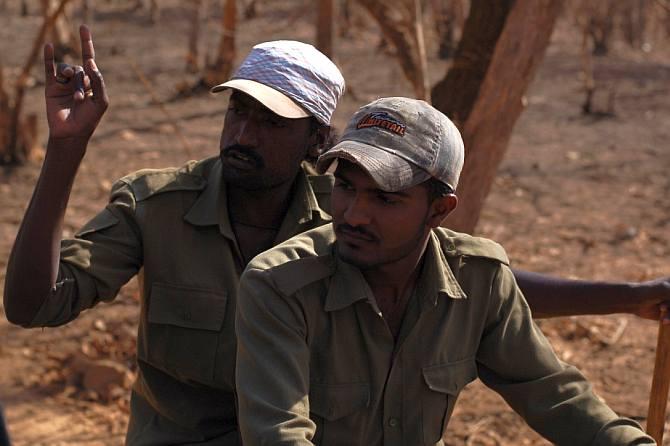 Trackers play an important role in not only tracking and keeping count of lions and other wild animals, but they also report injuries and their health condition to the forest department authorities.
He played on our guilt too. He narrated how dangerous a tracker's job was. Trackers are forest guards who scour huge swathes of Gir forest, on two-wheelers, to keep track of the well being of the lion population, with just an axe-like weapon (a long bamboo with a small iron blade fitted at one end). At least three to four on-duty trackers get attacked by lions every year. Rahim said the government doesn't take care of their hospital bills.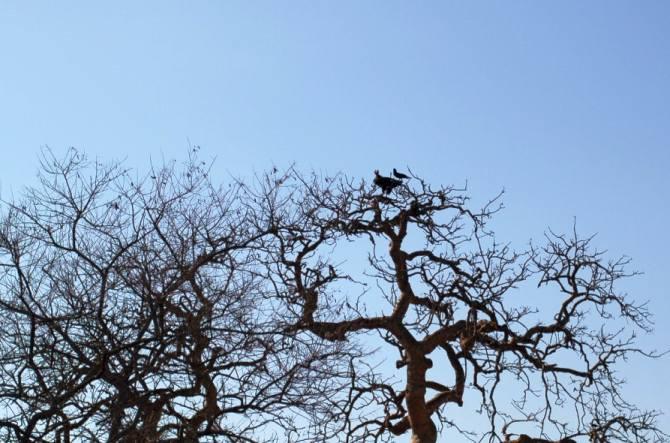 King vultures are rare to sight and we did. Ketanbhai told us: "You are lucky to get their darshan" he said, offering up some consolation for the absence of lions.

Abruptly he cut the long story short and blurted out: "If you want to see a pride of 22 lions we can show it to you if you shell out Rs 2,500. And Rs 1,500 for lesser number."
Whatever happened to his declaration that lions don't venture out once the sun beats down, I wondered!
We haggled. "Rs 400."
He held his ground.
Before starting up the bargaining, Rahim received couple of calls from trackers, after which he aggressively began his hardsell.
After another 30 minutes of haggling we settled for Rs 800.
Rahim immediately used his mobile to call his tracker friends, many of them we had already spotted on their two wheelers. Most of these guides and jeep drivers blatantly flout rules and use cell phones, which are banned by the Gujarat forest department. There are random inspections by officers. But nobody gets caught.
This is how the system works:
VIDEO: Trackers roam fearlessly behind a pride after herding them towards tourists. One of these trackers can be seen in the video (red circle) walking into the bushes from where he shoved a lioness (not in the video) towards the tourists
The trackers spot the animals and pass messages to guides accompanying tourists in jeeps. These guides then start softening up the tourists for money and negotiations begin.
Guides like Rahim keep underlining to tourists that they will miss the chance of a lifetime if they don't pay up for the spectacle. Guides well know that tourists like us have come from faraway places to see lions and wouldn't mind spending a thousand more to make sure a trip is not a flop.
Once the guide fixes a deal he conveys the message to the trackers. After the trackers collects 10 to 12 such messages from the guides, they organise for the tourists to be brought to the closest spot.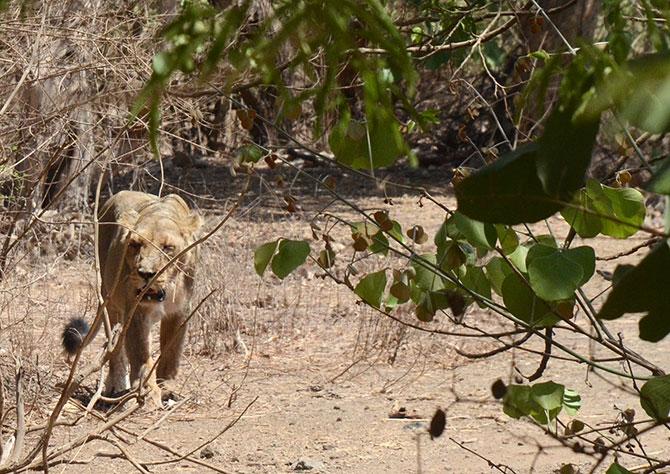 This lioness was least interested in showing herself and preferred to walk back into the woods leaving behind her male companions.
Meanwhile two to three trackers go a bit deeper into the woods and shepherd the poor pride towards the tourists. They use their long bamboo-blades to shake the ground and wake up the pride. The lions are surrounded from three sides and the pride has nowhere else to go but towards the tourists, who are ready with their cellphones, video cameras and DSLRs.
When the trackers shake the ground near the lions they do one of two things: They either roar back angrily and don't budge. Or they stand up and start walking towards the tourists. A lion's angry reply is a warning signal and the trackers leave them alone.
We got to view two lions and a lioness from a distance of less than seven or eight metres. Two males came very close to our jeep and sat down to rest under a tree, breathing heavily. But the lioness walked away from the tourists.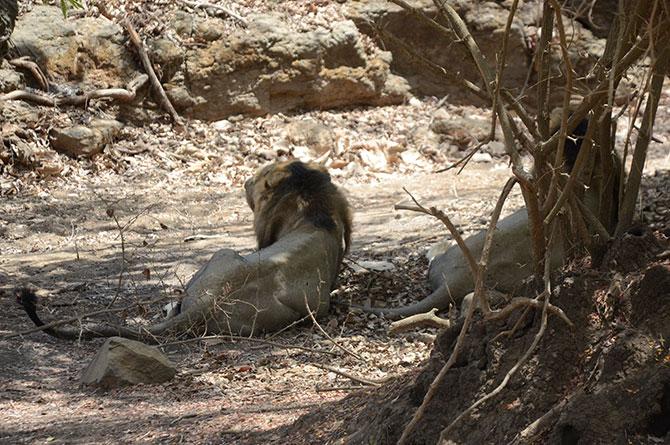 These two lions looked very tired as they walked towards the tourists and then lazed under the shade of a tree, breathing heavily.
We did get to see lions. But the thrill was definitely missing. There was no adventure in it at all. No rush of blood. We knew the lions had been herded towards us. It felt like seeing caged lions inside the forest.
It is really sad to realise that these wild animals are controlled like tamed beasts by the Gir trackers. Tourists like us are equally culpable.
We are all part of a rotten system that disturbs these majestic beasts in their natural habitat by demanding lion sightings and willingly paying bribes. The guides and trackers are just supply conduits.
Photographs and video: Prasanna D Zore/Rediff.com