The charming town of Pelling can strike a balance between commerce and conservation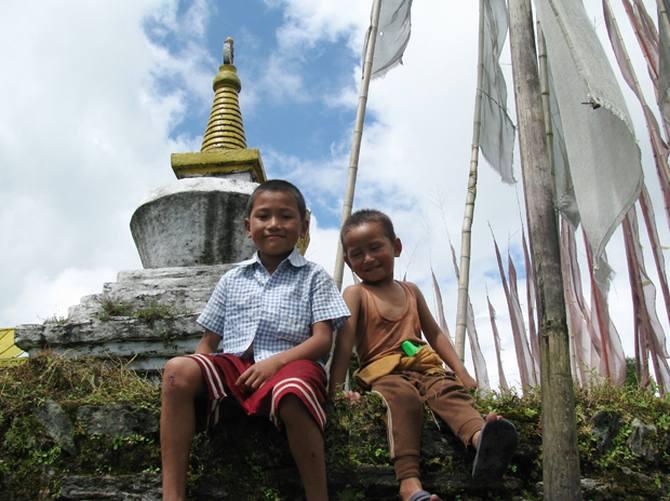 The other day, a conversation with a group of enthusiastic travellers turned to places we had visited that were so pristine that we wanted to keep them secret. Lots of names were thrown forward; a stunning glacial lake in Spiti, a perfect little island in Greece, an uninhabited beach in the Andaman Islands and a village in Ladakh where the full moon at midnight casts a silvery light, bright enough to read by. Increased tourism would definitely rob them of their charm, we felt. Then a name came up, a place that has been besieged by tourists, thanks to cheap airline fares and package tours, since the 1990s.
Yet, it is a place still so biodiverse that every old rhododendron tree in the dense virgin forests around is home to scores of orchids, creepers, birds and butterflies. The place is Pelling, a tiny hillside town facing the Kanchenjunga in Sikkim. Most of us in the group had been there and bore testimony to its popularity as a tourist destination. All of us believed that this lovely biodiversity hotspot had more to lose and less to gain by the sort of tourism that we'd seen there. And we all marvelled at how impossibly beautiful Pelling still was, in spite of it all.
Evidence of the precarious balance of nature in Pelling and its environs becomes apparent long before one reaches the main town. Sikkim government has taken upon itself to build massive hydroelectric projects on the Teesta and Ringit rivers, both of which once provided vistas most scenic. The projects have required, at some points, tunnels to be dug through the mountain and the consequent drilling and dynamiting has wreaked havoc.
I remember vividly how, as we drove by deep gashes of past landslides, rocks repeatedly spattered on the roof of the car, making us acutely conscious of the mountains in turmoil. In parts, the road was in such a bad shape that we got off to hike the distance, instead of suffering the bumps on the road. The first warning bells started ringing in our heads. It was a pleasant morning and the silence in the hills was absolute. The hillside, the closer we got to the top, was speckled with a pleasing array of wild flowers. And then, suddenly we were in Pelling.
Through masses of nasturtiums that had long escaped the confines of their beds, I found myself looking at rolling purple mountains obscured here and there by fluffy clouds. Walking to the other side, I was surprised to find another valley with the same rolling hills, only taller. And beyond were dimming silhouettes of snowy mountain peaks in the twilight. For, we were on a mountain ridge with valleys on both sides, and the best possible views of the Kanchenjunga. Later, we relaxed with sundowners at Elgin Mount Pandim, the hotel in, undeniably, the best location in Pelling, watching the snow-capped peaks of Kanchenjunga, Kumbhakarana and Pandim disappear into the darkness. At 5 am the next morning, I awakened to the magnificent sight of all the peaks framed by our bedroom window. Outside, all the hotel guests had gathered with cups of steaming tea, admiring the view. There was too much light to go back to sleep, so we went for a rambling walk instead, grumbling that the Northeast definitely needed its own time zone.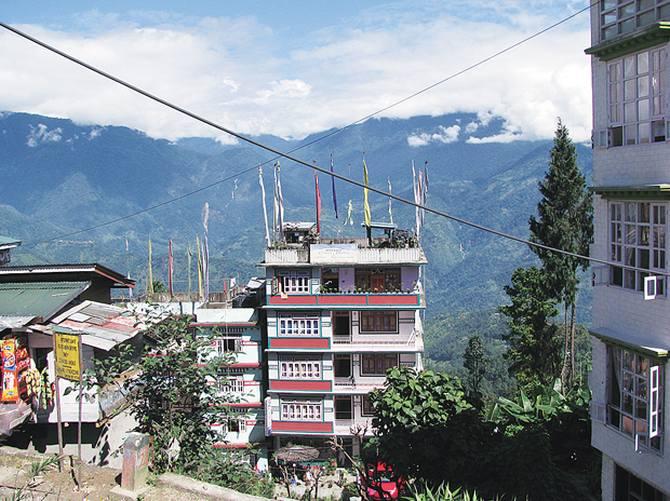 I remember my first glimpse of Pelling town. All it had on offer was a bustling road full of hotels and restaurants. The locals rather disdainfully referred to it as the Bengali Boulevard as it catered to the huge onslaught of tourists from Bengal during the Puja holidays.
Horns, exhaust fumes and other reminders of civilisation compelled us to beat a hasty retreat. This was our second warning bell. The third rang a little while later when we made the mistake of trying to check out some of its 'sightseeing' spots. We first went to a waterfall, then to the banks of a mountain stream, before we gave up. For there were more cars than the roads could support and so many tourists that one could see little else. Pelling's tourist circuit was reeling under the strain of tourists and the waste they generated. Our taxi driver, Tsering Bhutia, carried a plastic bag to pick up every bit of rubbish he found along the way. To see how Pelling looked before the onslaught of tourists, he advised, we should go to places off the beaten track.
We did, of course, and also chatted with locals who remembered the good old days, not long ago, when Pelling consisted of four houses and a road. Today, it has over 80 hotels and water and sanitation have also become major issues. Gradual climate change has caused a proliferation of bugs that are killing off cardamom, the region's cash crop. "But what's the option?" asked Bhutia. "We need the cash that tourists bring, or the power that our rivers generate -- just as much as we need to preserve the ecology of our home."
And so, we sat with our friends, reminiscing about Pelling, wondering how it was still so lovely in spite of the disfiguring scars of short-sighted development. The balance between preserving its biodiversity and developing its economy was, obviously, the key to its survival. But until that balance was found, we all wished there was a way to keep this Shangri La a secret for a little while longer.