"I was most intrigued by what I would like to call the upside-down waterfall. Basically, the force of the wind was so strong that the waterfalls would defy gravity and rise up, creating an illusion that the mountains were spewing steam. Finally, we reached our destination, and just like magic, the rain slowed down to a spray. There was a God."
N Ghia explores the unexplored terrain of Harishchandragad through Pachnai, a few hours from Mumbai, and comes away with memories of a lifetime.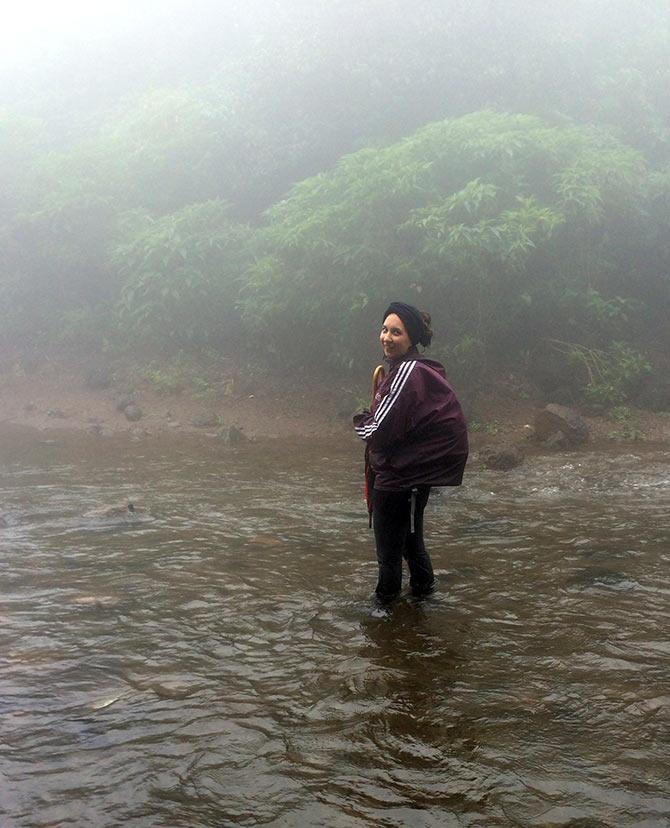 The joys of leaving work early are immense, but leaving it behind completely is a joy unparalleled. With the promise of green rolling hills, clean air and a challenging trek, my wife, a friend, and I, set out on a gloomy Saturday morning over 200 km away from the Mumbai din to tranquil and serene mountain land of Harishchandragad.
It's strange how planning for a day trip has changed with this generation. Earlier, we would make a checklist of basic necessities -- water, food, shoes, a pair of change, hand towel, etc. These days you would happily gloss over all of the above and worry about your other more essential checklist -- smartphone 100 per cent charged, rain-cover for smartphone, power-bank for smartphone, back-up power-bank for smartphone, etc. :-)
We left at 5 am, sharp; picked up our friend on the way, and really hoped and prayed that it wouldn't rain. But since no story can stand by itself without any drama, our prayers were ignored and it rained as if all the reservoirs needed to be replenished in one day.
We were a bit disconcerted with this because if it continued raining the way it did, the trek would have to be called off.
We were really looking forward to this not-so-gruesome trek to the summit of Harishchandragad and explore the fort, temple and other sites. It kept raining and we kept praying for it to stop; but the skies only came down harder.
Mapping our way to the hills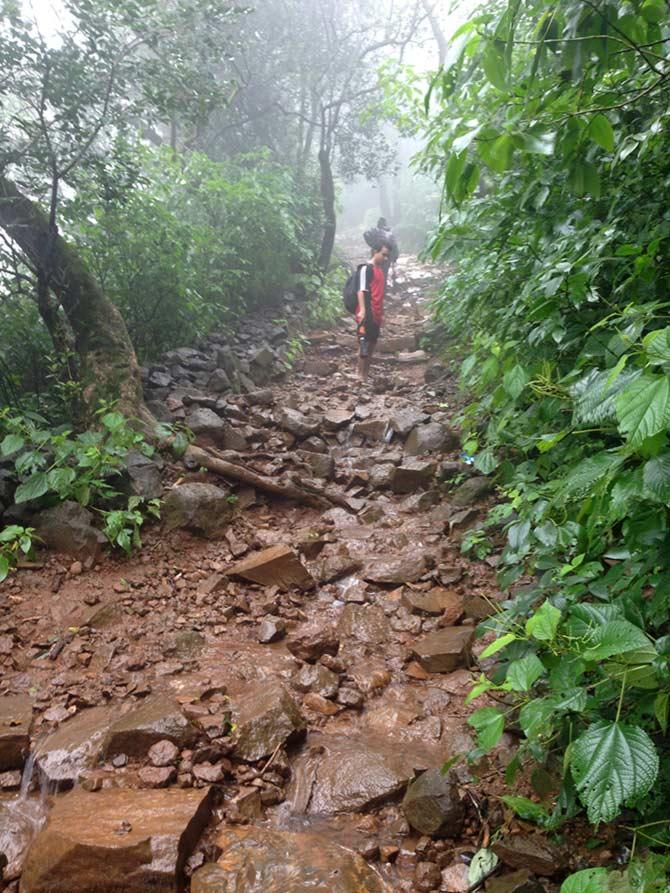 I usually trust Google Maps for navigation, but I learnt never, ever to trust it for distance and time. It said Harishchandragad was 215 km from my house in South Mumbai but in reality, we easily travelled anything between 250-260 km.
A virtual four-hour drive turned into a five-and-a-half-hour one because Google will also not tell you the state of the roads.
170-odd km into our drive, we crossed signboard to Bhandardara. That's when the horrible condition of the roads truly bumped our heads. There were more potholes than road and the width of the road was enough only for a small car and a cow to move abreast.
All of this was worth it for the view. We were surrounded by a carpet of green. We even stopped at a point just to soak up the nature and take a few photographs.
As my wife would always tell me, "experience the moment, don't capture it", but the photographer in me would choose to experience it after I captured it.
I was most intrigued by what I would like to call the upside-down waterfall. Basically, the force of the wind was so strong that the waterfalls would defy gravity and rise up, creating an illusion that the mountains were spewing steam. Finally, we reached our destination, and just like magic, the rain slowed down to a spray. There was a God.
Uphill to Harishchandragad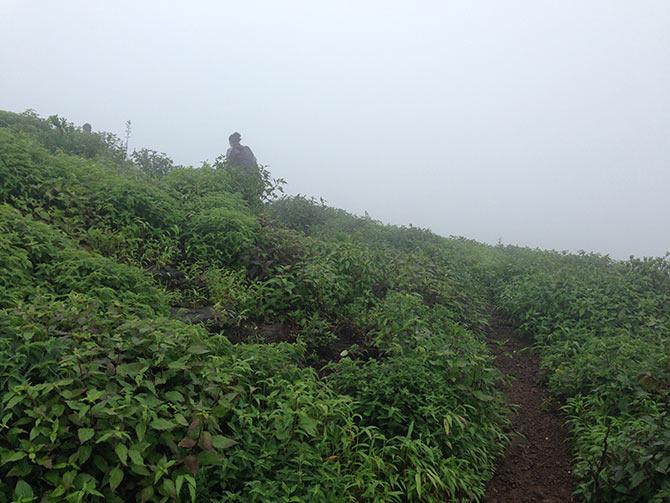 There are number of attractions that one can explore en route to Harishchandragad.
One such is the Kedareshwar cave, which is located on the way to the Harishchandreshwar temple. It is an abode to five feet-tall Shivlingam, surrounded by four pillars, in a pool of water. But what is most intriguing is that the roof is supported by only one pillar.
Legend has it that the three broken pillars symbolise the three bygone Hindu eras of Satya Yuga, Treta Yuga, and Dvapara Yuga. Locals also believe that the falling of the fourth pillar will mark the end of the Kali Yuga, the era we are currently living in, as per Hindu tenets.
Another sight is that of Harishchandreshwar temple dating all the way back to the 11th century. There are a few caves around it that are a preferred spot for overnight camping.
But the icing on the cake is the summit of the trip, the Konkan Kada (cliff). Its vertical overhang looks like a cobra's hood and lends hikers a panoramic view of the Konkan valley below. If your lungs and muscles haven't killed you already, one can also hike a further up to the third highest summit in the state, Taramti Peak.
Our goal was just the two hour climb trek to the top. We parked our car in the tiny village called Pachnai (after paying the required tax of Rs 110 in all), fastened our shoes, armed ourselves with trekking and rain; and off we went towards the trail.
Just like in the city you see different shades of grey, brown and glass, here I saw different shades of green. The rich and fresh air was exactly what my lungs had ordered.
Before the real ascent began, we stood a little over hill to admire the sheer beauty below and around us.
It was nothing short of a classical painting -- dancing paddy fields, wild yellow flowers conversing with each other, tiny streams and rapids quenching the thirst of the earth, countless waterfalls cascading down the rugged, rocky face of the mountains. Every time the wind blew, it was a new painting.
The abundance of water and vegetation was so overwhelming that I could have forgone the trek only to stand there and indulge in some photography but sadly because of the consistent light drizzle it got a bit difficult to shoot with my DSLR. Thank god for smartphones.
We started walking as our experienced friend led the way. Mind you, this route to get atop Harishchandragad is the easiest and the fastest. It would ideally take up a little more than three hours to complete. The longest, and allegedly the most difficult one, takes nine hours per way.
The climb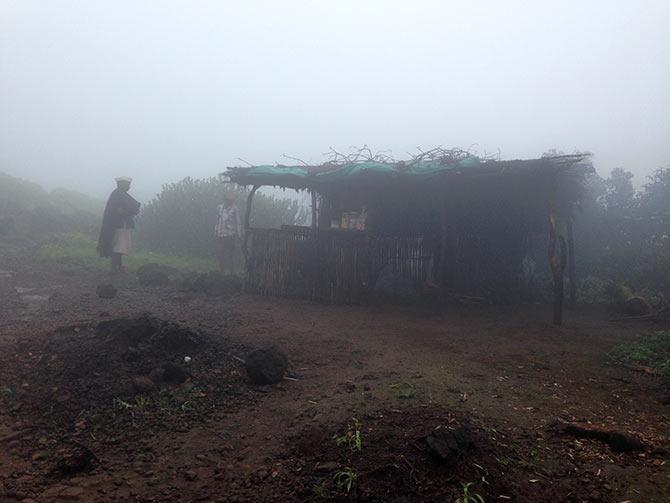 After walking for about a kilometre, dodging streams that overflow onto the road, the climb began. Traditional wisdom about trekking would make one assume it gradually sloped up but this one went from straight to steep.
The climb surely tests your fitness and stamina levels; even as the easiest one. You think you are at your fittest but we were so wrong. In my case, a six kilos photography bag didn't help the cause; we would halt every few meters to catch our breaths and stretch our legs.
Investing in good-quality trekking shoes helped. The entire way up (and down) was wet, murky and riddled with sharp, jagged rocks.
Some points got so steep that the locals had installed hand railings to assist the trekker to climb with some ease and protection. But that was only half of our worries.
Thanks to the rain, the soil and the rocks had become lose and every step had to be a cautious one to ensure that nothing came lose and we didn't end up face-first in the dirt. But of course the view was directly proportional to the climb; the higher we went the better it got.
The anatomy of the path to Harishchandragad
The trek could easily be divided into two parts: the first was the steep climb with a clear view of the valley; the second, a forest where the climb was easier but the view started to diminish thanks to thick fog.
We also had to negotiate a number of streams and walk through waterfalls, that's where the rain jackets come in handy but not for long. If you thought all along that the only thing getting you wet was your sweat, think again.
The waterfalls came crashing down with such unrelenting force that nothing could have stopped us from getting wet to the bone. But we braved on to reach the top.
One the way up we came across some interesting flora -- flowers, shrubs, mushrooms, dead trees and fauna -- crabs. These tiny crustaceans were bright red in colour and so small that we were afraid of crushing them.
We also passed quite a few locals who were happily and effortlessly overtaking us as if they were out for an evening stroll; either balancing a load on their heads or covering it with a thick blanket.
For us, it was a good two to three hour trek thanks to our (non-existent) stamina, thick fog, and propensity for selfies.
At the top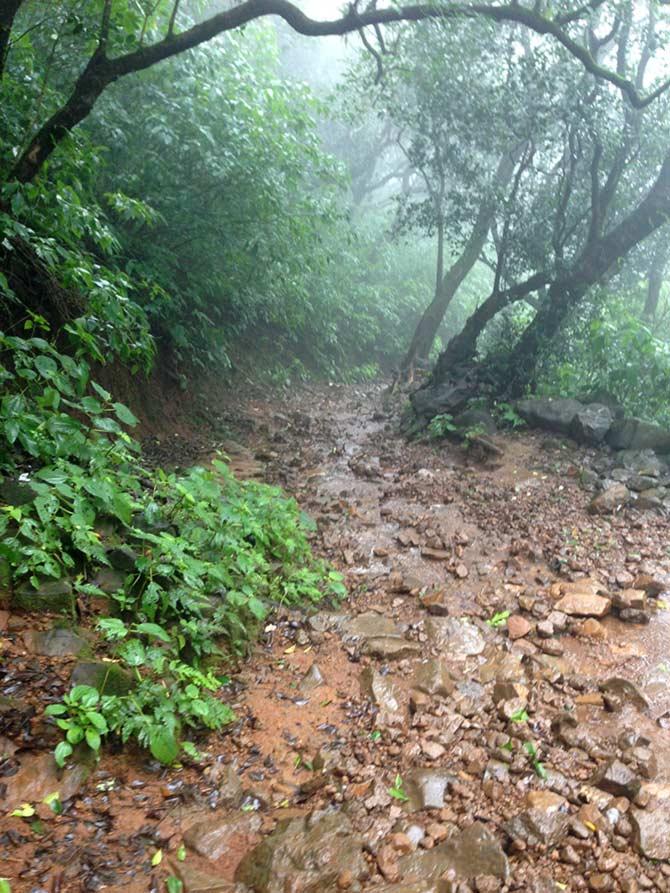 We finally made it to the top surrounded by mist and clouds. We could barely see 10 m ahead, so had to be extra careful of how and where we walked. It was a bit disappointing to have not being able to witness a view at all thanks to the thick clouds; we were walking in white limbo. But the three of us were glad to have done this.
We ate a small picnic on a flat rock atop before turning around. We slipped and fell while descending even though we were now less stressed. This time, we decided to stop at every vantage point and enjoy the scenery a little more.
Get there by road:
By road: Harishchandragad is approximately 180 km from Thane and 160 km from Pune.
By train: Take an ST bus from Kalyan station and prepared to be exhausted before you reach your destination. This choice of transport is not highly recommended.
Stay: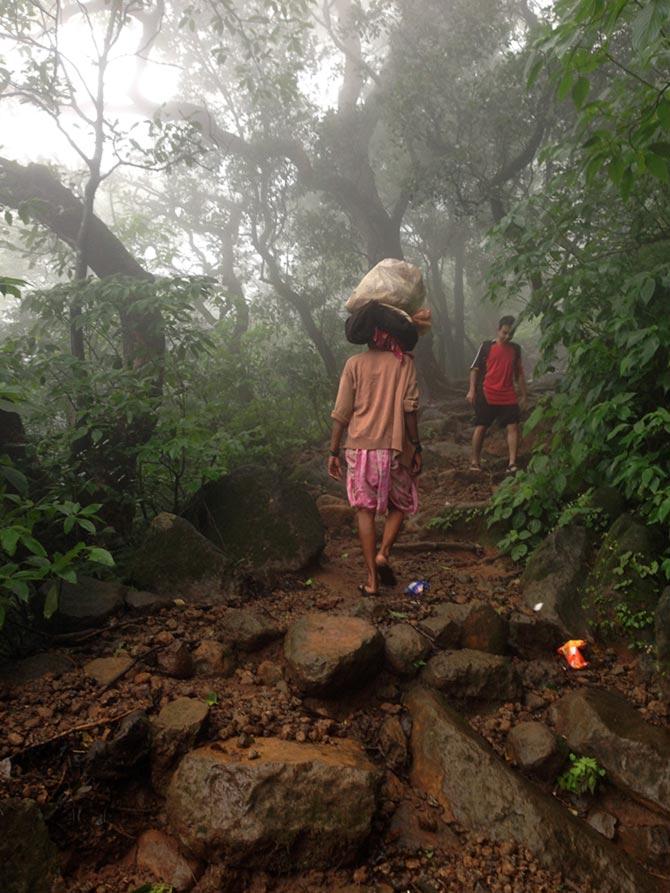 If you are serious about staying the night then the best option is to pick a roof at Bhandardara, post or pre trekking.
The longer route through Belpada village will bring you to a few caves that are ideal for camping at night.
The Pachnai village route doesn't have any boarding options.
Best seasons to go: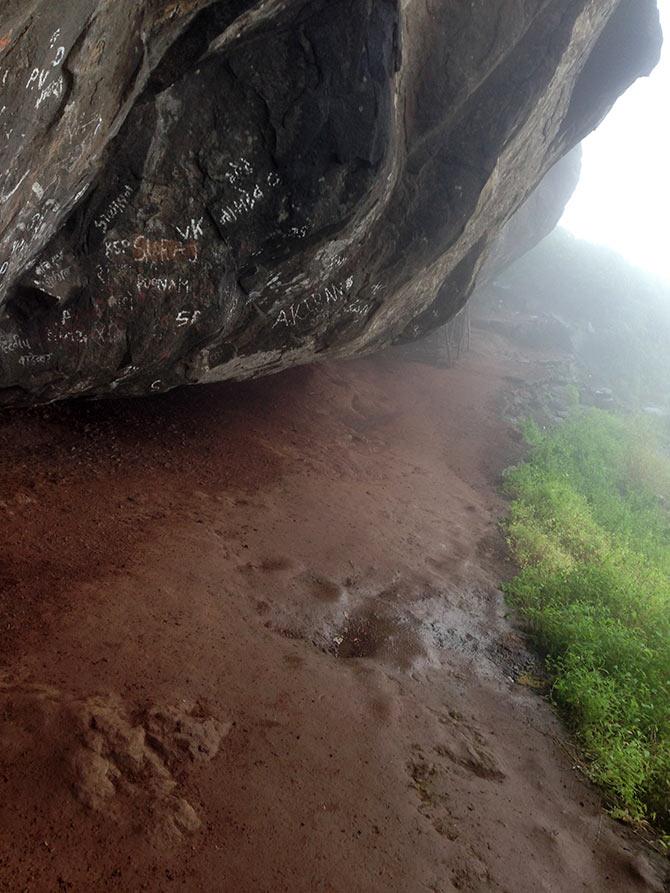 July to October, best time to experience rain and green.
Photographs: N Ghia