With Tibet to the east and home to three stunning Himalayan ranges, Kinnaur in Himachal Pradesh boasts of a colourful culture and beautiful people, says Geetanjali Krishna.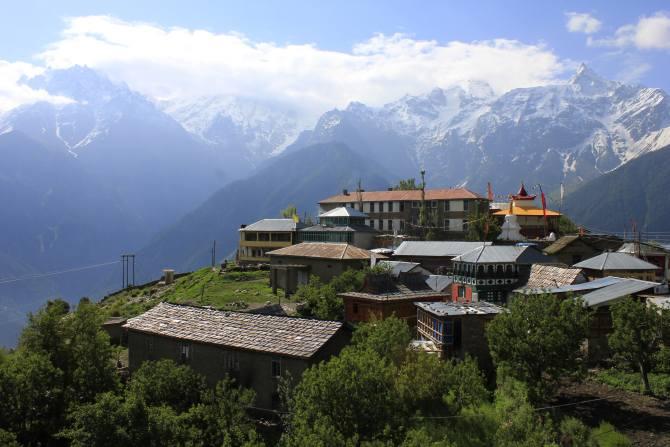 Photographs: Nick Irvine-Fortescue/Creative Commons
It's a bumpy ride to Kalpa. The hills seem alive, kicking up rock falls and landslides that make the highway, if one can call it that, a bumpy nightmare. A solitary earth mover, defeated by the stony terrain and high altitude, lies abandoned by the hillside, and as the clouds gather to burst over our heads, I wonder whether any place can be worth this effort.
A couple of days here make me realise that if I were to make a list of places worth every inch of the arduous travel it takes to get to them, Kinnaur would be on top.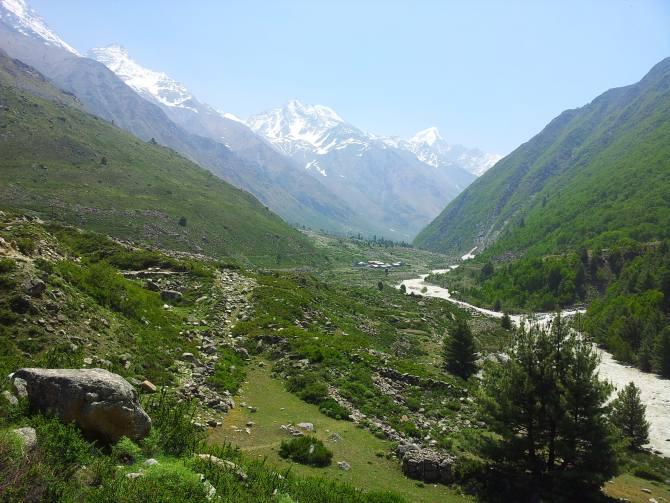 Photographs: Sandeep Kaul/Creative Commons
Abutting Tibet on the east, and about 235 km from Shimla, Kinnaur is not only home to three of the Himalayas' most stunning ranges -- Zanskar, Greater Himalayas and Dhauladhar -- and the rivers Sutlej, Spiti and Baspa, it also boasts of a colourful culture and beautiful, friendly people. As one ascends the mountains past groves of pine nut and abundant waterfalls, the fabled peak of Kinner Kailash is never really out of sight.
Fluttering prayer flags sending winged wishes to the heavens are a constant reminder of Kinnaur's Buddhist heritage -- indeed, as the old Hindustan-Tibet road passes through the Kinnaur valley along the bank of the Sutlej and finally enters Tibet at Shipki La, the region is home to monasteries and stupas, lamas and chortens.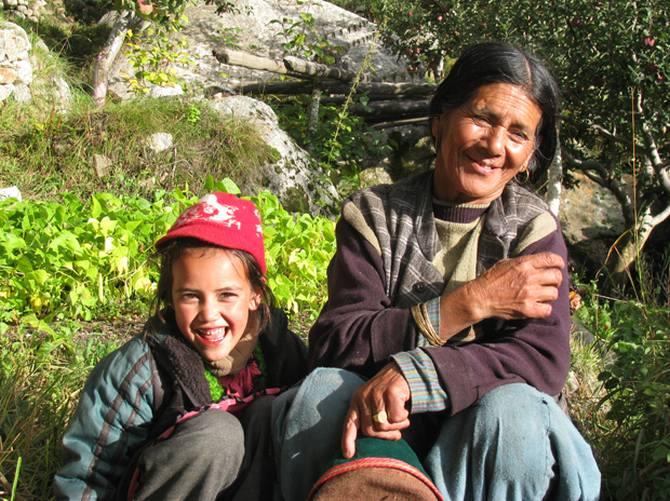 We halt for the night at a tiny guesthouse in Rakcham, and I tie up with the old lady who owns the orchard next door to send us some home-brewed apple wine for our evening tipple. It turns up in a beer bottle and is strong enough to burn a hole in my gullet. "It's not that strong," she laughs as I cough and splutter.
"I know because I grow the apples and make the wine -- but also because my husband can drink a bottle of this every night!" Over the next few days, I see more evidence of this unfair division of labour, and resentful as I feel about it, I can't help but marvel at the resilience of these sturdy, beautiful women.
The next morning, we drive to Chitkul, the last village on the old Hindustan-Tibet trade route. It is also the last point in India you can travel to without a permit. Temperatures plummet as it begins to rain, but oblivious to it all, a group of men works busily on a platform. Up close, I see mounds of goat entrails.
Blood flows freely though the drains as we learn that the goats have been slaughtered for a wedding party. Yet, there's no waste as the villagers find use for the skin, meat, bones -- almost every part of the goat.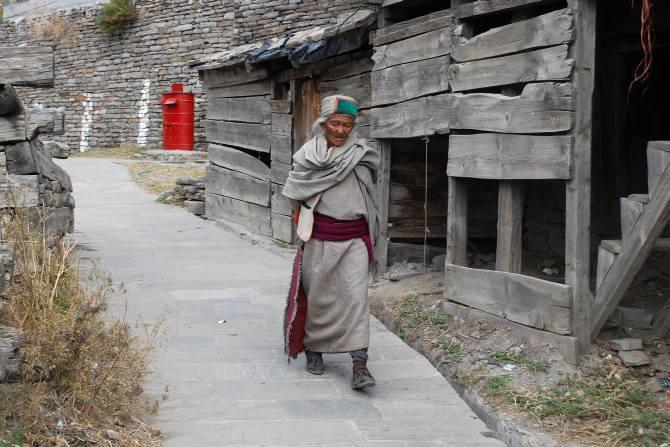 Photographs: Sanyam Bahga/Creative Commons
As I watch the men at work, I wonder at some with distinctly Mediterranean features. All along the trade route, you see evidence of a more diverse genetic pool because of all the travellers through the ages, and Kinnaur is no exception. The people themselves believe that their features are inherited from their mythical ancestors, the Kinner -- demigods of the Hindu pantheon, whose deeds have been immortalised in epics and the poems of ancient Sanskrit poets.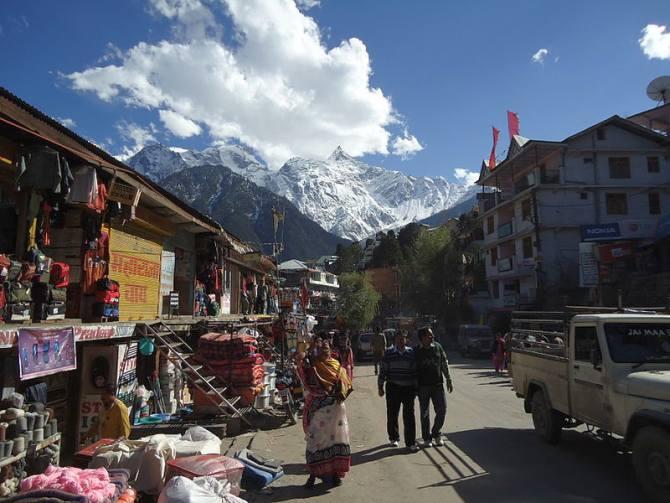 Photographs: Steve Bennett/Wikimedia Commons
All this while, we've been stopping to take pictures of the Kinner Kailash every time the clouds clear, but soon we find we're headed in its general direction to Rekong Peo. The closer we get to the district headquarters of Kinnaur, the closer we seem to get to the peak. The town however is a typical, poorly-planned hill station with diesel-spewing traffic and cheek-by-jowl houses.
Crowded it may be, but it's a good place for some quick shopping for pine nuts and beautifully-woven Kinnauri shawls.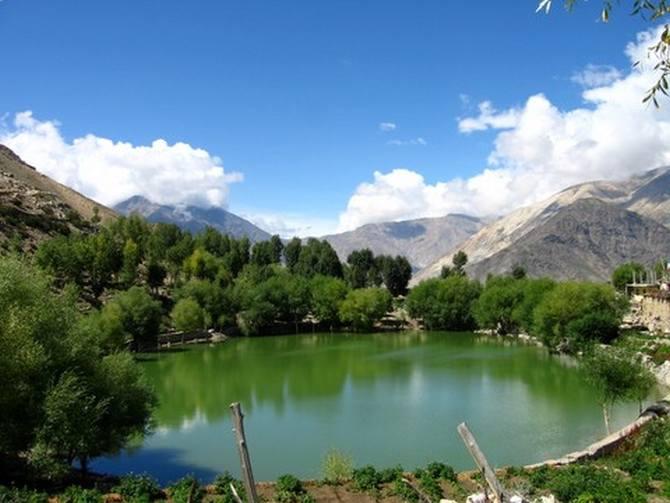 Photographs: Cacahuate/Wikimedia Commons
The next day, we're on the road again to see another jewel of Kinnaur -- Nako. It is a pretty, whitewashed village atop a promontory, commanding great views of the rolling hills and valley deep below, but that's not what makes it special. Nako is known for its pristine lake, a mass of freezing water fringed with weeping willows and Buddhist prayers etched in stone.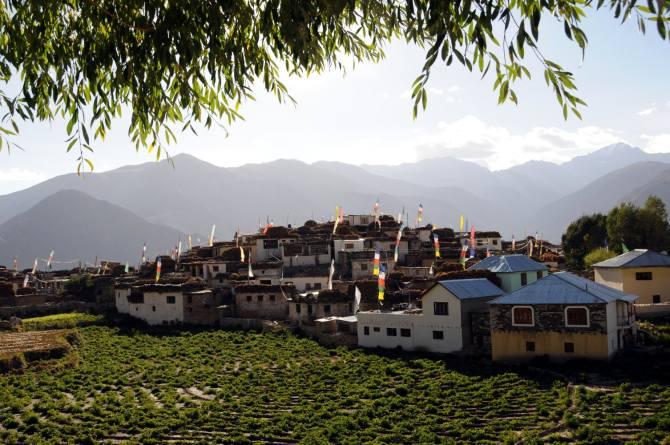 Photographs: Nomad Tales/Creative Commons
I espy an old lady in traditional Kinnauri regalia -- two woollen wraps with intricately embroidered borders called dohru and bright jewellery made of beads of turquoise, coral and gold. We get chatting and she tells me that she's here for her nephew's wedding. She invites me to her house for tea. The men are still sleeping off the party, she says, while she has been up with the other women in the house since dawn to clean up.
In the courtyard are remnants of last night's feast -- some masala scrambled eggs swimming in fat. "There was chicken curry too," she says, "but we ate it all as we celebrated by the lakeside." I sigh, thinking how lovely a wedding by the moonlit lake must have been, and say, "You live in paradise." She hands me a cup of steaming tea and says, "Our roads are all broken, our power cuts sometimes last for months and our men like to drink and sleep while the women break their backs -- it's a hard place to live in, but I'd agree that Kinnaur is paradise indeed."