Reuben NV attended the Goa Carnival in Panjim this year and came back with these photographs.
The annual carnival in Goa, which was first introduced by the Portuguese, who ruled the state for more than 500 years, started on February 10 at Panjim, Goa.
It moved on to Margao and Ponda on February 11, Vasco and Curchorem on February 12, Mapusa and Morjim on February 13.
It's celebrated here since the 18th century and calls for fun and merry making before the season of Lent begins.
Lent is observed as a time of abstinence and spiritual preparation before Easter by Christians.
Here are some interesting floats from Panjim.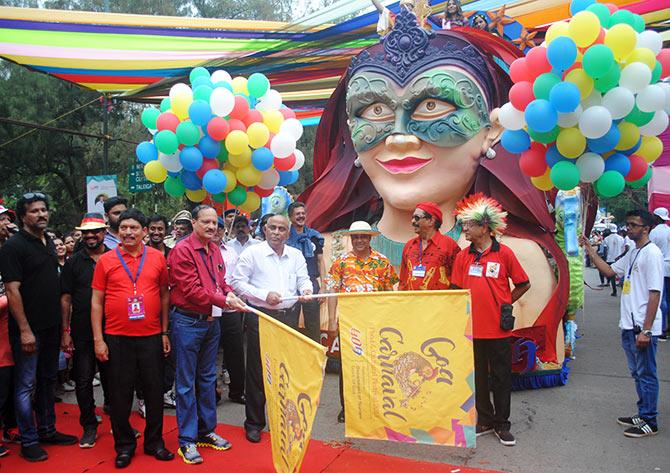 State tourism minister Manohar Ajgaonkar (in white shirt) and the Mayor of Panjim Surendra Furtado (red shirt) flagged off the festival.
All photographs: Reuben NV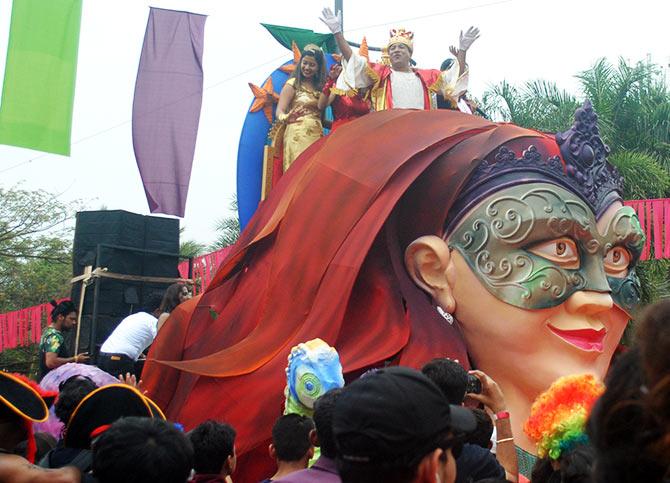 King Momo read out an oath and declared the parade open.
Every year, a person from the state is chosen to play King Momo -- a mythological character that symbolically rules the state.
Bruno Azaredo, 57, from Utorda village in South Goa, was been selected to play the role, this year.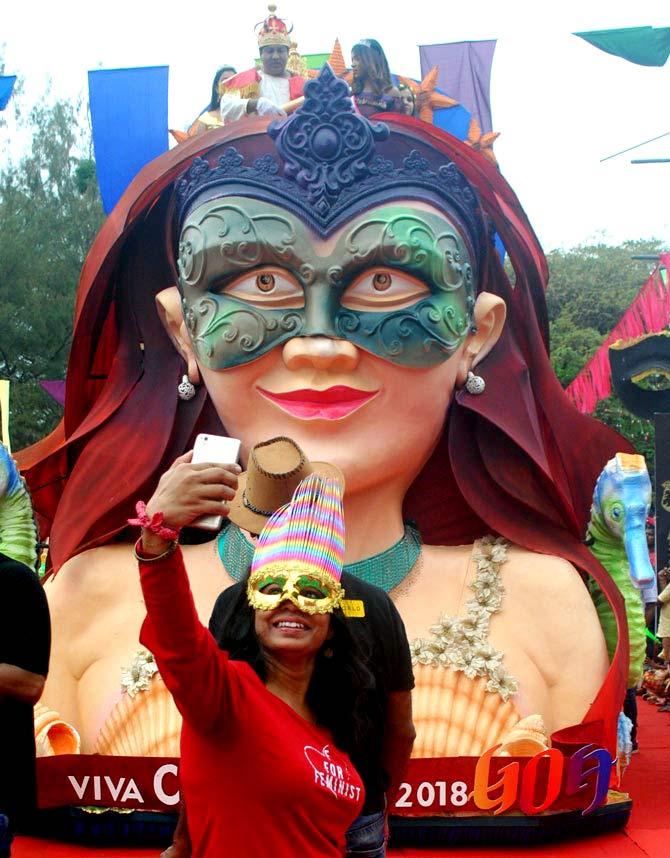 An enthusiastic visitor frames King Momo in her selfie.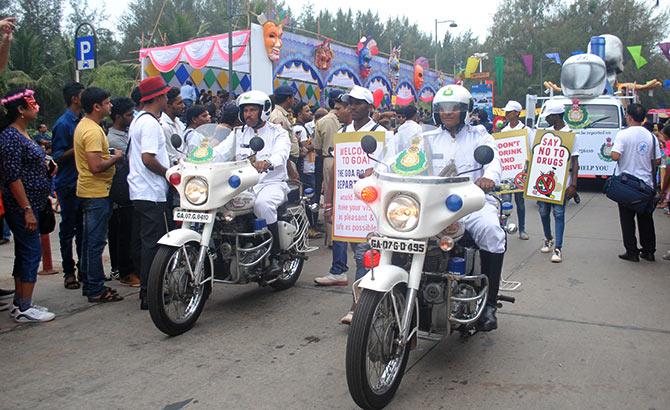 The first ones to follow King Momo's float were the Goa police. They welcomed tourists, requested people not to drink and drive, and say no to drugs.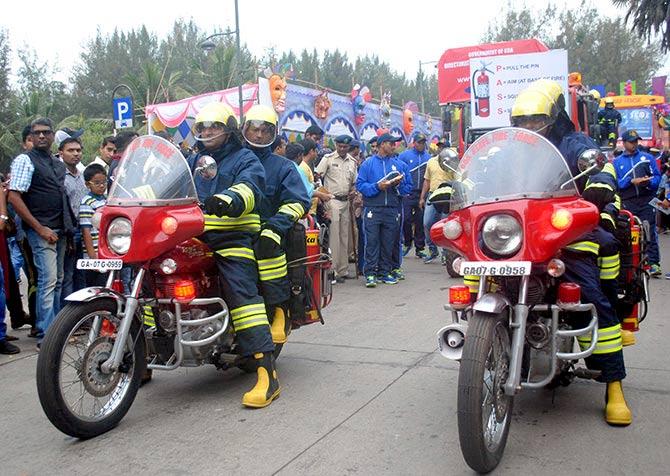 Next came in the Goa Fire Department. They spread awareness on fire safety and told people not to use mobile phones while charging it.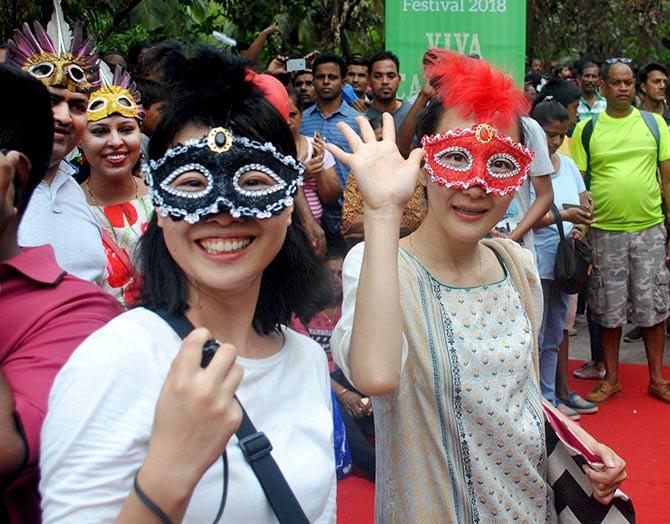 Tourists from all over flocked to Goa to attend the carnival.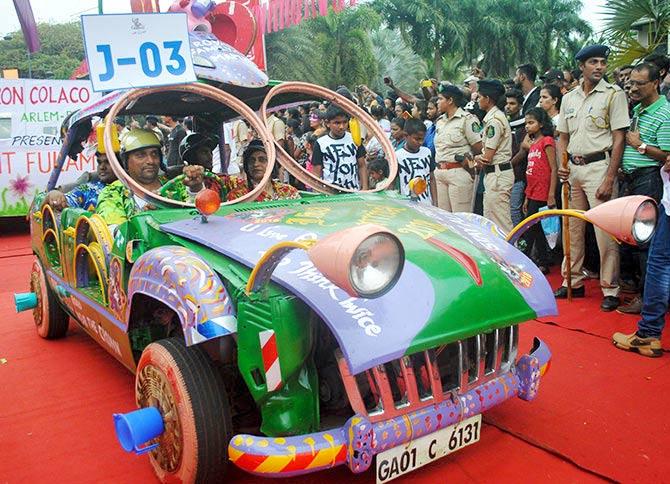 This family claiming to be the Royal family of Mapusa (written on the car top) came in a not-so-designer car.
The car parts were decorated with tyre rims, bamboo and tumbler (check out the tyres) among other things.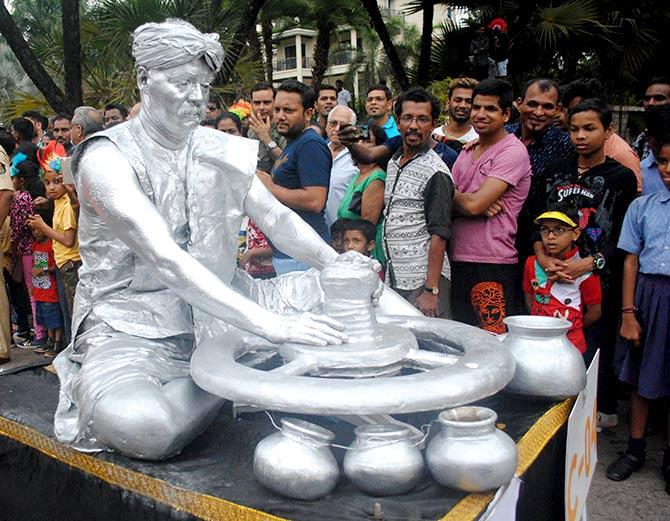 Painted in silver, this man took on a potter's role.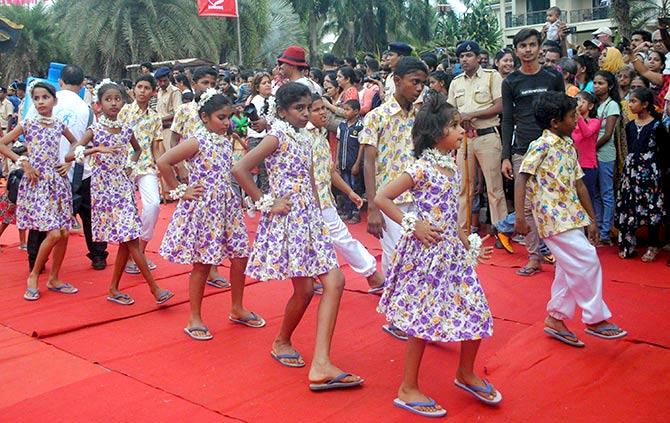 These children danced to the flower song.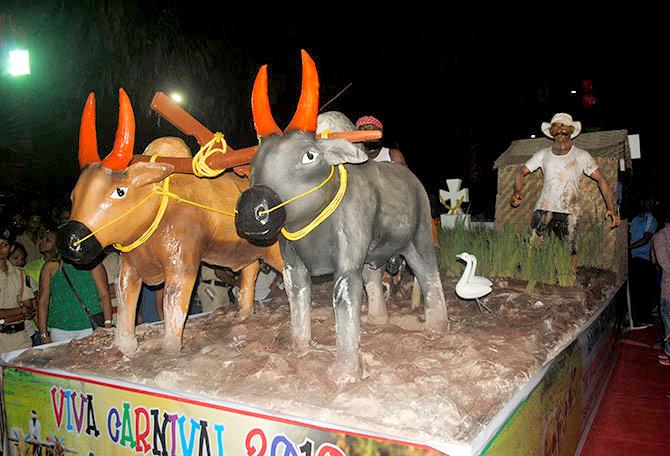 Farming is a primary occupation in the state.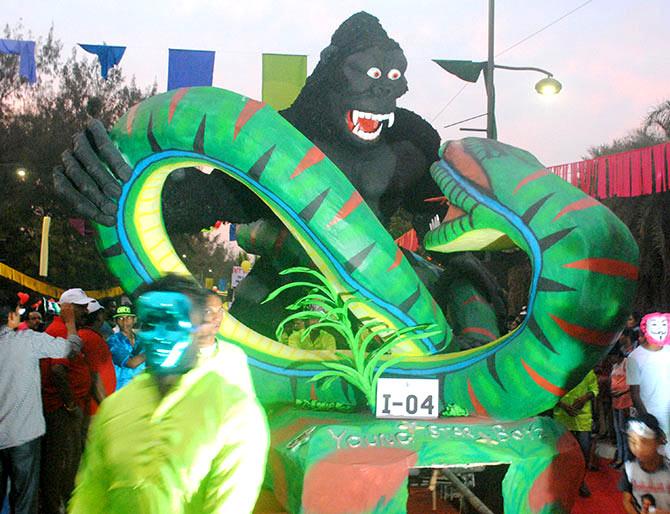 Here, King Kong is shown fighting a snake.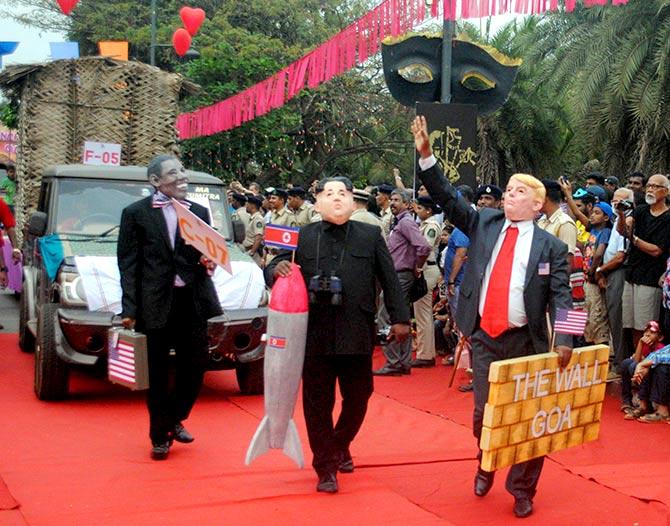 People dressed as former US President Obama, North Korean leader Kim Jong-Un and US president Donald Trump were also part of the parade.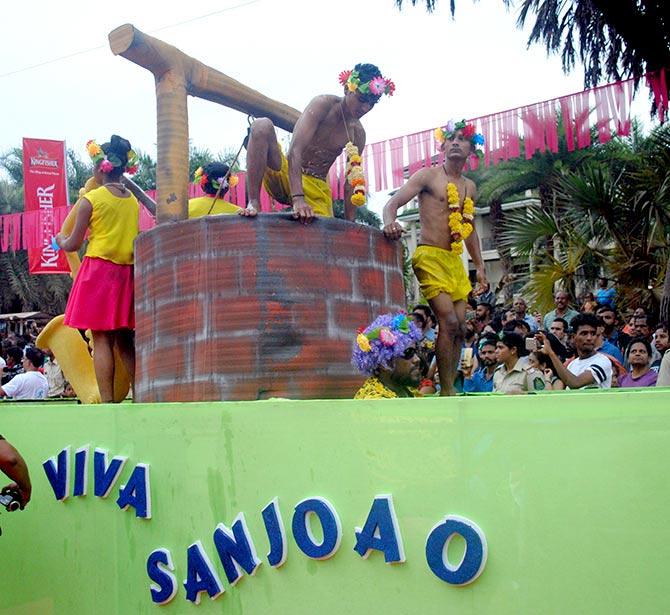 Viva San Joao means Feast of San Joao.
The feast of St John, the Baptist is celebrated on June 24. On this day, young men around Goa jump into wells to retrieve gifts thrown in by villagers.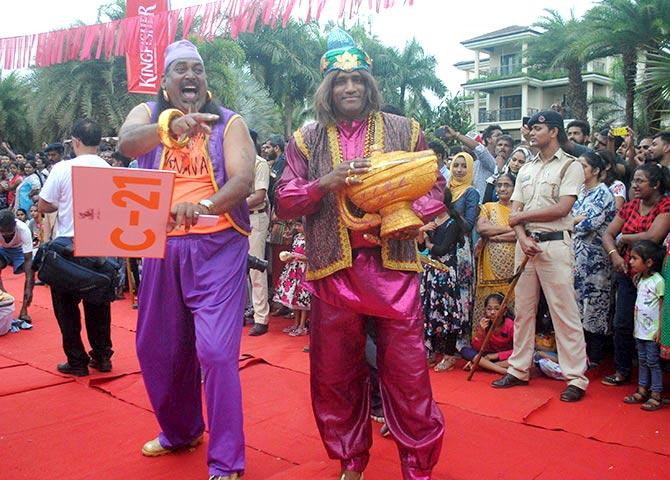 This Alladin was telling his genie to give peace and happiness to everyone who had gathered there.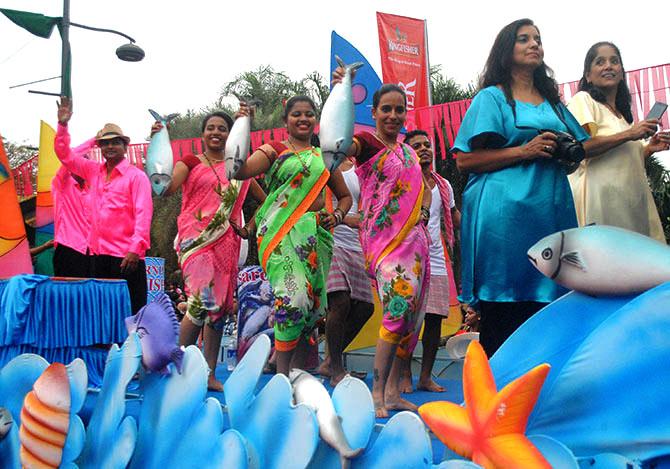 These fisherwomen promoted Goa's staple food -- fish curry.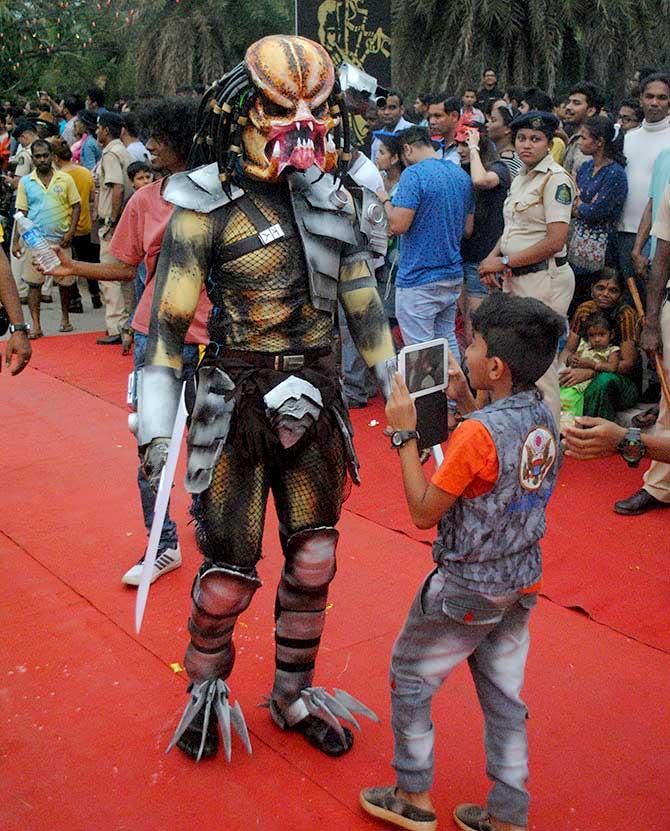 A young fan wanted to photograph the predator.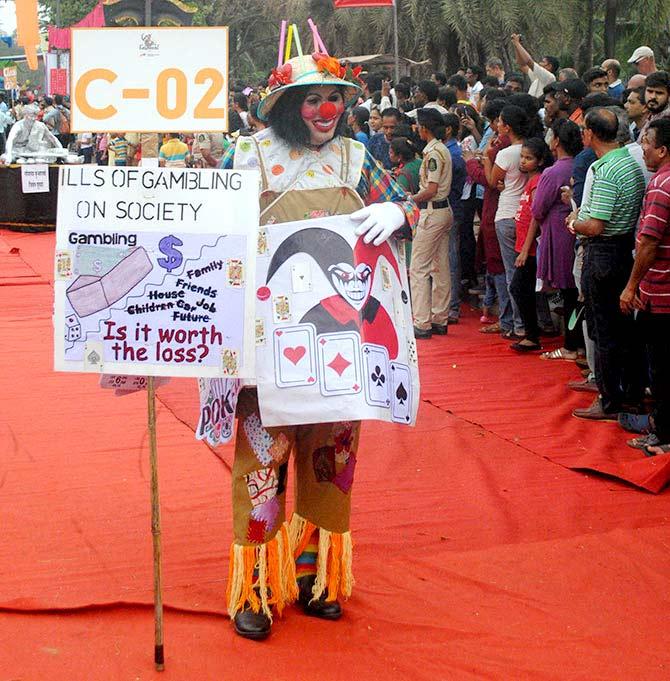 This clown was pointing out the ills of gambling in society.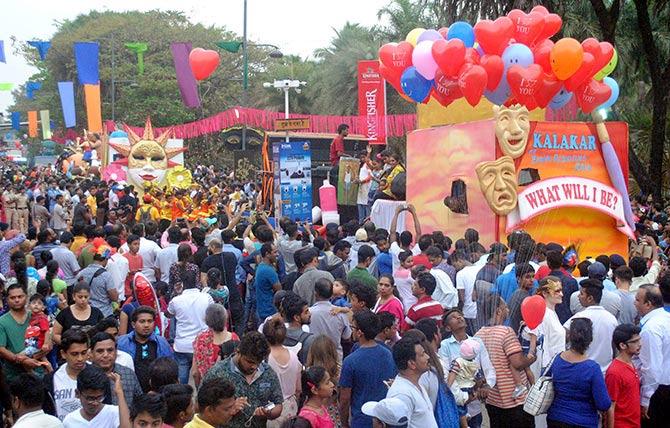 Visitors poured in large numbers to view the floats and take part in the festivities.