Move over, Andaman and Nicobar islands!
Diu, along India's west coast, is one of the most beautiful and serene places in the country.
Snapshots from a journey!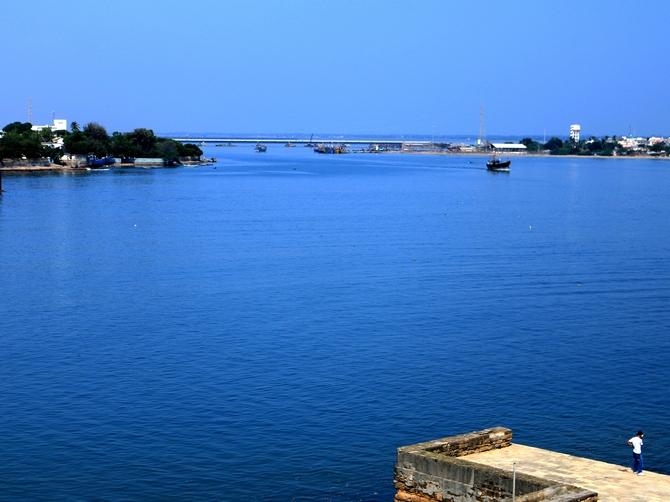 Fishing boats out at sea. In the background is the bridge that connects Ghoghla and Diu.
I must admit, my Diu experience was surprisingly more beautiful and fulfilling than what I had expected, especially after visiting the famous temple town of Somnath.
Earlier, with the sun rising for a new day, I along with two of my friends had arrived at Veraval onward to Somnath.
They needed to return the same day after a customary visit to the temple.
I, on the other hand had two full days to spend before I boarded the train back home.
Daman and Diu, counted as one among the seven Union territories of India, are two erstwhile Portuguese naval bases that are separated by a driving distance of more than six hundred kilometres, with Gujarat being its peripheral state -- a fact I had learned much later in my life.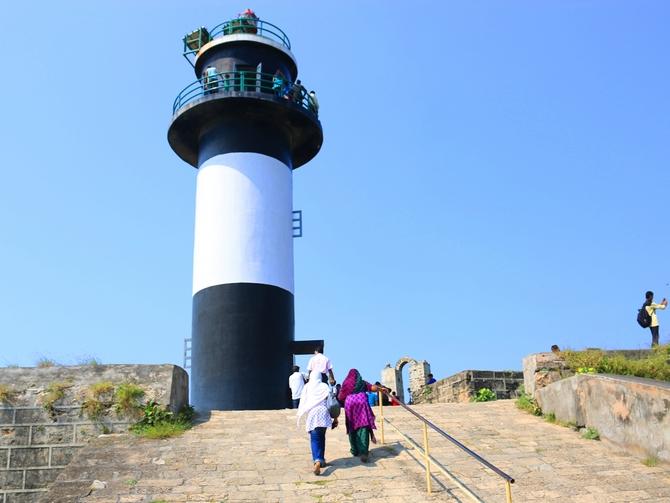 The lighthouse at Diu Fort is a popular tourist destination. In part for the views it offers and it's nominal entry fee: Rs 2! :-)
Juggad -- a makeshift open three wheeler, moulded on old Royal Enfield was ride of the common man at all cities and town in Saurastra region.
After my friends left Somnath for Veraval, I walked to the state transport bus stand to board a bus to Diu.
An extremely hot day, in a town filled with smell of industrial pollutant and fish oil could turn out to be less than comfortable for many. Somnath, being a place of pilgrimage was filthy to say the least.
Water is as salty as sea here, which makes it necessary to carry your own water bottle. As the bus arrived, families jumped into it. With only a handful of seats available, grabbing a place in a decrepit bus required the will of an Olympian.
I along with many others manged to stand in a corner.
Diu Fort
Two young assistant professors from Rajkot who were on vacation, had made few enquires about my trip and by the time we reached Diu, we agreed to stay at same hotel and go sightseeing together.
The great part about Diu is that like Goa, it offers motorcycles on hire.
So we rented a couple, checked into the hotel, had a great lunch and then decided to spend the evening at the Diu fort, a part of which currently houses a police station.
It takes at least an hour to get around the fort. Visit it in the evening, when the sun isn't beating down hard and the sea breeze makes it altogether welcoming.
The fort with its lighthouse, prisons, synagogue, rusted canons and a small dockyard is reminiscent of its military foundations.
Needless to say, it also offers great view of the town and the sea.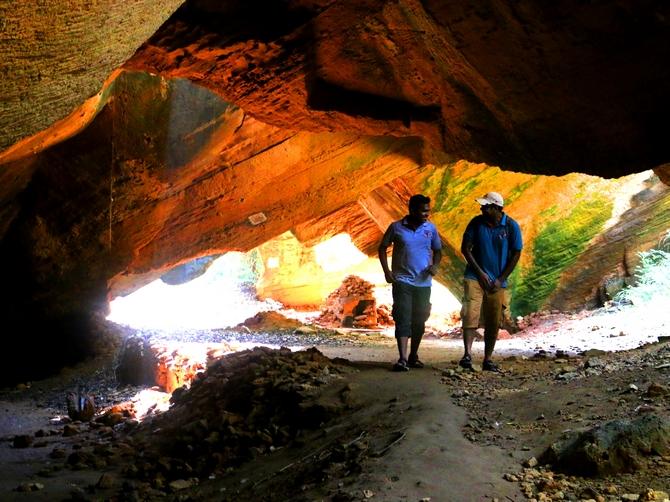 The two young professors having share a light moment at Naida Caves.
After spending a wonderful evening walking amongst the ruins of history, we were hungry and tired.
We rode through the island, making ourselves familiar with the roads and the streets and parked ourselves at a rooftop restaurant overlooking the sea at Nagaon beach to watch the sunset.
The discussion was lively ranging from science to philosophy and life.
In the company of two professors, who loved their drinks as much as the freshly cooked fish, the conversation was enlightening.
It was well past midnight when we retired to our rooms.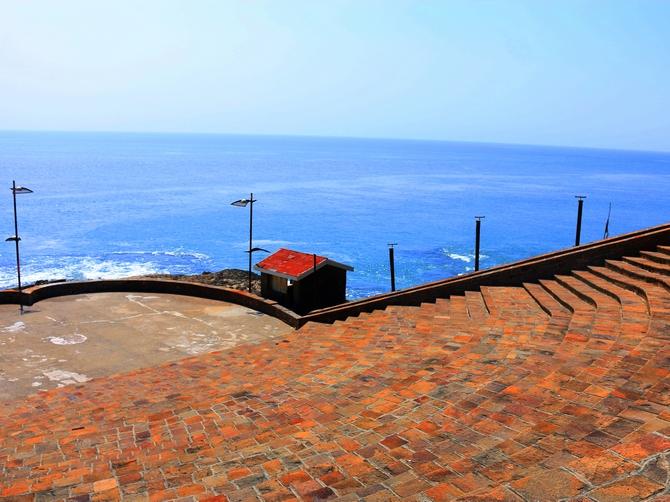 An amphitheatre near the INS Khukri Memorial

The next morning, we started with a visit to a 400-year-old church that had beautifully carved wooden arches.
The structure is predominantly inspired by the contemporary Portuguese style of architecture but the wood carving inside has prominent Indian motifs.
Our next stop was INS Khukri Memorial that houses a scaled-down replica of the only warship that Indian Navy has lost in a combat.
The incident occurred during 1971 war with Pakistan few miles off the coast of Diu, when a Pakistani submarine fired a torpedo at her.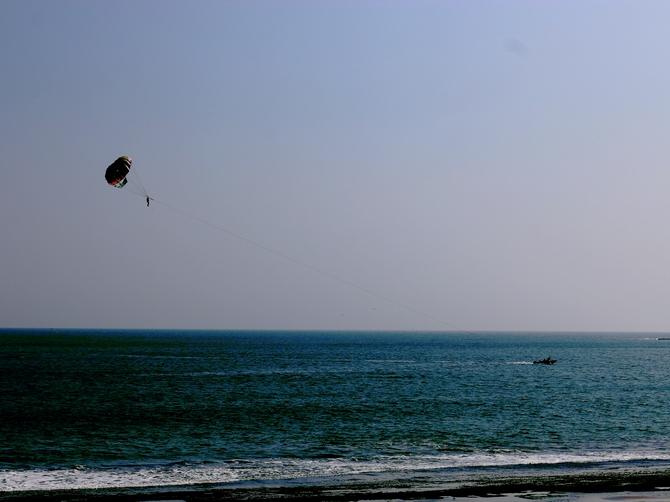 A tourist enjoys water sports at Nagao Beach
After lunch, we visited a sea shell museum, one of its kind in the world.
The facility, near the Diu airport has a private collection of shells from all over the world, sourced passionately by one captain Fulbari, a sailor who has spent a large part of his life collecting and curating them.
The afternoon was spent exploring Naida caves and Gangeshwar Temple before we boarded a bus back to Somnath.
The next morning, I attended the aarti at Somnath Temple.
There were no rhymes or chants being sung; only instruments are played.
It was an experience unlike any other... and a wonderful end to my journey.
ALSO READ The simple joys of a rural Indian shaadi!
Have you been to the Thirparappu Falls in Kanyakumari?
Text and Photographs: LenzView
Lenz View is a travel photographer and writer.
What is your favourite lesser-known attraction in India? We'd love to know.
Please write in to travelpicsga@rediffmail.com (subject line: 'Travelling the lesser-known'), along with photographs of the destination you are writing about. We'll publish the best ones on Rediff.com!