In photos: A journey through Chittorgarh.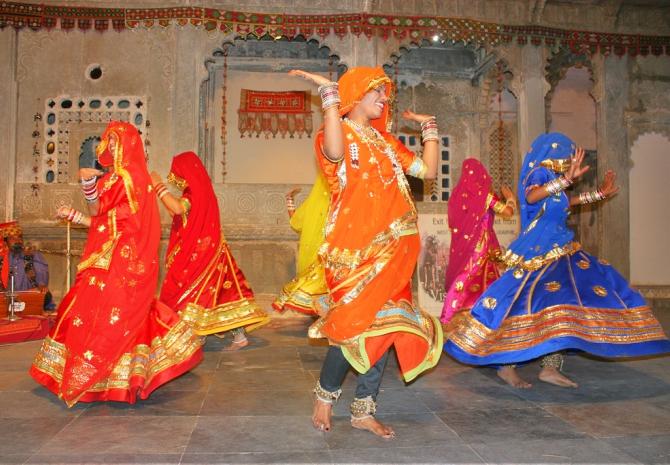 A Ghoomar performance in Udaipur.
Chittorgarh, a fort that is considered one of the finest specimens of architecture in the world, is located 2 hours far from Udaipur by road.
Photograph: Arian Zwegers/Flickr.
Was Padmavati lore or history?
Those who call her historic believe that Rani Padmini was a princess from Sri Lanka who married Rajput ruler Rawal Rattan Singh.
Those who call her legend, trace back the earliest reference of Rani Padmini, a queen so beautiful that she caused the Sultan of Delhi Alauddin Khilji to wage a war, to Malik Muhammad Jayasi's 16th century poem Padmavat.
The debate may never end elsewhere, but inside the ramparts of Chittorgarh, where she is said to have lived and died, her story lives on.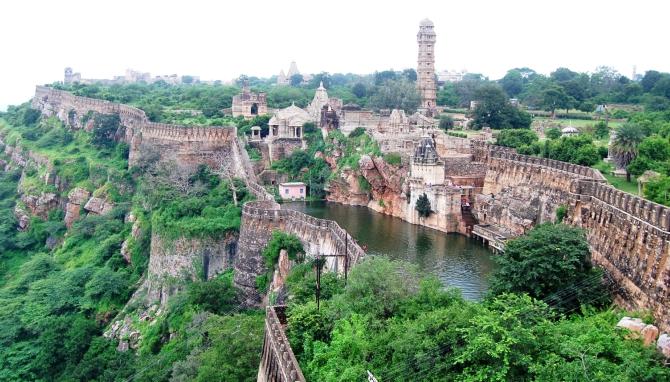 The Chittor Fort or Chittorgarh stands atop a 180 metre high hill and is spread across 700 acres.
The fort, which was built in the seventh century and is one of India's largest forts, has a tumultuous past.
According to Rajasthan Tourism, 'This bastion of the Rajputs has faced violent attacks thrice in its entire history.
'The first was in 1303 when the Sultan of Delhi, Ala-ud-din Khilji, who was enamoured by Queen Padmini, launched an attack to abduct her.
'More than two centuries later, in 1533, it was Bahadur Shah, the Sultan of Gujarat, who caused immense destruction.
'Four decades later, in 1568, Mughal Emperor Akbar attacked and seized the fort. It was finally in 1616, under the rule of Mughal Emperor Jahangir that the fort was returned to the Rajputs.'
It is now a UNESCO World Heritage Site.
Photograph: Wikimedia Commons.
The altitude of Chittorgarh provides uninterrupted views of Chittor.
Photograph: Saad Akhtar/Flickr.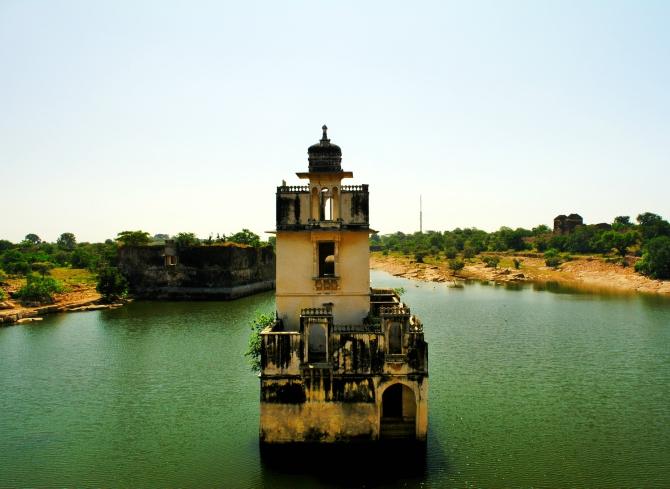 The Padmavati Palace is the prime attraction of the fort.
It is built on the banks of a lotus pool, and legend has it that Alauddin Khilji became besotted by Rani Padmini after he was allowed to glimpse her reflection in the water.
Photograph: Deep Goswami/Flickr.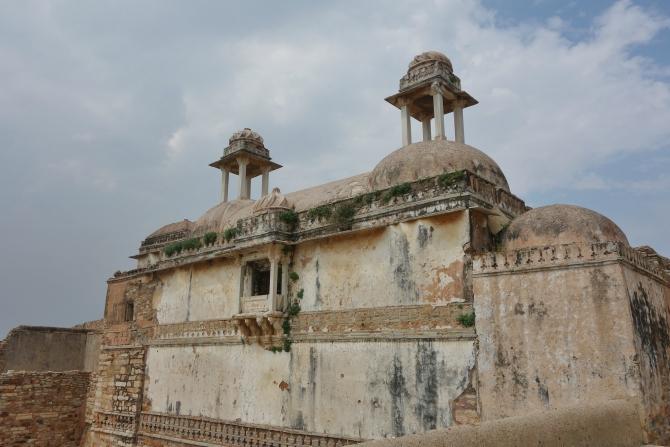 The palace of Ratan Singh overlooks a small lake and attracts many tourists.
Photograph: aa440/Flickr.
A ruined Rana Kumbha palace is one of the biggest monuments in Chittorgarh.
According to Rajasthan Tourism, 'The palace is believed to have underground cellars where Rani Padmini and other women committed Jauhar (self-immolation).'
Photograph: Lambart Mathias/Flickr.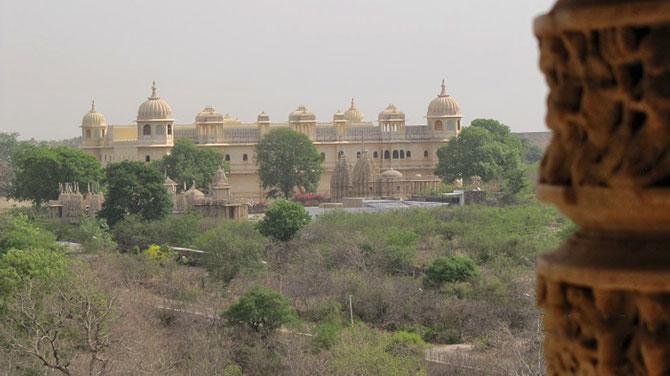 The Chittor Fort house many historically significant attractions beyond Rani Padmini's and Ratan Singh's palaces.
One such structure is the Fateh Prakash Palace, which was constructed by Maharana Fateh Singh.
According to Rajasthan Toursim, 'It was built in the Rajput style of architecture as a declaration of his taste for art and culture. The palace has a vast collection of wood crafts of Bassi village, post medieval statues of Jain Ambica and Indra from Rashmi village, weapons such as axes, knives and ancient shields, clay replicas of regional tribal people clad in their traditional costumes, paintings, and crystal ware.'
It has now been converted into a museum.
Photograph: Mahipal Soni/Rediff.com.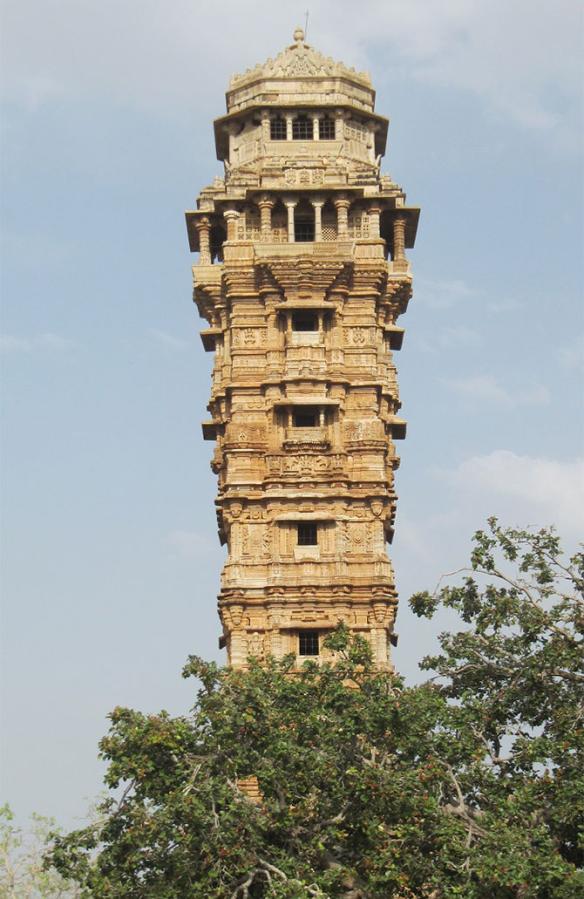 The Vijay Stambh built by Maharana Kumbha between 1440 AD and 1448 AD to mark his victory over the Muslim rulers of Malwa and Gujarat is decorated with detailed sculptures of Hindu gods and goddesses and a major attraction for visitors.
Photograph: Mahipal Soni/Rediff.com
.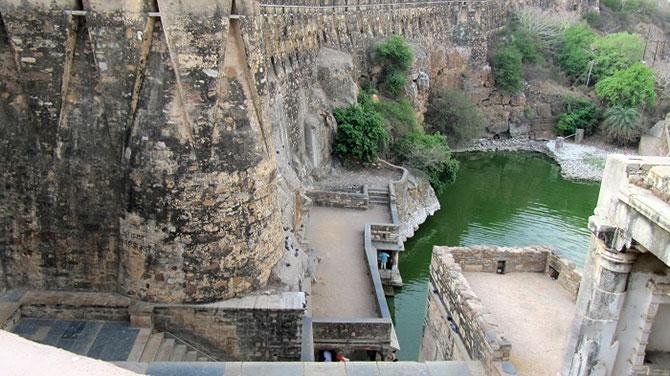 The fort housed multiple water bodies, many of which -- like the Bholiya Talab -- still exist.
Photograph: Mahipal Soni/Rediff.com
.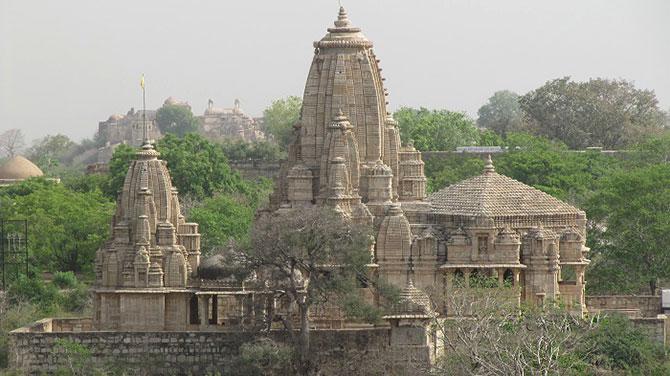 The Chittor Fort campus also houses multiple Jain and Hindu temples, including the Meerabai temple, where the ardent Krishna devotee is said to have prayed.
Photograph: Mahipal Soni/Rediff.com
.