'I got tiger blood man'
'This is a far cry from Pench, because everything is green and the forest feels like a forest -- the damp, sodden leaves, the trees which look like they have been there forever, the sudden creaks from a branch, and the slightly herbal smell, and the occasional, but unmistakable smell of deer poo.'
Shubir Rishi/Rediff.com continues his jungle adventure and narrates his day at the Kanha National Park.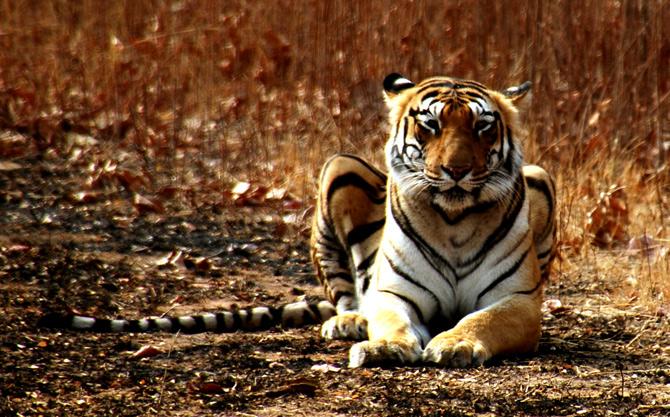 This picture is one of the thousands of tiger pictures my co-travellers clicked. Most of the people who missed the tiger in Pench, graced by His presence, and clicked to their hearts' content. Photograph: Sanjay Thampi
Day 2
And that concludes our time at the Pench National Park. Bags are re-packed, water bottles distributed, cameras are recharged and we pile into our respective cars, and after the customary group photos and a quick prayer, hit the road to Kanha.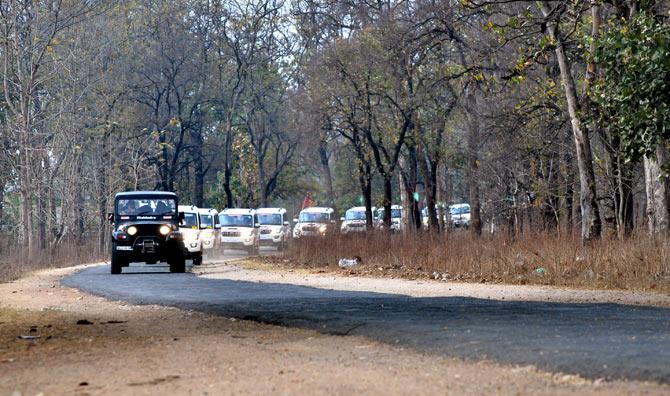 The drive out of Pench was as much fun as going in, though we must have taken a different route. The roads are nearly empty barring a few stray monkeys who have strangely zero concern for their safety outside of the dense jungle. Put them near a tiger and the shrieks will keep you awake most nights. Photograph: Shubir Rishi/Rediff.com
The drive from Pench to Kanha is an idyllic one, quite unlike the one we took from Nagpur to Pench. It is interesting to note that the Pench-Kanha stretch is one of the few unfragmented tiger corridors left in the country. This is the National Highway 7 (which runs through Maharashtra and Madhya Pradesh), and its expansion plans have been the bone of contention between environmentalists and the government.
Wildlife experts have called the expansion of the road environmentally detrimental, but others have argued that it is rather inevitable, with around 20 settlements already present along its length. Around 49 hectares of forest will be affected if the expansion goes through -- which means cutting off of 2,000 trees. The matter still hangs.
Old days revisited
There are lots and lots of rural roads, and if like me, you live in a metropolitan city, it is a double delight. It reminds you of a time when things were simpler, needs were less, and there was no perpetual hurry to get things done. You can say the road is off the beaten track, and you see some of the most spectacular scenery from behind the wheel (in a manner of speaking, since I was not driving).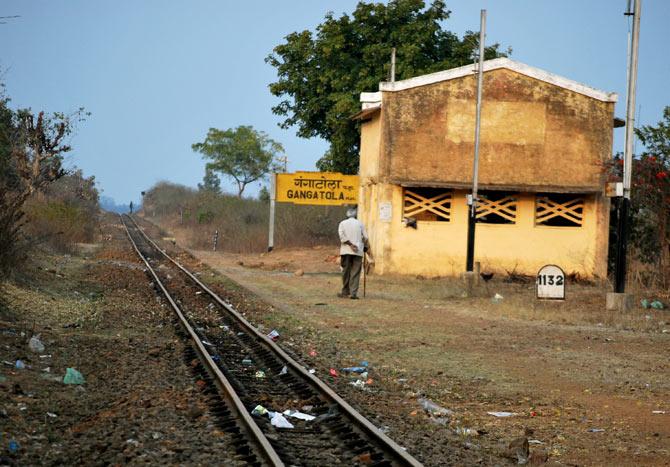 Gangatola 'railway station' Seoni district, Madhya Pradesh. According to the Indian Railways, only one train stops here -- the Chhindwara-Nainpur Passenger train. The route is dotted with such tiny blink-and-you-miss-it stations. The man in the picture did not respond to us, despite trying repeatedly. Photograph: Shubir Rishi/Rediff.com
Also, like me, if you have travelled long distance by rail in the early or late '80s and '90s, the road would invoke an old memory, whenever we come across a railway crossing. And there are a few on the way.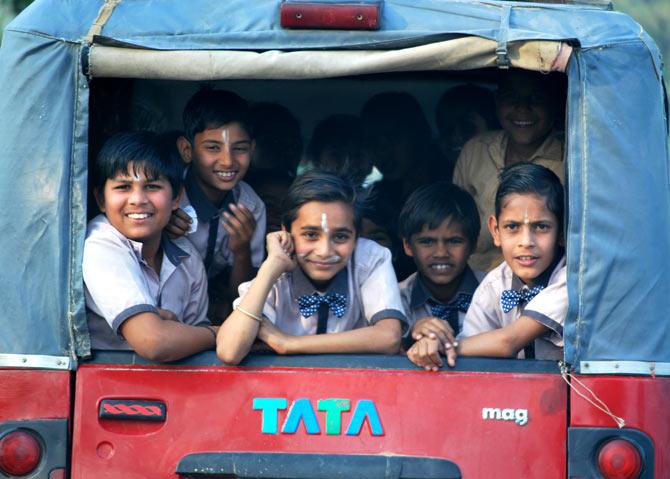 Wherever we went, we met makeshift school buses as this. The children were mostly delighted to see an endless convoy of cars and obliged us with such photo-ops. Some of us were enterprising enough to carry chocolates for distribution at such opportunities. Photograph: Shubir Rishi/Rediff.com
It reminds one of a time when children rode bicycles to schools, doing a tripli (slang for three on one), young girls in their neat double braids and in chaste blue and white salwar kameezes riding non-fancy, sturdy cycles and chattering non-stop, uncaring of the vehicles that whiz past them.
The air is much cleaner here, and if it wasn't for the unbelievable amount of dust you would swallow if you stick your head out of the window, we would keep them open. Unruly herds of buffalos and goats rule the roads and someone from our 'caravan' is always warning about them on the radio.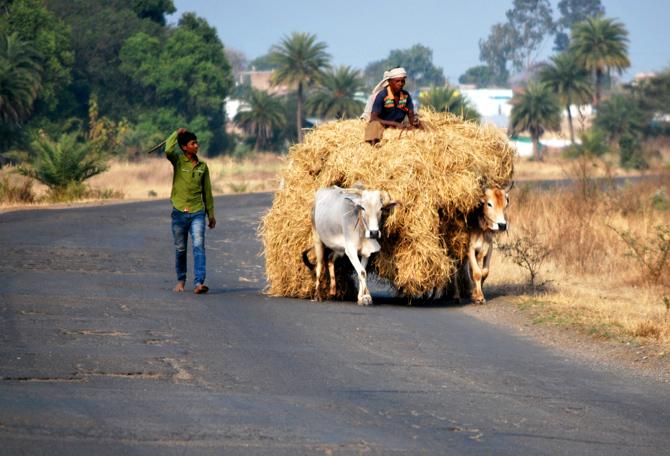 The most common sight on the road. Cheap, low-maintenance and superbly effective: Photograph: Shubir Rishi/Rediff.com

Bullock-carts are pretty common on the roads, and one cannot help but wonder how these great beasts carry an unbelievable amount of load, without protest, over long distances. Their drivers are usually an unfazed lot, and unlike others on the road who would often stop and stare in wonder at our (sometimes) awesome convoy, these guys wouldn't even bat an eyelid and keep on harassing and prodding their equally cool animals.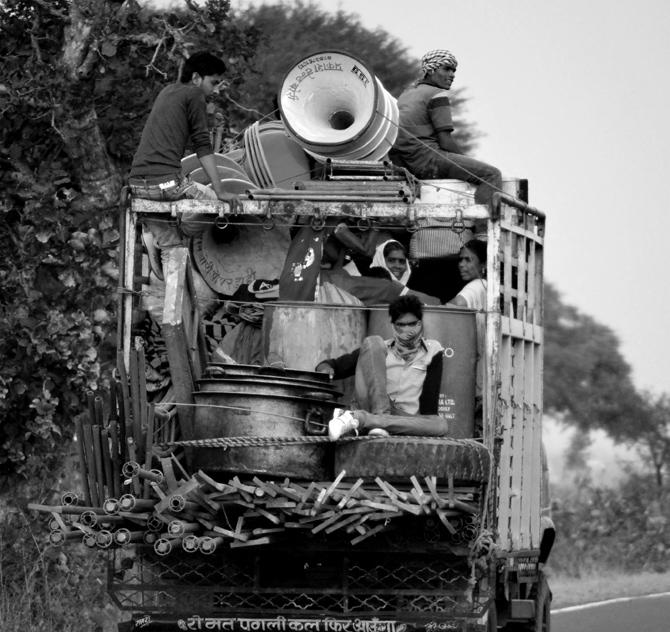 The marriage season was in full swing, and on inquiry, these people informed us that they had been dismantling and reassembling stuff since the better part of last month. Photograph: Shubir Rishi/Rediff.com
The drive from Pench was around 182 km (it may differ, depending on the route you take), and it takes us roughly four hours to finally reach Kanha limits, and to our resort, where refreshments (read, the much-needed beers) wait. Drinks and finger-food follow around a hastily-put campfire, many jokes are cracked, some egos hurt, others empowered, and the evening goes on until the deadline -- 11 pm.
Once again, we are told in a firm voice to be up by 5.30 am, and assemble at 6.30 am for the morning safari at Kanha.
That night I have the most vivid conversation with Munna in my dream; petting him and inexplicably feeding him an entire carton of Cadbury's Gems, only to be woken mid-way at around 4.40 in the morning by my alarm (I took it upon myself to get my group on the feet on time, but failed almost every time).
Day 3
The big boo boo
Our group gets into a huddle and decides that we would enter the gates last, unlike Pench, where we were to be the first to enter the park. However, Hanoz points out that it is an unnecessary exercise; as it is we will be a part of 100-odd cars (including our group), and it would be a matter of luck if we indeed spot the big cat. So we left it to Professor Fate.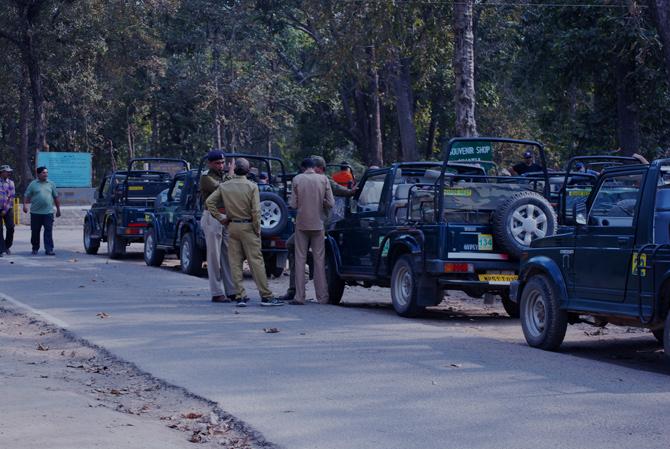 Compared with the Pench National Park, the officials at Kanha are slightly more rigid in their approach. Be very careful about carrying at least one identity proof with you and presenting yourself at the gates well ahead of time, or watch other people trickle in until the officials at the ticket window relent. Photograph: Shubir Rishi/Rediff.com
The scene at the Khatia Gate of the Kanha National Park is almost similar to the one at Pench. The road leading to it is lined with souvenir and tea shops. Suddenly there is a flutter -- the shop across the road is teeming with young women from some Delhi college. Naturally, most of the crowd on this side have suddenly abandoned their half-consumed cups of tea and bounded towards that shack.
We do not come across them throughout the eight hours we spend at Kanha.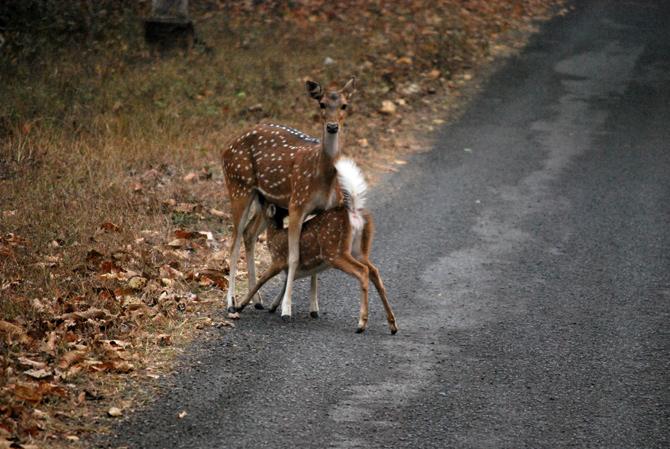 A hungry fawn grabs some breakfast. Photograph: Shubir Rishi/Rediff.com
There is much confusion about the seating arrangement in our Gypsy -- we are only 5, and the rulebook (if any) says there have to be 6 persons (this excludes the driver and the guide, and trust me, it is one too many). The official is adamant but so are we, since we can see other cars zooming into the park, one after another, while we waste precious minutes away from the tiger. Finally, he gives in and stomps away, visibly irritated, looking important in his crisp khakhis and asks the guards to let us in.
Not two minutes into the park and the car ahead of us is already slowing down, its occupants showing us open palms; a sign to stop dead in your tracks. So we do. All we can hear is the machine-gun sound of multiple DSLRs rapidly clicking.
Our driver lets the car glide downhill. The other car is already on the move, showing us thumbs-up signs. They have spotted something important. We stop where they are, and stare hard at the bushes. One of us claims he has seen stripes, but it is hard to tell, even with the camera lens, for the grass is tall and red. Nada.
We catch up with the lucky ones in a few minutes; the occupants are from our convoy -- the Cobras or rather 'co-bros' as they like to call themselves -- and yes, indeed they have seen a tiger just two minutes into the safari! We must look so jealous, because one of the Cobras nods in sympathy and gives us a sheepish smile.
The whispering woods
Our guide (a very learned man by the name of Ramswarup Deshmukh, who has been working since 1982) has led us into deep jungle, where even the sun is not visible. The air is cooler here and we wrap our jackets around us tighter.
The period between November and February is considered to be an excellent time to visit the Kanha National Park, because the rainfall during the monsoons rejuvenates the vegetation. Though untimely rain during a safari can be counter-productive. Photograph: Shubir Rishi/Rediff.com
This is a far cry from Pench, because everything is green and the forest feels like a forest -- the damp, sodden leaves, the trees which look like they have been there forever, the sudden creaks from a branch, and the slightly herbal smell, and the occasional but unmistakable smell of deer poo (as confirmed by Deshmukh).
Besides, it feels pristine.
Then, catastrophe! Just when we are all replaying memories of similar safaris as seen on National Geographic in our heads, it has started drizzling. Deshmukh lets out a deep sigh, and sits down firmly.
"Ab tiger nahi aayega (now the tiger won't come)," he declares. "Little chance of spotting one when it's raining," confirms the driver. One of us gives up all hope and immediately decides to take a nap.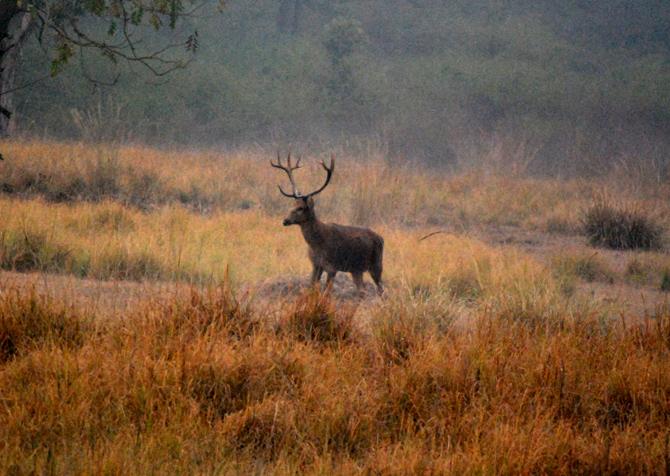 The reintroduction of the barasingha has been a welcome conservative effort. Kanha is the only habitat in the world to see the barasingha at present. There are about 500 of them there. Photograph: Shubir Rishi/Rediff.com
But then it stops raining, and we are hopeful again, and even spot a few barasinghas (hard ground swamp deer), who, we are assured is one of the better wildlife conservation success stories. Some of these strikingly handsome animals have now been transported to the Satpura Tiger Reserve, about 450 km away, under an ambitious reintroduction project.
How to miss a tiger
And so it goes. After driving by around 700 deer and at least 100 langurs, we come to a clearing and a rather serene water body, and the climate changes. The driver asks us to keep our mouths shut. The tiger is seen here often, he says.
With our hearts thudding and our camera fingers itchy, we wait. And we wait. Half-hour goes by.
The jeep inches forward on to the slope, and suddenly an excited murmur is heard from the car ahead of us, full of foreign tourists, with serious-looking cameras. We all crane our necks as one, ready to start photographing.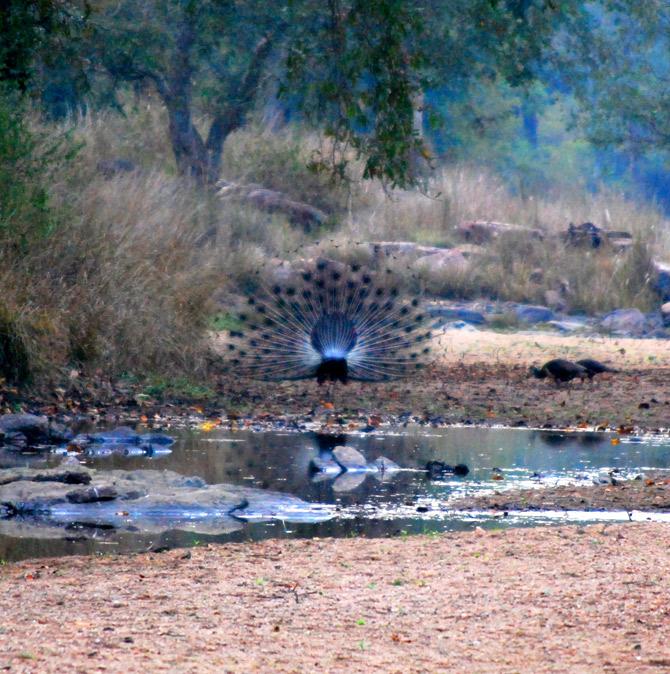 Only this particular peacock was happy welcoming the rains. Photograph: Shubir Rishi/Rediff.com
But no. It's just a peacock doing its seduction dance for a couple of peahens -- but even he has its back at us!
"Firangi mor se hi khush ho gaye (these foreigners are content with just a peacock)," exclaims Deshmukh.
Sorry, what?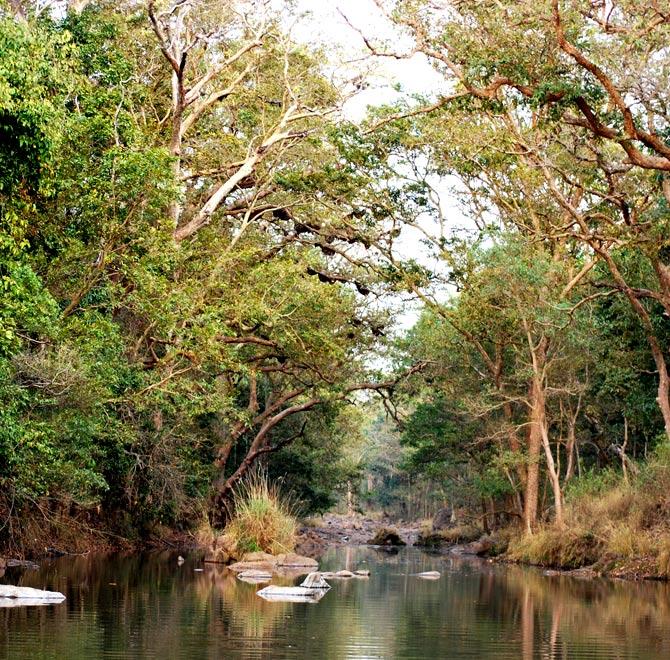 Even though we spent 30 minutes just sitting without catching a glimpse of the tiger, this was probably the most peaceful zone in the jungle. Although, thanks to our guide's story, we were a little wary of the bees. Photograph: Shubir Rishi/Rediff.com
To add to injury, a lone sambar (the deer!) saunters in from the other side of the water body, and decides to take a walk by its lonesome self. Needless to say, we are dismayed. Deshmukh tries his best, pointing out at a nearby tree and the unbelievable number of beehives hanging from it, and even launching in an anecdote where a few jeep-loads of tourists were chased by ferocious bees some time back, but were rescued because of flash rains, but the mood, which is fast becoming our group standard, is sullen.
One thing is for certain: You really can get a panic-attack if you are tiger-deprived in a jungle.
Once we are out of the park and have stopped for tea, we naturally meet some rascals from our own group, who witnessed a tigress frolic in the water for nearly 40 minutes. FORTY minutes!!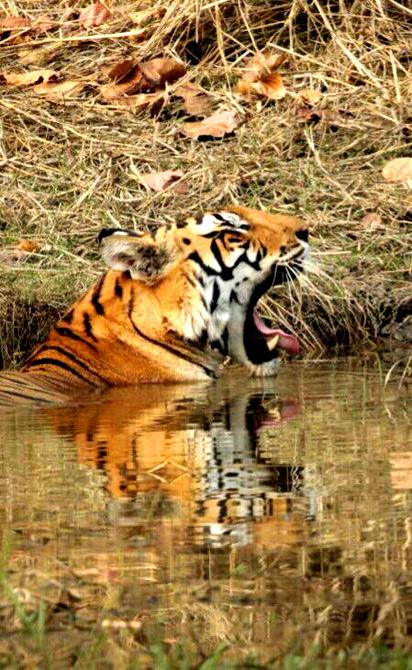 And finally, this. Photograph by the 'bazooka team', the tigress (name not known) spent nearly an hour in the area, marked her territory a few times, yawned, chased a few deer away because its belly was full, and posed for such a wonderful picture. Photograph: Anand Gubbi
"I got tiger blood man," brags one of them, quoting Charlie Sheen.
We give him a look only reserved for those who you feel a piercing jealousy towards.
This incidentally happened at the same spot we so patiently waited at half-hour after we left. By now, the guard has left us; this time without any of the last wise words, but the driver is still with us, drumming his fingers on the steering wheel, waiting for us to finish lusting and exclaiming at other peoples' pictures.
It is the time when we must log back in to our camp, feed our faces, and come back for the afternoon safari.
Most of the lot back from the safari is charged (turns out around six cars have seen the tiger in the water – an astounding 48 people -- and have pictures and videos to last them a lifetime and so on), but there are a few of us, skulking in the corners, keeping to ourselves, in a show of resigned camaraderie, with a dim hope to still, maybe, catch a glimpse.
So here is to the second safari at Kanha, we toast, and hurry along the lunch.
Next: The almost there
Day 1: Oh, to catch a tiger, by its tale!