Geetanjali Krishna gives us a peek into the 230-year-old Alila Fort in Bishangarh, which is now a hotel.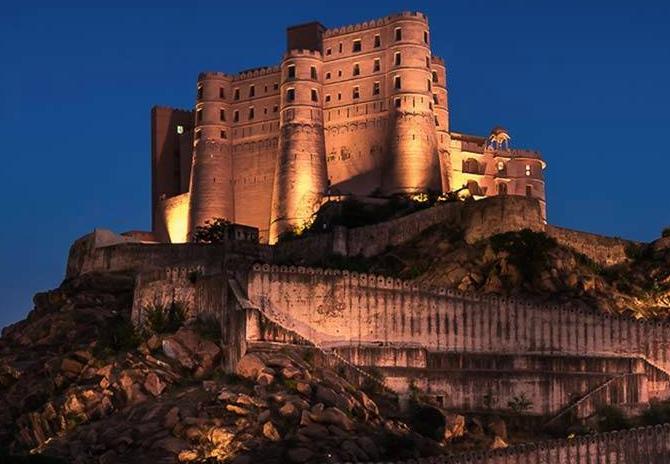 The ramparts of Alila Fort in Bishangarh, Rajasthan, offer a 360-degree view of hills and the typical Aravalli desert scrub.
Photographs: Alila Hotels and Resorts.
It is a still, clear morning.
The ramparts of Alila Fort in Bishangarh, Rajasthan, offer a 360-degree view of hills and the typical Aravalli desert scrub. Its crenellated walls are stark, offering foothold only to pigeons that roost here in the thousands. I survey the land below and wonder if this is what warriors of yore felt like, as they scanned the landscape and waited for enemies to huff their way up the steep granite hill, only to have boiling oil pour on them.
Today, of course, I'm armed with a camera and a drink, for this 230-year-old stone fort is the first garrison fort to have been converted into a luxury hotel.
Staying at the newly launched Alila Fort is a bit like living inside a historical attraction one would normally cross off a sightseeing list.
However, now its dungeons house a serene spa; a turret has morphed, seemingly effortlessly, into a smoking area. Cellars, secret passages and royal reception areas have been converted into elegant tea lounges and reading rooms, while massive urns once used for storing grains in a siege make for stunning decorations tucked into alcoves of the well-stocked bar.
The opening of the 59-room fort-hotel this July has transformed lives in Bishangarh, which used to be like any other sleepy Rajasthani hamlet.
Not only is most of the staff local, the chefs of the hotel pride themselves on using locally-grown ingredients. As my extended family, all here for a weekend together, sit down to a late lunch, I'm delighted to find a risotto made with barley and other rural grains, beautifully come together in their Italian avatar.
There's plenty to explore in the fort itself, so after lunch we get a guided tour of the property.
The walls of the fort are 8-10 feet wide in places, and all rooms and restaurants have been built to fit around them.
Our guide, Chaitanya, tells us that the fort, built by the Shahpura-Shekhawat clan that owed allegiance to the Jaipur royals, was built to be impregnable even though it didn't see wartime action.
As we peer out of its windows (some set six feet into the fort's walls and great for watching the birds that roost there), we can well imagine the daunting sight it must have presented to its adversaries. The old Rajputs really knew how to pick the best locations to fortify, but even so, this has been built on the best possible vantage point in the area.
Back in the hotel, the family gathers on a circular terrace over a tower for dinner.
Although October days are warm, nights in the desert are beautifully cool. The prix fixe menu is huge but delicious, themed around the food that hunting parties of yore enjoyed.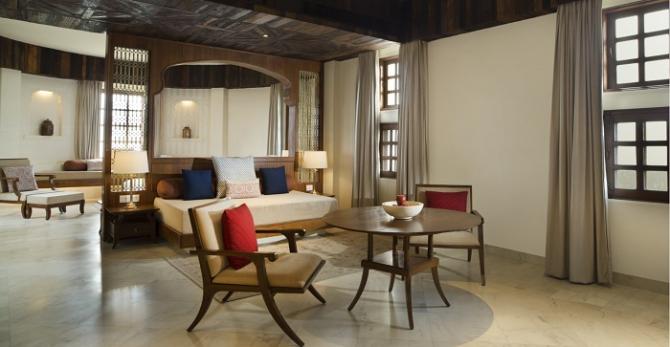 A suite inside Alila Fort. The renovations took 10 years.

The next morning, we go for a hike to explore the forests around the fort.
Minutes away from the fort, fertile soil gives way to loose sand that weighs down our shoes.
The area has a diversity of bird life: we spot several species of owls, swifts, treepies and kingfishers (owing to the presence of nearby water bodies).
Below us, the ground is pockmarked with holes and burrows. A pretty sand-coloured mouse emerges from one of them. An extended family of partridges (it reminds me a little of my own) squabbles and squawks under a bush.
As we turn back, the now-familiar sight of Alila Fort perched high on the only granite hill in the area soon comes into view again and guides us back to a relaxed breakfast.
After we return from Alila, its conservation-led aesthetic stays on my mind. I chat with one of its owners, Jaipur-based Atul Kapur, who says the renovations took 10 years.
To bring it to its present luxurious state has been an uphill task in every sense -- donkeys ferried loads up to the dilapidated, civet- and bat-ridden fort, from where staff carried them up (the lifts became functional only recently).
"Through our specially designed interiors and a camping-themed menu developed by celebrity chef Ranveer Brar, we want our guests to experience life in a fort," he says.
Having experienced the pleasures, all I can say is that while the high life in Alila Fort may be as far from soldiering as can be, it's a good life all the same.