Rathika Ramasamy's passion for clicking pictures led her to become India's first female wildlife photographer. Click here for her story.
Here, Rathika shares her 10 most favourite photographs and tells us the stories behind each of them.
1. Call of Love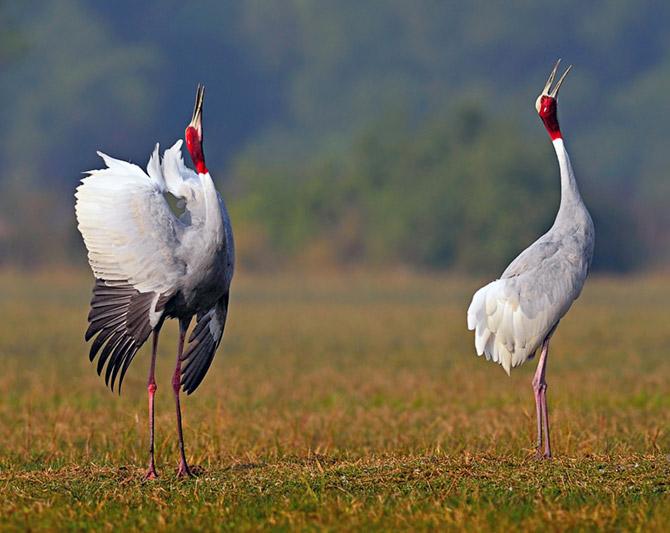 This image was taken during December 2014 at my favourite Keoladeo National Park, Bharatpur district of Rajasthan.
Sarus is one of the tallest flying bird in the world. Once they fall in love, they remain partners for life.
Though I have often shot Sarus Cranes, this one is special.
One fine winter morning, they just landed in front of me.
They started calling with the grassland as their stadium.
Lovely lighting added to the scene.
Before mating, they both call and do an elegant mating dance.
2. The attack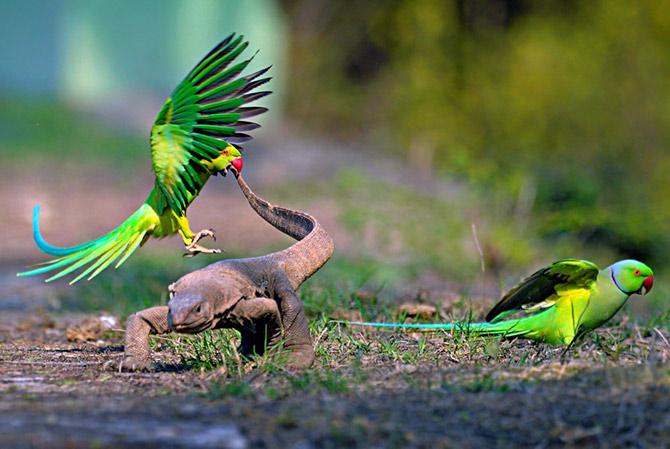 Last year, I was shooting ducks at Bharatpur bird sanctuary.
I was sitting on the road and shooting. Suddenly on the right side, I saw a monitor lizard running for his life as a rose-ringed parakeet was aggressively attacking the lizard.
The parakeet was trying to bite the tail of the lizard.
The whole attack lasted a few seconds only, and the parakeet chased the lizard away.
Monitor lizards are egg thieves and eat rose-ringed parakeet eggs from the nest.
It was one of the historic moments to both watch and capture.
3. Great Cormorant Fishing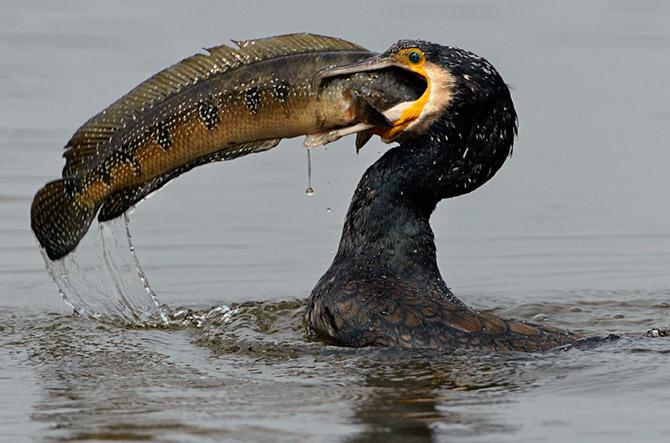 Great Cormorants are fast in catching fish.
At the blink of an eye, they dive into the water, catch and gulp the fish.
This shot was a rare sight for me. Usually they dive into one spot in the water and come out from a different spot.
So, one has to be alert, and guess and track to take a close up shot like this.
It was my lucky day, when it just popped up in front me to fish.
I captured it in full frame.
I was expecting it to come out with a small fish, but it turned out to be a huge one.
The prey was too big to swallow, and it took five minutes for the Cormorant to gulp the fish.
4. The Feast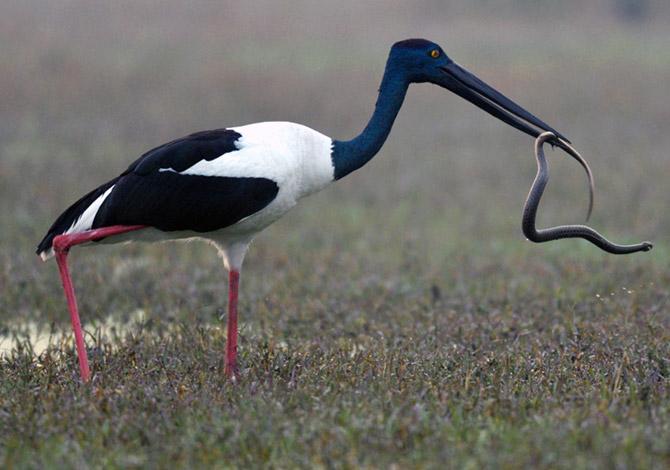 It was a scary wildlife predator and prey interaction scene.
It was taken on a winter morning, when it was very foggy.
I was watching a stork from a distance and was approaching it slowly.
Suddenly, it caught a big water snake by the neck, and after shaking it for ten minutes, gulped it.
Though I felt sorry for the snake, it shows the nature food chain.
5. Territorial fight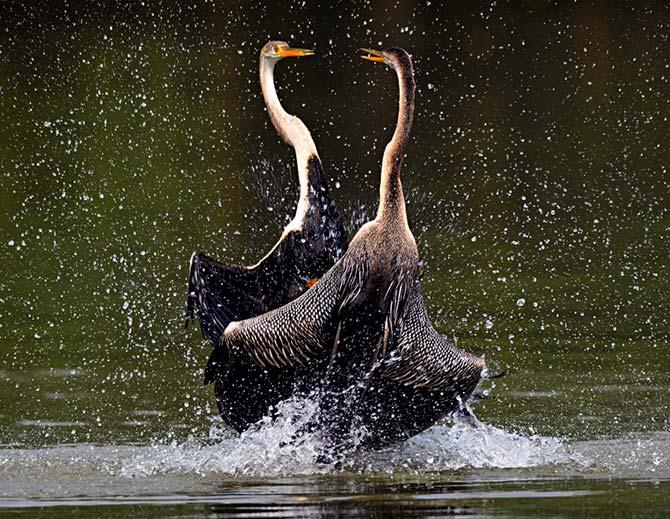 Darters are calm and serene birds.
Usually we can spot them fishing or perching near a water body.
It was taken last December at Keoladeo National Park, Bharatpur district of Rajasthan.
For me this picture is a rare interaction among these birds.
They are tall water birds.
The two of them were sitting on opposite sides of a water body.
Simultaneously, they came into the water and started fighting with their legs.
Though they were fighting, it looked like water salsa.
This was the first time I ever saw darters fighting for their territory.
6. Peek a boo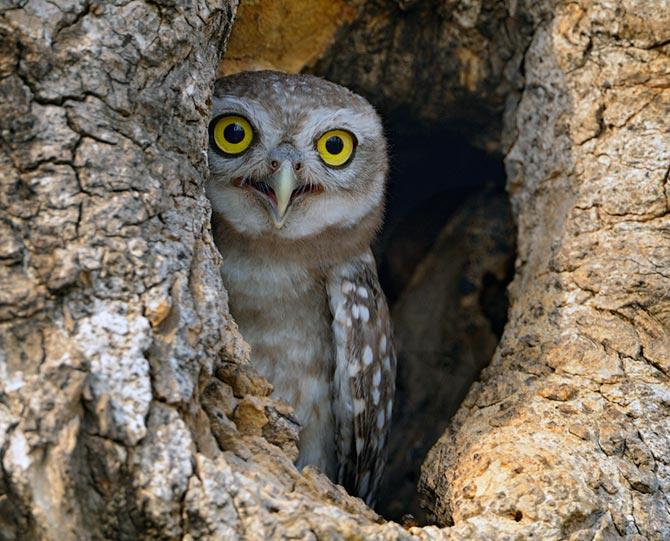 Spotted owlet is a small nocturnal bird, sometimes seen during day time too.
Though I have photographed it many times, I love this one the most.
I spotted this owlet near Palwal wetland in Haryana inside a tree cavity where it roosts.
This one was shy, but also wanted to come out, and was playing peek-a-boo.
I was waiting and finally our eyes met when I clicked this picture.
The tree also makes a natural frame.
7. Smile, you're on camera!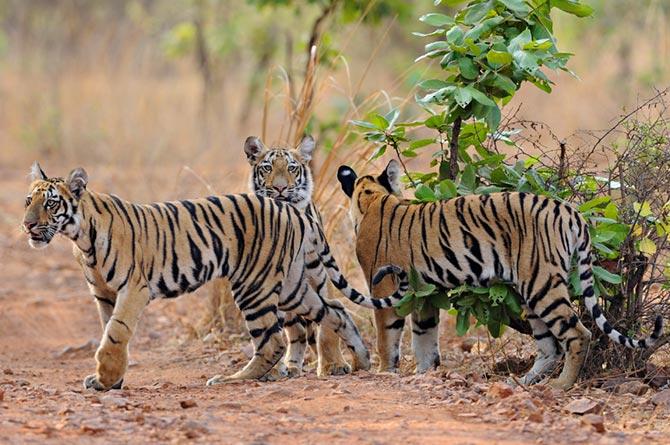 This image was one of my memorable wildlife moments I captured at Tadoba Tiger reserve, Maharashtra in May 2012.
On a summer morning safari, I saw three tiger cubs playing on the road.
In this image, each of them was looking in a different direction.
It was cute to see the one in the centre looking at me, as if wanting to pose.
8. Lion-tailed macaque feasting Jackfruit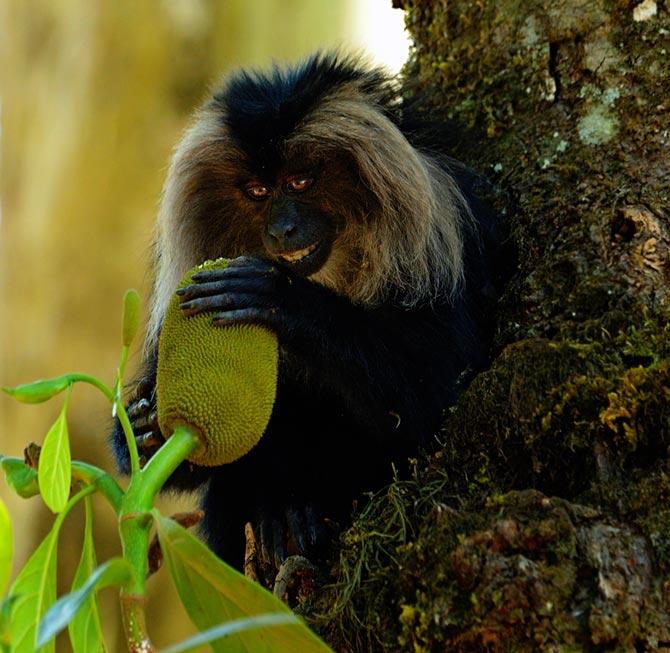 The lion tailed macaque is one of the oldest species in the monkey family, and endemic to the Western Ghats.
This picture was taken in March 2013 at Valparai, Anamalai Tiger Reserve.
The macaque are rainforest dwellers and seem to love jackfruit.
I was following a group which was eating fruits.
I was waiting when one of them climbed a jackfruit tree.
As soon it got to the jackfruit, its eyes glittered with happiness.
9. In mother's company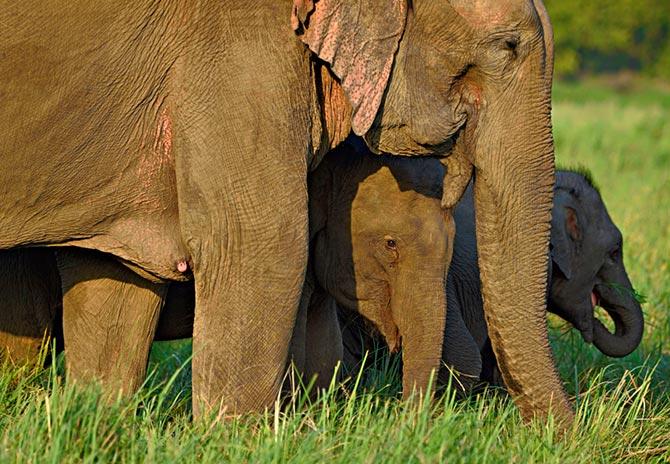 This photograph was taken last year when I was crossing the grassland of Dhikala in Corbett National Park.
I came across this elephant family.
The mother was very protective of its small calf and was keeping the calf very close to her.
It was heart warming to see the baby elephants playing while following the mothers.
The family is so protective and reminds me of human beings.
In the evenings, the elephant herd comes down to the river bed.
It is treat to a watch them play, fight and take a bath.
10. Sunset by the river
This photograph was taken in May 2014.
When I stay at Dhikala forest rest house, I spend the evening safari near the grassland, where you can capture a beautiful sunset.
There are only a few photographs that you fall in love with as soon as you create it. This is one such photograph.
I had visualised the shot beforehand waiting for the elephants to come to the river.
The evening sunlight was turning the water into a golden colour.
The strongest point of this photograph is its simplicity.
All photographs: Kind courtesy Rathika Ramasamy
ALSO READ: Bird woman: She shoots to conserve